Are you looking for a top-quality home security system?
Then Lorex should be at the top of your list. Read our buying guide packed with information to help you decide it it's right for your home or business.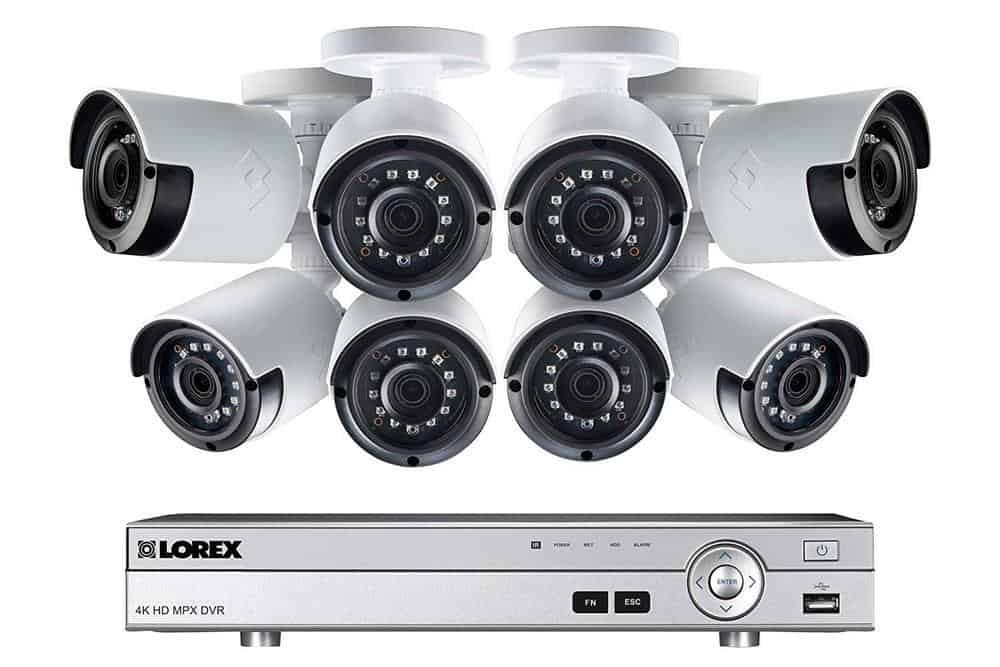 Review Of Lorex Security Camera Systems
If you're looking for a top-quality smart home or office security system, then you've come to the right place!
Lorex Technology is one of the most trusted names in home, office, or business security. They're based in Ontario, Canada and have a reputation for some of the best customer service in the business.
Lorex offers top-quality security systems at a very affordable price. We love the easy installation with some basic equipment which is DIY for most people. Easy, affordable, simple, with no monthly fee? We love that here at Spy Cameras Reviewed.
The phone app and Lorex cloud offer you remote access and control from anywhere in the world, along with things like motion alerts, and snapshots sent to your email. The best part? All of this stuff is very easy to get up and running because of their well-designed software.
Keep reading for more information about whether or not Lorex is right for you.
Lorex Flir Camera Pros And Cons
Overall, here are a few of the pros and cons about Lorex cameras that you'll want to keep in mind.
Pros
Video quality up to 4k
Long range night vision
With color night vision, a feature that most other cameras don't have
Bullet and dome camera options
Fully customizable packages and a massive number of options make it easy to select exactly what you need
Cons
More expensive than some smart home devices (the Sens8 for example)
So many choices means it may be hard to decide which one is right for your needs
Where Can I Buy Them?
Keep on reading for all the features, benefits and details about Lorex Home Security systems. Or check out Lorex for yourself on Amazon.
Basic To Advanced Security Systems From Lorex
From very basic home surveillance systems to the most advanced, Lorex offers a huge range of options. Their home security systems are fully customizable.
They range from a very simple, 1-camera system, to 16+ cameras to cover a large warehouse or estate. What doesn't change is the quality of the cameras—excellent resolution, motion alerts that actually work and wide-angle views.
The thing we love best about Lorex is all the options available. You'll be able to find just about any home security system to suit any budget or need easily.
And what all of them offer is top-of-the-line security. They're probably the highest quality cameras out there that still offer DIY installation.
Check out the table below to see the range of options for yourself. And there are many more systems, in addition to those. There really is something for every need.
Lorex/Flir Security Systems Comparison
Lorex LNR6826K 4K Ultra HD Wired Network Security System with Color Night Vision, Black
Lorex 16-Channel HD Analog DVR with 2TB HDD, 8 1080p Cameras with 130' Night Vision
Lorex 8 Channel Security Dvr System 2tb Hard Drive and 8 1080p Cameras
Lorex 4 Camera 1080p HD Wire-Free Security System, 6 Channel DVR, 16GB HDD
LOREX LNZ32P4B 1080p PTZ PoE IP Camera, White
Lorex LNR6826K 4K Ultra HD Wired Network Security System with Color Night Vision, Black
Lorex 16-Channel HD Analog DVR with 2TB HDD, 8 1080p Cameras with 130' Night Vision
Lorex 8 Channel Security Dvr System 2tb Hard Drive and 8 1080p Cameras
Lorex 4 Camera 1080p HD Wire-Free Security System, 6 Channel DVR, 16GB HDD
LOREX LNZ32P4B 1080p PTZ PoE IP Camera, White
DIY Installation
Unlike many of the other high-end home security systems, Lorex is designed for you to install it yourself with a few basic tools (Lorex Installation Tips).
Even if you're not especially handy, most people find that Lorex Security systems are easy enough to install. Pair this with their excellent customer service and you should have your home or business security system set up in no time.
You're sure to find something from Lorex that will suit your budget and purposes. They are a total package security company, offering top-quality products at a reasonable price, along with excellent installation information and customer support.
Lorex Surveillance Cameras Comparison and Review Video
Lorex Wireless Security Cameras: A Ton Of Features
We'll talk more about the advantages and disadvantages of Lorex Home Security Systems. While Lorex does have some top-quality systems, they are more expensive than other brands This is the major disadvantage of going with Lorex.
If you have a low budget, we recommend checking out the SimpliSafe Home Security System. Another option is installing some fake cameras to deter any would-be criminals. Costing around $5-10 per unit, dummy cameras are the ultimate ultra-low budget option for home security.
To check out Lorex home security systems for yourself, head over to Amazon and see the range of choices and the current prices for each.
Advantages Of Lorex Security Camera Systems
Apart from the company's great experience and expertise in wireless technology, you know you're getting good quality by choosing Lorex. Most of the security camera systems offered by Lorex do not make use of wires or cables.
There are still some systems that use wires, but wired systems are too easy for a criminal to disable and we don't generally recommend them for most people for that reason.
No Monthly Monitoring Fee
There is no monthly fee or monitoring with Lorex as with some other security companies. What Lorex does do is monitor what's going on around your home or business, and then record it.
You can access the recordings online in real-time. You can also refer to them later if necessary because of a security breach. They work without Wi-Fi, so make a good option if you're going for a low-tech home security solution.
No Messy Wiring
Instead of tons of cable, most Lorex systems rely on an Internet connection. This is advantageous when it comes to the physical appearance of your house. You won't have any messy wiring visible on the outside.
The lack of wires and cables also makes installation far easier. Minimal drilling is required. The average homeowner should be able to install them by themselves. It only requires a few simple tools.
The other advantage to this is that would-be criminals can't break Lorex cameras so easily! There are simply no wires to pull out.
Seriously, in most of the reviews, people mention how easy it is to mount them with just a few basic tools you probably already have.
Easy Installation
With Lorex, there is no need to restructure the current wiring system you have in the house. This is usually what takes the most time when installing home security systems.
However, with Lorex, this major problem is avoided. Installation is indeed possible for those who are only slightly handy with a power drill.
Maybe you're not handy? Don't even own a power drill?
Local security companies should be able to install Lorex security systems for you quickly and easily. It should only take them on hour or two to get your Lorex system up and running smoothly.
A home security package from Lorex comes with all the accessories and items you need to install it safely and correctly. You'll need a few basic tools such as a drill, level, and some basic screwdrivers. These supplies can be easily obtained at Home Depot if you don't already have them in your home.
How To Install Them
Oh yeah, the company also some excellent wire-free options that you may want to consider.
Excellent Software
The majority of people find that the software from Lorex works well, especially when compared to many of the other security camera companies with phone apps. It's mostly just plug in and go with a few simple choices.
We also love the Lorex phone app (for both iOS and Android) that allows you to keep an eye on things remotely from anywhere in the world. The Lorex cloud also allows for remote access and adjust your security system on the fly.
Here are some of the things you can do with the phone app and a cloud camera:
Live view
Playback
Pan tilt and zoom
Push notifications of triggers and events
Full events list
Video recording
If you purchase a Lorex system that includes a NVR or DVR, the secure mobile app can also do a lot of things remotely:
See all the views from your cameras
Create groups of cameras for viewing a certain area of your property
Store recordings in the cloud
Rapid view of events for a certain time frame
Make motion detection zones
Turn them on/off
Pan tilt
Zoom into specific area
Overall, the software from Lorex is a serious win, and if you can't figure it out quickly and easily, contact customer service and they'll be able to get you up and running in no time.
Lorex Camera Security
Are they safe?
It's an excellent question! Let's find out.
Lorex mentions that there's recently been an increase in people or organizations attempting to hack certain types of security systems. When this does happen, they take all the necessary actions to shut down the loopholes allowing the breach as quickly as possible.
As far as whether not Lorex cameras are more, or less, secure than other similar security devices, they appear to be about the same. Breaches do happen to almost all security systems occasionally, even the most secure ones in military or government organizations for example. Lorex seems no better or worse than other companies in this regard.
Here's what Lorex recommends doing on your end to keep your home or office security system as safe as possible:
Change Passwords Regularly
Using a weak, or default password is the fastest way for a hacker to gain access to your system. It's almost like you're just inviting them in!
Change your password regularly, using no words that could be associated with you in any way (name of pet or child for example). Include numbers and special characters too.
Make Sure Your Firmware Is Up To Date
This is how Lorex updates their devices with new security updates. You'll know if yours is up to date by pressing enter on the front panel. Them crosscheck your number at the company website.
You'll periodically receive notices that there's a firmware upgrade with patches that address a certain security issue. Accept the upgrade request as soon as you get it.
If You Suspect That You've Been Hacked
It can often be difficult to tell if you've been hacked, or not. If you suspect that you have though, be sure to change your password immediately, and ensure that you have the latest firmware. You could also contact their support line for help with this.
Learn more here: Can Security Cameras be Hacked?
Choice of Cameras
Lorex by Flir has two kinds of IP (Internet Protocol) cameras. These allow you to both send and receive data via a network rather than an analog video signal.
What does this mean for you? You can view your home or business remotely from anywhere in the world.
HD IP Vs Wifi
There are two types for a wide range of budgets:
HD IP security camera: professional grade, with the highest attention to deal
WiFI camera: portable and designed to be used with a Smartphone or Tablet (usually cheaper)
Bullet Vs Dome
In terms of design, Lorex sells both bullet and dome cameras. Both can be installed either indoors or outdoors.
The advantage of a dome camera is that it can be difficult to determine where the camera is pointing. They're also more durable and less prone to vandalism.
On the other hand, the range is usually shorter than with a bullet camera. Besides the longer range, bullet cameras often come with night vision and are very easy to install.
Learn more here: Bullet vs Dome Cameras.
Smart Home Security With Lorex
If you're looking to keep your home safe the smart way, then you'll want to consider Lorex. There are a ton of features included with most of them, including the following:
RapidRecap, which allows you to see the day in a single minute.
Lorex Secure phone app, for live viewing, playback, and video recording. It's compatible with your iPhone, iPad, or Android.
Compatible with both PC and Mac via the Lorex cloud. You're able to control your video cameras from anywhere in the world.
Convenient click and drag digital zoom.
Easy back-ups to a flash, or hard-drive.
Push notifications for motion alerts.
Email alerts with a snapshot attachments for alerts.
HDMI cable included.
Consider Lorex your top choice! You just have to connect and go.
Excellent Daytime Quality
When the picture quality of Lorex cameras are tested side-by-side with some of the best in the business, they come out ahead in daytime lighting conditions. Think crisp, clear and movement that is captured extremely easily.
What about at night? They seem to be slightly under-powered (the Infrared LED's aren't that effective at longer distances) and some of the other security cameras perform a little bit better in low light conditions.
Is it terrible? Certainly not, and in our opinion, it's not a reason to give Lorex a pass. Even in the dead of night, they still outperform many other systems on the market today.
2-Year Warranty
Most home security systems come with a standard 1-year warranty. Lorex offer a 2-year warranty, with the option to purchase an extended warranty on your cameras for an additional fee.
No Wi-Fi? You Can Use Lorex Too!
If you're looking for a home security system that will work without wifi, it can be a little bit difficult these days and you don't have a ton of options. Most systems work via Smartphone app and push notifications in case of motion, etc.
The video or photos are most often stored in the cloud within a certain time-frame (7 days for example). With security systems like this, it's obvious that they won't work without Wifi.
However, the good news with Lorex and their NVR/DRV setup is that it's really quite easy to install without Wifi. The only real negative is that you won't be able to view the footage when you're away from your monitor. However, the high-capacity hard drive will keep days, or even weeks, of footage in case of problems.
You can learn more about it here: Home Security Without Internet.
Based In Canada
Lorex is a company that is based in Canada, which for you means excellent customer service. In our experience, their support people are based in North America and speak excellent English.
They offer full support if you run into problems setting up their systems, and also offer a money-back guarantee and generous warranty.
They have extensive experience in security technology, and it shows in both their products and customer support experience.
Range Of Recording Options
Depending on your needs, you can set Lorex cameras to do certain things for you. You can:
Record continuously
Record for a certain time frame
Set them up to record only when motion is detected
Many other security cameras don't offer such a wide range of choices, so this is certainly a feature that you're going to love with Lorex.
Easy Returns
One of things we love about Lorex is that they offer free returns on their products. If you're unsatisfied with your product for any reason, you can return it within 60 days for a full refund.
Are Lorex Cameras Good?
It's a great question! They are one of the more expensive options on the market today, but are they worth the high price-tag?
If you take a look at reviews over on Amazon, you'll see that there are a ton of satisfied customers. People usually note the clear picture, easy installation and the fact that the night vision actually works.
There are also quite a few lower ratings on many of the cameras, but if you look at the category as a whole, very few cameras have a rating above 4.0/5, so Lorex is actually doing quite well. I'm not sure why, but it seems a lot of customers are unhappy with their security cameras, no matter the brand.
According to the company, here's why Lorex cameras are good:
Use of cutting-edge technology
Long range night vision
High quality recordings with excellent resolution
Weatherproof and vandal resistant outdoor cameras
Most cameras feature: HD image sensors, wide angle lenses, digital noise reduction
Many opportunities to customize a package to work for you
Connect and go with their top-notch software
Video quality up to 4K, depending on which ones you choose (also lower-end cameras as well)
Excellent customer service including live chat
How Are Lorex Wireless Cameras Powered?
A common question that people have is how Lorex wireless cameras are powered and what type of connection is needed. Are they also wireless and run off battery power?
The wireless nature of these cameras refers to the camera and the receiver. The setup requires two power sources, one for the camera and one for the receiver. It's just a basic power plug that can put into a regular electrical outlet.
Lorex PoE Security Camera System
PoE stands for power-over-ethernet, and it basically means that you can use a single cable to connect a camera to a recorder, instead of having separate cables: one for power and one for the recording footage. It can make installation very easy and quick. There are three main advantages to PoE security cameras:
Save time and money during installation. You just have to hook up a single cable from the camera to the recorder.
Simplicity. There's only one cable, instead of two to deal with.
Flexibility. You can save the hassle and expense of dealing with electrical work or extension cords if you want to place your cameras away from a power outlet.
Long Distances And Lorex Cameras: Consider Using A PoE Switch
If you have multiple cameras that will connect up to a single DVR or NVR, then you may want to consider a PoE switch. While regular PoE cables can run up to 300 feet, this system will help you increase the distance.
Basically, this switch contains multiple ethernet ports that you hook your cameras into. Then, a single cable connects this PoE switch to the rest of your system.
Please note: In order to use a PoE switch, you'll also need a router for your system. This is required to assign IP addresses to each individual camera to make sure they can be detected by the NVR.
Expand Your Camera Network With A PoE Switch
You may also consider using a switch if you want to add more cameras to your network. For example, you may have a 32-channel NVR, but it only has 16 built-in PoE ports. If you add a switch with 16 more ports, you could potentially have up to 32 channels.
It can be an easy way to expand the reach of your current technology without buying a whole new system. And, if you have this is mind when you're initially buying your security system, consider getting an NVR with additional ports than you currently need.
Which Lorex Cameras Are Compatible With PoE Systems?
You can use this PoE technology with any Lorex system that utilizes NR800 and LNR300 series NVRs. This includes IP security cameras and IP security systems.  Here's one example of a Lorex security system that can be used with PoE technology.
How To Set-Up And Connect An NVR Using A PoE Switch
Are Lorex Security Camera Systems Weatherproof?
It's a great question. If you're spending a lot of money on a home security system, it makes sense to find out whether or not it's weatherproof. It depends on the type of camera you buy (read the product description carefully!).
In general, the majority of them are indeed weatherproof and can stand up to rain or snow. There are however some cameras from Lorex that are designed for indoor use only. The product description is pretty clear about this so be sure to check there for all the details.
Lorex Security Camera Reviews
"So far they're great, and the picture quality is a lot better than expected. The phone App works great on my Samsung smartphone, and I love the alerts that they will send you. I found that the cameras were pretty easy to mount with just a few basic tools, and beyond that, it was just plug in and go."
"The software is a little bit quirky and takes some basic troubleshooting to get up and running. Besides that, it's super easy to set-up, especially the installation, and I love that it's the complete system. I hate the idea of trying to source all the parts for something like this separately."
"It's a great system with decent quality cameras and is easy enough to set-up. I love being able to keep an eye on my house when I'm not home, especially with the alerts via the phone app. I just wish that I'd gotten a system with more cameras!"
Lorex Wireless Cameras: Keep An Eye On Your Home
What's even better is the fact that a Lorex wireless camera system allows you to access it wherever you are— via the Internet! You can keep your eye on your home when you're in the office or while you're traveling.
It's easy to monitor if there is any suspicious activity going on. You can play back records of these surveillance cameras for police if necessary, as in the case of a break-in or other suspicious activity.
What About For Business Owners?
If you're a business owner who's away for the time being, you can still check up on your shop or office to make sure your employees are doing their jobs well. You can see if operations are running as they are supposed to. You can stay in the back office doing work while keeping an eye on the front of the house at the same time.
This will allow you to be more productive and save you money over time. We love the multi-camera systems that Lorex sells. They allow you to view footage from all the cameras on a single screen.
What About The Lorex Active Deterrence Security Camera?

Lorex 4K UHD 8-Channel 2TB NVR Security System with 6x 4K 8MP IR Bullet Cameras
4K 8MP IP Two-Way Talk, Active Deterrence Network Security Camera, 8 Channel - 6 Cameras,
130ft Night Vision with Dual Warning Lights and Siren
Weatherproof IP66 rated5 and cold climate capability (-22°F / -30°C)
Super wide angle 128° field of view (diagonal)
The latest H.265 compression technology reduces video file sizes by up to 50% to save valuable hard...
If you're looking for a security camera that does more than just record, you'll want to consider the Lorex Active Deterrence Camera. In particular, we love the LED warning lights that can be programmed to be always on, or just triggered by motion.
Here are just a few of the things you'll love about it:
4K, 8 MP camera with night vision (130 feet), featuring excellent resolution
Two-way talk feature
Programmable dual-motion LED warning lights
Remotely triggered siren
Super-wide field of view
Weatherproof and suitable for cold climates
Motion alerts sent to your Smartphone in real time
Ceiling or wall-mount option
Includes camera, mounting kit, power adapter, and extension cable
Sound like exactly what you need to keep the bad guys away? You can shop now on Amazon.
Disadvantages Of Lorex Security Systems
Naturally, for every product or brand, there are also disadvantages to consider. In the same way that the Internet reliance of Lorex security systems is beneficial, there are also potential online problems that can occur.
Common problems encountered are hacking of the system or records from outside sources and the loss of connection. When the WiFi or power goes down, so do Lorex cameras.
However, this is common to all wireless systems. It's not a particular flaw with Lorex and so shouldn't really be considered a reason not to buy this product.
Some Security Breaches
With wireless cameras, there is always the fear of being hacked. Lorex security cameras offer firewall programs in order to add protection from unauthorized access or hacking possibilities.
While there is a small possibility that this can occur, it's not a common occurrence. Check out the reviews on Amazon for yourself. There is almost no mention of this potential problem with Lorex. They offer a safe, secure system.
Learn more about whether or not they can be hacked here: Home Security Cameras and Hacking
High Capacity Hard-Drive Required?
Another disadvantage that some people have reported about Lorex security systems is the efficacy of filing live streaming footage through computers and routers. You'll need to ensure your hard drive has enough capacity. It would be good to inquire with Lorex regarding add-ons for better back-up of files.
However, if you have only a couple of cameras and only want to keep the security footage for a day, or two, this really isn't a problem. The basic hard drive included with the systems will work for you.
It's only if you have multiple cameras, or want to keep the security footage longer than a couple days where, that you'll need to consider upgrading.
These days, memory and storage capacity is becoming cheaper and cheaper, so you should be able to find something that will work for you for under a hundred bucks. It's easy to upgrade something like this on your Lorex system too, so don't be intimidated!
Night Vision
Compared to some of the other high-end, DIY security systems, Lorex falls in the middle of the pack in terms of night vision. It seems that the main problem is the infrared LEDs that aren't as effective at further distances.
Detail is fine within 10 feet, and you're able to clearly see who it is without wash-out. However, past 10 feet, it's harder to identify people. Depending on your needs, this may or may not be a problem for you.
Compared to daytime, Lorex cameras have a noticeable graininess to them in low light conditions. It's about average for the category, but there are some cheaper cameras that perform better.
Overwhelming Number Of Choices
The last disadvantage that we'll talk about for Lorex security systems is the number of choices. Of course, choice isn't a bad thing and a ton of options is better than none at all.
However, when you look at all the choices available to you, it may seem like a lot. It can take a while to sort through them all and determine which is best for your needs.
Different Types Of Lorex Security Cameras
Lorex has various systems for the home and for business purposes. Each wireless system comes with a certain number of either wireless or wired cameras or a combination of both types. There are also Lorex security cameras that are designed for indoors and for the outdoors, provided in particular packages.
Some include night vision, while others offer features such as pan-tilt. There are options for just about every use! Click the "Shop Now" button below to see for yourself.
There is also the option of HD security system so as to get the clearest image possible with your HD cameras. Here is a brief rundown of the main types of security cameras you can get from this company.
Security Camera Types: Make The Best Choice
Indoor Cameras
These high definition cameras will let you know everything that's going on inside your home or business. There is a digital zoom feature, as well as low light performance.
Video quality is excellent and the video compression reduces file sizes so you won't use up the entire capacity of your device.
There are some cameras that allow 2-way audio as well, which make them a great choice for kids who are home alone, or elderly parents.
Outdoor Cameras
These weather resistant cameras are also tamper proof and can handle just about anything. They all offer night vision, and some offer extra range for this feature. You can usually get them in both black and white to match your home exterior.
PTZ Cameras
If you want full control over your viewing angle, then you'll want to opt for this kind of camera. The pan tilt feature means that you can keep track of movement. Perhaps the best thing is that because it moves, you can replace multiple cameras with a single one.
HP MPX Surveillance Cameras
These cameras don't use wi-fi or ethernet cables. Instead, they use a BNC cable, or Coaxial cable. This is a higher-end choice that's ideal for commercial grade security. It needs to be professionally installed, so keep this in mind before purchasing one.
IP Cameras
These are designed for remote viewing via mobile app. They're weatherproof and are designed for indoor/outdoor use.
Baby Monitors
Lorex makes some of the best baby monitors in the business. They feature 2-way talk, one touch recording and you're even able to use Skype to connect to the monitor from a computer.
It's hard to give you details of all the possible options, so check out Amazon for packages, customizable options and add-ons.
Why Should You Buy A Lorex Wireless Camera?
Buying a Lorex wireless camera is one way to boost your security system at home and in any other establishment. You'll be able to monitor what's going on in the various areas of your property, at whatever time you wish and from wherever you are in the world.
This will surely give you peace of mind and help you in case there are actual break-ins or crimes. Get the phone app for peace of mind from anywhere.
Something that we haven't mentioned yet is the deterrence factor. Simply having security cameras on your property can be the incentive necessary for criminals to give your house a miss.
Low-Budget Security Options
You can supplement Lorex Security Systems with fake security cameras. This will boost the security presence on your property for a small price. There are also other low-budget options such as solar powered lights, and fake TV simulators. These will protect your home safely and cheaply.
Experts recommend a combination of a home security system, along with cheaper, low-tech solutions. We love supplementing the expensive options with some cheaper ones. Real security camera + fake security camera? We love it!
Cost Of Lorex Cameras
A single Lorex camera set-up is very affordable. Even 2-4 cameras will probably be within your budget.
The most expensive, premium Lorex wireless security cameras can cost $1000 or more. These would be suitable for a large business that requires multiple cameras and has a large territory to cover. For example, a factory, or multi-story office building.
30 Day Trial Period For Lorex Security Systems
Another great bonus you get is the 30-day trial period. You can get  refund of the entire amount if the system doesn't work as it is supposed to.
If you can't figure out how to set it up, send it back for a full refund. It really is that easy to DIY it.
You also get one full year of warranty for both parts and services. Shipping is usually free too!
Lorex offers excellent customer service. They offer a better guarantee than just about anyone else in the business.
A company that stands behind their products? A company that puts their money with their mouth is? We love that here at Spy Cameras Reviewed.
Check them out on Amazon today.
Is There Free Installation When You Buy Lorex Wireless Cameras?
All Lorex wireless cameras are easy to install, even by the average person. They all come with detailed instructions for installation with some basic equipment you probably already have. You can even watch the instructional video on CD or online.
Or, check out this post with details: How to Install Lorex Security Cameras.
Someone with average DIY and computer skills should be able to install and set-up Lorex Security Systems. Most systems take only a couple of hours with minimal stress and hassle.
However, if you're all about automation and aren't really that handy with a power drill or technology, it may not be the right choice for you. Not to worry though, keep on reading for another option: to just pay someone!
Get A Local Security Company To Do It For You
If you want the whole security system to be set up for you, you can ask Lorex to do it for a minimal fee. They offer installation in most major cities. Or, you can get a local security company to set everything up for you as well.
Prices for this kind of thing are usually very reasonable. This is because Lorex systems are easy to install. A security company should be able to get it up and running in only a couple of hours. It's really not complicated.
Security Camera Installation Cost
If you don't want to do the DIY approach, read more to find out how much it'll cost to get someone to install them for you. According to one estimate, most homeowners spend between $800 and $2200 (USD) getting their system installed in the US. The average is around $1500.
Of course, the price depends on the system that you choose, the number of cameras you require, what preparations you make in advance (opening boxes, getting the Internet network set up ahead of time), labor costs, and the quality of the central monitoring system.
3-4 cameras might cost around $1000, while 8 cameras may cost $2000 or more.
Another estimate puts the cost at around $150 per camera, but $200 for enhanced installation where all the wires are hidden. Then, it's around $100 to set up the network and hard drive. So, a 4-camera package would be $700-900, while 8 cameras would be just under $2000.
The price varies considerably depending on whether or not your security camera installer is licensed, or not.
Are Lorex Cameras All Compatible?
If you already have some home or office security cameras from Lorex Technology, but would like to get some more, you need to know if they're compatible.
As a general rule, most of the security cameras are compatible with each other, and the receivers. Lorex makes some very user-friendly surveillance cameras and this area is no exception.
However, not all things are compatible and you should check first before buying anything. The Lorex website has a nice tool for this: find it here.
Where Can You Browse Through Lorex Surveillance Products?
If you've been thinking about getting a security system now's really the time! Check out Lorex Security Cameras today. They really are top of the line, high-quality security cameras. They will keep you, your family, your home and your business safe. You can browse through the entire selection on Amazon.
Where To Install Home Or Office Security Cameras
You've bought your new Lorex security system, but are perhaps wondering about where to install them? Don't worry, we've got you covered. Here are a few idea of places you might want to install a security camera.
First, some general advice. Place security cameras:
In high places, under shelter
Pointing away from lights
In obvious places
Where cables can be hidden
Some specific spots to consider installing your security camera:
Front door
Back door
Off-street windows
Backyard/ side gate
Basement stairs
EZVIV Vs Lorex Systems
Two of the most popular home security systems are by Lorex, and EZVIZ. You can read more about EZVIZ here: EZVIZ Security Review.
Let's compare the two to help you decide what's right for your home and family.
EZVIZ vs Lorex: Pricing
In terms of pricing, both of these security systems come in a number of different setups and configurations. However, when you compare say a 16-channel HD, with 16 outdoor camera, EZVIZ is usually a bit cheaper, by around 30%. The same is also true among the whole line of options.
EZVIZ Vs Lorex: Customer Reviews
Both of these surveillance systems have similar ratings and reviews from customer on Amazon, and elsewhere online. If you look at the lower ratings, many of the complaints are every similar. Mostly that the systems are not as DIY as the companies claim them to be.
Learn more about EZVIZ Security Cameras
EZVIZ Vs Lorex: Hard Drive, Or Cloud Storage?
These two systems work mostly on hard drives, which we generally prefer. Some of the security cameras the lower end use cloud storage (like the Amazon cloud cam), which can actually end up being more expensive in a year or two than just buying something like EZVIZ or Lorex.
EZVIZ Vs Lorex: Warranty And Customer Service
Both of these companies offer a one year warranty on their products, and excellent customer service to back that up.
EZVIZ Vs Lorex: Who Comes Out Ahead?
In reality, these two security systems are quite similar in terms of pricing, quality, options, and customer service. You'll likely be very happy with either one!
You can check out EZVIZ for yourself over on Amazon.
---
Lorex Vs Amcrest Security Cameras
Another popular option for home or business security systems is Amcrest. They're a more affordable alternative to something like Lorex. Let's compare Lorex vs Amcrest to find out which one is right for you. Read more to find out!
Lorex Vs Amcrest: Pricing
In terms of pricing, Lorex and Amcrest are similar in that there is a wide range of packages to suit just about any budget. They range from 1 camera to 32 cameras with Lorex, and 1 camera to 16 cameras with Amcrest,
However, if you compare apples to apples (4 cameras to 4 cameras for example), you'll usually find that Amcrest is a bit cheaper.
Lorex Vs Amcrest: Customer Reviews
In general, Amcrest has slightly higher user reviews for their products than Lorex.
Lorex Vs Amcrest: Cloud Storage, Or Hard Drive?
Amcrest security cameras are designed for storage in the cloud. 4 hours of free recording is included with your purchase, but there are optional plans to increase this.
Lorex is designed to be used with a hard drive for the most part.
Which one is better? The choice is yours! If you're happy with only 4 hours of storage, stick with Amcrest. It's usually very easy to set up these kind of cameras.
If you want more than that? Go with Lorex. Sure, you can upgrade your Amcrest system, but this gets expensive over the long-term.
Technical Support
Tech support for both of these companies is great, and often a bit better than the rest. If you're having trouble getting the software or network up and running, give them a call and they should be able to get you up and running quickly
Learn More About Amcrest Home Security Solutions
Lorex Vs Amcrest: Overall Winner
Both of these systems are top picks for home or business surveillance systems. It basically comes down to storage options.
If you want full control over your recordings, go with Lorex. If you are happy with a cloud system that is limited to 4 hours, stick with Amcrest.
You can check out Amcrest Home Security Cameras for yourself over on Amazon.
---
Lorex Vs Arlo Security Systems
Arlo is another popular brand of home and business security systems that has a huge number of sales. For example, their 2 camera kit has more than 16,000 customer reviews on Amazon. That's more than just about anyone in the business!
Let's get to it to help you decide which one is right for you.
Range Of Choices: Lorex Has Way More
One of the things people love about Lorex security cameras is the massive range of options they have, from a single camera to monitor your front door or baby at night, to professional grade security systems for a big warehouse or office building.
Arlo has far fewer choices, and maxes out at 4 cameras. They're more geared to the home-owner wanting a basic security system, as opposed to Lorex who also caters to the high end of the market.
Camera Quality: Similar
In terms of the camera quality, Arlo and Lorex are quite similar. Most models are capable of night vision (Lorex has more than 100 feet, while Arlo has around 25 feet),  a sharp picture quality, are weatherproof and can operate in a range of climates.
The Arlo camera has 780p resolution, while both the Arlo Pro 2, and most cameras have 1080p. In terms of clarity, there isn't really that much difference.
Features For Arlo And Lorex Security Cameras
Both companies offer many of the features that you're probably looking for such as motion sensor alerts, smartphone app, etc. Point by point, there isn't a whole lot of variation here.
Smart Home Capabilities
Arlo has designed their cameras to be compatible with many of the most popular smart devices such as Alexa, Echo Fire, Google Assistant, etc.
Lorex has yet to offer this. We're not sure what the deal is with this and we hope they get on board soon because it's a feature that many people are looking for.
Storage Options
Arlo comes with free, 7-day rolling storage. This allows you to record audio and video for 7 days. Lorex has gone with the hard drive option, where you control the footage entirely.
Arlo Vs Lorex: The Overall Winner
Both Arlo and Lorex are top-quality security systems. Arlo is actually more of a "camera" while Lorex is more of a "system."
If you're looking for a comprehensive package for a large area, then you'll definitely want to go with Lorex. Or, if you want some privacy around the footage that you're shooting, again, go with Lorex and the hard drive.
If you're looking for a very simple set-up for your home and want to get up and running in minutes, go with Arlo, especially if you want it to integrate with a home control devices. They're also a bit more affordable, probably due to the rolling cloud storage as opposed to the hard drive.
In reality, you probably couldn't go wrong with either of them.
Does it sound like Arlo might be right for you? You can shop now on Amazon.
---
Lorex Vs Night Owl Security Systems
If you're looking for a reasonably priced, hard-wired, or wireless security system, then the Night Owl might be one that you consider.
Although the quality of the actual cameras are quite similar between Night Owl and Lorex, there are some other areas where Lorex clearly comes out on top. Let's take a look at what they are.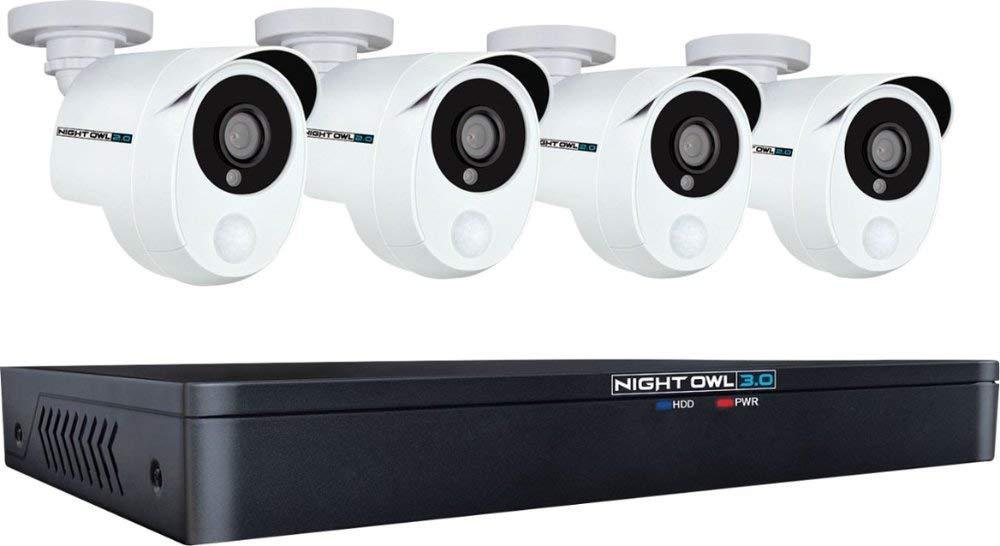 Customer Service And Support
In terms of technical support and customer service, Lorex clearly comes out on top. They have a massive range of articles and YouTube videos to help you get things up and running.
Combine that with how easy they are to get on the phone for personal help and they're clearly a cut above much of their competition, including Night Owl.
As far as ease of installation goes, it's quite similar between Night Owl and Lorex and this isn't an area that should factor into your decision.
Software
Lorex software, specifically the phones apps work well. There are very few reports of crashing, being difficult to get connected to the cameras, etc.
However, if you take a look at Night Owl security camera reviews, you'll notice that there are some huge problems and some people were never actually able to get it to work. This is unfortunate because the cameras themselves are actually quite good and this problems seems like it may be easy for Night Owl to solve.
Range Of Options Available
Night Owl does have a lot of cameras to choose from and you should be able to find what you're looking for in a home or business security system. However, Lorex has more!
It's for these reasons that we recommend Lorex over Night Owl Cameras. Nevertheless, you should check out Night Owl's selection for yourself.
---
Reolink Vs Lorex
Let's talk about these two popular home security systems: Lorex and Reolink. Which one is right for you? We'll help you decide.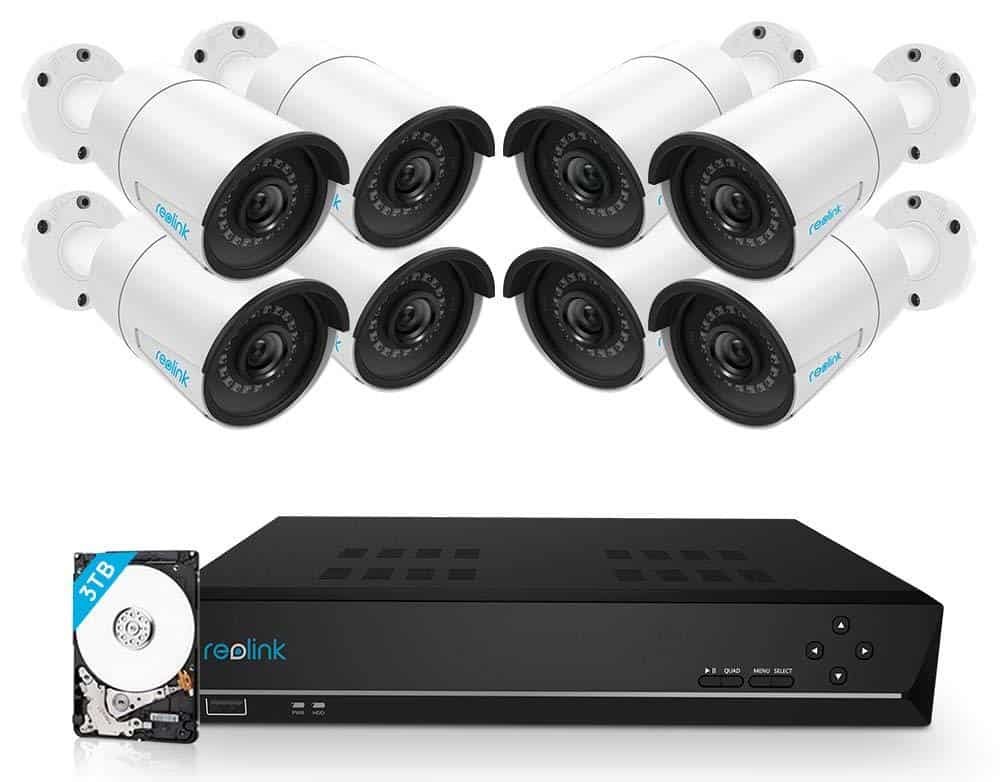 Power Methods
Lorex cameras are pretty standard in terms of how they're powered. They basically have to plug into a wall.
Reolink has some interesting options in that they have a battery powered camera and a solar powered camera.  This can allow for more flexibility in terms of where you place the camera.
Range Of Options
In terms of the customizable options, nobody beats Lorex. You can find a package or system to suit just about any need, from a simple baby monitor to a system with 20+ cameras.
Reolink does have a number of choices, but it's not even close to what Lorex has.
Quality Of Cameras
In terms of picture quality, including motion detection and night vision, both of these products are quite similar and are among the best in the business. You actually couldn't go wrong with either option.
Warranty And Customer Service
Both of these companies offer a standard 2-year warranty. Customer service for both is quite good as well, although we'd give the edge to Lorex in this category. The sheer quantity of help videos and articles is quite impressive!
Reolink Vs Lorex: The Overall Winner
In reality, you can't go wrong with either Reolink or Lorex. They're both top-quality systems. However, if you're looking for an alternatively powered option, then go for Reolink.
You can check out some of the Reolink options here.
Lorex Camera Review: Your Thoughts!
What are your thoughts on the Lorex Security Camera Review? Leave a comment below and let us know. Also be sure to give this article a share on Facebook, Twitter, or Pinterest. I'll help other people, like yourself who are concerned about keeping their home, family or business safer.

Latest posts by Damon Kennedy
(see all)
Last update on 2023-11-08 / Affiliate links / Images from Amazon Product Advertising API