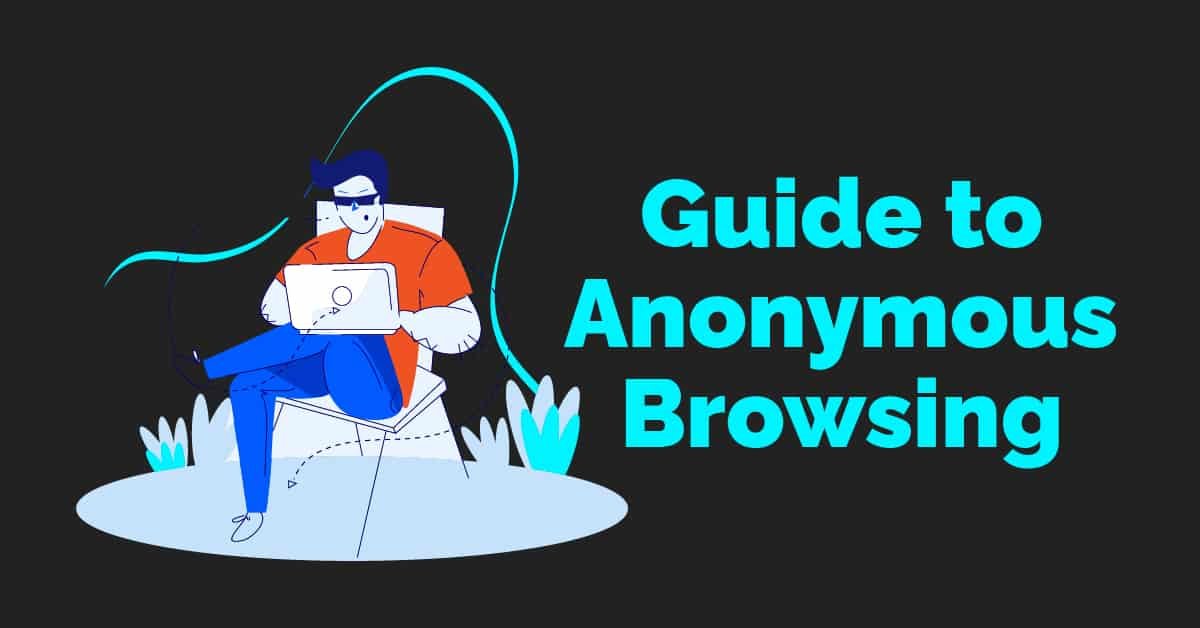 Now that the internet is such an integral part of our lives, it is easy to forget just how much information we are giving away.
Several years ago it was revealed just how much of our personal data was being gathered and shared, usually in order for companies and brands to make money.
Most people were shocked by this but few people have actually done anything to change their behavior.
Data protection laws are stricter and brands are (to an extent) trying to limit the amount of data they are collecting.
Wanting to stay anonymous while browsing online might sound as though you want to hide something, but there are a lot of reasons why browsing anonymously can protect you and your personal data.
Why Browse Anonymously?
Virtual private networks (VPNs) have become more common in recent years, but one of the main things that people search for about VPNs is whether or not they are legal.
When using a VPN, the connection between your device and the internet goes through an encrypted virtual tunnel. This disguises your device's IP address and hides your location. Privacy is an UN human right and should be respected and protected wherever you are, including on the internet.
One of the problems with the internet is that it exists outside of the laws of a single country or collection of countries, such as the UN.
Websites and companies can promise to adhere to international laws and be banned in individual countries due to breaking those laws, but the internet can still be something of a wild west when it comes to data protection and privacy.
In some cases, data collection can be compared with market and consumer research. Brands will track how you use their website in order to tailor advertising and show you products that its algorithm thinks you will find interesting.
This sounds fine for the most part as they are simply trying to market their products effectively, but there is a fine line between using data to improve user experience and intentional data mining, especially if it is later sold on to other companies.
There have been a lot of stories about companies misusing customer data or selling it on, one of the most striking is the case that involved the menstrual and fertility tracker Flo.
In 2019, it was found that Flo was selling user data. This was an especially controversial case due to the sensitive nature of the information that was being shared.
Over one hundred million people were having the dates of their periods shared, as well as whether they were trying for a baby, or experiencing illnesses associated with menstruation.
The data was sold without the consent of the users and they had been promised privacy. But one of the problems with apps and websites such as this is that there is a difference between privacy and anonymity.
Privacy Vs Anonymity
There is an important difference between privacy and anonymity on the internet. Privacy means that you allow websites and companies to collect your data, but they keep it private. It also means that you can, to an extent, control what data is collected.
Anonymity is very different as it keeps all of your information completely secret. This means that websites cannot see any of your data and so cannot collect it, for advertising purposes or otherwise.
Essentially, privacy hides your activity but not your identity. Anonymity hides your activity and your identity.
So why do you need the extra level of privacy that hiding your identity provides? One reason is for personal information such as entering bank details or information relating to your taxes.
Most browsers allow you to save your credit card details and banking passwords which is generally safe but open to error and could result in people stealing your information.
Anonymity can also be helpful for general practical reasons. Anonymity, such as that provided by a VPN, allows you to access websites in other countries. This means that if, for example, you are on a work trip in a different country, you will still be able to access your company's systems.
One of the main reasons why people use a VPN is actually to use streaming services in different countries. This means that you will be able to watch Netflix shows and movies that are only available in other countries.
This might only be a temporary usage, however, as some streaming services, such as Amazon Prime, are becoming aware of this and are blocking people from viewing content that is being accessed via a VPN.
Different Methods For Browsing Anonymously
Being anonymous online is one of the best ways to protect your personal information, but how do you actually do it?
It is well-known that anything you do online leaves a footprint and can be easily tracked, but there is software that can stop this. Here are some easy ways to hide your identity online.
Using Signals
Signals is great for keeping your texts, voice notes, phone calls, and audio calls private. Signals is a messaging app that is heavily encrypted and is as simple as any other messaging app.
You can send images, videos, text, and voice notes. You can also make video and voice calls. It isn't perfect for anonymity as there are limitations in its metadata, but it's a good starting point.
Using Tor
Tor is a metadata-resistant software project that can be used alone or in combination with other software. As there are limitations in terms of Signals metadata, Tor can be used along with the app to keep your data and communications even more secure.
When using Tor, your traffic is bounced between three different nodes which are spread across the internet. (A node is a communication endpoint, such as a computer). This makes it very difficult, but not impossible, to identify you.
Unfortunately, Tor isn't perfect either and doesn't offer complete anonymity, but it is currently the best option out there. You cannot reach complete anonymity with Signals and Tor, but they are the closest that you can find at the moment.
Using VPNs
VPNs are the most common way in which people protect their identity on the internet. VPNs, as mentioned above, send information between your device and the internet via an encrypted tunnel. This essentially means that the websites you access cannot see who or where you are.
However, VPNs do not offer anonymity. This might sound paradoxical as they do obscure your identity, but they do not offer complete anonymity. While your data and IP address are hidden when using a VPN, they are not hidden from the VPN provider.
This means that, if the VPN provider is hacked or accessed somehow, your information can still be compromised. But, VPNs are still a good way to protect your identity.
The internet changes and shifts all the time with privacy and anonymity being almost impossible because as soon as one software finds a way to protect your identity, someone finds a way around it. This means that VPNs aren't perfect (nothing really is) but they are a good and affordable option.
Many VPNs are actually free, but those are never great. Luckily, there are a few good ones that cost very little. In fact, the best VPN is actually one of the cheapest.
It is called Private Internet Access and it is the VPN I have been using for over 5 years. I used it when I lived in China for a year and it even worked well there to get around their blocking of websites like Facebook, Whatsapp, Youtube, etc.
PIA have a good comparison on their site of free and paid VPNs.
Using Zero-Knowledge Services
A zero-knowledge service is a provider that doesn't read or pass on your documents or information to third parties. Google, DropBox, and Microsoft can see, read, and copy all of the information you upload or send.
This means that, for example, Gmail can read every email that you send. As was shown in the Snowden documents, Google, DropBox, and Microsoft all collaborate with surveillance services which means that the government can see what you are doing.
Some people believe in the idea that you shouldn't care about this "if you have nothing to hide", but a lot of people believe in privacy on principle and due to it being a human right.
Just because you aren't doing anything illegal, doesn't mean that the government should be able to see everything that you are doing. Consider everything you do online in physical terms.
For example, if you think it's okay for other people or AI to be reading your emails, would you be okay with people reading your personal letters? Or perhaps seeing your family vacation photos or reading your journal?
If you aren't recording the fact that you have done something illegal, then you have no reason to worry about someone reading or seeing this information, but that isn't really the point.
There is nothing wrong with wanting to keep your personal life private. It is a controversial political argument and we are not aligning ourselves with any political side, but it is perfectly natural, and well within your rights, for you to want to keep your private life private.
Being Mindful Of What You Post Online
When the internet first came about, we were all told not to post anything online that we didn't want to be around forever or seen by the whole world. As the internet has become such an ingrained part of everyday life, people have become more careless of what they post online.
This doesn't mean photos from a party that you later regret posting, but rather small things that you might not realize will give away personal information.
These can be little things such as posting a photo of yourself at dinner with your credit card visible on the table or a photo of you in front of your house that gives away your address. These might seem innocuous but can actually provide potential scammers with your personal information.
This can also include giving your banking information to any website. It's important to ensure that every website that you buy from is safe and secure.
There are ways to ensure this, such as researching the brand on pages such as TrustPilot, using payment software such as PayPal, and ensuring that you do not store your banking details anywhere public.
Get A Built-In Firewall
Most computers come with a free trial of a firewall that offers a decent amount of protection from viruses, but many people don't bother to reinstall them once the free trial has ended.
Many people believe that they are sensible enough to avoid getting a virus, but it's easy to accidentally click the link on a phishing email or open a dangerous website that looks legitimate.
Not many firewalls will give you anonymity but there are VPNs that have built-in firewalls that offer a level of anonymity. PIA is one of those.
As with most of the software that offers anonymity, installing just one won't be enough. If you want to protect your activity and your identity to the highest level, then using a combination of software is the way to go.
Browser Extensions To Ensure Anonymity
Browser extensions are an easy way to add a level of anonymity. Many of them are free and only require a fee for premium features or ask for a donation.
Some of the software mentioned above can be added through a browser extension. This can include VPNs, like PIA which is one of the most popular extensions.
As mentioned several times throughout this article, no one software can make you completely anonymous. This means that, while there are some excellent browser extensions, they cannot do everything to make you anonymous so should still be used in combination with other software.
Creating An Anonymous Email
Creating an anonymous email account might sound a bit nefarious but it's actually a great way to keep yourself safe online. This doesn't mean that you can pretend to be someone else or use it for illegal means, it can be as simple as making a new email address that doesn't include your name.
Most of us use email addresses that are full or abbreviated names and nothing more. This is sensible for work as it is important to identify yourself in these situations.
But when you're ordering a pizza and the company demands that you register with them and sign up for their marketing, then things can get quite annoying.
One of the reasons for using an anonymous email address is to avoid spam. Many of us have email inboxes that are inundated with spam emails or marketing from a website we order one small thing from seven years ago.
Your data can be collected through email marketing as well. This will usually be through surveys or competitions where you don't really think about what information you're giving away.
This is one of those situations where you are potentially agreeing to your data being collected through the terms and conditions agreements that no one really reads.
This is an option and you can read all of the terms and conditions for every website, app, and delivery service that you sign up for, but this will take you a ridiculously long time.
For Microsoft alone, it would take you over two hours to read their terms and conditions. This is just not a practical expectation for anyone.
Controlling The Information You Give Away
When visiting a website, you will now be presented with a banner or a pop-up asking you to accept the website's cookies. Depending on the website, the banner or pop-up will look very different and sometimes offer you options.
Most will simply tell you that they use cookies to "tailor your experience" which means they will show you advertising based on your online activity. Others will offer the option to choose the type of information that is collected and allow you to reject the use of cookies
However, some sites will actually prevent you from entering if you do not accept their use of cookies, so this is something to be wary of. There are a few other things you can do to stop your data from being collected, here are some easy steps for adding extra protection.
App Permissions
As well as websites, apps will use cookies to collect data. These are often necessary if the app requires you to log in to your account (as most do).
This is because a username and password will need to be linked to you in order for you to access your account. But apps can also use your information for other purposes.
Flo has already been mentioned and the selling of personal data is not as uncommon as you might think. Whenever you are on an app, your usage is being tracked. For some apps, this means they can see when you visit a page.
You will likely have received emails from some online retailers thanking you for visiting their site and casually asking if you "forgot something." This is a marketing technique used to encourage you to return to your site but it can often be quite unsettling.
As well as the sites recording when and how often you visit, some also track how long you look at an item. It is very common for someone to look at a product on a website, decide they don't want it or will think about it, and then see a number of advertisements for it while they are browsing elsewhere.
This is how cookies work and this is what websites mean when they say that they are "tailoring" your experience.
This is also why you will see a lot of adverts for a product once you have already bought it. It is very common for someone to buy, for example, a mattress and then have the algorithm suggest ten different mattresses for them to buy.
This is because data collection isn't perfect and you will often see advertising that you are not interested in. But don't let this make you feel as though data collection is neutral or that you can outsmart it. While you might notice the odd blip in the advertising, most of the time it is pretty accurate.
This is why it's a good idea to read through the banners and pop-ups that are shown, no matter how dull the information might seem. It's also a good idea to not just blindly accept the cookie usage and alter it if you are not comfortable with it.
Use An Ad Blocker
Ad blockers do exactly what their name suggests. We are all constantly bombarded with adverts whenever we are online, as this is how most companies and content creators make their money, but you can stop them from showing up.
Ad blockers will block advertising on websites and some streaming services but some will actually collect your data themselves. So it's important to check the data collection policy of the software you are installing just in case, you don't want to replace one problem with another.
As well as blocking advertisements, they also work the other way around. This means that ad blockers can stop your information from being sent to third parties as well. Ad blockers can essentially sever the link between your computer and advertisers.
It's important to find some good quality ad blockers. It's also important to know that websites are becoming more aware of people using ad blockers.
This has resulted in some websites not allowing users to access content if you are using an ad blocker. This is now common on streaming websites that have ad breaks as you would find on TV, especially on catch up sites associated with TV channels.
Other sites are also blocking ad blockers as they make the majority of their money through advertising. This is difficult for small businesses that rely on adverts to support their income.
Home Assistant
A lot of people are filling their homes with smart devices and home assistance. These can be super helpful (and super fun) but they should be used with caution. In fact, some people advocate for getting rid of them entirely, and they do have good reasons for this.
Every home assistant and smart device works differently so it's really important to check out what information is being collected before you buy one.
For example, everything you say to an Amazon Alexa is recorded. You can access this information via your Amazon account and there are sensible reasons for recording the information.
Some people use their Alexa to order products from Amazon and then, later on if they forget if they have done it or not, can double check if they did actually say it out loud.
Just as with other data collection methods, your home assistants are usually only collecting this data to improve user experience. But that doesn't mean that people with malicious intentions cannot access this data.
Every so often there is a news story about companies, even some of the giants with world-beating security, being hacked and having user information stolen. So it's always a good idea to keep data collection to a minimum.
Even smart devices that you don't expect to hold any information can be collecting data. It was recently discovered that Roombas are saving the layouts of the homes that they are cleaning.
This might seem like a sensible thing for them to do as they are robots who will become smarter as they gather more information. This means that, while they are roaming around your home and cleaning up, they are learning the layout so that they can be more efficient the next time they clean.
This is all fine until you realize that people might be able to access the layouts that the vacuum cleaner is recording. This means that people will be able to essentially have a blueprint of your home which can make you an easy target for break-ins.
The owners of Roomba do say that they do not plan to sell data so this might not be cause for concern, but it is an example of how the devices that we are carrying around with us all day and think of as passive items that only function when we use them are actually constantly working to gather information.
Social Media
Social media is so often demonized in the media that it would be no surprise if people started to campaign to ban it. Social media can be used for a great number of wonderful things, but it is one of the main ways that your data is being gathered.
One of the most famous instances of this is with Facebook. It is not surprising that Facebook tracks your usage of the app and website itself, it would not be able to function without this information. But Facebook has a very long reach across the entirety of the internet.
Facebook owns a number of the most widely used apps, including Instagram, WhatsApp, and Instagram. It even has a reach toward apps that it doesn't own as you can use your Facebook account to register with a lot of different apps and websites.
Facebook tracks users in a number of different ways and it is possible to curb their access. If you want to be completely anonymous online then you really need to delete all forms of social media.
Even if you use an account that doesn't show photos of yourself or include any identifying information, your personal details will still be collected.
This is true of every social media app and it is pretty much the point of them. We are now accustomed to sharing small parts of our lives online.
For most people, this is only with people that they know and would tell this information to anyway. It is possible to make your social media accounts private and to protect your personal information, but remember that privacy and anonymity are not the same things.
You will still need to provide your email address and personal details in order to create an account. Even if you use an anonymous email address, this will still be registered with your IP address.
For those with public accounts, personal information is even more widely available. Scammers will often copy or hack profiles and then contact their followers to try and steal money.
This can be through pretending to be a family member in desperate need of money or through pretending to be someone famous that you would otherwise trust and sending links to fake websites.
With social media, you are putting your entire life online. This is fine if you keep yourself safe and protected. But just remember to be savvy and conscious of all potential scams. If you truly want to be anonymous online, then it's best not to have any social media at all.
Summary
The internet is not a new place for us anymore. Younger generations, such as "Gen Z" and "Alpha" are being defined by the fact that they have grown up not knowing a world where the internet didn't exist. It is an essential part of our everyday lives and has revolutionized so many industries.
The internet is not a bad thing, even the often demonized social media has many benefits, but that doesn't mean that it can be used completely freely. Just like in real life, there are people on the internet looking to make money in whatever way possible and will use any means they can to do it.
This means that setting up ways to stay safe online should be as natural to you as locking your front door at night and looking both ways before crossing the street.
If you are not particularly technically minded, then a lot of the information and warnings around data collection and advertising might seem strange and complex. But what you need to know is that your personal information is valuable to other people and they will buy it.
A group of people knowing your name, age, height, and gender might not seem likely a particularly big deal, especially if it is information that you wouldn't normally hide. But it means that strangers are making money from knowing personal details about you, which simply doesn't sit right with many people on principle
Being anonymous online is often associated with social media trolls or scammers, but it is actually a sensible way to protect yourself and your personal information.
It's better to spend a few minutes adding some safety software to your computer than risk having your data stolen and used by someone else, especially information with big consequences such as banking details.

Latest posts by Damon Kennedy
(see all)