A Review of the SimpliSafe Home Security System
If you're looking for a simple home security system that you can set up yourself, Simplisafe2 Wireless Home Security System makes a great choice. It really is extremely easy to set up yourself.
There are two monitoring options. The first one is to pay a monthly monitoring fee. The second one is to monitor the system yourself. It really is up to you and your needs as to which one you choose.
It's cheaper than just about any other home security system out there, but it doesn't mean that it's terrible. While basic, it does include the key things you need such as:
Base station
Dummy security camera (for a home security system with real cameras, check out: Lorex Security).
Motion sensor with alert monitoring
6 entry sensors
Keypad
Keychain remote
Fire, water, carbon monoxide monitoring
Extremely easy to customize by adding on additional components
Full, 60 day refund
Excellent customer service
Compare the Top Security Systems:
SimpliSafe Home Security System Pros:
Affordable
No contract to sign
Cheap, optional monthly monitoring
Extremely simple set-up (no drilling!)
Cell connectivity
Battery backup so burglars can't cut wires and disable it
Sticky-tape often doesn't stick well when mounting sensors
Doesn't require an Internet connection to work
SimpliSafe Easy Installation Guide
SimpliSafe Home Security System Cons:
Not compatible with a security camera + doesn't include one in the package
Only a very simple mobile app
Old-school monitoring dashboard
The Best Security Cameras
| Best Overall | Most Affordable | Easiest to Set Up |
| --- | --- | --- |
| Lorex Security System | Ezviz Home Security | Arlo Security System |
| | | |
| 8 channel, motorized dome cameras | 4 weatherproof cameras | 2 wireless HD cameras |
| Check Price | Check Price | Check Price |
The Takeaway on the SimpliSafe Home Security System
If you're looking for a very user-friendly, simple home security system then this one from SimpliSafe makes a great choice. You can easy customize the system according to your needs by picking from one of their packages, or mixing and matches the individual components.
Installation is super easy and it truly is DIY. No drills, no patching drywall, no trips to Home Depot. You basically just have to use the sticky tape to mount everything on the wall. Then, it takes a few minutes to get the software up and running. After that, you'll be able to monitor what's going on around your home. This is far, far easier than some of the other companies that require some serious mental energy to get their home security systems going.
Another thing we love about SimpliSafe home security system is the affordable monitoring. For around $15 per month, they'll contact you when a sensor is triggered. If you don't say a safe word, then local police will be dispatched. This is of course optional.

You can also monitor the system yourself and contact police if necessary. Some people don't like paying a monthly fee, so this is a good option for them.
SimpliSafe: New Products
One Major Negative
A big negative to this system is the lack of surveillance camera. We found this quite strange since it's probably the one thing that would propel this home security system into the best in America. The system is also not compatible with any security camera on the market today.
Come on SimpliSafe! How hard would it be to choose one or two popular surveillance cameras and make the software compatible? We don't think it's impossible, and we wonder why they haven't done it yet. It seems to be a serious oversight.

Overall, A Nice Home Security Choice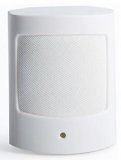 Anyway, despite the lack of security camera option, we still love SimpliSafe. It's a very basic set-up that does what it says it will do. Namely, monitor your home for potential break-ins, fires, water damage, carbon monoxide, etc. It's extremely affordable, customer service is great and there are no contracts. We love that here at Spy Cameras Reviewed and this SimpliSafe home security system gets our solid recommendation!
You can get this affordable home security on Amazon today:
SimpliSafe Home Security System: Have your Say!
Do you have any experience with Simplisafe home security? Leave a comment below and let us know your thoughts.

Damon Kennedy is the expert on all things home security systems. He's been working in the field for 20 years, recommending and installing them for his clients, for both homes and businesses. He's excited to share his knowledge with you so that you can make the best choice!

Latest posts by Damon Kennedy (see all)