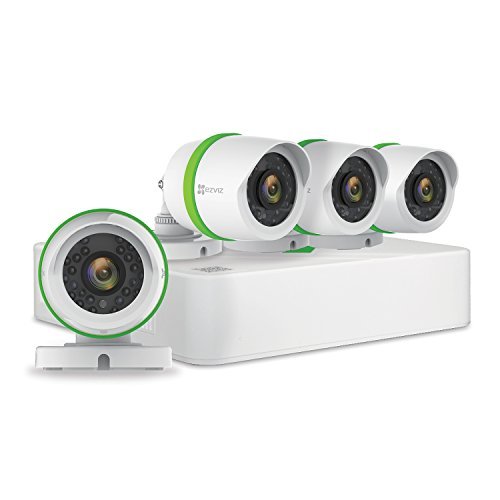 An Introduction to Home Surveillance Systems
There are many reasons why people buy home surveillance systems. The biggest one is that people want to keep an eye what's happening at home when they're on vacation or at work. With something like this EZVIZ home surveillance system, you can monitor what's happening at home in real-time via a web browser or through an app on your phone.
Home security systems work well in the workplace too. They enable you to keep an eye on things while you're at work. It's especially useful to have an overall view of what's going on when you're not there! Finally, some people use surveillance cameras for boats, trailers or other expensive toys in storage. For something like this, the motion sensor and alerts are extremely useful. You'll get a message when someone is in the area of these things, because there is almost no reason why someone would be around them!
The last reason that someone might want a surveillance camera system is for the deterrence factor. No bad guy likes to be caught on film doing something they shouldn't. Place security cameras, as well as a few fake security cameras around your property and you'll hopefully avoid any problems from the start!
Keep on reading for more information, as well as the pros and cons of the EZVIZ home surveillance system.
Compare EZVIZ Home Security Systems
Details about the EZVIZ Home Surveillance System
If you're looking for an easy security camera system, this one from EZVIZ is a nice choice. Falling into the mid-range of home security cameras, it's neither cheap nor expensive. For a cheaper option, check out the Vimtag Surveillance Security. For one of the highest end cameras that is still designed to be installed yourself, check out these top-of-the-line security cameras from Lorex. 
Fully Customizable
We like these security cameras from EZVIZ for a whole bunch of reasons, but most of all, the number of options they offer. You can choose from 720 or 1080p for the video quality, 4, 8 or 16 channels and finally, 2, 4, 8, or 16 cameras. You truly can get the home surveillance package that you want!
Built in Hard Drive
We also particularly like the built-in hard drive. This is a better option than many of their competitors. The competitors often have no hard drive, but instead rely on cloud storage accessed through the company website. This isn't necessarily bad, but you're reliant on this website, instead of having control over it yourself.

Some other security systems require you to purchase your own hard drive, and then set it up with the cameras. This is obviously a hassle when compared to something that is pre-installed, straight out of the box. The other benefit of this is that it doesn't require an Internet connection, unless you want to view the footage when you're away from home.
1-Year Warranty
EZVIZ home surveillance systems come with a one year warranty. It stops working in that first year and they'll replace it. There is also a lifetime of updates, and customer support. EZVIZ is a company that stands behind their products.
You can get this affordable home security solution on Amazon today:
EZVIZ Home Security System Installation

EZVIZ Home Surveillance System Pros:
Fully customizable package
Built in hard-drive
Accessible in real-time via app or website
High quality cameras
Waterproof housing for cameras for added durability
Night vision enabled
One year warranty in North America
Lifetime of customer support
EZVIZ Home Surveillance System Cons:
Some difficulties after updating the software
Mountain bracket is too short and doesn't allow for the best positioning of the cameras
Fans are very loud, so consider putting outside your bedroom!
Find the Best Home or Business Security Camera
| Best Overall | Most Affordable | Easiest to Set Up |
| --- | --- | --- |
| Lorex Security System | Ezviz Home Security | Arlo Security System |
| | | |
| 8 channel, motorized dome cameras | 4 weatherproof cameras | 2 wireless HD cameras |
| Check Price | Check Price | Check Price |
The Takeaway on the EZVIZ Home Surveillance System
If you're looking for a decent home surveillance system that won't break the bank, this one from EZVIZ is a nice choice. It's super-easy to set up, with many people getting it up and running in under an hour. The system is fully customizable according to your needs and budget. You can access the feed from anywhere via an app or a web browser, but you can also use this without Internet thanks to the built-in hard drive.
EZVIZ is a company that stands behind their product with a 1-year warranty. Customer support is also great, with a lifetime of it offered for free. All of these things make the EZVIZ home surveillance system a definite win here at Spy Cameras Reviewed. It's a solid home security system at a very reasonable price.
You can easily get it on Amazon today:

Damon Kennedy is the expert on all things home security systems. He's been working in the field for 20 years, recommending and installing them for his clients, for both homes and businesses. He's excited to share his knowledge with you so that you can make the best choice!

Latest posts by Damon Kennedy (see all)