You want a security system to protect your office, your home or your family, but you just don't want to deal with the setup.
All those wires you have to run….or all the money you have to spend to have someone run them….
But what if there were no wires?
Wireless security cameras connect to the base unit using WiFi. There are no wires to run, making set up incredibly easy.
And they work, even if you don't have an internet connection.
You may have heard that the big drawback of a wireless security system is the fact that it can be hacked.
That is true.
But it's not all that easy to hack such a system. If you take all the right precautions, it basically becomes a non-issue. We'll cover that below.
First, let's take a look at the best wireless security camera systems on the market and compare them to help you find the perfect system for your needs.
The table shows our top 5 picks. More info on those five, plus another three we also love, follows below.
Best Wireless Security Camera Systems Compared
Best Wireless Home Camera Systems Reviewed
Below are our recommended wireless security cameras, in a whole range of budgets. They are presented in no particular order.
Lorex Home Security System
Coming in at #1 on our list of the best wireless security cameras are the systems from Lorex. While not cheap, they are some of the highest quality systems that you can install yourself (see: Lorex Installation). Lorex actually makes both wired and wireless systems.
The Highest Quality DIY Security Camera Systems
The thing we love most about Lorex Home Security Systems is that they are very high quality—they'll last for years in all kinds of weather. You can also set them up yourself very easily and customer service is top-notch, in case you run into some problems while you're doing it.
Lots Of Customizable Options
Check out the Lorex website—they have a ton of options to suit just about any need and budget. The options range from a simple wifi baby monitor to a $1000+ top of the line home security system.
The thing we love best about Lorex is the 30-day hassle free return policy. If you don't like it for whatever reason, you just have to return it for a full refund.
What Do People Think About Them?
"So far they're great, and the picture quality is a lot better than expected. The phone App works great on my Samsung smartphone, and I love the alerts that they will send you. I found that the cameras were pretty easy to mount with just a few basic tools, and beyond that, it was just plug in and go."
"The software is a little bit quirky and takes some basic troubleshooting to get up and running. Besides that, it's super easy to set-up, especially the installation, and I love that it's the complete system. I hate the idea of trying to source all the parts for something like this separately."
"It's a great system with decent quality cameras and is easy enough to set-up. I love being able to keep an eye on my house when I'm not home, especially with the alerts via the phone app. I just wish that I'd gotten a system with more cameras!"
Learn More And Where To Get Them
For more details on Lorex camera systems, including the pros and cons, check out our full Lorex Security System Review.
You can also click below to head over to Amazon to view the full selection of Lorex surveillance systems.
Tenvis Wireless Indoor IP Security Camera With Night Vision
This camera from Tenvis is the cheapest option on this list, but offers many of the features of the higher end cameras. It just doesn't deliver the same quality of recording, with only 720p. Plus, it's only the camera, not an entire system and it is not waterproof.
The thing we love best about this home security system is how easy it is to set-up. Numerous customers mentioned in their review on Amazon that it only took a few minutes. This is substantially quicker than some of the more expensive competition.
Can Use SD Card
Another high-end feature that they have is the ability to record the footage. Some of the cheaper options only allow streaming via an app or web browser. But the Tenvis system allows you to record to an SD card (not included) or your cellphone.
Learn More About Tenvis Security Cameras
One of the things we don't like about this system is the 720p camera. While this isn't bad, and certainly is good enough for most situation, there are indeed higher quality cameras out there. For more details about the pros and cons of the Tenvis Security Camera, you can check out our full review of this popular system.
Customer Reviews And Ratings For Tenvis Cameras
"This home security camera worked within minutes and set-up really is as easy as the comes says it will be. I was pleasantly surprised. It's easy to get up and running via Smartphone app so you can keep on eye on things when you're not at home."
"Okay, so the picture and audio quality are not the best I've ever seen, but for the price? I really can't complain at all and it's good enough for my needs. I do with the night vision had a bit more range, but overall, it's fine. It's cheaper than much of the competition and I love that it has an included Micro SD card instead of having to pay for cloud storage. If you want an affordable security solution, this might be the one for you."
"It's cheap, and does the job. I use mine to keep an eye on the factory I manage when I'm not around. Installing it, downloading the phone app and getting it all connected to wifi was reasonably easy and took under an hour. Not much more to say besides that!"
Where Can I Buy It?
You can learn more about the Tenvis in our full review. You can also head to Amazon to get more info and the current price.
EZVIZ Home Security System
Next up on our list of wireless security cameras is this system from EZVIZ. It is also a single camera only. There are a couple things in particular that we like, including the built in hard drive and also how customizable these security cameras are. The built in hard drive saves a lot of hassle!
Easy To Set Up
With some other cameras, you have to buy your own hard drive. You then have to get it paired up with the system. EZVIZ takes one step out of it and it's ready to go straight out of the box. This will reduce your set-up time. You'll hopefully have this thing up and running quickly and easily.
Lots Of Options
EZVIZ home security systems are also super customizable. You can choose from a few different options. There are different numbers of channels, and cameras, as well as different camera quality. You're sure to be able to find something to match your budget and needs.
What Do People Think About EZVIZ?
"I'd totally recommend this security camera. At first, the app was a bit difficult to use, but the company has updated it and it's now one of the best that I've seen. Good quality footage and a ton of options to choose from so that you can get exactly what you want with it."
"Great value when you consider the price and it certainly does everything it says that it'll do. I got mine up and running in just a few minutes and couldn't be happier with my purchase. I'd give it 10 stars if I could and it's one of the best things I've bought online in the past few years."
"When compared to the Blink XT that I've used in the past, the picture quality is just so much better. The only thing I don't really like is that it's quite sensitive and I usually get at least one false alert every day. Not a big deal, but the company could certainly improve upon this. Otherwise, it's a solid purchase and you can't beat the price."
Video: EZVIZ Home Security Solution
1-Year Warranty
And don't forget about their 1-year warranty. EZVIZ is a company that stands behind their products in a serious way and we love that about them!
Learn More
For much more info, read our full review of the EZVIZ system. Or head over to Amazon to see it there.
Arlo Security System
This mid-range choice in security systems from Arlo is fairly basic: it does everything well, but nothing exceptionally well. For the price, that makes it a great value.
But it has one feature that sets it apart: the cloud storage from Arlo, which takes a huge hassle off your plate and even includes seven days.
No More Hassle Dealing With Surveillance Footage
While some people may not like this web based service and instead prefer to keep things in house, this is actually a benefit for a lot of people. Arlo takes the hassle out of storing your footage and does it for you!
It's super easy to log onto their website and then find what you need in case a crime occurs. Of course, you can also access the video stream in real-time via a web browser or mobile app.
Some Issues With Battery Life
The major complaint about this home security system from Arlo is the battery life of the cameras. In some cases, the batteries last far less than the company claims that they do.
We recommend rechargeable batteries. You can also start a regular maintenance schedule. This will mitigate this problem easily.
What Do People Think About The Arlo Pro Wireless Security System?
"Nice camera, easy to set up and the app is great. For the price, it's a great buy and I'd totally recommend it to anyone looking for a simple home or business security solution that allows for remote viewing via smartphone."
"Worth every single penny. On my fifth day of having it installed, I caught a would-be burglar in my backyard when I was at work. I called the police, who responded quickly and caught them before any damage was done. I'm impressed and can't say enough good stuff about Arlo!"
"Overall, a nice unit that does exactly what it claims it will do: send you alerts in real-time if there's motion in the field of view. It's immensely useful for so many reasons. However, the picture quality isn't as good as some of the other security cameras on the market today. That said, it's a nice value when you consider the price, as long as you don't have super-high expectations for image quality (like me!)."
Learn More About The Arlo Pro Security Camera
Check out our Arlo Security System Review for more details or head over to Amazon to get the Arlo security cameras today.
Zmodo Outdoor Wireless Security Cameras
Next up is this system from Zmodo. It is one of the cheapest DIY systems on the market. As such, it should fit into just about anyone's budget.
Reasonable Picture Quality
The picture quality is very reasonable, considering the price and they have a nice range of features. The Zmodo wireless security camera has things like night vision and motion alerts. Not bad for the price that you pay.
Not So Easy To Set Up
This system from Zmodo isn't all good though! There are quite a few reports of this system being quite difficult to set up.
Some people found customer service helpful while others didn't have a great experience. If you're a bit tech-savvy and can set up a wireless network with ease, this might work well for you.
What Do People Think About Zmodo Security Cameras?
"I bought this camera about a year ago to keep an eye on my vacation home in Mexico that I leave for months at a time. Lo and behold, someone broke in and I received a notification here in the US. I contacted the Mexican police and they came and busted the guy. Totally worth it, and I loved how easy it was to set-up. It really does work!"
"The cloud service subscription will give you additional features, but it's not entirely necessary. I mostly just want to view the footage in real time and it works very well for this. The Zmodo app is very intuitive and easy to use. The camera takes high resolution photos and videos."
"Setup was very easy by following the included instructions. The footage is reasonably clear and there are a ton of feature that are very handy to have. My only small complaint is that the power cord is quite short so you may need an extension cord, depending on where you put it."
"Ideal to protect your property and look after your health because you're not worrying about what's going on where you're not at!"
Learn More About Zmodo Security Cameras
You can check out more details about this system here in our full review of the Zmodo Outdoor Wireless Security Camera. Or,head to Amazon and check out the full product description and customer reviews.
Zosi Wireless Security Cameras
Another top option for reasonably priced wireless security system is this one from Zosi. It's one of the cheapest on the list, especially when you consider how many camera are included in their packages.
It's slightly less user friendly in terms of set-up and the phone app, but it's certainly worth it when you consider how much it costs.
The Cameras
All four Zosi cameras come standard fitted with a weatherproof aluminum housing, making them perfect for use outdoors.
These sturdy, durable cases will ensure the cameras withstand harsh weather conditions and still provide excellent video footage where needed. The durable aluminum material will assure a long-lasting effect.
The Image
The system provides clear images during the day and night. Night-time clarity is due to the infra-red filter installed on each of the cameras. The cameras provide clear night-time vision, up to 65ft.
The System
The built-in 1TB hard drive will give you a massive amount of space to record and save continuous video stream. The system can be programmed to record over the oldest footage first when space on the hard drive runs out.
Versatility
Should you wish to save the video footage, you can transfer the footage using a USB drive and transfer the video to an external hard drive device.
Warranty
The camera system comes with a 2-year quality warranty and a lifetime of free technical support. Zosi commit to entirely replace your security camera system if it stops working, within the first 1-year.
What Do People Think About Zosi Wireless Security Cameras?
"Very reasonably priced security camera system that gets the job done. You get what you pay for though and the app isn't as good as some of the others I've used and customer service isn't that helpful. If you want a hassle free experience, try something like Lorex. However, if you have some technical and trouble-shooting skills, save yourself a ton of money by checking out Zosi."
"Well done! Overall, the quality of the cameras is good enough to clearly see what's happening and the night vision/motion detection features work quite well. I did have a small problem and the combination of customer service/support videos allowed me to solve it quite quickly."
"The cameras look and feel quite durable. Remote viewing took a little while to set up but it wasn't too much of a hassle. The app doesn't have a ton of features, but it's enough to get what I need done. I'd definitely recommend this as one of the top budget options for security systems."
Learn More Or Order Today
Does this affordably priced surveillance system from Zosi sound like the right one for your needs? Learn more in our full review of the Zosi system or head to Amazon.com to buy it today.
Reolink Argus 2 Solar Powered Wireless Security Camera
How do wireless security cameras get power? If you want to keep your home or business safe but don't have a power source readily available, are there any options for security cameras that run on solar power or batteries?
Yes. The Reolink Argus is arguably the best solar power security camera on the market today.
The way it works is that the camera is charged via solar panels during the day and then it runs on the charged batteries during the night. If it's particularly cloudy or rainy, you can easily remove the cameras from the magnetic base and charge them via USB for a bit of extra juice. However, most people find that this is almost never necessary.
Key Features
Solar panel/rechargeable battery powered camera
Also has a USB charging function for additional charging if necessary (cameras are easily removed from their base)
Installation in minutes without wires or drills
Designed for outdoor use
1080p HD camera, with 130 degree field of view
2-way audio
Siren
Night vision (33 feet)
PIR motion detection
SD card storage (up to 64GB), as well as in the Reolink Cloud
Compatible with Google Assistant
Remote access (live view and playback modes) for up to 10 people via iOS or Android phone or tablet app and no monthly fees
100% money-back guarantee
What Do People Think About This Solar Powered Security Camera?
"I did a ton of research, looking at battery and solar powered options for security cameras and came up with the Argus 2. Now that I have it in my hands, there are a ton of things I love about it, including how easy it was to set up, the 2-way audio/siren, and alerts to my phone. A great security solution for when there isn't power at hand."
"Bought this to use for security on our front porch and I love the fact that I don't even have to think about it. It just charges itself and I didn't have to run wires or drill through anything. The alerts to my phone work well and I've seriously never had a problem with in the year that I've been using it. Highly recommended."
"Nice security camera that doesn't require power. I got one to keep an eye on my shed with all my expensive tools. The Wi-Fi signal is strong enough to get out there, but no power outlet unfortunately. This unit works well and does exactly what it says it'll do. Plus, I love no fees for cloud storage because this kind of thing can add up really quickly month over month. If you're on the fence, just for it."
Learn More And Shop Now
Does it sound like the right wireless security solution for your needs? Learn more in our full review of the Argus 2 or click the button below to see it on Amazon.com.
How to Prevent Wireless Home Security Systems from Being Hacked
Just about anything that connects via the Internet can be hacked by someone with enough time, motivation and skill to do it. That said, it's not easy, especially if you take some basic precautions. You can learn more about how to prevent hacking here: Tips to Prevent your Home Security System from Being Hacked.
Can I Use Wireless Security Cameras Without Internet?
If you don't have Internet, then you have a number of options that you might want to consider. You can find out all the details you need to know here: Can Security Cameras be Used Without the Internet?
Here's a brief overview of the options:
#1: Wireless Security Cameras
You certainly can use wireless cameras like the ones on this list without internet. The way it works is the footage is recorded to a DVR, or you can view it on a monitor that's in close vicinity to the cameras.
However, if you want to view the footage remotely (of your house when you're at work for example), then you'll need Internet to make this happen.
#2: Security Cameras That Run On Cellular Networks
If you want to view what's going on in real-time, but don't have Internet, one of the best options are security cameras that run on cell-phone networks. You'll have to purchase a data package to make this happen.
#3: Security Companies (Usually Connected To Landlines)
Another option is to use a local security company. These are usually monitored via telephone lines at your house or business. They will charge a monthly fee for this service, in addition to any installation costs.
Wireless Security Cameras: Your Thoughts
Leave a comment below and let us know what you think about:
The best brand of wireless security cameras for home or office
What you look for in a security system
What's your budget
Tips for installation
Anything else?
Also be sure to give this article a share on Facebook, Pinterest, or Twitter. It'll help other people concerned about security, like yourself find this useful resource.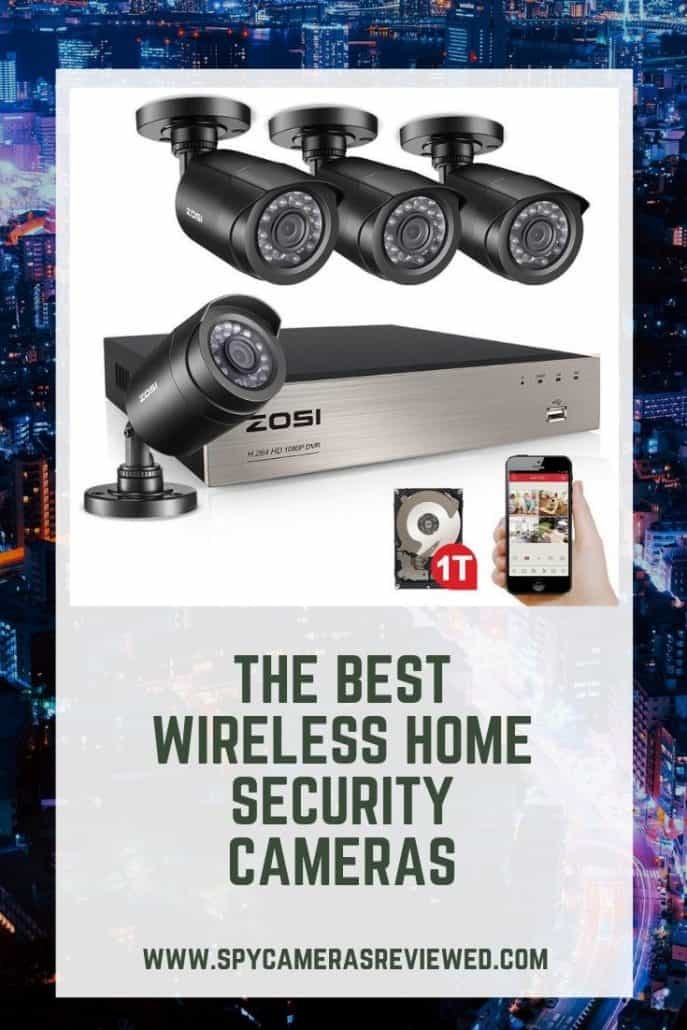 Last update on 2023-09-25 / Affiliate links / Images from Amazon Product Advertising API