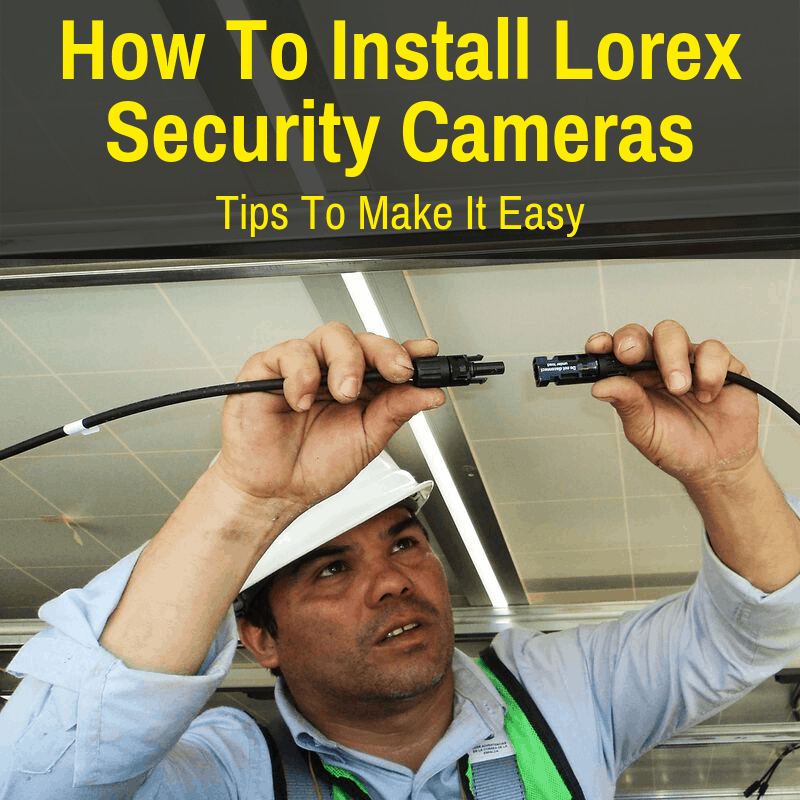 Need to install your new Lorex security cameras?
I have good news: Lorex tries their best to make it as easy as possible.
But there's also some bad news: you'll still need to use some tools, like a drill and a screwdriver, at a minimum.
If that scares you, I'd urge you to just hire someone to handle the installation for you.
But if you're decent at doing things yourself, you should have no problem installing one of these security systems.
Read our tips and follow the instructions provided and you'll have your surveillance cameras up and running in no time.
Installing Lorex Security Cameras
We're going to provide all the information you need to install Lorex security cameras. This includes links to installation instructions on the Lorex site, videos from Youtube, like the one just below, and tips from us to fill in any blanks and try and make things as easy as possible.
If you haven't yet bought your Lorex camera, read this article first: Lorex Security Cameras: Advantages, Disadvantages, etc.
Is A Lorex Security Camera System Hard To Install?
This question isn't easy to give one single answer to. The answer is, "it depends!" Keep on reading. There's advice for everyone: the DIY King or Queen, those who are moderately handy, and people who don't even own a hammer.
A DIY King Or Queen?
If you're a handyman or handywoman that's decent with technology, it won't be hard for you at all! Get out your drill, make a few holes, put those cameras up and hook up the wires. Then set up the computer end of things. Your Lorex security system will be up and running in no time.
Moderately Handy With Tools?
If you consider yourself moderately handy, then with a bit of help (reading the instructions/watching recommend videos/tech support), you should be able to do it easily enough.
Lorex says that they design their security systems to be DIY friendly. Many people are able to get Lorex home security systems up and running in only a couple of hours.
Don't Even Own A Hammer?
Maybe you're not that handy, nor are you good at computer stuff. In that is the case, you'll likely find it very difficult. We recommend hiring a company to help you.
You can search on Google for: security camera installation (city you live in). For example: security camera installation Vancouver. Call a few places and compare prices. Of course, always check reviews online.
What Tools Do I Need To Install A Lorex Camera System?
Each security system from Lorex typically includes everything you need to get up and running. For example, the vast majority of units will include the following:
60 ft of cable per camera
Mounting kit (screws and anchors)
Power adapter and/or receiver
The most basic thing you'll need to install security cameras is a drill. The size and strength of the drill will depend on the exterior of your house. See this example where a guy installed Lorex security cameras on his brick walls.
Installation at your house may be easier than this, depending on the material of your wall. If you need to buy a drill, go to a place like Home Depot. Ask what they recommend for your specific situation. You should also have a few screwdrivers handy during the installation process.
Where To Install Lorex Security Cameras?
Now that you're ready to install your security cameras, you should consider the best places. According to this blog, the best places to install surveillance cameras are:
Front door
Back door
Off-street windows
Backyard/ side gate
Basement stairs
The Lorex website recommends keeping the following things in mind when installing your security cameras. They should be placed in:
High places, under shelter
Pointing away from lights
In obvious places
Obstruction free (not behind a big tree for example)
Where cables can be hidden
Where Should I Point Them?
One quick tip we have about installing these systems is to NOT point them towards your neighbor's house or property. This is an invasion of privacy and you could get yourself into some legal hot water over this. Plus, it's just a bad neighborly move!
Point your cameras towards your own property and not over the fence, okay? More information here:
How to Block a Neighbor's Security Camera.
How To Install Lorex Security Cameras
How do you actually go about installing Lorex Security Cameras? The good news is that the instruction manual that comes along with your system is quite good. It's complete with step by step instructions and lots of pictures. Check out their website for a brief overview of the process: How to Install Lorex Security Cameras.
We also strongly recommend watching these "How-to" videos on Youtube:
It really is not so difficult to protect your home or business with Lorex.
How Do I Connect My Camera To The Receiver?
Okay, so you've successfully mounted your cameras and have them all hooked up to power. Now, how do you connect the camera up to the recorder (NVR or DVR)? It depends on what type you have. Here are some brief guidelines. Be sure to follow the instructions that come with your specific camera.
MPX Analog Security System
One RG59 siamese BNC cable connects the camera, power and DVR. This single cable provides both power and video transmission. The video head of the cable plugs into the DVR while the power head connects to the power adaptor.
PoE Security System
Some NVR systems utilize Power-over-ethernet technology that requires only a single Ethernet cable to connect the camera and recorder. You connect the cable into the back of the NVR and the camera, and it'll provide both power and video transmission.
Wireless Security Systems
This is one of the easiest options because you don't have to run cable through buildings or underground. You can also change camera location quite easily.
You just have to connect the camera to a power outlet, and it then connects wirelessly to the DVR. The good news is that you don't need a Wi-Fi connection, unless you want to access the footage remotely.
What If I Want To Extend The Range Of My Camera?
If you want your camera to be further than the receiver, there are a few things you can do, depending on what type of camera you have. It's not so uncommon to want to do this for your business, for example a large plant or factory. Instead of setting up multiple camera systems, you'll want to have a single monitoring station.
Analog cameras can be up to 800 ft away—you just need a longer cable.
PoE cameras can be extended by using a PoE switch.
Finally, wireless cameras can be placed further away by using a wireless range extender.
How Do I Set-Up Remote Video Access For Lorex Cameras?
Many people want to be able to access the security footage from their camera from anywhere in the world, but they don't know what it takes to do this with Lorex security cameras. It takes a few steps to get it up and running:
Configure your Lorex system to your router and connect to a Local Area Network,
Configure your router for port forwarding,
Make a Lorex DDNS account to create a permanent web address for your security system.
Connect to your system remotely via the Internet.
Learn more here: How Do I Access Lorex Security Systems Remotely Via Smartphone?
What If I Need Help Installing My Lorex Camera?
If you run into trouble while installation your Lorex Camera, the company has a technical department that you can call. The number is: 1-877-755-6739. It's open from 9am-10pm Monday-Saturday. You can also submit a support ticket and get some help via email.
They specialize in offering solutions for your digital products so please contact them for help if necessary. Chances are, they're dealt with your problem numerous times—there are very few new ones!
Question Or Comments About Installing Lorex Security Cameras?

Leave a comment below and let us know if we didn't answer your question. We'll do our best to help you out. Any tips on Lorex installation for other people reading this article? Also be sure to give this article a share on Facebook, Twitter, or Pinterest.
Jump back to the Homepage.

Latest posts by Damon Kennedy
(see all)