Do you know what intensifier tubes are?
Me neither, exactly. All I know is they are complex and need to be handmade.
And that they are a vital component of night vision technology, along with many other expensive components.
Given the complexity of this technology, it really shouldn't be surprising that it costs a lot.
But it actually costs even more than you would think.
There is a good reason for that. Several actually. Keep reading to find out exactly why night vision is so expensive.
Why Is Night Vision So Expensive?
The following are the primary reasons for the high cost of night vision tech. As you'll see, it mostly has to do with the US government. Big surprise there, right?
High Demand And Limited Supply
Most countries have banned, or put heavy restrictions on, night-vision devices. The US is one such example. Furthermore, the US military and law enforcement agencies buy up the vast majority of night vision products produced.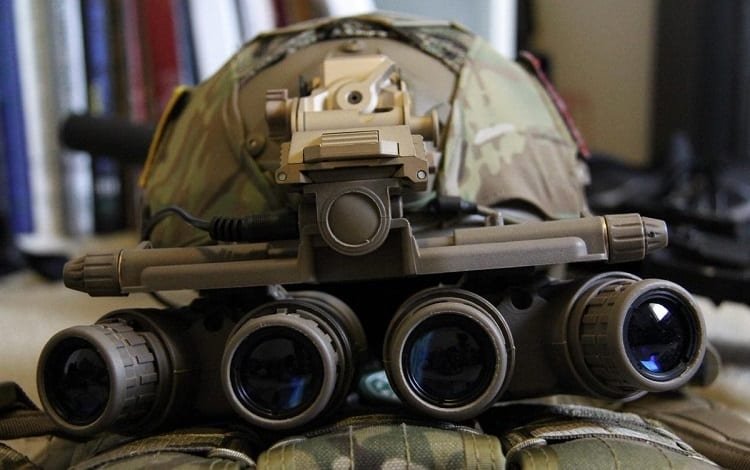 As a result, there are few units left over for private sale. But demand is incredibly high. Whenever demand is high, but supply is limited, prices increase drastically.
They're Costly To Produce
Night vision goggles are specialized items, as we've already touched on in the introduction. They require unique components and materials, like special optics. This is why professional-grade night vision goggles can easily cost you more than $10,000!
They Are Built For War
We can't forget that night vision goggles were originally conceived to give soldiers an edge over their enemies. They were first produced for use in the military, so that soldiers would have a tactical advantage.
They were used in the Vietnam war by the U.S. army and have since been used in many other conflicts. In order to maintain that edge, the US government heavily restricts their sale. As mentioned previously, this has limited supply.
They're Restricted
We already mentioned this above, but these devices are heavily restricted due to their military application. In addition to this, the high demand from the U.S. Department of Defense and law enforcement agencies results in there not being enough to meet civilian demand, driving up the price.
New Generations Of Night Vision Goggles Are More Expensive
It's important to note that there are four generations of night vision technology, with each newer generation being more expensive. Let's take a look at what it means if a pair of night vision goggles are listed as 1st, 2nd, 3rd, or 4th generation.
Generation 1 Night Vision
This is really entry-level night vision. It works by increasing ambient light thousands of times with the use of tiny glass tubes.
It has low resolution, so what you see won't be that clear.  You'll be able to see people and objects that are 75 yards away.
These devices are cheaper than other types of night vision and are common in a lot of commercially available night vision monoculars and binoculars. You're looking at paying around $500 or less for these gen 1 devices.
Generation 2 Night Vision
These goggles are ideal for hunters because they give you a drastic improvement in image quality while still being affordable.
Gen 2 devices contain micro-channel plates that increase the number of electrons. They have millions of glass tubes that amplify light much more than Generation 1 devices. They also produce clearer views because they eliminate distortions.
Gen 2 night vision goggles will enable you to see things that are 200 yards away. They tend to cost between $500 and $1000.
Generation 3 Night Vision
Generation 3 night vision goggles are meant for law enforcement personnel but they can also be used during search and rescue tasks.
These goggles make use of Gallium Arsenide, a chemical that produces quality images. They enable you to see objects up to 300 yards away.
If you've heard of the term ""military-grade" when it comes to night vision, Generation 3 goggles are what it refers to. Naturally, this makes them quite expensive. Expect to pay more than $1000 for a pair.
Generation 4 Night Vision
Generation 4 goggles are the gold standard. They are highly advanced and designed for tactical operations.
They're made with tubes that prevent distortions and produce excellent images. They can even be worn in broad daylight, without it affecting how well the tubes work. This is a huge advantage, because many night vision goggles can be damaged by light.
Generation 4 night vision goggles are the most expensive ones. You can expect to pay more than $1000 for them at a minimum, but probably much, much more. Some pairs will cost well in excess of $10,000!
Two Types Of Night Vision Tech
We've talked about the different night vision goggle generations, but what about the actual types you can find? There are two. Let's explore.
Infrared Night Vision Goggles
These make use of ambient light in the environment to make what you see much more illuminated and visible. These goggles usually use green light waves, which are easier on the eye. Why is night vision green? Read that article for the explanation.
But infrared night vision goggles don't work well in complete darkness. This is because they rely on some light being present in the surroundings to produce an image. These goggles can't be used in bright lighting either because that will damage them.
Thermal Night Vision Goggles
These make use of heat detection in order to produce images. The images you see when wearing thermal night vision goggles won't be as crisp as with infrared night vision. But thermal technology can work in complete darkness, because it doesn't require any source of light.
Related Questions
What are some of the best brands of night vision goggles?
Some top-quality night vision goggle brands include Bestguarder and Sightmark.
When did night vision goggles become more commercial?
This occurred in the late '90s, when they started being marketed for recreational usage.
Why Night Vision Is Expensive: Conclusion
If you nave been looking to purchase night vision goggles, you probably wondered why the good ones are so expensive. Hopefully we have cleared that up for you.
The technology is expensive to produce, especially gen3 and gen4. But what really drives up the price is the lack of availability due to the military taking most of the supply and the government placing restrictions on the sellers and manufacturers.

Latest posts by Bobby Miller
(see all)