Have you ever been robbed?
If so, you know what it's like to not feel safe in your own home. And if not, you don't want to know that feeling. Trust me.
You want to do what you can to avoid having your home, office, or car burgled. And if you live in an area with frequent break-ins, this is even more vital.
But what can you do, apart from installing an insanely expensive, state-of-the-art security system?
Quite a lot, actually.
Many home security tips are surprisingly simple and things that anyone can do quickly, easily and cheaply. Let's take a look at the best ways to improve home security, without having to shell out large amounts of cash.
Tips For Home Safety
Getting a smart home security system can be of great help these days, but you shouldn't leave it all up to technology to feel completely safe. Rather, you should take additional precautionary measures to further improve the security of your home. This will keep you, and your loved ones safer than ever.
Here are some of the best ways to buff up your home's security.
Improve Home Security With Exterior Lighting
Keeping your house's entrances and other areas well-lit is an effective deterrent for robbers. This makes it very hard, or even impossible, for robbers looking to sneak into your house without anyone noticing.
Therefore, you should install good security lights near every exterior entrance. And if you're worried about someone breaking into your house overnight, then install motion-activated flood lights on both the front and back sides.
You can also set a timer for your indoor lighting. This will make it seem as if your house is occupied.
To make it even easier for yourself, and the environment, consider getting some solar-powered lights. Check out our top picks here: The Best Solar Powered Lights.
Tips From Burglars On How To Secure Your Home
Keep Windows And Sliding Glass Doors Locked
When unlocked, sliding glass doors and ground or external windows are easy to open from the outside. That's why you should secure windows and doors at all times. Except when you need to use them, of course!
For your sliding glass door, we recommend you drop a metal rod or a dowel on the track from the inside. This usually gives the door's weak lock more strength. Even better, put a solid lock on the door. Check out our top picks for sliding glass door locks.
Always Lock External Doors To Improve Home Safety
Know this; every house-security measure will be pointless if a thief finds your front door opened and lets themselves in. As a matter of fact, most robberies occur because the front door and windows are not locked.
To prevent this from happening, it is vital that you close all external doors (front, back and side) whether you're going to visit your neighbor next door or are inside the house. Don't take a chance with balcony doors either. Keep them closed as well. 
Also be sure to lock your garage doors as they lead straight into your household.
Going along with this point: be sure that you know who's at the door before you open it. A peephole works well for this, but a digital video doorbell is even better. It allows you to speak to the person outside. If not home, you can get an alert to your smartphone when someone's at the door.
Check out our top picks here: The Best Video Doorbell Peepholes.
Also Consider A Door Jammer Or Door Brace
Another thing to keep in mind if you live in a high crime area is that most doors can easily be forced open. To combat this, you'll want to get a portable door jammer. It's also ideal for traveling when you're staying in hotel rooms.
Another top option to consider is a door brace. Although it does require some installation, it's basically the strongest option on the market today. So strong that it can withstand a battering ram!
Don't Leave Notes On Doors
A notes on your door might as well be an invitation for burglars to make off with your items, even if you're just taking a stroll around the block or working in your backyard. Find another way to communicate that doesn't let everyone know your home is unguarded.
Home Security Hacks
Home Safety Tip: Don't Leave Keys Outside
Forget hiding your spare keys underneath the front door welcome mat or behind the flower pot, because those places are far too obvious to fool any modern crook. Any burglar will likely check those hiding spots first, before invading your humble abode.
To get around this dilemma, give your spare key to a trusted neighbor, a friend or better yet, a family member.
Another splendid alternative would be to get an electronic locking system instead of a regular one. This way, you won't have to worry about keeping a key anymore, when all you need to do to get inside is with a code. Just remember not to use obvious combinations like 1-2-3-4.
Close Your Curtains When You're Out
If you're looking for a simple way to improve home security, this is potentially the easiest one out there! It only take a second of effort, but can go a long ways towards preventing crimes.
Potential thieves will more than likely case your home first, to see if there are any items worth stealing. This is much easier if the curtains aren't drawn.
Keep your curtains closed, especially in rooms where priceless items like paintings, silverware and ornaments are kept. It's best to do this even if you're only going to be gone for a little while.
Ask Someone To Keep An Eye On Your House When You're Away
If you're going away for an extended period, burglars and prowlers may eventually catch wind that the house is uninhabited. Therefore, ask your next door neighbor, or a close friend or family member to keep stop by your home at least two or three times a week, to make sure it does not look like no one is home.
If possible, have them to take out your trash in the morning and bring the empty cans back at night as well as collect your newspaper, post or any other packages you may get.
This creates the illusion in the eyes of potential crooks that someone is living in your house and discourages them from breaking in.
Or Use A Smart Home Camera
If you don't have someone you trust with a key to your house when you're away, consider getting a smart home security device. They're cameras that you place inside your house to monitor for motion, moisture, heat, etc. You'll get alerts to your Smartphone, and you can check out what's happening in your house in real-time.
Have The Police Inspect Your House
It's okay to be a little paranoid, especially if you're not sure whether your house is safe or not. If that's the case, you should know that many police departments are happy to provide home inspections to citizens whenever required.
They can help you understand a number of potential risk factors you face and areas that are vulnerable to break-ins as well as other dangers. Or check out these crime prevention tips from police agencies.
The Best DIY Home Security Hacks
Leave Lights, TV, Or Radio On When You're Gone
How to improve home security when you're not home at night? Here's one simple tip.
If you're going out to dinner with your friends and family at night, don't give potential robbers the idea that no one's home, by turning all the lights off. Much better to keep not just your lights on, but also your TV and stereo, in order to trick burglars into thinking someone's home.
This will force them to rethink their plans about breaking in. They'll simply move on to an easier target (i.e. someone who appears to not be at home).
Going On Vacation For An Extended Period? Consider A Fake TV
If you're going away for an extended period of time, consider getting a fake TV. They can be programmed to turn on, and turn off at certain times to make the ruse more realistic. After all, nobody would have their TV on 24/7.
You can check out some of the best Fake TV's in this comparison of top models.
Cut The Grass And Trim The Hedges Before Leaving Town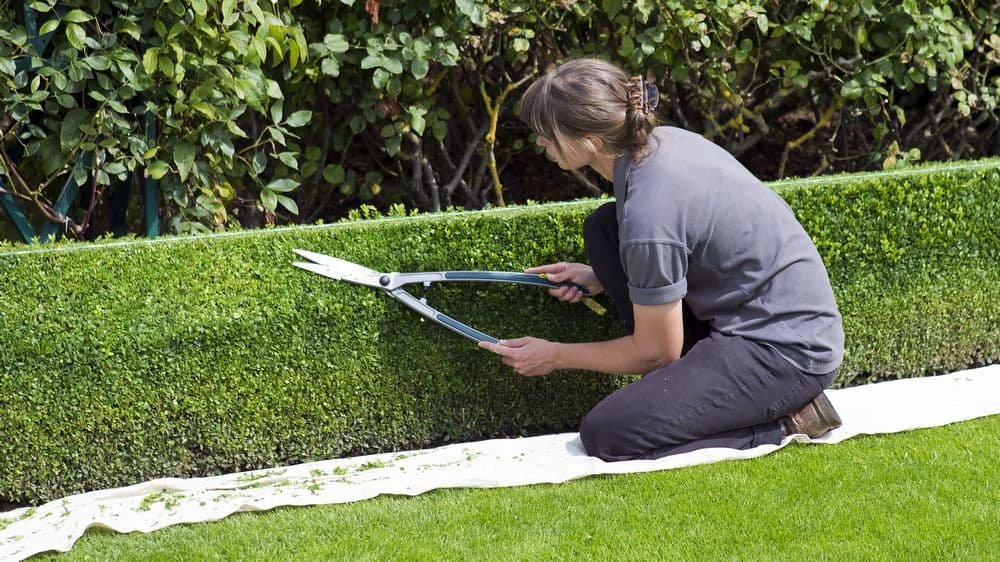 Uncut grass and hedges are another sign that could tip potential crooks off that no one's home. That's why you should always consider trimming the hedges and mowing the lawn, especially if you're going away on long vacations.
Hire A House Sitter
One of the best home security tips if you're going away on vacation is to hire a house-sitter.
If you're okay with this, find it feasible and know that the person is reliable, then you can settle for hiring a house sitter to watch over your abode while you go away for an extended period.
If you want, you can ask the house sitter to drop by and spend at least one or two hours at your house. Seeing someone "living" in your house will deter thieves who intend to rob you.
Also be sure to give your house sitter the code to your house security system so they don't accidentally set off the alarm and get cuffed by the local police.
Consider A Home Security System
One of the best things for peace of mind, as well as home security is a surveillance system. There is a huge range of options from a hundred bucks and a single camera, to thousands for 20+ cameras.
We're narrowed down the choices for you to some of our favorites. Check them out in our comparison of top security systems.
Consider Using Counter Surveillance Techniques
If for some reason you think that someone may be tracking your car movements, or has planted a bug inside your home, then you may wan to learn more about counter-surveillance.
Basically, that's a fancy way to detect bugs or hidden cameras that have been planted in your house, or office, or on your vehicle, without your knowledge. The good news is that it's not that difficult to detect them. Learn more here: Everything You Need To Know About Counter Surveillance.
Use A Peephole Cover
Did you know that there are phone apps and other devices that allow people to see through a peephole? Protect against this invasion of privacy by getting a cover for it.
The best ones are easy to install, don't cost that much and also allow you to move the plate or cover to see what's outside when you choose to. Learn more here: The Best Peephole Covers.
How To Improve Home Security: Your Thoughts
What's your top tip to improve home security? Or, do you have any simple ways to make your home safer? Leave a comment below and let us know your thoughts. Also be sure to give this article a share on Facebook, Twitter, or Pinterest.

Latest posts by Bobby Miller
(see all)