It's hard to know which features you actually need and which are useless.
With so many different options, you just know some of them exist solely to drive up the cost.
The good news is: there are only a few key features that are by far the most important.
Think about those first.
Then look at some of the other options. Ideally, make a list of everything you need your system to do.
Out explanation of the most common features below will help you figure this out.
Then, once you know exactly what you need, look for a surveillance camera system that has those features, and none of the ones you don't need. Why pay for things you don't need, after all?
What To Look For When Buying A Home Security Camera System
Security cameras might seem like a simple piece of technology, but there are plenty of features and variations you need to consider.
Choose between a wired or wireless system, and pick the correct field of vision for your home. For more advanced home security camera systems, look for motion detection, night vision, and integration with your smart home system.
Once you start getting into it, the number of features available can seem overwhelming. The key is to only focus on the features you need for your home.
Wired, Wireless Or Wire-Free
Whether you cameras are wired or not is the first and most important decision you need to make. There are three main options: wired, wireless, and wire-free.
Wired
Used primarily on large properties, wired security devices use cables to connect the cameras to the recording device. These systems are noted for reliability and security.
The big advantage is that these systems aren't susceptible to interference or hacking, since the  connection between the cameras and the central station is physical.
Wireless
Wireless systems transmit footage from the camera to the recorder through Wi-Fi. The recorder can be a physical location nearby, like a computer, or it can be cloud storage.
Wireless systems are more flexible. You can put them pretty much anywhere since you don't have to worry about wiring. If something goes wrong, they have a reset button to reset them. Read more about the pros and cons of wireless here.
Wire-Free
Don't confuse wire-free with wireless. Wire-free systems use battery-operated devices to run recordings, meaning no wires at all, including power cords. The drawback is that the batteries need to be changed and that the range is limited. Wire-free is not necessarily a whole-home solution.
Audio
Audio adds another dimension to your camera recordings. This gives you more information and a more complete interpretation of events. This is especially useful if something happens and you want to submit footage to the police.
But audio recording is not legal everywhere. That is the reason many security cameras do not have audio recording capability. So make sure you research the local laws regarding surveillance cameras and audio recordings, before you buy an camera system with audio capability.
Some systems have two-way audio. This lets you speak through the camera, as well as record audio with it.
This comes in handy if you want to interact with whomever is in front of the camera. It is common on front doors (sop you can give instructions to delivery people from your phone, when you are not home) or a camera that is watching over your children or pets while you are out.
Smartphone Alerts
Many home security camera systems send customizable alerts to your smart device whenever suspicious activity is detected. You can then view the video immediately and take any precautionary steps necessary.
Security
Of course, you want your system to be protected! With internet-aided systems, you should use two-factor authentication to guard against hacking.
Usually this means you get a text message or an email with a unique code to enter, after entering your password. Some systems can also make use of authenticator apps. You want to make sure your WiFi is secure, too.
Smart systems allow you to securely access video wherever you are to see if there's a threat or if someone's at the front door with a delivery.
Storage
Wired cams provide a continuous feed to their local device, saving you fees for monthly cloud storage. You can also use SD cards, hard drives, or other physical storage solutions. Wired systems aren't susceptible to hacking.
I personally like wireless systems. They're easier to install (making them fine DIY projects, in most cases). Storage providers are likely to have advanced features, including mobile apps for viewing the footage, facial recognition, and activity zones.
These systems usually store footage in the cloud, but many can also store it locally, saving you the monthly fees. Read DVR Vs NVR: Pros And Cons for more on storage and camera control.
Night Vision
When the ambient light level drops, a night vision equipped camera will switch to night mode, which is a frequency that electrically amplifies light into that cool glowing green image you see on Mythbusters.
You can also get digital image enhancement, where the cam catches available light in darkness with a sensor and digitally enhances images in full-color displays. This is generally more expensive.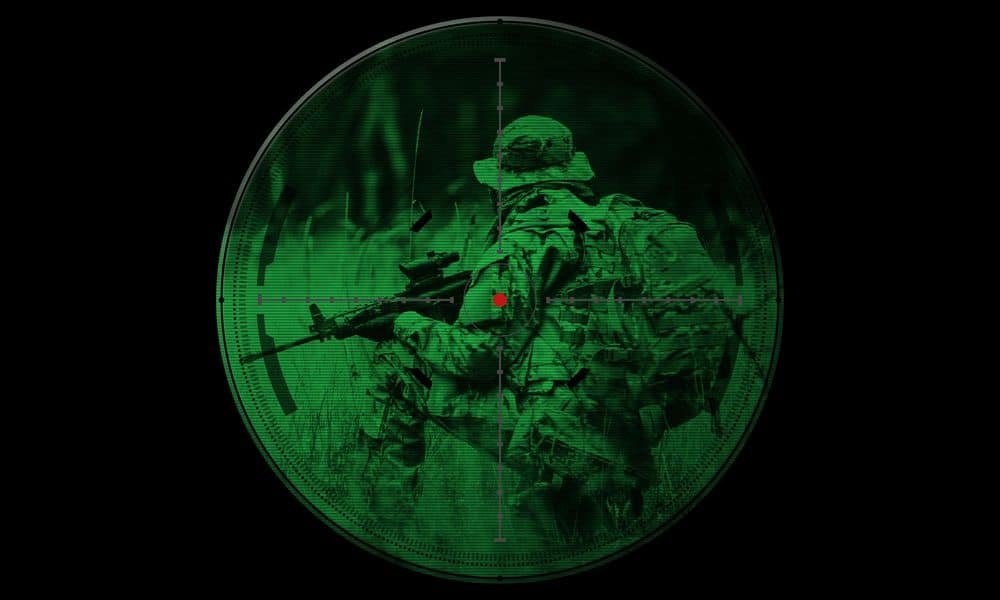 Resolution
Better quality recordings make for better visual evidence. If images are weak, you defeat the purpose of your investment. If any feature should be high on your list, it's a decent resolution.
Higher resolutions mean a better image quality and that your cams can monitor wider areas, which translates into lower ownership costs as wider views mean you don't need as many cameras. Good resolution is also handy if you want to zoom, pan, or use other high-end visual features.
Field of View
If your surveillance cameras have a wider field of view, in the 130 to 180-degree range for example, you can get by with fewer cams and save money.
This course of action is good for outdoor surveillance where you want to see as much as you can without needing a lot of cameras. Read about the best positioning of security cameras here.
You can also get a pan-tilt-zoom camera. As the name implies, these cameras can rotate horizontally and vertically and also zoom. You can generally control this remotely, for example from a smartphone. We reviewed the best PTZ outdoor cameras here.
Pixel Density
Pixel density ties the previous two features together. It refers to to number of pixels in a given area. For example, if you have two cameras with the same resolution, but one covers twice the field of view, that one has a lower pixel density.
This means that the same number of overall pixels are spread out over a larger area. The result is a poorer image quality.
You need to consider pixel density, along with the previous two characteristics. If you want to capture a wider field of view, you are going to need a higher resolution camera to ensure the image quality is maintained.
Privacy Matters
Wireless security video systems use the internet to store footage on cloud servers. Unfortunately, this system leaves your data open to hacking.
If you want to minimize this risk, use strong passwords and two factor authentication, as mentioned above. You should also only buy your cameras from trusted sources. Going with a system like Xfinity home security is always a safe bet.
A great privacy feature is geofencing, which shuts cams down if you're in the house and activates them when you leave. Geofencing uses your smartphone to determine your location.
You can also buy physical shutters that block the camera lenses when they are not in use. This protects them from getting dirty or from possible damage.
Whether it is neighborhood kids with nothing to do, or someone looking to enter your property illegally, there is always a chance someone will try to break your lenses by peppering it with rocks or some other projectile.
Motion Activation
Motion detector cameras only record once the sensors note movement, which is a tremendous cost-saving feature. You eliminate hours of non-applicable, unrelated, often continuous video, which consumes huge amounts of storage space.
The technology uses pixel matching (or frame referencing) to compare disruptions in imaging to previously programmed camera recordings. With it, you minimize energy consumption and increase the lifespan of your battery.
Design
In my opinion, this one's a two-sided coin. You want cameras that look attractive and don't take away from property aesthetics, but you might not want them to be very noticeable.
If you don't want people to know they're being recorded, look for a minimal design that blends in with your property when you hide the cameras. On the other hand, if you want to show passersby that there are cameras, a more prominent design is ideal.
Advanced Features
Floodlights and sirens are additional deterrents to add to your home security system. Advanced software features can come in handy too. You can set up activity zones and differentiate people from animals.
Zoom and pan options allow you to direct your cameras where you need them. Facial recognition can have the cameras turn on automatically when a human enters their field of view. Advanced facial recognition can identify specific people.
Access Control
Access control manages who gets into protected areas. It is the best and safest way to avoid the unnecessary activation of alarms. Here are some of the most common control system access options.
Keycard / Keyfob
Used extensively by businesses, keyfobs and keycards have also become popular in residential communities. Swipe a reader, and you're in.
The feature eliminates the need for keys or codes and simplifies access to the right people while making it tougher for others to get in. However, if the wrong person gets hold of a card, they can gain entry easily.
Biometrics
Biometric access uses facial recognition, fingerprint identification, and iris recognition to determine who belongs in protected perimeters. This is the most secure form of access control.
Perimeter Control
Perimeter breaches happen all the time. An animal – darn squirrels! – can easily trip your system. Luckily, perimeter breach detection can distinguish between a false alarm and a real intruder.
Integration
Smart cams have the ability to communicate with smart home systems, so you can integrate them with Alexa or Google Home eco-systems. Use voice commands to load security footage on smart speakers, screens, or compatible televisions.
You can also combine this with smart locks that can do everything from letting in someone who forgot their key to allowing in-home deliveries and eliminating porch theft.
Software
This was touched on above. Video management software behind the camera can support user functionality.
I can personally attest it gives you a lot of versatility. It can mean a less expensive operation and enhance compatibility.
It's going to require a little tech know-how to pair cameras with the software and set up a server, but you can minimize the frustration by consulting with a pro. Software like Blue Iris, iSpy or ZoneMinder can provide everything from reports to cloud storage and analytics.
Power Source
As touched on above, some security cameras run on batteries. Others use solar power. But most need to be hardwired to a power source.
This may be as simple as plugging them into an outlet, but if the cameras are outdoors, outlets may net be readily available. In this case you'll have to run cable.
Both regular plugs and cable you install introduces another issue. An intruder can simply unplug the camera or sever the cable, so you need to consider that when installing the cameras. You'll probably need to do some drilling through walls to route the power cables.
Battery-powered or solar-powered cameras avoid this issue. But batteries need to change and solar power requires daylight. They won't work when it's dark, unless the camera stores sufficient power to run through the night.
The All-Important Budget
Prices fluctuate greatly when it comes to these devices. A wireless camera can cost under $30, but you generally get what you pay for. High-end models that go into the thousands.
Costs for complete systems engineered to cover an entire property run the gamut. They are going to be significantly more expensive than single cameras, especially if you're looking at advanced tech like motion detection and facial recognition.
Home Security Services
For a monthly fee, you can hire a service to put a security system together for you that will even monitor surveillance on your behalf for a fee. These services may require a contract, though most do not ask for one to stay competitive.
Each provider offers unique plans to fit exacting needs and budgets. Some will do the installation, while others require you to do it. They can set up smart home compatibility with Google Assistant or Alexa. Monthly fees services can start as low as $15.
I find the main advantage of using a service provider is that you get to leave the heavy lifting in the hands of experienced security professionals. But there are a lot of advantages to self-monitoring, too. Read Convert Home Security System To Self Monitoring for more.
Buying A Home Security Camera System: Final Thoughts
There are a lot of features to consider when buying a home security system. The key if to carefully consider the features you need before buying anything. Write it all down and plan out your system.
Then make a list of the exact features you need and the components your system will require. Knowing this all beforehand allows you to be much more efficient when actually buying your system.

Latest posts by Damon Kennedy
(see all)