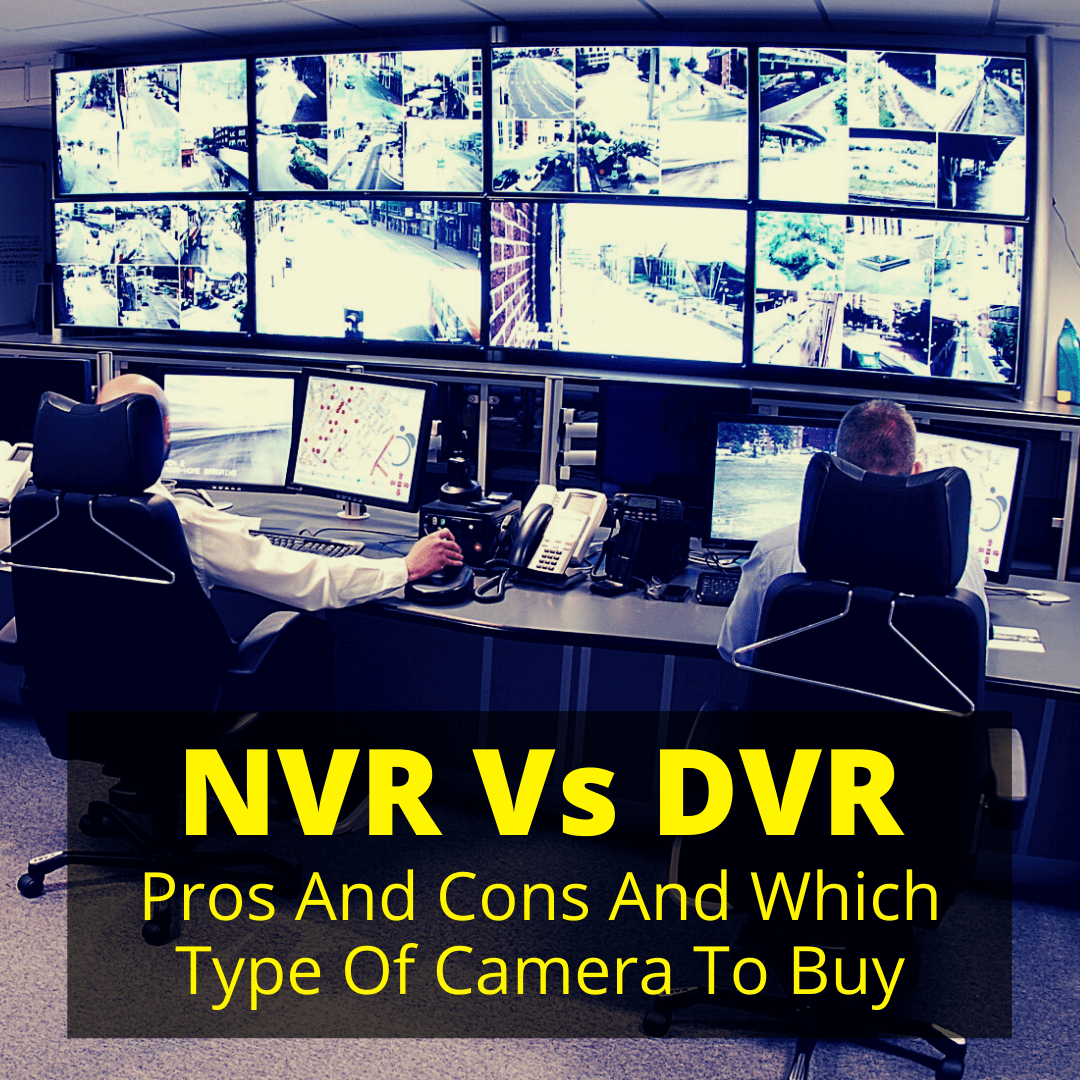 Many people will tell you that NVR (Network Video Recorder) camera systems are better.
But this is not always true.
We're willing to bet NVR is the more suitable option for many, but definitely not for all.
NVR systems have some key disadvantages that make them a poor choice for some applications, where a DVR (Digital Video Recorder) camera system would work better.
So how do you know whether DVR or NVR is better for your needs?
Keep reading. We'll cover everything you need to know below, including a third option that might be ideal for some: a hybrid system.
DVR Vs NVR: Which Is Better?
When you consider installing security cameras on your property, you probably just think of the cameras themselves.
And perhaps how they'll be connected to your external devices so you can view the footage that they have gathered.
But security cameras need a central video recorder to transmit the footage that's been collected.
There are two types of recorders that achieve this goal: DVRs and NVRs. Let's jump into the respective pros and cons!
What To Know About DVR Cameras
Right off the bat, DVR recorders use analog cameras, which you'll probably know as CCTV cameras. The cameras stream an analog signal to the recorder which records the images.
You use a coaxial BNC cable to connect the recorder to the camera. To process the video data, DVRs use an AD encoder. This means that every camera has to be connected directly to the recorder.
Pros
The system of a DVR camera setup is much less complex than what you'll find with NVRs. This makes them easier to set up, and they're therefore recommended for beginners.
While DVR recorders can work with both digital and analog cameras, you don't need to hook them up to the internet for them to work.
The recorder takes footage from the camera and converts it into a digital format, also storing it on an external hard drive, such as a memory stick or computer. This process works well and updating an old system with the use of a DVR recorder is really easy.
Cons
Since they make use of analog cameras, DVRs can sometimes limit your options when upgrading your security system.
The coaxial BNC cable can't provide the camera with power so you'll need a power cable in your setup, meaning that your DVR camera needs to be installed within close proximity to a power outlet. This can feel restrictive.
DVR cameras can only be used as wired security cameras.
What To Know About NVR Cameras
When it comes to NVR cameras, one of their biggest benefits is that they can be used as wired or wireless security cameras, which makes them much more versatile than DVRs.
Let's see some other pros as well as some cons of these cameras.
Pros
NVR cameras process video data at the camera instead of at the recorder. This makes the system more streamlined and efficient.
They're really easy to install because they're wireless. This means that you don't have to worry much in terms of wire configuration. The only thing you have to worry about is the wire that connects the wireless router to the device.
They make use of IP cameras. IP cameras not only record video but also audio, which makes them more versatile than analog cameras.
IP cameras are equipped with hardware that ensures that they are more powerful. For example, you can use IP cameras for facial recognition, which is valuable if you want to see who's been snooping around your home in the dead of night.
The image quality of an NVR camera system is much better than what you'll get with a DVR system, mainly because it makes use of digital instead of analog signals.
In an NVR system, the IP cameras are connected to the router, through which the cameras are able to communicate with the NVR device. The IP cameras compress the footage into digital format and send it to the external storage device or computer, making the process a lot more streamlined and cost-effective.
Most of the best outdoor PTZ security cameras work with NVR.
Cons
Sometimes NVR software can be more difficult to use.
NVR systems tend to be more expensive than DVRs.
NVRs are convenient, but they aren't always as reliable as DVRs. This is because DVRs depend on a wired connection to work. If you have lots of wireless devices that are being used, this could overcrowd the signal and make the NVR battle to maintain it.
It's important to bear in mind that not all IP cameras will work with all NVRs, so you have to take your time to ensure that you have compatibility in your security system.
Which Security System Is More Discreet?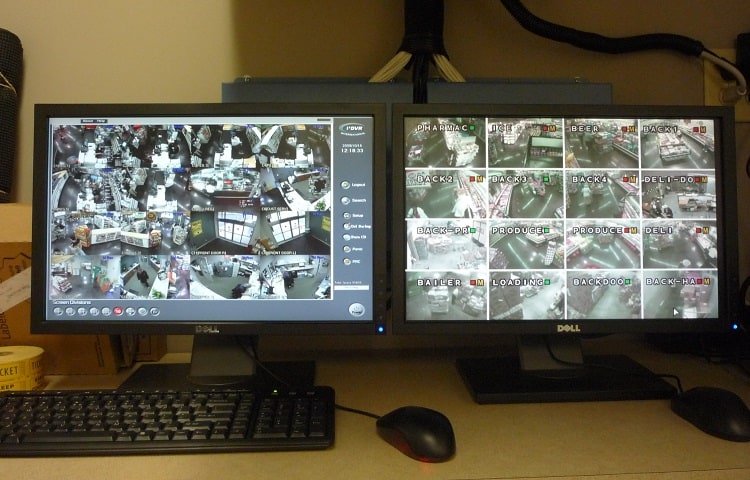 Most of the time, you want to put security cameras in obvious places, so that criminals can see them.
In this way they act as a deterrent. Researchers have found that cameras can make criminals think twice before breaking into your home.
A study of over 400 burglars conducted by the University of North Carolina at Charlotte found that visible cameras were the most effective way to keep thieves away.
60 percent of the burglars surveyed stated that if they knew a site had security cameras installed they would choose a different target. That's why it's always a great idea to add some inexpensive decoy cameras to your existing system.
That said, there are times when you should put security cameras in places where they are not so easily spotted. An example is if you want to track a specific person who has been surveying your property.
You can also use hidden security cameras to monitor a babysitter or caregiver who is regularly around your home and property, to provide you with more information about them.
If installing hidden cameras is something you want to do, then you should purchase NVR cameras.
This is because they can be put anywhere on your property, as long as they are within the network range. Since they don't need wires, you can easily put them up in a variety of places to ensure your cameras remain discreet.
How Much Storage Do You Need?
You need to have enough storage in your camera system so that you get all the video footage you want. When it comes to storage capability, which system is better – NVR or DVR?
NVR cameras can upload video footage to cloud-based servers. This means that they don't have to be restricted by storage limitations and can accommodate a greater amount of storage than DVR camera systems.
It's worth bearing in mind that you can also reduce your storage requirements, for example by using motion sensors and only having the cameras switch on when motion is detected.
Can Your NVR Or DVR Systems Be Hacked?
Unfortunately, both systems can be hacked. You have to take some precautions to keep them protected.
One of the most important things you should do to protect your security cameras is to ensure strong usernames and passwords. Guessing these are the easiest way for a hacker will gain access to the security device's admin account.
You should also use two-factor authentication. Since they use the internet, even the best wireless surveillance cameras are vulnerable to being hacked. Two-factor authentication can keep them protected.
This system sends you a text message to approve on your cell phone. This alerts you if someone is trying to hack into your security system and ensures that no one but you can actually get in.
And remember: always keep your devices updated.
Did you know you should be updating your security cameras every few months? This ensures that they have the latest software which has been upgraded to the current security standards.
What About A Hybrid System?
If you love both DVR and NVR systems and you're not sure which one you should go with, you might be interested in trying a hybrid system.
Hybrid Video Recorders (HVRs) are a blend of both DVRs and NVRs because they can work with analog and IP cameras.
They're versatile and easily upgradable, making them ideal if you have an old system but you don't want to eliminate your old analog cameras. That said, there are some important things to know about HVRs.
When it comes to camera compatibility, the truth is that not all video recorders will be able to work with all types of cameras. As you know by now, DVRs need analog cameras and NVRs need IP cameras. But things can become a bit more complicated.
For example, as mentioned earlier in this article, some NVRs will only work with certain IP cameras. Therefore, it's important to find out for sure that the device you want to use will be compatible with your cameras.
A smart tip when shopping for an HVR system is to choose one that has multi-protocol compatibility, meaning that you'll be able to use a larger variety of compatible IP cameras with it.
It's also good to bear in mind that some cost-effective HVRs are actually just DVRs that have had features added to them so that a small amount of IP cameras can be used.
These can work well, as long as only a few IP cameras are used to increase the size of an existing security system. They're not ideal if you want to add more IP cameras to the system in the future.
An HVR system is not always going to work. If you want to replace all your analog cameras with IP cameras, an HVR recorder won't be up to the task.
What Are IP Cameras And Are They Better Than Analog Ones?
Earlier, we talked about how NVRs make use of IP cameras, but what, exactly, are IP cameras and are they more effective than analog cameras? Let's take a look!
An IP camera, otherwise known as an Internet Protocol camera, allows you to monitor your property by using software that connects it to the internet.
Some of the best things about IP cameras is that they have multiple sensors, which means they can contain multiple cameras to cover a wider area.
And they don't need power at the camera site – you only need one wire for data and power that is connected to the network switch. This makes them much more versatile than analog cameras. They also tend to have reset buttons to reset the camera to factory settings, if it starts to act up.
Related Questions
What are some disadvantages of IP cameras?
IP cameras work at higher resolution so they need more storage. They are also more expensive to set up.
How long do IP cameras last?
Generally, new IP cameras should last for two NVR cycles. Since an NVR can last around three to five years, an IP camera will last six to ten years.
NVR Vs DVR: Conclusion
If you want to make use of security cameras, you will likely have to choose between DVR and NVR camera systems. You also need to decide whether you want to pay a service to monitor your cameras, or convert your system to self-monitoring.
In this article, we've looked at the pros and cons of each, providing you with the information you need to make the best choice. We've also provided you with a middle-ground solution in the form of HVRs, although you should carefully consider their pros and cons, too.

Latest posts by Damon Kennedy
(see all)