Wireless home security systems have a number of huge advantages.
So that means they're better, right?
Not necessarily.
They also have a few key disadvantages.
Whether wired or wireless is better depends very much on your particular situation and needs.
Below we will take a look at the pros and cons of wireless home security systems and help you figure out if a wired or a wireless system is best for you.
Advantages Of A Wireless Home Security System
The following are the primary advantages of a wireless security camera system. You can see, the pros make it the better choice for most people.
But not all. Make sure to read the cons below as well, before making your decision.
Enhanced Security
How many times have you watched that horror movie where the villain cuts the alarm system line and slips into the house?
With wireless home security systems, you can eliminate that particular fear.
These systems are completely wire-free. Even if the would-be intruder cuts your phone line or power line, your security system will remain fully operational.
Additionally, many wireless home security systems come with smart features that use unique cell connections to alert the authorities if there's a problem in your home.
These state-of-the-art systems have a backup battery that can even turn on lights and alert you if you're away.
If you travel a lot for work or just needs to be away from home often, a smart wireless alarm system that can withstand any human-made or natural catastrophe could be a lifesaver.
Easy Installation
With no wires to mess with, these systems are straightforward to install. You simply have to move the system itself, configure it, and you're all set to go.
When it comes time to tweak your installation or adjust the camera angle, there are no cords to stretch or extensions to buy. Read How To Connect Xfinity Home Security To Wi-Fi for an idea how simple it can be.
The lack of wires and installation equipment makes wireless home security systems especially attractive for renters.
Often, renters can't make significant alterations to their living spaces, like drilling multiple holes to run cables through the walls. With a wireless security system you really only need to mount or hang the cameras (one or two holes).
Even if you can make holes in your walls, why would you want to add more?
The best wireless home security cameras are great for people who don't want to drill holes, squeeze into crawl spaces, or deal with any of the other hassles that come with laying lines for cameras.
Installing a traditional system can be a major headache for people who aren't handy. If you don't know the difference between a drill bit and a FitBit, consider investing in a no-muss wireless system.
Using a wireless system is also our top tip for anyone wondering how to install security cameras in a mobile home.
Easy To Uninstall
This goes hand-in-hand with the previous advantage. Wireless systems are also much easier to uninstall. This is a huge plus if you move to a new place.
With wired cameras, you either have to go through a lot of trouble to remove them, take them with you and install them again in your new place. It is actually easier to just get new cameras.
Wireless cameras are much easier to remove and take with you to your new place. If you think you will be moving anytime soon, do yourself a favor and stick to wireless surveillance cameras.
Connect It With Other Smart Devices
Wireless devices are smart. That means you can combine them with other gadgets and control everything in your home remotely.
Today's technology is astounding, and you can operate most of your home's elements right from the comfort of your smartphone.
Many wire-free systems let you peep at the cameras, turn the settings on and off, and monitor your home from afar. For example, if you use the Blue Iris software, you can set up a web server.
Some systems even connect with existing devices, and you can control all of your home's functions from one single smartphone app.
If you like to be in control of everything, even when you're away, get a smart security system. The benefit of peace of mind is worth every penny.
Just make sure you check that the security system is compatible with your phone provider. Most home monitoring tools are available on both Android and iPhone smartphones.
Not Vulnerable To Power Outages
Power outages used to be an opportunist's golden ticket; a way to bypass security systems while the grid was down. Wireless home security systems don't work with power lines or cell lines, and most of them have back-up battery supplies that they use when the power goes down.
You might have a lot of things to worry about when a storm comes through, but home security doesn't need to be one of them.
Control Remotely
A big benefit of wireless home security systems is that you can control them remotely. You can use an app on your phone to view live or recorded footage and often even adjust the cameras themselves.
You can also get alerts on your phone if a motion sensor is triggered, or if some other security even takes place while you are out. Then you can quickly check the camera and see if you need to notify the police.
Disadvantages Of A Wireless Security System
There are a few downsides to getting a wireless system. They are better for most people, but not for every situation.
Weigh the pros and cons before making your investment and make the best-educated choice for you and your family.
Vulnerable To Hacking
Wireless systems might not be as vulnerable to traditional thieves, but they can be easy prey for hackers.
Hackers can infiltrate home security systems and disable the signal, causing it to malfunction or not go off at all. This is a remote possibility and generally more likely to happen in a business than a home, but it is a threat.
Protect yourself by getting a wireless home security system that is encrypted.
Encryption can make you and your family a much harder target for hackers. Also, make sure that your WiFi password is secure and don't share it with anyone. These simple steps can be enough to deter most hackers.
You May Need To Replace The Batteries
Unlike wired systems that run through your walls, wireless home security systems run on batteries. They won't work if the battery is dead.
Remember to check and change your system's batteries frequently.
I keep on top of this situation by simply remembering to check my security system batteries when I check my smoke detectors.
Additional Expense
Wireless home security systems cost more than traditional models, mostly because the technology is so much newer. If you want to get one that integrates with all of your other devices, prepare to pay a little extra upfront.
For me, the benefits far outweigh the additional costs.
These systems are much easier to operate, and I can watch my house from my smartphone. If you're concerned about the expense, try buying during sales, like Black Friday, or right after the holidays.
Size Limitations
One of the most significant downsides of a wireless system is range. This varies greatly from one system to the next.
Some cover smaller areas than others. If your house or property is vast, you might find that the system doesn't quite cover the whole thing.
Being aware of this downside is the best way to ensure that your whole property is protected. Read the box carefully to determine what square footage the system covers, or check online reviews.
If you do find yourself in a situation where your security system doesn't cover everything, prioritize the most important areas of your home. That way you can be sure those areas are safe.
Can Be Affected By Electromagnetic Interference
Since a wireless system works in a similar way to cell phones and Wi-Fi, it can be affected by electromagnetic interference. This could have various effects, from shutting down cameras to blocking the WiFi signal to false positive alerts. It is not a large risk, but it could potentially be an issue.
Comparison To Wired Systems
Now that you know the pros and cons of wireless systems, it makes sense to provide a brief overview of the same for a wired system. This makes the comparison between wired and wireless cameras easier.
Advantages
We'll start with the advantages. Most you can probably guess after having read the advantages and disadvantages of wireless systems.
Can't Be Hacked
Sure, wired cameras can be disabled on location, but you don't have to worry about someone hacking into your wired security system, because it doesn't depend on radio frequencies. It also can't be affected by electromagnetic interference.
Work In Larger Spaces
With a wired security system, you can easily secure a larger property or cover multiple buildings. It can also be used with multiple control panels and sensors – something that might be limited with wireless systems.
Work Without Batteries
Once you've installed your wired home security system, you don't have to worry about charging its batteries or monitoring its battery life. This is obviously only a concern with battery-powered wireless cameras.
Disadvantages
The cons are also easy to guess, based on the pros and cons listed above for wireless systems.
Difficult (And Expensive) To Install
Installation of wired home security systems isn't easy – you'll probably have to get it done by a professional. This will increase the total cost considerably.
The installation is more difficult because you have to drill holes into the walls and run wires to link sensors up to the system. Obviously, this makes a wired system unsuitable for renters.
Can't Be Moved
Once you've set up your wired home security system, you're stuck with it where it is. You can't easily disable it and move it elsewhere. When you move into a new home, you'll have to set up a new home security system from scratch.
Vulnerable To Power Outages
Wired home security systems can run on backup batteries if there's a power outage, but if the outage is a long one, the system's battery could run out and leave your home vulnerable to criminals.
How Much Does A Wireless System Cost?
One of the big factors to consider when you want to set up a home security system is how much you can expect to pay for it.
A wired home security system will need to be professionally installed, which can rack up the costs. You're looking at paying between $100 and $1,500 for installation alone (the price depends on factors like how complex the system is and how far from a power source cameras are located).
For the security equipment, if you want items such as a control panel, siren, motion detector, and multiple sensors in the home, you're looking at paying between $500 to $750 (obviously this will be less if you reduce the equipment you want).
Then, monthly costs for a wired security system will usually be between $20 and $50 per month.
By comparison, wireless home security systems will cost you between $100 to $2,000 for the equipment you need, and you could pay between $20 to $50 per month for monitoring. However, you'll probably be able to set the system up yourself, which eliminates installation costs.
Are Wireless Systems The Better Choice?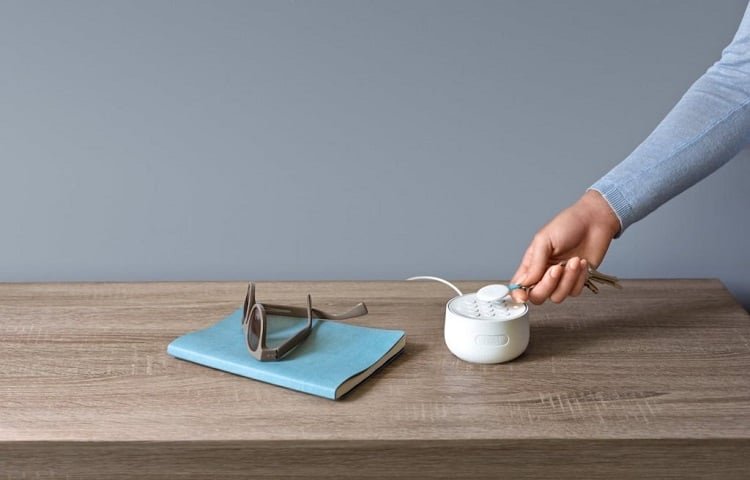 Ultimately, whether a wired or wireless system is best will depend entirely on your situation and your needs.
For example, if you want remote control of your security system because you're not home that often or you want easy installation without having to reel in the pros, then a wireless home security system is the right choice.
On the other hand, if you don't want to have to worry about hackers or a weak WiFi signal, then a wired system is still the best for you.
Related Questions
Do wireless alarms need the internet?
It's better to go with cellular radio. This makes the alarms more reliable, because they won't stop working if there's a problem with the internet connection.
Is it legal to have security cameras outside your home?
Generally, there are no laws prohibiting the use of security cameras that record video footage in the vicinity of your home, including the street, as long as it's for the purpose of security.
Wireless Security System Pros And Cons: Final Thoughts
Wireless home security systems are better for most people and most situations. The advantages of NVR vs DVR camera systems make it clear why.
But the disadvantages can be a huge issue, depending on your situation. Weigh the pros and cons carefully, before deciding on the type of system to go with for your home security.

Latest posts by Damon Kennedy
(see all)