Security lights can save you.
Think about it.
If you were a burglar looking to rob a place, would you break into the home on the dark property or the one that lights up like the Las Vegas strip the moment you set foot on the premises?
In addition to deterring potential intruders, they also give you peace of mind during the night or at time when you're not home, especially if you live in an area with a high crime rate, or you travel often.
The best outdoor security lights have motion detectors and both the lights and the motion sensors are highly adjustable, so you can adapt them to your particular needs
But finding the best system for you can be a challenge, given how many models are on the market. Fortunately, we've done all the hard work for you.
We've whittled the section down to only the top outdoor floodlights for you to choose from. The comparison table and brief reviews below will help you find the perfect light for your needs. The buyer's guide below that will clear up any questions you have about the various features and their usefulness.
Outdoor Security Light Comparison Chart
Best Protection
Best Value
Most Powerful
Budget Pick
Most Flexible
Best Wireless
Best Protection
Best Value
Most Powerful
Budget Pick
Most Flexible
Best Wireless
Best Outdoor Security Lights: Reviews
Below you'll find brief reviews of each of the top security lights for outdoor use. If you want more details, we also have full, in-depth reviews of each light. Just follow the links provided.
Highest Level Of Protection: Ring Floodlight & HD Security Cam
Our Rating: 5 / 5
This Ring floodlight and camera system scored big points since it offers a higher level of home security than the other models I reviewed.
This is a camera and floodlight system that allows you to record and review, video footage, comes equipped with motion detector sensors that will activate both the lights and camera, and is very beginner-friendly.
The biggest drawback is a monthly subscription fee. Without the subscription, you can still use the camera, but you won't be able to review old footage or download camera footage. Instead, you only have access to real-time footage.
The subscription fee can be pricey, especially for those on a tight budget. But it's worth the cost, if you can afford it. It offers much better protection than a standard security light.
Best Value: SANSI LED Outdoor Lights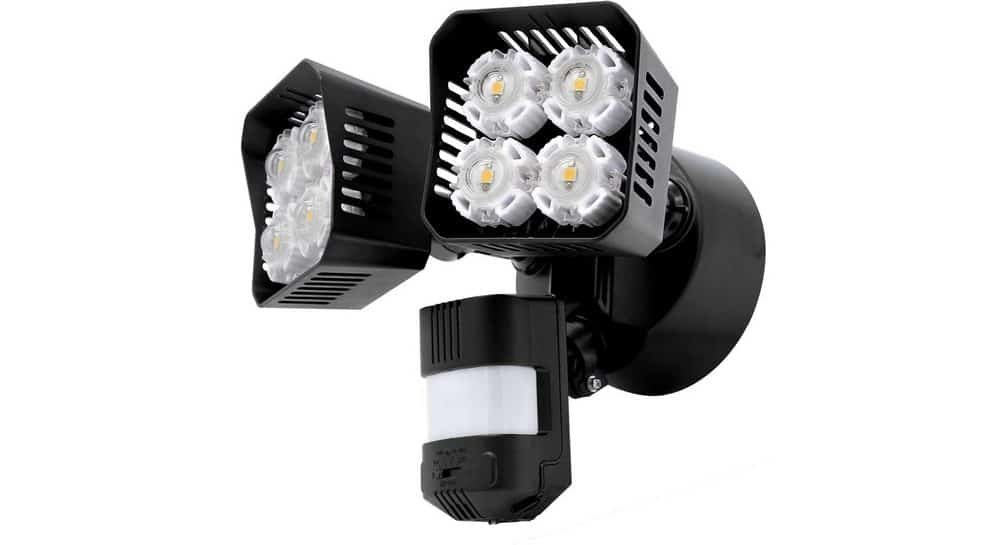 Our Rating: 4.8 / 5
The Sansi Outdoor motion sensor lighting system offers an impressive 3600 lumens from eight LED diodes, and allows you to customize the system's activation times.
The lights themselves are highly adjustable, so you can position them precisely, based on where you need coverage the most. Not only can you choose from a few motion sensor options, but you can also adjust the lights based on how long you want them to remain on, once they have been activated.
If you don't want the lights to go on every time a cat wanders into your yard, you can decrease the system's sensitivity, so that only vehicles and people will trigger the system. This type of adjustability gives you total control over how often the system is activated during the night, how long the lights stay on, and how much area the sensors cover.
Most Powerful: GDIDEA Outdoor LED Flood Light
Our Rating: 4 / 5
This model is one of the leading floodlights on the market. It has a total of 180 LED diodes across two panels, but is also available in a one-panel and 3-panel version. This one gives you 2000 lumen, so each individual panel produces 1000 lumen of light.
That makes this light far more powerful than any other on this list. And it doesn't use too much electricity to achieve that. So what's the drawback?
It's just a floodlight. You either have it on or off. It does not have a motion sensor that turns the lights on only when motion is detected. That's the reason for the lower rating. If you just need a powerful light, with no motion detection, this is by far the best option.
Budget Pick: JJC LED Security Lights
Our Rating: 4.3 / 5
The JJC LED security lights are highly adjustable, featuring a dual-head design, waterproof housing, and three thousand lumens of power. The motion sensors are also adjustable, so you can increase or decrease how sensitive they are  and prevent false alerts throughout the night.
The three different lighting mode options allow you to choose how long the lights remain on and when they're active. Overall, this is a powerful, reliable system, and one that offers more adjustability than I expected, considering the low price.
Most Flexible: LEPOWER Security Lights
Our Rating: 4.5 / 5
This Lepower security light system comes equipped with an optical designed filter lens, LED lamp headlights that powered by Samsung chips, and lights that are specifically designed to prevent glare, which makes it easier for you or your neighbors to spot an intruder on your property.
The motion sensors are highly adjustable so you can fine-tune your setup, while the flexible lamp heads allow you to point them directly at the desired coverage area.
Best Wireless: Mr. Beams Wireless Security Spotlight
Our Rating: 4.2 / 5
This system by Mr. Beams features a high-powered security spotlight with highly adjustable settings that allow you to customize how the system works, based on the size and shape of your yard, motion detector sensor sensitivity, and how long you want the lights to remain on, once triggered.
The Mr. Beams light is not wired, making installation much easier. It runs on batteries that last up to a year, depending on how often the lights come on every night (i.e. depending on your motion detector sensitivity settings).
Outdoor Security Lights Buyer's Guide
The goal of security lights is to prevent intruders from breaking in. But which system is the most effective at doing that depends on a variety of factors that include how large your yard is, what type of structures the lights will be mounted to, what your budget is, how many lights you need, and how powerful the lights are.
This guide will walk you through the different types and styles of lights, how to install them to get the most out of this type of security system, and what features to look for.
What Is Security Lighting?
In terms of home security, there are plenty of ways to add exterior lighting to your home. But the best outdoor security lights differ from the traditional porch light every home has.
A security light covers a larger area, is brighter, and is activated when triggered. These lights are usually mounted much higher than a standard porch light, which is what allows them to cover a larger area.
Of course, any type of light you mount to the outside of your home must be designed to handle inclement weather. These lights must have a weatherproof rating, or at least a weather-resistance rating.
Benefits Of Outdoor Security Lights
There's no question that external lights can be very useful around the yard and home in terms of crime prevention. However, some companies tend to exaggerate their effectiveness, often claiming more is better or failing to discuss how these lights should be used strategically around the yard.
There's no doubt that thieves will be put off by the lights, but they won't work all the time.
While these lights cannot guarantee that a potential burglar will consider your home off-limits, there are still many clear benefits from using these outdoor lights.
These lights will enhance your feeling of safety, because they allow you to easily investigate activity outdoors.
They will light up places that are in full view of the street. Because of this, installing the lights in a controlled way is important.
They're an affordable home security option, even for homeowners on a tight budget.
Important Features To Look For
When you're shopping for outdoor security lights, you need to look for the type of fixtures that will light up the areas you need lit up the most. The types of fixtures you choose can range from floodlights that are mounted up high to low-level path lights that can light up the front area of your home.
There are many features and styles to choose from. Because of this, it's important that you base your choice on lights that will work for the size and shape of your yard, your budget, and you security needs.
Below, I'll go over the most important features to look for, in addition to information that can help you to get the most out of your outdoor light security system.
Passive And Active Lighting
Do you want lights that are active or passive? Active lights have motion sensors that turn the lights on when triggered by movement. Passive lights include lights with timers or static light fixtures, that you turn on or off manually.
For the most part, a successful lighting system for security purposes includes both passive and active lights, in order to safeguard against any type of threat or potential risk.
The lights should also follow any restrictions or rules that your city may have, including energy conservation, wattage, width, and height, in addition to the type of bulbs you can use.
Photocell & Motion Detector Hybrids
Photocells can be used to switch on a light when it's dark and shut it off when it's light out. Motion detectors turn the light on as soon as the sensor is triggered by someone in the immediate area. The light then shuts off again after the sensor no longer detects motion.
When these two controls are combined, the light is set to switch on after dark, but remains shut off unless the motion detector sensor is triggered.
Some models that feature both of these control options also have light brightness settings that cause the light to switch on at the brightest setting and eventually go dim once the motion sensor does not detect any further movements.
Motion Sensor Lights
Dedicated motion sensor lights are often the top choice and they tend to offer a nice mixture of security and energy efficiency. These lights have a built-in motion detection sensor that causes the light to turn on as soon as the sensor detects movement, based on a range setting that's highly adjustable.
These settings allow you to choose how much space the sensor covers, and how sensitive the setting is. In some cases, these lights can be annoying if you have a lot of wildlife or cats that wander through your yard, since this can cause the light to turn on and off all night long. In cases such as these, you can adjust the setting so the light isn't quite so sensitive.
There are many pros and cons of using motion sensor light systems. The biggest reason to choose this option is the fact that a bright, powerful light instantly switching on and illuminating an intruder attempting to break it can work to scare them off quickly.
These lights can also help save on energy costs, especially compared to light systems that are left on constantly, throughout the night. Motion detection systems are a more cost-effective way to keep your home safe.
Another issue is maintenance. The sensors on the lights must be kept clean, otherwise, you may notice a dip in their performance and efficiency.
In some cases, you'll have to reset the sensors, especially if the system is hardwired and has experienced a power surge. Fortunately, this is an easy fix. You can learn how to reset your outdoor motion sensors in our handy guide.
Basic Flood Lights
These are the brightest, most powerful lights you can choose. They should be mounted high, allowing them to cover more space in the yard and around your home.
Placement and installation height is crucial. The lights should not be mounted too low or too high, both of which can negatively impact their performance. A combination of floodlights and lower-powered lights can ensure there are no dark areas or shadows in the yard, removing any potential hiding spaces.
LEDs Vs. Halogens
LED powered floodlights provide more coverage for the same amount of electricity usage, illuminating a larger area for less money. LEDs are simply far more energy-efficient.
Halogen lights are still a good option, but these days, LED lights are simply better, especially if you want to keep your energy bill down (and who doesn't). Halogen lights are not nearly as energy efficient and can cause your electric bill to skyrocket, especially if you leave your security lights on all night.
Clear And White Bulbs
While colored lighting can be very beautiful, it's not ideal for security purposes. Clear or white bulbs are the only way to go, since they produce cleaner and brighter lighting.
Fixture Options
Look for components and fixtures that are designed for outside use. If the fixtures are to be installed under a roof, then they don't have to be completely waterproof, as long as they are weather resistant and designed to tolerate damp conditions. Fixtures that will be fully exposed should be totally weatherproof to prevent rusting.
Hours Of Use
Determine when and how long you want to keep the lights on. You may need the light to be on at all times, or you may prefer total darkness until an intruder is detected.
For security lights, you can usually install a photocell or timer that closes and opens the circuit. If you want the light to change from bright to dim or to come on when someone is in the immediate vicinity, then you need a motion detector. This feature can help to conserve energy and can also prevent the bright lights from disturbing you and your neighbors.
Energy Efficiency
If you're looking for an energy-efficient solution, you'll want to use energy-efficient lights such as LEDs, halogens, and CFLs. As mentioned, LED lights are by far the most energy efficient.
Keep in mind that each type of bulb may not be designed for use with automatic controls, especially when it comes to photocells. Many types of photocells will not provide full power initially. Certain light bulbs that require full power will not work with photocells.
This is primarily true of fluorescent bulbs. If you want to incorporate CFLs as part of your automated lighting setup, you need to use a bulb that can be dimmed.
Another way to conserve energy is to use solar -powered lighting. We have a whole buyer's guide for solar-powered outdoor security lights.
Controls: Manual/Timers
Control options include automatic and manual. The manual switches need to be turned on and off by hand. Other models will allow you to use a timer switch which ensures that the light stays on when you need it to.
This can be beneficial for security purposes, especially if you're not home every night. With a timer, the light will turn on and shut off at a set time, which can give the impression that someone is at home.
Light Placement
Light placement is everything. When placed properly it can present the outside of the home with a more beautiful atmosphere, more dimension, and will provide more coverage.
When you add security lights, the goal is to discourage a possible intruder or burglar from even considering breaking into your home. This is because the bright light removes any type of hiding spot in your yard, making the intruder highly visible.
When you walk your property and plan how and where to place security lights, make sure you consider the areas around the home and in the yard that are the highest security risks and potential safety risks.
This includes dark garages or heavily wooded areas. You should also keep in mind that there can be such a thing as going overboard with your lighting. You don't want to be intrusive in terms of your lighting hitting your neighbor's house or yard.
You also don't want to have bright floodlights switched on around the clock. Additionally, using too much lighting can actually show off some of your valuables, like the interior of your home, your new car or your expensive lawn furniture. This can make you a target.
Shadows
The biggest issue people have when they're using a light system for security purposes is thinking that a couple of bright lights are enough to deter intruders. This approach actually has the opposite effect.
Really bright lights can cast too many shadows, which give intruders more places to hide. If there are only one or two bright lights, then there will still be several areas in your yard that remain in total darkness
Additionally, these bright lights can also make it easier for the intruder to see what they're doing and identify weak spots such as unlocked windows.
Light Shielding
If the lights are not shielded properly and they cause a lot of glare, this can also work in an intruder's favor.
People tend to avoid looking directly at the lights since it can hurt their eyes. If the lights you use cause glare, then a neighbor is going to avoid looking too closely at your home if they hear a disturbance. This gives the intruder the opportunity to sneak behind the curtain of bright light.
Always use proper shielding for your lights and make sure they are angled away from each other. This is just another reason why you should put your lights up high and aim them downward toward the ground.
Battery
Some lights come equipped with a backup power source, which can come in handy if there's a power outage. These are rechargeable batteries that continue to protect your home, even if the lights are hardwired and the power goes out.
Why Is Outdoor Security Lighting Important?
Security lights are designed to keep your home environment well-lit. This makes it easier for you to navigate your property safely at night, but more importantly, it works to prevent any intruders from hiding on your property, and literally shines the spotlight on them if they try to gain access to your home.
Properties that are dark give intruders a place to hide and basically make it easier for them to break into your home, since they are not visible to you or the neighbors.
You don't have to keep your entire yard lit up. Strategically placing a few lights around your property, not only saves money in terms of the size of the system you buy, but it also allows you to cover more space if done correctly.
Installation Tips For Your Outdoor Security Lighting
In order to get the most out of your lighting system, you need to ensure that the lights are installed correctly to make your home less vulnerable to intruders. A well-lit yard ensure that a potential intruder moves on in search of an easier target.
Below, you'll find some great tips that you can use when setting up your security lighting system.
You Need Sufficient Lights
In order to get the most out of your lights, you need to purchase enough of them, so that your property doesn't have any large dark areas that are left unprotected. Having several moderately bright lights will do more for your yard than using one overly bright light.
Eliminate Blind Spots
The more dark spots or blind spots that you have around the yard, the easier it is for an intruder to break in. Instead of using a couple of bright lights, consider installing more smaller lights to fill in all the dark areas someone could use to hide.
Cover All The Main Areas Well
The main pathways and your doors are the biggest areas you should consider when setting up your lighting system.
But while the front of the home is all that people can see from the street, an intruder is not likely to enter through the front. The back of the yard should be well-lit also. The same goes for the sides of the house.
High Placement
When installing, the lights should be higher off the ground and should shine downwards to provide a larger area of light. When lights are placed closer to the ground they will not be able to cover as much space.
Lights that shine downward from higher up also cast a softer light by the time it reaches the ground. This means there will be less dark or blind spots in the yard that are created by harsh shadows.
With this technique, it can be much easier to overlap your lights to get better coverage. The lower the lights are installed the more lights you will need to buy to achieve this effect. Lower lights are also easier to tamper with.
But Not Too High
Lights should not be installed too high. The higher up the light is placed, the brighter the bulb you'll need. There must be a perfect balance in terms of installing the light at the right height. This depends on how much light the yard needs and how bright the light is, in addition to the types of structures the lights will be mounted on.
Prevent Tampering With Power Cables
An intrude can cut the power to ensure they're able to slip onto your property and into your home unnoticed. Make sure the wires are located in an area that's difficult to access. Power boxes should have security lighting to prevent people from attempting to vandalize your system.
Mix In Regular Lighting
If an intruder has some experience, they'll know all about the different types of security lights out there and how they're used to deter break-ins. To outsmart an intruder, don't use only lights that are specifically designed for security.
Instead, use traditional lighting in addition to a security light system. You don't want to spend hundreds of dollars on a pricey lighting system only to have an intruder easily slip around them.
While accent lighting isn't as focused or bright as a floodlight, it can increase the effectiveness of your security system. This type of softer lighting is still bright enough to see by, so it can provide enough visibility for the neighbors and members of your family to spot a person creeping around the yard.
Combined with bright security lights, your yard and home will be highly visible, making it difficult for an intruder to quickly identify shadows or dark areas around the yard before they're spotted.
Maintenance
Have a proper maintenance routine in place that makes it difficult for intruders to disable your lights. Bulbs that are burned out should be quickly replaced. Check them frequently to ensure they continue to provide the type of coverage they should. Bulbs that have started to go dim should also be promptly replaced.
Since they're installed outdoors, they are often quick to collect dust and dirt that's flying around. Make sure you regularly clean off your security lights in order to keep the light shining optimally.
Set aside time every month to check out your lighting system, test it, and ensure it's working properly.
To learn how to keep your security system running smoothing and ensure it provides optimal protection, read our article on security light maintenance.
Top Outdoor Security Lighting: Final Thoughts
The best outdoor security lights must be installed correctly to provide the type of lighting you need. They should illuminate the areas around the home and in the yard that are darker and need illumination.
The most efficient and effective systems are reliable and come equipped with automatic controls that will make using them simple. The system must be weatherproof, durable, and should fit in with the style of your home.
Security lights will give you peace of mind knowing that your yard and the areas around your home are well-lit, to deter any potential intruders. The goal is to make breaking into your home more of a challenge.
These lighting systems will help to discourage thieves from attempting to break into your home and will instead cause them to leave in search of an easier target.
But knowing which light systems offer the type of performance and lighting power you need can be a challenge, especially since this can depend on the size of your yard, your budget, and whether or not you can use certain types of lighting systems based on your neighbors and how invasive some systems can be.
You'll still need to do some research to pinpoint which system will best meet your needs, but we hope this guide has helped you figure out what factors to consider, and that one of the six best outdoor security lights we presented above will work for you.
Latest posts by Jackie Bolen
(see all)
Last update on 2023-09-25 / Affiliate links / Images from Amazon Product Advertising API