What did you do when you first moved into your apartment?
Or when you first got your internet set up?
Did you just start using it?
That's what most of us do, to be honest. But it does put you at risk.
The default settings on a new router are never the most secure. They offer hackers plenty of opportunity to gain access to your computer.
That gives them access to your personal information, your webcam, any connected smart devices and more.
What if you're not sure how secure your connection is?
Keep reading to learn how you can test your Wi-Fi connection to see if it is secure, plus how you can strengthen it to ensure hackers can't get in.
How Do I Know If My Wi-Fi Is Secure?
Don't just assume that your Wi-Fi is secure. It might not be!
Before you go to the trouble of trying to make your Wi-Fi more secure, it helps to know just how safe – or unsafe – it currently is.
How To Check If Wi-Fi Is Secure
Is my wifi secure? Test it using a service like the one recommended below (it's free) and by checking the other things listed here.
Check Your Firewall
A good firewall will protect your computer's ports so that intruders can't gain access to them. Check the security of yours protection using services such as ShieldsUp!
It works by testing the ports and then letting you know if they're not up to scratch when it comes to how secure they are. If your firewall is letting you down, it's time to get a new one.
Ensure Your Router Is Safe
It should be using WPA2 encryption for its Wi-Fi key. If your router is relatively new, then chances are high that it will already be using this. Read further down this article to find out why WPA2 is the best encryption.
Avoid Default Router Settings
It's convenient to start using your router immediately, but if you keep its factory settings, such as the default password the device came with, you're putting yourself at risk of being hacked.
How To Make Sure Your Wi-Fi Is Secure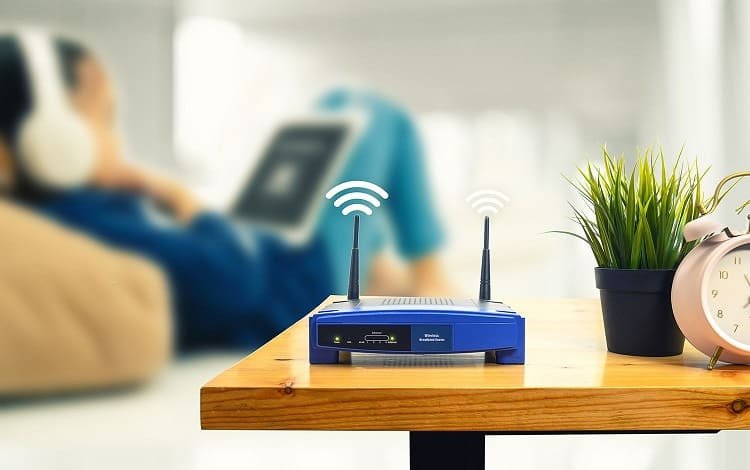 Now that you've checked the most important security issues with your Wi-Fi connection, it is time to strengthen the connection. Follow these tips to make your Wi-Fi stronger and safer.
Encrypt Your Wi-Fi Network
Encryption means that the information that you send via the internet is scrambled, so it remains hidden. There are different types of encryption that you can use, but the strongest ones are WPA (Wi-Fi Protected Access) and WPA2.
While you might have heard about WEP (Wired Equivalent Privacy), this is outdated so you want to avoid it.
Change The Router Password
You'll receive a default password when you first use your router, but don't just continue using this. Improve your online security by choosing a new, unique password that hackers will be less likely to guess.
Change The SSID Name
SSID (Service Set Identifier) is the network name that's been given to your router. The danger of leaving this name unchanged is that many routers have the router brand as their default SSID, and hackers know this, putting you at risk.
Filter Your MAC Address
If you're not sure what MAC refers to, it's the identifier that every computer and mobile device has, and it's known as a MAC address. It basically permits Wi-Fi routers to monitor and track the devices that are connected to them.
As an administrator, you'll be able to enter the MAC address of the devices you wish to connect to the router so that others are prohibited. This is called MAC address filtering, and it keeps your connection free of potential intruders.
Keep Your Router Updated
Make sure you upgrade your router's firmware on a regular basis. Some routers will do these updates automatically, so check if that's the case for your device.
When updating your router, go into its admin settings (which you can access from your mobile app or browser) and check if there are any updates available.
Disable Remote Features
Many routers will give you the chance to access them remotely, but you can turn this feature off in the router settings. It's worth it to protect you from others trying to get into your private information.
This also hamper your use of the router, unless you need administrator access from a different location, but many remote access apps will continue to work even if you've disabled this feature on the router.
AES Vs TKIP
These terms are both encryption types that can be used on a Wi-Fi network to make it more secure. But which one is better? Here's what you need to know.
TKIP (Temporal Key Integrity Protocol) is an older encryption protocol. It hit the scene with WPA and replaced WEP encryption. It's similar to WEP, however, which is what makes it less secure than other types of encryption. Make sure you avoid it in favor of AES.
AES (Advanced Encryption Standard) is much more secure, as it came about when WPA2 was introduced. The main benefit of WPA2 is that it uses AES, which is regarded as a worldwide encryption standard that's even used by the U.S. government, so you know it's the real deal!
Pro Tips
Bear in mind that having WPA2 encryption might make you think that AES comes with it by default, but sometimes WPA2 can use TKIP, such as if compatibility with some other devices is required.
This means that WPA2 doesn't always indicate that you've got AES. If your device doesn't have a clear AES or TKIP option, then you can assume that WPA2 is matched with AES.
It's also good to know that your device might have "TKIP/AES" on it. This means that it uses both of them to be compatible with older devices but it won't be as secure against hackers because they might be able to gain access to the TKIP and WPA protocols.
Wi-Fi 6
You might not think of Wi-Fi in terms of having different versions, but it does. For instance, there's Wi-Fi 3, Wi-Fi 4, and more. The older Wi-Fi versions of Wi-Fi 1, Wi-Fi 2, and Wi-Fi 3 aren't commonly in use anymore.
Wi-Fi 6 is considered the next generation wireless standard. It's faster and gives you better performance, even in areas of high traffic resulting from heavy device usage.
Wi-Fi 6 is a version of Wi-Fi that came about in 2019. When it comes to its speed, it is about 40% faster than Wi-Fi 5, when used on one device.
When it comes to security, Wi-Fi 6 is much more secure than older technology. These security improvements have done away with some outdated and risky features that can put you at risk of online hackers.
The best thing about Wi-Fi 6 is that it provides WPA3 encryption. This is even more updated than WPA2, and it makes use of features like strong password protection and 256-bit encryption algorithms so people will find it much more difficult to hack into networks.
Custom Firmware
Custom firmware is a good alternative to consider when keeping your router secure. There are three main open-source firmwares to consider: DD-WRT, OpenWRT, and Tomato.
They all have different features, so you'll have to choose which ones you want and also make sure that your router is supported by the firmware. Let's take a look at some features that these open-source firmware options offer.
DD-WRT
This is a complete toolkit of everything you'll need in a router, which is what makes it so popular. It also supports a large number of routers.
As a result of it being so popular, you're guaranteed of having quick and helpful support if you need it. However, it's worth noting that you might encounter difficulty in finding new versions for some routers.
OpenWRT
This is the oldest open-source router project. It's reputable and commonly used. It offers lots of options and works reliably.
It also increases how well your network is able to perform, such as by decreasing latency. The drawback? You will need some technical knowledge to be able to make use of it.
Tomato
Tomato is user-friendly, offering a no-fuss firmware solution. It's also good for increasing the speed of your router.
You'll love the AdvancedTomato project that offers a sleek and user-friendly interface and also gives you the chance to view real-time monitoring of stats with the use of graphs. One thing to consider, however, is that it doesn't support as many routers as other types of custom firmware.
Related Questions
Do you need Wi-Fi 6 for your smart home?
If you have many devices that are connected to your Wi-Fi, such as door locks or light bulbs, these can clog your Wi-Fi network. Wi-Fi 6 can handle more devices without it causing a reduction in speed.
What can someone do if they hack your router?
Someone who hacks into your router can do various things, such as use your bandwidth, install malware on your device, and collect your personal information.
Is My WIFI Secure Test: Conclusion
There are many things to consider when it comes to improving the security of your Wi-Fi network.
In this article, we've looked at some of the most important upgrades and security features to keep you safe. We've also outlined Wi-Fi 6 and why it's such a boost to your network security.

Latest posts by Damon Kennedy
(see all)