You've got your brand new home security system and are ready to put up the cameras.
But where do they go? Where are the best spots to install cameras in order to best protect your home and your family?
Never fear: we've got you covered.
In this article we give you the most important spots for home security cameras. These are the locations everyone with any type of home will want to cover.
We'll also cover some of the most common mistakes people make when placing their cameras, so that you can avoid those mistakes.
Finally, we'll talk about fake security cameras and solar powered cameras, both of which are great for people on a budget and also for locations without a readily available power source.
Where To Put A Security Camera
The following are the top locations for home security cameras. These are the spots everyone will want to cover.
Placement 1: Front Door
An estimated 34% of burglars enter a home through the front door so it just makes sense to place a security camera there. One thing to be aware of is that a bad guy may attempt to tamper with a surveillance camera placed in plain sight near the front door. They could rip it off the wall, disconnect the power or smash it.
It's best if you place a security camera on the second floor, or in the eaves of your roof and point it down towards the door.
Pro Tip
You may want to consider installing a peephole door camera as well. The best ones will send you alerts when motion is detected at your front door, which goes a long ways towards reducing unwanted intruders.
Video: Tips On Where To Install Security Cameras
Placement 2: Back Door
Approximately 22% of bad guys enter a home though the back door. This is high enough that it certainly warrants a security camera.
The back door can be a tempting target for thieves because it's often out of sight out neighbors. This is particularly true if you have a backyard surrounded by a high fence or lots of trees.
Keep in mind the same tip as for the front door camera: don't place it where it can be easily smashed or destroyed. It's best to place a surveillance camera on the second floor and look down towards the back door.
Placement 3: Windows Off The Street
Thieves will sometimes break a window in order to gain access to your home. They most often choose one that is off the street in order to decrease their chances of being caught.
Survey the area around your house. Do a walk-around. Which window is the most secluded, and out of the view of neighbors or a passerby? Put a home security camera there.
If it's dark, be sure to install a solar powered security light as well in order to reduce the chance that your house is broken into.
Video: Where To Place Home Security Cameras
Placement 4: Entrance To The Backyard
There are plenty of things in the backyard, or in unlocked storage shed, that could attract the attention of a thief. Lawn maintenance equipment, bicycles, etc. There's sometimes a thousand dollars worth of stuff just left out.
Most burglars gain access to your backyard through the gate. It's easier than jumping, or breaking a fence and will create less of a disturbance in the neighborhood.
So be sure to place a security camera pointing towards the backyard gate. Also keep this area well-lit to increase the safety of your home.
Pro Tip
It's useful to put some security cameras out of reach of the bad guys, pointing down at something like a window or door. But, you can also put some in plain view because this will often make the thief just move onto an easier target. When there is one security camera, there are usually more. Intruders know this.
Placement 5: Basement Stairs, Leading Up To The Main Floor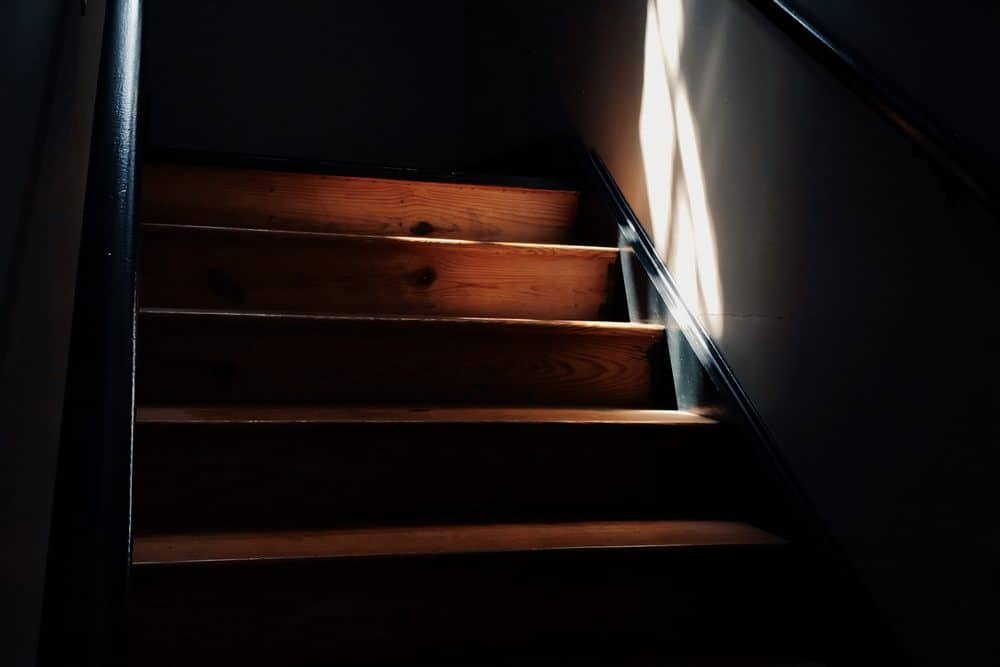 Most basements have small windows that a person can fit through. This can be an easy way for an intruder to gain access to your home and they're sometimes unlocked because people don't check on them for years.
It can be useful to place a home security camera looking at the stairs leading up from the basement. Some thieves get into the basement first, and then use that as access to the main level of your home.
Should I Hide Cameras?
There are a number of pros and cons for hiding cameras. By leaving them in plain sight, they are more likely to be vandalized. However, they may also deter would-be criminals. It really is a matter of personal preference. Often, hiding some and not others is the best solution.
If you do decide that you want to hide some, or all of, your cameras, then you'll want to consider these tips: How to Hide Security Cameras.
I don't Have A Power Source Where I Want To Put My Camera
Okay, so you have a prime spot where you want to put a security camera, but there is a problem. There is no readily available power outlet nearby. One option is to run cables to connect your camera to a power source.
A better, easier option is to opt for a solar powered wireless security camera such as the Reolink Argus 2. There are a ton of features that you'll appreciate, but we love the fact that just about anyone can get this thing up and running in just a few minutes with basically no tools. Yes, it really is that easy.
Here are some of the reasons you'll want to consider it.
Flexible Locations
Because there are no wires or power outlet required, you can use the Reolink Argus 2 in many different locations that are remote or geographically challenging. For example, vacation homes, construction sites, farms, RV or boat storage, etc. That said, if you want to have remote access, you'll need wi-fi.
Easy Installation With Wireless Solar Powered Security Systems
If you compare solar cameras to hard-wired security cameras, you'll notice a huge difference in terms of ease of installation. There are no cables to run, or holes to drill. All you have to do is ensure that your camera will get enough daylight to power it.
And if you want to move it to a new site, just take it down and put it up again in minutes.
Great For The Environment
If you want a security solution that's better for the environment, then go with solar. Take advantage of the sun, instead of relying on electricity that is often generated with fossil fuels.
Monitoring At Night As Well
A common question that people have about these kinds of solar powered surveillance cameras is whether or not they can work at night, or just during the day when sunlight is available.
They are able to provide security at night as well because there are rechargeable batteries that use the daylight hours to charge up. They are usually equipped with night vision capabilities as well.
Where Can I Find The Reolink Argus 2?
If you're interested in checking out this solar powered security camera, read our full Argus 2 review.
What about Fake Security Cameras?
If you're on a very limited budget, you may not be able to afford a home security system with 4 or 5 cameras. It can indeed get a bit expensive.
A nice solution is to get 2 to 3 security cameras, and then supplement that with fake ones. We find that dummy security cameras these days are surprisingly realistic and most people can't tell the difference until they're less than a meter away.
Put the real security cameras in the hard to reach places, looking down at your front and back door. Then use fake cameras for the back gate and side windows.
Place them in very obvious spots where a burglar would be sure to see them. It's a simple solution and will hopefully offer you some serious protection for your home and family.
Learn more about where to place dummy security cameras here.
Common Mistakes With Security Camera Placement
There are a few common things that people do which will render your home security system useless! Avoid this by not making these common mistakes.
Not Securing Your CCTV Cameras
If a home security camera is placed too low to the ground, it's very easy for a burglar to smash it. Avoid this by placing it out of reach. 9 to 10 feet usually works pretty well.
Another thing to consider is the weather. Although most outdoor security cameras are weatherproof, it's best to not test this. Try to install them under a bit of cover, such as the eaves on your house.
Wanting Cameras To Multi-Task
Do you want your security camera to see who's at the front door, find out the license plates of people who drive down the street, and keep watch over the house across the street? This is a mistake and won't work well for you. Each camera should have only one main task.
Placing The Surveillance Camera Too High
It can be tempting to place a security camera at the highest point on your property so you can get maximum coverage. However, this isn't ideal. Although you might see an intruder, you won't be able to see his/her face clearly. This is not helpful for the police in identifying the criminal.
Not Having Enough Home Security Cameras
An average house usually needs at least 3 to 4 cameras outside to ensure some good coverage. 5 to 6 is even better. When you buy a home security package such as this one from Lorex, it's usually not that much more money to get 6 cameras instead of 3, so it makes sense to just get more from the start.
Relying On Night Vision Too Much And Not Having Adequate Lighting With Home Security Cameras
Night vision works decently well for most of the higher-end security cameras. However, it can still be a bit hard to make out identifying features if it's pitch black outside your house.
Getting some good lighting around your house will help the police ID a bad guy. It'll also help deter criminals from wanting to break into your house in the first place.
Not Checking Security Camera Placement Laws
Each jurisdiction has different laws about home, or business security cameras. Before buying a home security system, and certainly before installing it, be sure to get all the details about this.
The Internet is an excellent source of information, or give a local home security system company a call to find out more.
As a general guideline, cameras should be pointed at your own home or property. For example, you shouldn't point a home security camera into your neighbors yard because this is a serious invasion of privacy. More details here.
Not Getting Required Permit
Depending on where you live, you may need a permit for your home security system. Make sure you find out the local requirements, so that you do not end up on the wrong side of the law, when all you were trying to do was protect yourself.
Where To Put Home Security Cameras: Your Thoughts
Do you have any recommendation about where to put home security cameras? Leave a comment below and let us know your thoughts. Do you want to learn more about home safety and security? Check out our top home safety tips.

Latest posts by Damon Kennedy
(see all)