We can't tell you which type of camera is best.
We want to make that clear right off the bat.
Both wired and wireless cameras have major advantages and disadvantages.
Which one is best depends entirely on your needs, your property, and other factors that are specific to your situation.
So what's the point of this article, if we can't give you a definitive answer?
We might not be able to tell you which type of security camera system you need, but we can help you figure it out for yourself. Keep reading.
Wired Vs Wireless Security Cameras
We'll begin by taking a look at wired cameras and their pros and cons. Then we'll do the same for wireless, before going into a some additional questions and other things to look for when buying security cameras.
By the end of it, you should have a clear idea which type of camera to buy.
What Are Wired Security Cameras?
If you want to install wired security cameras around your property, they will have to be plugged into your internet network, as well as a power source in order to work.
However, it's possible to only use one wire, if your cameras can use PoE (Power over Ethernet) cables. Let's check out some pros and cons of wired security cameras.
Advantages Of Wired Security Cameras
Wired cameras are more reliable than wireless ones, because they're not as susceptible to experiencing a drop in signal as a result of a poor internet connection. This makes them especially useful for business owners who need to ensure constant monitoring of their premises without any hitches.
They can be more difficult for thieves to steal, as a result of how they're connected to your home.
There are two types of wired security camera systems: DVR systems and NVR systems. Both can connect to the internet, but NVRs are more technologically advanced, with higher-quality videos and some advanced features such as person detection.
The video quality you get with a wired security camera is more consistent, because it isn't affected by bandwidth changes. In addition, the cameras don't need to use a large amount of bandwidth, because they don't need to transmit their footage to the cloud.
Disadvantages
Installing these cameras can be tricky because of the wires they require. It is not uncommon for people to call professionals to install their wired cameras. It's especially difficult if you have to run the wires over a longer distance. Hiding them can prove stressful, too.
You'll have to drill holes into the wall to set up your wired security cameras, which means that wired systems aren't always suitable for people who are renting their homes.
If you experience many power outages in your area, wired security cameras can prove frustrating.
While they might not be easy to steal, the cameras can easily be disabled. A thief just has to snip the wires, which are often very visible.
What Are Wireless Security Cameras?
By comparison, wireless security cameras can be a much better solution if you don't want to be bogged down by wires!
But it's worth noting that many of these cameras will still need to be plugged into the power grid. Even though they're called wireless, they still need a power cord to connect to a power source. They only connect wirelessly to your internet.
That said, there are models that do not need power cords. Instead, they run off batteries or solar power. Let's check out the advantages and disadvantages of wireless cameras.
Advantages
Wireless cameras are much more user-friendly when it comes to their installation, simply because you don't have to worry about too many wires – you just have to ensure that the camera system is close to a power source. The user-friendly nature of these systems means that you will probably be able to install them yourself instead of spending extra money on installation.
Not having to worry too much about running wires means you can place wireless security cameras in many more places than wired cameras. They can therefore give you more comprehensive coverage of your property.
These security cameras store video footage on a cloud server, which makes it easier to access. But you can also store this footage on a microSD card on some cameras, so you have options at your disposal.
It's easy to view the footage on your smartphone or computer, making this system much more practical.
Many of the best wireless security cameras are smart because they will start recording when they detect a sound or motion, therefore saving energy. However, if you hook them up to power they'll be able to record all the time, so you don't have to worry about not getting 24-hour coverage.
You can find some wireless cameras that offer high-resolution video and have night vision features so you can see clear images even when it's dark outside.
Disadvantages
Since they rely on Wi-Fi, wireless security cameras can result in less than clear images or dropped signals. This can prove frustrating.
If the camera does not connect to a power source, you have to remember to charge the batteries. This can be a nuisance when compared to the ease of setting up wired cameras and letting them do their work.
Wireless security cameras tend to have monthly fees, if you want to make use of cloud storage. And there could be extra costs involved for advanced features, like person detection.
Privacy Concerns
When installing security cameras, the focus is on making your home and property as safe as possible.
But don't forget to consider how private and safe the camera systems are! What if they get hacked? Can this happen?
Wireless systems are more vulnerable to hacking, because they connect directly to the internet. This could result in your privacy being violated
Your footage is online and if it's hacked, it can be a serious violation of your privacy, as well as the privacy of other people whose actions and voices are recorded by the cameras.
But if you take reasonable precautions, you can minimize (and virtually eliminate) this risk. To improve your security when using wireless security cameras, you need to do the following:
Choose Strong Passwords
This makes it more difficult for criminals to hack into your cameras. Never keep the default password that came with the camera. Change it immediately and make sure it is a strong password, with a combination of upper and lower case letter, numbers, and other symbols.
Use Two-Factor Authentication
This will keep your account much safer. It will send a text to your smartphone when you login. Only someone in possession of, and with access to, your phone can your private account.
Cover Or Unplug Cameras When Not In Use
This prevents the camera from being hackable when it is not plugged in. It also reduces unnecessary footage.
Do Regular Firmware Updates
Security cameras that are updated regularly are better protected against hackers and security threats.
Cost Of Installing Wired Security Cameras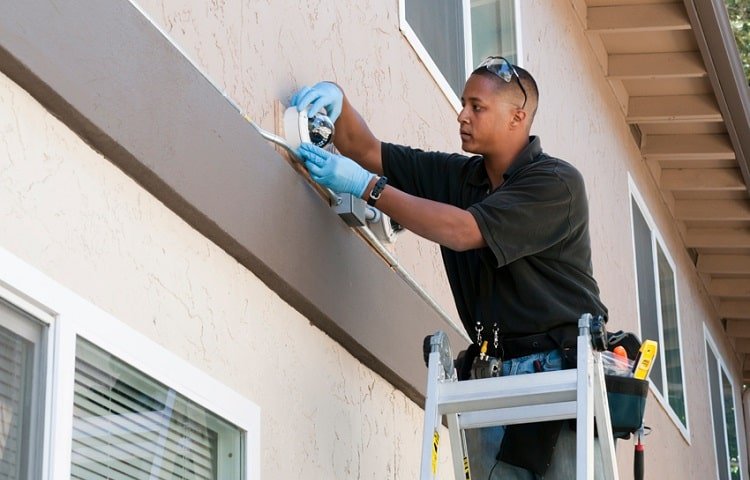 While they might not be as vulnerable to hacking as wireless cameras, wired cameras have a bad reputation for being difficult to install.
Indoor security cameras are quite straightforward to install once you've placed and plugged them. Some of them might need to be drilled into the wall, but even this is pretty straightforward.
Outdoor security cameras can be trickier when they're wired. This is simply because you have to ensure that they're within close proximity to a power source and your internet connection.
If you choose to bypass the DIY installation route in favor of a professional, it will cost you. On average, installing wired security cameras will cost you between $150 to $500 for one camera.
If you want four cameras installed, this can shoot the installation cost up to $2,000. There is simply a lot of extra labor involved with installing a wired system, like drilling drilling holes into walls and running cable inside the walls.
Storage For Video Footage
How your camera footage gets stored is something you'll need to think about. You have a variety of storage options available to you, depending on the type of camera you've chosen to install.
For example, the camera might make use of microSD cards, network video recorders, digital video recorders (DVRs), or USB drives.
For all of these, which are sometimes referred to as local storage, the camera has to be placed in a secure spot where people can't get to it, but which shouldn't be too tricky for you to access.
Cloud Storage
Cloud storage is definitely convenient. It enables you to view the recorded footage with your phone or on your computer. Basically, you can view it no matter where you are.
You can also have quick and easy access to the footage no matter where you've placed the security camera.
There are other benefits to choosing cloud storage, even though local storage options are cheaper and there's less of a risk that someone will be able to hack into the storage. Let's take a look at all the pros of cloud storage.
Cloud storage is great when it comes to recording evidence of intruders on your property because it keeps your recordings safe and out of harm's way.
While you have to pay for cloud storage, there are usually extra perks included with your purchase. These can include person detection to enable your camera to become more picky about when it records footage, and sends you notifications of who and what it detects.
It's not overly expensive. You're looking at between $2 and $6 per month for one camera, which isn't too bad. Of course, this could become costly if you've got lots of security cameras on your property. And if you choose to pay a firm to watch your cameras, instead of self-monitoring your surveillance system, then your monthly cost will increase significantly.
Portability Of Security Cameras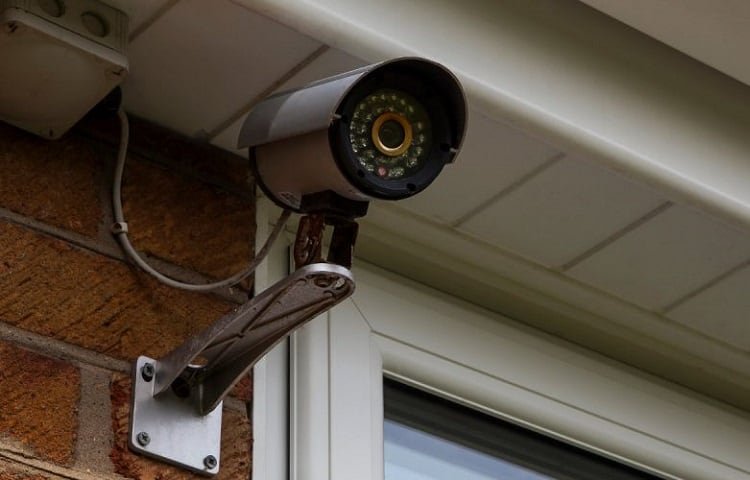 You might not think of your security cameras in terms of how portable they are. But you might want to consider it.
After all, you might be living in one area of the city now, but what if you want to be able to move homes in the near future?
Installing wired security cameras means that it won't be easy to uninstall and move the cameras in the future.
If this could become an issue, you should opt for wireless cameras. They are highly portable because you only have to remove their power cables (if that). You can easily uninstall wireless cameras and then install them in your new home without too much of a hassle.
Wired cameras obviously use more wires. And they are usually drilled into the walls. This makes them much more of a problem if you have to uninstall them and reinstall them in your new house.
You'll basically have to start from scratch with the installation. this means paying a new installation fee, if you're choosing to have them installed by professionals.
Wire-Free Cameras
If you've heard of wire-free security cameras before, chances are you assumed they were the same thing as wireless cameras. But they're not.
What Are Wire-Free Security Cameras?
They are similar to wireless cameras, but they don't require the use of any wires at all during installation, which is a big bonus if you like the idea of having a practical, user-friendly security system.
These cameras send video footage to video receivers, completely wirelessly. They are powered by batteries (or solar), so you won't even need a power cable when installing them around your property.
The Zumimall ZM-WFA3 is our favorite wire free camera. Read our full review of the Zumimall for more.
Advantages Of Wire-Free Security Cameras
Easy installation. You can mount these cameras anywhere you like, but make sure that they are fairly easy to reach, so that you can access the batteries when you need to recharge them.
Their easy installation makes them easy to use for renters as well as homeowners.
Since they're battery-operated, these cameras won't be affected by power outages in your area. This means no unwanted downtime.
You can store the cameras' video footage in the cloud, which makes them versatile and user-friendly. You'll also be able to make use of cloud storage benefits, such as those we've already outlined.
When purchasing wire-free security cameras, you'll notice that they generally have long battery life. This can vary from around two months to up to six months with products that make use of energy-saving technology.
Disadvantages
Since they run on batteries, you have to maintain these devices regularly. You always have to remember to recharge them. The good news is that many of these wire-free devices are designed to save energy by staying in "standby" mode until they are activated by something (movement, heat, etc.) and start recording.
They need good Wi-Fi. Your home Wi-Fi needs to be fast otherwise your wire-free camera will battle to maintain a signal. If you don't have a stable, consistent internet connection at home, wireless camera systems are not a good choice for you.
Wireless Vs Wired Vs Wire Free: Which To Choose?
There are pros and cons to all 3 kinds of security cameras: wired, wireless, and wire-free cameras. Which is best depends on important factors specific to your situation.
Before choosing a camera system, ask yourself some important questions, such as:
Do you have a strong internet connection at home?
Are you a homeowner or a renter?
Do you want to be able to access camera footage when you're on the go?
Are you good with DIY? If so, installing a wired camera system might not be a big deal.
Do you want to have consistent camera recording, 24 hours a day?
Do you want extra perks from your camera system, such as high-resolution video?
Related Questions
Can you connect wireless cameras with LTE?
Cameras that make use of cellular data are available, but they cost a lot of money and don't offer good video quality. Cellular connections simply aren't as fast as Wi-Fi.
Can an electrician install a security system?
An electrician can install your security system, but he or she might not be able to give you professional advice on the best camera locations and equipment for the most secure setup.
Wireless Security Cameras Vs Wired: Conclusion
Should you go wired or wireless? One of the biggest decisions you'll have to make when it comes to installing security cameras is to choose between these two options.
Neither is better than the other on the whole. But for a given situation, there will always be one type that is more suitable.
Hopefully, you now have a clear idea of each type of camera's strengths and weaknesses and you know exactly which system is going to be best for your needs. If you are still not sure or you have additional questions, please ask them in the comments below.

Latest posts by Damon Kennedy
(see all)