Most people prefer wireless security cameras.
They have some major advantages, but also a few key disadvantages. Our article on the pros and cons of wireless security cameras covers all of that.
What's important to know is that not all wireless cameras are actually wireless.
Sure, they transmit data without needing a wire, but what about electricity? Where do they get their power, if not through a power cable?
The truth is: many do get their power through a power cable, which means that technically, they are not exactly wireless.
Others don't use any cables.
Keep reading to learn everything you need to know about how wireless cameras get their power.
How Do Wireless Security Cameras Get Power?
There are various types of wireless security cameras that get power in different ways. Here's a rundown of the popular types and everything you need to know about how they work.
Wireless Security Camera With Power Cable
Some security cameras that are labelled "wireless" still make use of a power cable in order to function.
Pros
These types of wireless security cameras are powered by electricity from a cable, but they transmit their data wirelessly. This makes them more user-friendly and versatile than wired security cameras that need to be connected to a base unit via wire in order to transmit footage to your device.
Since they are connected to the power grid, there is no danger of the batteries running out and you not noticing.
Cons
If there's a power outage, this type of camera will stop working, unless you have a backup generator.
You'll have to connect the device to your power grid, which can be tricky, especially if you don't have much DIY experience.
Installing Power Cables For Security Cameras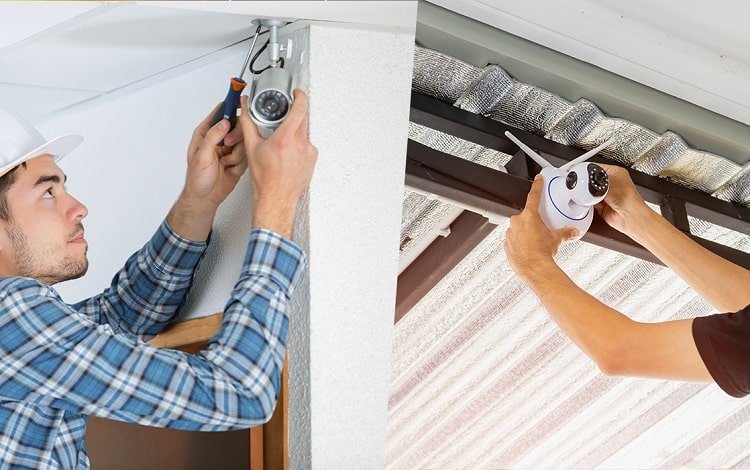 It is so much easier to install wireless security systems, because you don't have to worry about fussing with wires or finding creative ways to conceal them.
But this is not entirely the case with a wireless camera that connects directly to the electric grid. You'll still need to install and run the power cable, which can be a hug pain, depending on the location and proximity to the nearest source of electricity.
Here is the general process for connecting one of these surveillance cameras to a power source.
It Starts With A Hole
You'll have to start by turning off the main power in your home and drilling a hole in the place where the cable will inter the wall. An item such as a straightened metal coat hanger can help you to search for any obstructions inside the wall, to ensure that your path is clear.
Give Yourself Some Slack
You should aim to have a few extra feet of wire length so that you don't find yourself short, and you should label the cable ends so that you know which security camera is supposed to go with which wire. This will decrease the amount of stress you experience during installation.
Feeding The Wires
One of the trickiest parts is feeding the wire through the wall. You will definitely need someone to help you feed the wires to where you're setting up your camera.
Hide The Wires
Take your time and figure out a good way to hide the security camera wires. You don't want them to be an eyesore, and more importantly, you don't want an intruder to be able to quickly locate and sever them. Here are various solutions you can try:
When you make a hole to run IP camera wires, you can hide the cable with wire guards. Place the cable inside a guard and then secure the guard to the wall inside your home.
You can paint the wires, or staple the wires into the corners of walls and then paint them. This makes them much less visible.
You can also hide cables with a plastic tube. The benefit of doing this is that you also prevent them from getting damaged over time, from general wear and tear.
Solar Energy Security Camera
If you have to place a security camera in an area that's difficult to gain access to with power cords, a solar camera is a great alternative.
There are two main types: ones that have a solar panel built into the camera's design and ones that have a separate solar panel included in the purchase. The first choice is more compact and easier to install.
Pros
Solar security cameras can work even during power outages.
Once installed, these cameras don't require any maintenance and their batteries can last for up to five years.
These cameras can help you save money on your electric bill.
They enable you to make the most of the sun as a natural resource and reduce your environmental footprint.
Solar energy security cameras come with rechargeable batteries that can be activated when the device doesn't have enough light to power itself up.
Cons
Solar security cameras usually need to be placed higher up. While you might be able to install them yourself, it's probably better to consult a professional.
These cameras rely on the sun. If the solar panel is obstructed by an object such as a tree or wall, the camera won't get enough power and won't be able to work properly.
Battery-Powered Security Camera
Another popular alternative to a wired security camera is one that's powered by batteries.
What's great about battery-powered security cameras is that you can put them anywhere on your property where you can access your Wi-Fi network, without having to worry about running power cable all the way out there.
You could even install a battery-powered outdoor security camera on a fence or tree. They're great to use if you're short on space.
Pros
Battery-operated security cameras can be used anywhere, because there is no need to worry about trying to place them in close proximity to a source of electricity.
Since you don't have to fiddle with wires, installing a battery-powered security camera is much easier and you'll be able to do it yourself even if you're a beginner.
Cons
Batteries run out, so you have to stay on top of your security cameras and ensure that they always have enough power.
USB-Powered Security Camera
Another type of security camera to consider, is the USB security camera. This type makes use of a USB cable instead of a power cable or network cable.
Here are some pros and cons to consider if you're interested in this type of camera.
Pros
These cameras are powered by batteries, which makes them much more versatile and portable.
They're easy to charge whenever you need to. Take them inside and plug them into a power outlet, USB charger, or a device that has a USB port. This is very convenient.
Some cameras make use of solar panels. This makes it even easier for you to recharge the USB security camera because you don't have to remove the camera or take its battery indoors to charge it.
These cameras come with software included to process the digital video signal. They use your computer for both the processing and as a storage device. This makes them really easy to set up and start using.
Cons
Many USB camera charging cables aren't waterproof, so they are typically best used indoors.
You'll have to ensure you remember to recharge them, just like with other types of battery-operated security cameras.
Related Questions
Will wireless security cameras save you money?
If they are the types that don't need to be plugged into a power source, wireless security cameras can definitely help you save money on your power bill. Read Wired Vs Wireless Security Cameras for more.
What are some important benefits to look for in a wireless security camera?
Some useful features include motion detection, live streaming, and free cloud storage. If the camera comes with a magnetic base, this can also help to make installation a breeze.
Wireless Security Camera Power Sources: Conclusion
Not all wireless cameras completely lack wires, since they still need to get power from somewhere. Many of them get that power by tapping into the electric grid via a power cable.
But there are also other types that do not have any cables. These make use of alternative sources of energy, like batteries or solar. Each of these types has unique advantages and disadvantages, so you want to carefully consider which type would be best suited for your needs.

Latest posts by Damon Kennedy
(see all)