There's no reason not to get a dash cam, apart from the cost, right?
Not so fast.
While a good dashboard camera is not cheap and cost is a big drawback, there are a few other important disadvantages, too.
Before you buy one, make sure you know all the benefits of a dash cam, as well as the negatives.
Keep reading for a rundown of the dash cam pros and cons and tons of additional information you need to know if you are considering a car camera.
Dash Cam Pros And Cons
To help you decide if you should invest in a dash cam, here are the main dash cam pros and cons.
Benefits Of A Dash Cam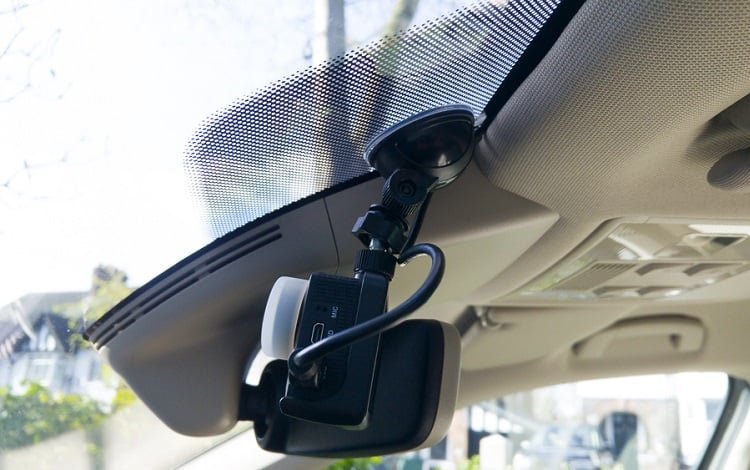 Improve Your Driving
Dash cams can monitor your speeding, which can be a good incentive to drive more responsibly. If you don't have a lot of experience driving, looking back over your video footage can also help you improve your driving skills and learn from your mistakes.
Video Proof For Insurance Claims And Police Reports
Dash cams can capture incidents like accidents, so that you have video footage of them. This can help you if you need to file a claim with your insurance or if you need to report the accident to your local police.
If there are no witnesses at the scene during an accident, a dash cam will be able to provide video footage as evidence of what happened.
Keep An Eye On Passengers
Having a dash cam can give you better insight into what's happening in the backseat of your vehicle, which can help you if you regularly have passengers in your car. Any Lyft or Uber driver should have a dash cam.
Lower Insurance Premiums
Having a dash cam in your car could help you reduce your monthly car insurance premiums. You might be able to get up to a 10% decrease.
Monitor Your Car Even When You're Not Using It
Many dash cams have an additional feature called parking mode. This turns the camera on automatically when your car is off and parked, if it detects that someone or something has hit your car.
It will then start recording video footage. This is a fantastic feature that means even when you're not in close proximity to your car, you have video evidence of anything that might happen to it.
Potential For Beautiful Footage
While this has nothing to do with your driving, dash cams can also capture amazing sights around you, like sunsets or meteor showers. You might miss these otherwise, because you're concentrating on driving.
Dash cams need to be placed in such a way that you get views of the road in front of you as well as the sky overhead to provide balanced views. The result? You might get beautiful footage of sunsets, the moon, or shooting stars.
GPS
Most dashboard cameras have a GPS functions that will record your location. It can also keep a record of where your car has been. If it ever gets stolen, this GPS record could help police track it down. GPS is one of the main features to look for in a dash cam.
Emergency Features
To improve your safety on the road even more, some dash cams come with emergency features that will alert emergency services, if you end up in an accident and can't make that call yourself.
You can even find dash cams that will send medical information, such as your blood type, to paramedics.
The way the emergency function works is that the dash cam will try to get a response from the driver in the event of an accident. If there is no response after a minute, emergency personnel will be summoned automatically. This could be life-saving!
These types of features are only available in a true dash cam. Obviously, you will not have them if you use a GoPro as a dash cam.
Drawbacks Of A Dashboard Camera
Potential Distraction
Dash cams can be a distraction to drivers, especially if they are not positioned correctly on the windscreen. This can become even more problematic if your dash cam hasn't been secured to the windscreen well enough and the device keeps falling off.
Could Attract Thieves
Dash cams can attract thieves because they're always placed in easy-to-see areas. This also draws unwanted attention to your car as a whole. Once thieves break into your car to steal your dash cam, they might also notice other possessions in your car. Or they may decide to just take the entire car.
Potential For Legal Trouble
You have to be aware of your local laws. These can affect how you position your dash cam, so you have to do a bit of homework before installing your dash cam to ensure you don't get pulled over by a traffic officer.
Different Types Of Dash Cams
If you want to purchase a mini car cam, it helps to know what types are available. There are three main types:
Front-facing dash cams. These are mounted on the windscreen or dashboard and will capture everything in front of you.
Dual dash cams. These make use of a front and rear camera. So, you'll have a camera in the front of your vehicle that records views in front of you and a second camera at the back of your car so you get footage of what's going on behind you.
Four-way channel dash cams. These offer front and rear cameras, as well as one camera on the left side of your car's interior and one on the right side. This provides the most comprehensive views of your surroundings.
Different Types Of Dash Cams Mounts
Dash cams use two different types of mounts. They are:
Adhesive
These mounts have an adhesive strip so that you can easily press them onto your windscreen to secure them. While they're really easy to use, their adhesive might not be strong enough to last for a long time. In addition, you can't move the dash cam around once you've mounted it.
Suction
These mounts are preferred over adhesive mounts. This is because the suction cups are easy to secure to your car windscreen and you can move them to a new position if you want to, without much fuss. Suction cups are also much more reliable because they will stay put!
How To Connect Your Dash Cam
If you're new to dash cams, you might wonder how you should connect them. There are different styles of dash cams that each connect differently.
You could plug your dash cam into your car's cigarette lighter or even wire it to your car battery. Some will send information to a device like a smartphone, with the use of a built Wi-Fi feature. Others will store data on an internal microSD card.
Legality Of Dash Cams
Earlier in this article, we mentioned that you have to ensure you are up to date on the laws in your state regarding dash cams. The rules when it comes to dash cams can vary quite a bit from one region to the next.
In some U.S. states, there are no laws pertaining to dash cams which makes them legal by default. These include Alabama, Delaware, Florida, Georgia, Idaho, Iowa, Kansas, Kentucky, Maine, Mississippi, South Dakota, New Mexico, and Wisconsin.
Some U.S. states don't allow any obstructions on car windscreens. This makes installing dash cams a little trickier.
The U.S. states that follow this rule include Alaska, Arizona, Arkansas, California, Connecticut, Delaware, Florida, Georgia, Idaho, Michigan, Massachusetts, Montana, Nebraska, Nevada, New Hampshire, New Jersey, New York, North Dakota, Ohio, Oklahoma, Oregon, Pennsylvania, Rhode Island, South Carolina, Texas, Tennessee, Utah, Vermont, Virginia, Washington, West Virginia, and Wyoming.
Many states have specific restrictions pertaining to dash cams that you'll need to know about. For example, in Colorado dash cams are allowed but you need to ensure that your windshield still has at least 70 percent light transmittance after a dash cam has been installed.
Wherever you live, it is important to research your city and state's local laws to ensure that you follow the rules and avoid getting pulled over and fined.
Related Questions
How much footage can a dash cam record with a 32GB card?
On average, a 32 GB card can hold up to four hours of dash cam footage when you record at 720p HD or 1080p at 30 frames per second.
Is dash cam theft common?
While dash cam theft can happen, dash cams could also deter criminals from breaking into a car, because they face the risk of the camera recording them in the act!
Benefits Of A Dash Cam: Conclusion
If you want to drive safer, you should invest in a dash cam. They can help you in a variety of situations, such as if you have a car accident or someone is guilty of a hit and run involving your parked vehicle.
Without any witnesses to the incident, you could end up in a very stressful situation, but your dash cam footage could save the day.
As we've seen in this article, there are many other benefits that a dash cam can provide. But they also have some potential drawbacks, which we've also covered. Hopefully you care now ready to decide whether a dashboard camera is the right choice for you.

Latest posts by Bobby Miller
(see all)