Do you want to add an extra layer of protection to your home? Then consider getting a door brace for your front and back door. They can withstand up to 3000 pounds of force and will prevent your door from getting kicked in.
If you live in a high crime area, it's certainly a top option to consider. Read our buying guide, packed with information to help you decide if it's the right option for you.
Ongard Security Door Brace Review
If you're looking for a permanent solution to securing your front and back door from intruders, then this door brace should be the first one that you consider.
Sure, you can get all kinds of bars and wedges, or an extra deadbolt but they are built to withstand only a couple hundred pounds of force, it that much. And, they mostly depend on the strength of your door frame to work effectively.
The Ongard Door Brace is built tough. It can withstand up to 3000 pounds of force, and even a battering ram will likely be unable to get the door open.
The way it works is that the bottom plate bolts into the floor, and the other piece on your door. When you activate it, serious bolts are engaged and it's almost impossible to move the door.
Just about the only negative is that it does require some installation. If you're handy with a drill, it should be no problem and you can do it under 10 minutes. If you're not, it may take a bit of time to figure things out.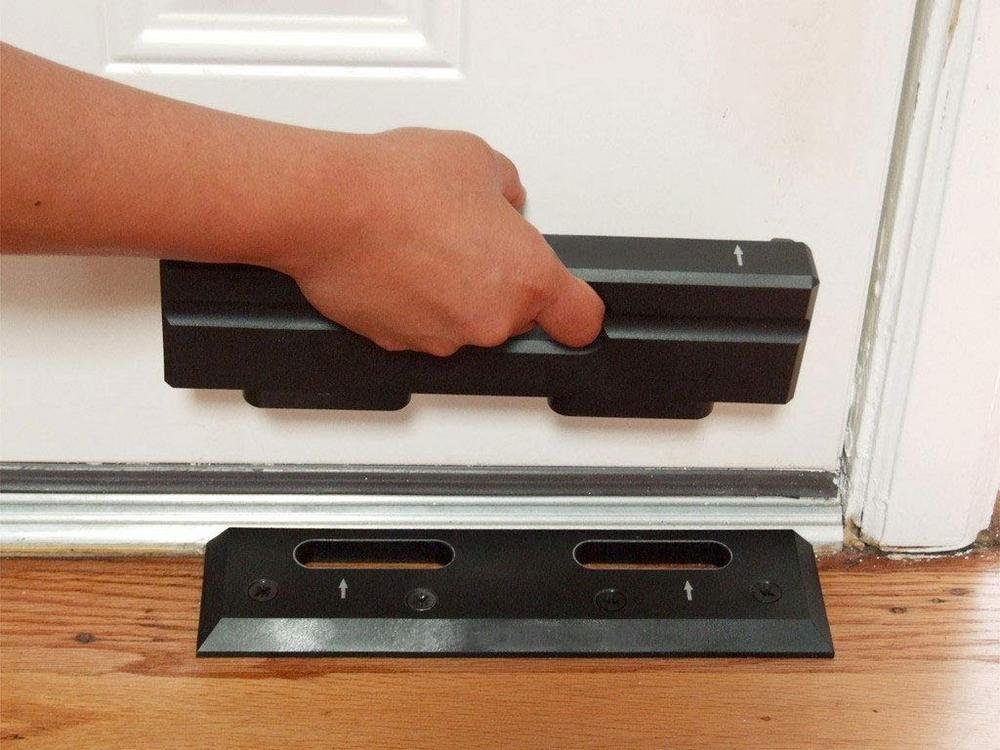 Key Features Of The Ongard Door Brace
Can withstand up to 3000 pounds
Prevent door from being forced open by kicking, or with a battering ram
Lifetime warranty
Can be installed in under 10 minutes (all materials included except a drill)
Composed of space-age polymer (not metal)
Bottom floor plate is 1/2 an inch high
Where Can I Get It?
You can easily find this top-quality door brace bar on Amazon. Check now for the best prices, and to learn more about this popular security device.
Demo Of The Ongard Door Brace
Check out this short video for an impressive demonstration of the Ongard Door Brace.
Pros
Excellent warranty
Very, very strong
Excellent customer reviews
Not made from metal (rusting is not an issue)
Cons
Requires drilling to install it
Some doors may not have required clearance for the bottom plate
A permanent solution (some people may not want this)
Does not work for sliding doors
What Do People Think About This Door Brace?
"Amazing product that's really as good as the company claims it is. Super strong, easy to install and I have a hard time seeing how anyone could possibly break into your home through your doors with this thing. It just feels so much more secure than any of the other options I've tried that depend so much on the strength of your door frame."
"Everything you need to install it comes with the kit. I chose this over a deadbolt because the deadbolt only works if you have a strong frame. And the door wedges and bars can be too easily broke through with a few tricks. This one just seems way more secure."
"Nicely done Ongard! A great product at a fair price and probably the best way to prevent an intruder from entering your home. I love that it bolts into the floor and is basically impossible for anyone to break through. It's given me some added peace of mind in the high crime area that I live in."
Read More Customer Reviews on Amazon
OnGard Security Door Brace Installation
If you're nervous about how to install this door brace and whether or not you'll be able to do it effectively, check out this short video below for all the details you need to know:
Ongard Secure Door Brace Review: Conclusion
In terms of home security, the On Guard door brace is one of our top picks. As far as we know, there is no better way to secure a door from being forced open. This thing can withstand a huge amount of force and still hold strong.
Does Require Some Simple Installation
Although you will have to get our your drill and install it, it's worth it for the added security and peace of mind that comes with it. This door brace is just so much better than the other options available that are a little bit flimsy when dealing with a serious criminal.
Shop Now
Does this door brace bar sound like exactly what you need to protect your home and family? Then check it out for yourself on Amazon. Click the button below to find the best prices and to learn more about this popular product. And don't forget to check and see if this product is eligible for free shipping with a Prime membership:
Are There Other Door Braces To Consider?
Besides this door brace, there are plenty of other options to secure a door. Many of them are less permanent and can easily be installed and then removed, with no trace that they were ever there. If you're going to opt for something else, here's one of our top picks: Portable Door Jammer.
Check out some of these products for yourself over on Amazon:
Door Brace Security: Your Thoughts?
What are your thoughts about this popular door brace? Is it a buy, or are you considering another door security option? Leave a comment below and let us know. We'd love to hear from you.
Also be sure to give this article a share on Facebook, Pinterest, or Twitter. It'll help other people, like yourself who are concerned about home security find this useful resource.
Latest posts by Jackie Bolen
(see all)
Last update on 2023-05-30 / Affiliate links / Images from Amazon Product Advertising API