Crime prevention for yourself, family members and other loved ones as well as your home is an important topic! Nobody wants to be the victim of a crime, even a minor one. It can really be a traumatic event and cause you to lose money, time, and perhaps even days off of work.
To help keep everyone, as well as your home safe, we've compiled the best crime prevention advice from police agencies around the world.
Keep reading for our best crime prevention tips. We're going to focus our efforts mostly on the home, since that is why most visitors come this website.
Top 5 Crime Prevention Tips from Police Agencies
#1: Effective Lighting
Effective lighting is a great defence against burglars. They mention having a light in both the front and rear in order to help prevent home break-ins. The best lights are the solar powered ones because after the initial investment, they're free. They charge themselves during the day and then turn on during the night when you need them.
Check out: Top 5 Solar Powered Lights.
Crime Prevention Tip: Use Outdoor Lighting
#2: Make it Appear that You're Home Even When You're Not
Top 5 Fake TV Simulators
It's important to appear like you're home even when you're not. When you go on vacation, you should of course get friends or neighbours to take in the mail and cut the grass.
But, if you're away for the weekend, or coming home late at night then it's easier to take care of things yourself. Our favourite method for making it look like you're home when you're not is a fake TV. You can program them to turn themselves on and then the flickering light will make it look like people are home, watching TV.
See: Top 5 Fake TVs. 
Compare the Best Fake TVs
#3: Install a Peephole
This list of home-safety tips mentions that you should install a peephole in every door that opens to the outside. This way, you can see who is outside of your door before having to open it.
Those chains that you can get to open the door only part way are easily kicked in with even a small amount of force. The best peepholes are the video ones because you can see who is outside without them knowing that you're looking back at them.

See: Top 5 Peephole Door Cameras.
Peephole Door Camera Installation
#4: Install a Home Security System
 Installing a home security system is an effective way to crime prevention technique. The very fact that burglars can see security cameras around your house is often deterrent enough for them to move onto the next house that will be easier and less risky for them.
Our top pick for top-quality home protection systems is Lorex. The video is very clear, the systems are easy to install and the support is excellent.
Compare Lorex Home Security Systems

#5: Install Fake Security Cameras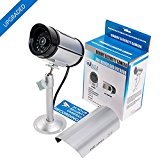 If you can afford a surveillance camera system, or a home alarm system, then these will be your best choice. However, not everyone can afford these things if you're on a tight budget.
The good news is that in terms of crime prevention, fake security cameras are often good enough. They look very realistic and most burglars of course won't stick around long enough to test them out! They'll just go to the next house where there is less risk for them to be caught committing a crime on cameras.
Check out: Top 5 Fake Security Cameras and Where to Put Fake Security Cameras.
How to Install Dummy Security Cameras
Need More Home Safety Tips?
If you're looking for even more home safety tips and rules to check out, please see: Home Safety Rules to Follow. 
If you're looking for advice specific to seniors, you'll want to check this out: Safety Tips around the Home for the Elderly. 
Have your Say about Crime Prevention Tips
What's your #1 tip for preventing crime? Leave a comment below and let us know.

Bobby Miller is a former police officer turned spy gear expert. He specializes in counter-surveillance, as well as making recommendations to government agencies for the top spy gadgets for their needs. He's excited to share his wealth of knowledge with our readers.

Latest posts by Bobby Miller (see all)