Did you just buy a fake security camera but you don't know where to place it? First, it is best to know if what you purchased is for indoor or outdoor use, or for both. Surely, your reason for buying a security device even if it's a fake is your family's safety and protection.
Dummy Security Cameras: Very Realistic
Maybe you did not consider opting for the real security device due to budget constraint. It's okay to consider the dummy as long as you're choosing the authentic-looking one. It is important too, that you are positioning the device in a place where people, especially the strangers will easily see it. Don't hide them, like you might consider doing with real cameras.
Remember, because they are so realistic, you should only point camera at your own property if you don't want to start a war with your neighbor!
How to Install Fake Security Cameras
The right places where to put them are important. If you install your dummy security device exactly where it should be, you are most likely to convince everyone that your entire place is well-secured. You don't actually need an expensive surveillance system if your dummy security cameras appearance and placement are convincing.
Don't worry if you already have that fake camera and you still don't know where to place it. It's not yet too late to look for the perfect spots at home. We're here to give you tips where to put them inside and outside your house.
Keep reading for all the details.
Learn How to Fake Dummy Security Cameras
Compare the Best Dummy Cameras
There are a ton of features and price points for fake surveillance cameras. Check out our handy comparison chart below:
The Best Locations for Dummy Security Cameras
So you want to know how to install them? Keep on reading for all the tips and tricks about where to put them.
According to the SafeSoundFamily website, these locations are the most possible areas in your place where burglars are likely to break in.
#1: At the Entrance to your Home or Business
More than 30% of the intruders enter a house using the front door. To stop the robber from possibly destroying your fake camera, install it at the second floor. If you have a bungalow-type of house, try to enclose your device using mesh wiring to cover it from any kind of weapon.
#2: At your Back Door
According to study, more than 22% of home thieves enter the house using the back door. Again, if you place your dummy security device here, burglars are more likely to think it will be dangerous for them to come near and get in
#3: By the Window (facing the streets or road)
This reduces the burglars' chance of jumping in to enter your place. They will be scared to see a lighting device especially at night, coming from your window.
#4: In the Backyard
It is usually here where the costly garden equipment and other valuables are place. If you install the camera here, robbers will find it difficult to enter.
#5: The Basement Stairs
Since they lead to the main part of your home, this will prevent the burglars from further entering your place.
#6: The Garage
Do you have a lot of expensive toys in your garage? Then you'll want to consider putting a dummy camera there to deter would be burglars.
#7: Balcony
Do you have a window easily accessible via balcony. Then you may want to place a fake security camera there.
#8: Near Sliding Glass Doors
These kinds of doors are notoriously easy to break into so place a dummy camera next to them for a bit of added security.
#9: High Above the Ground
Think about it this way. If you have expensive, real security cameras then you're going to install them at ground level because they can be tampered with and broken far too easily. Install them at least nine feet above the ground to make your dummy cameras appear more realistic.
#10: Anywhere you Might Put a Real Security Camera
Think about if you had real surveillance cameras. Where would you put them and which direction would you point them? Do the same with fake ones in order to make them look more realistic.
Learn more about Where to Install Security Cameras
#11: Keep Dummy Security Cameras Away from the Elements
Another consideration is that you should place them away from the elements. Of course, rain or snow won't damage a fake security camera, but nobody would put an expensive security camera in such a position! This will be an obvious giveaway to burglars.
#12: Position Fake Security Cameras to Allow for Good Coverage
Even though you're using dummy security cameras, it doesn't mean you should treat them like this. Think about them like real cameras and ensure that you're getting good coverage of your property.
For example, it'll be pretty obvious to a bad guy that your cameras are fake if you have 4 of them, all pointing in the same direction in your front yard. Spread them out around your house.
One by your front door, and one near the back. Then, one near each of the side windows, or one pointing at your storage shed or garage.
You get the picture. Just make it look like you've planned out their placement well in order to make them look more realistic. For example, point camera with flashing red led out to make it visible from a distance.
#13: Indoor Outdoor Cameras
Many of the real security systems you might buy come with indoor outdoor cameras. This means that you should place your dummy cameras both outside, and inside as well. Of course, make them obvious to see from an outside window.
Tip on Where to Put Security Cameras
Our Top Pick for Home Protection: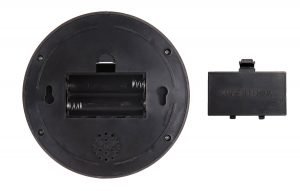 For those who have yet to purchase a set of fake security cameras, we highly recommend the 4 Pack Dummy Fake Security CCTV Dome Camera. This product may include just four dummy cameras but at least, they can cover  the majority of the best locations we just mentioned.
For our money, this is the one we're gong with. It's realistic, easy to install and is battery powered (no wires). It also has some excellent user ratings on Amazon, and we love the easy to see red light.
Reasonably Priced
You can get it from Amazon for a very reasonable price Aside from its affordable price, this fake security device is highly rated online. Definitely, this best-selling make-believe home security system is perfect in all the right places at home since it is designed for both indoor and outdoor use.
Key Features
Here are a few of the things you're going to love about this device to deter burglars:
Fake CCTV dome camera
Flashing red LED lights
No motorized pan movement (this makes it more realistic)
High quality, durable materials
Easy to install with the included screws
Run on 2 AA batteries (not included)
Indoor or outdoor use
Power saving mode
All accessories except batteries included
Where To Buy It?
Sounds like exactly what you need to protect your home against crime? You can check it out online and often get free shipping with Amazon Prime:
For more other fake security cameras, you may check out the Top 5 Fake Cameras Reviewed website.
How to Spot a Fake Security Camera
Okay, so we're going to teach you to think like a burglar and give you all the information you need to keep your home, office or business safe and secure cheaply.
Here's what they look for in spotting fake vs real security cameras.
#1: LED Light
Real security cameras with night vision will have an LED light that is on at night. It's usually blinking red. Some of the best fake security cameras will have this as well.
#2: Security Camera Covers
Real home security cameras have covers that are designed to actually protect the expensive electronics inside. Fake cameras often just have cheap plastic.
Look for the dummy security cameras that have more expensive coverings.
Some real cameras are designed for outdoor indoor use, while others are strictly for inside. Does the location match up with this?
#3: Installation Place
As already mentioned, install fake cameras like you would a real one. Consider "coverage" to make them look as realistic as possible.
Also be sure to keep them away from the elements and consider things like wind. Any burglar knows that you'd never put your $500 camera in a place where it'll get damaged.
#4: Markings and Brands
If you search for real home security cameras, you'll notice that same few brands keep coming up all the time (Check out our top 5 picks here). Burglars know and look for these brands and companies to check if cameras are real, or not.
If your dummy surveillance camera comes with company logo stickers, it's probably better to NOT put it on the camera.
#5: Motion Tracking
Very, very few security cameras move to track movement. Generally they detect motion and then record images or video of the area.
So, if you see a dummy camera that's constantly moving, that's a dead giveaway that it's fake. It may even be following a pattern that someone observant could notice in a couple minutes. This feature just doesn't work that great in real cameras yet.
#6: Wireless or Wired
Think about this: if you have an expensive security system, you're not going to leave make it vulnerable to damage by leaving wires exposed. A bad guy can just rip out the power cord and your camera is useless!
Dummy cameras should also not have wires exposed, although some do because some people might consider this more realistic. Most of the ones with flashing red lights will be battery powered.
#7: Dome Security Cameras vs Bullet Ones
Fake cameras come in either dome, or bullet types. This isn't an indication of whether or not it's real.
#8: Weight of Fake Surveillance Cameras
Real surveillance cameras will have a little bit of weight to them and just look heavy and substantial. The dummy cameras will often look like flimsy pieces of plastic (which they usually are!)
Now, get ready to outsmart the criminals by following these tips we just mentioned and live to see another day.
#9: Color
Black, white and grey are by far the most common colors for security camera products. Anything that's not this will look a little bit suspicious.
#10: Access Point
Is the camera in a spot that is totally and completely inaccessible? This will make it look less realistic as anyone with an expensive system will install cameras in a place where they can be easily accessed with a ladder or something similar.
How to Install Dummy Security Cameras: Have your Say
What's your favourite location for installing fake surveillance cameras around your property? Leave a comment below and let us know your thoughts. Or, give up any tips that you might have for how to deter criminals without dropping a ton of cash on a CCTV surveillance system.
And don't forget to share this on Facebook, Twitter, or Pinterest.

Damon Kennedy is the expert on all things home security systems. He's been working in the field for 20 years, recommending and installing them for his clients, for both homes and businesses. He's excited to share his knowledge with you so that you can make the best choice!

Latest posts by Damon Kennedy (see all)
Last update on 2019-09-21 / Affiliate links / Images from Amazon Product Advertising API