Are you looking for a simple Lorex IP camera? Then this one should be at the top of your list. It's reasonably priced, and Lorex is certainly a name you can trust in the home security space.
Read our buying guide to help you decide if it's the right choice your home or business.
Review Of The Lorex Wireless IP Camera With Pan-Tilt
The Lorex LNZ4001i has an impressive compact design for convenient use. It is an indoor wireless network camera ideal those with babies and small kids in the family.
Guaranteed a high-quality device, this camera allows the user to view and at the same time, record HD-quality videos remotely through a smartphone or tablet.
Key Features
Expanded view through the remote 'pan and tilt' control
Compatible with any device (PC, MAC, tablet or smartphone)
Works with any program (iOS or Android)
With built-in speaker and microphone
Can record on Micro SD card and view from computer or smartphone simultaneously
Real-time recording or snapshot-taking
10X Digital Zoom
Does not charge monthly fees
Cons
Micro SD card not included and must be bought separately
Needs fast Internet connection to work efficiently
30-feet range may not be consistent (depending on the scene or object reflection)
Requires an Internet connection for the full range of features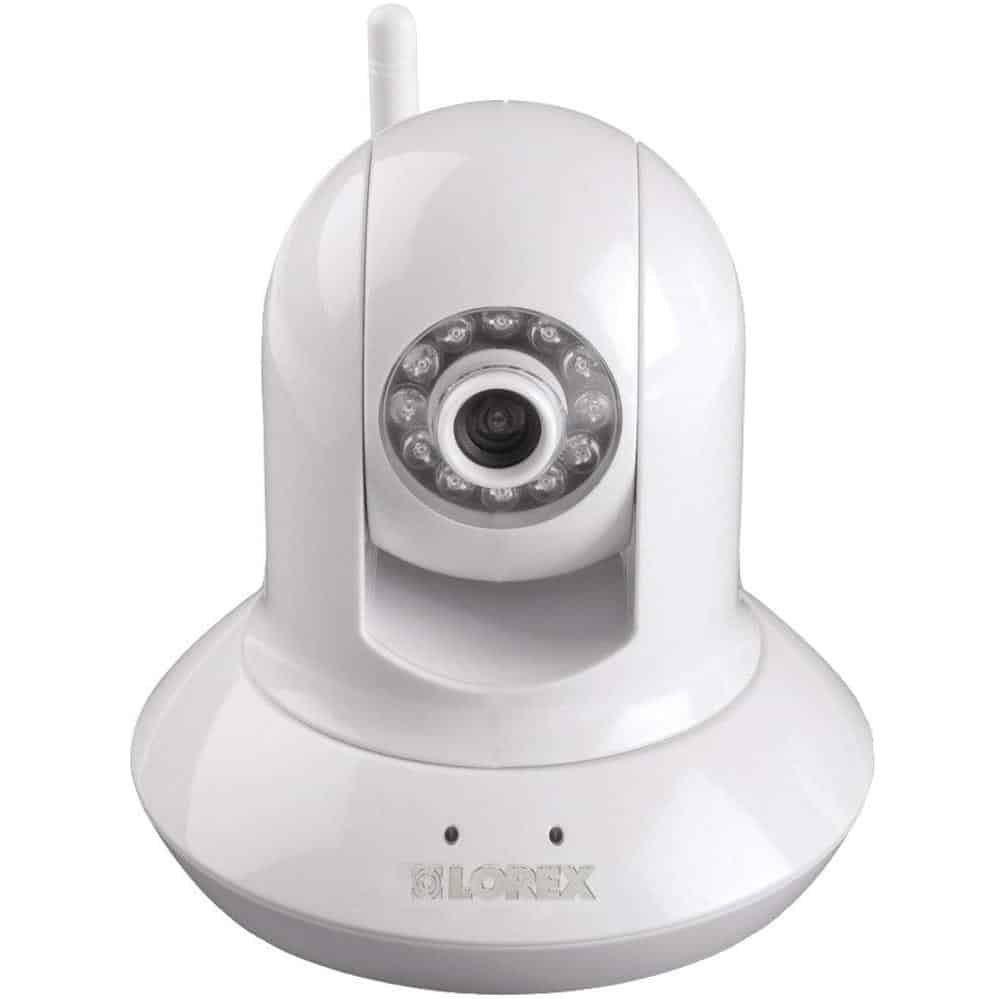 A Number Of Mounting Options
This camera has the ability to look around and capture happenings through its pan-tilt feature. Certainly a flexible security camera, you can simply position this device on the counter-top.
It is best to have the camera wall-mounted at the nursery room's entrance or where the baby is usually staying.
Reasonably Priced With A Ton Of Features
"I wanted a camera that I could pan and tilt with without having to spend an arm and a leg. This one from Lorex does that and also provides for 2-way audio along with a built-in alarm. For the price this system can't be beaten. I also like the warranty for this product."
Lorex: A Trusted Name In Home Security
Just a quick look on Amazon will tell you that there are a ton of options for home or business security or surveillance cameras. Which one to choose? It can be a bit overwhelming.
The good news is that Lorex is among the best. They have a reputation for making some top-quality cameras with excellent night vision and motion detection. Combine that with how easy they are to install and excellent tech support and you certainly have a great choice.
Lorex is among our top recommended security cameras at this website and we're confident that you'll be very happy with them too. If you're not—they do have a money-back guarantee. Check with the company for the most recent policy regarding this.
Where Can I Find It?
You can easily get this Lorex indoor wireless camera on Amazon. Click the button below to head there now.
Not Tech-Savvy? No Problem with Lorex!
You don't have to be tech-savvy to operate the Lorex Wireless IP Camera with Pan-Tilt. By simply connecting the security gadget to the WiFi network and setting it up on a smartphone, you can remotely view your baby's activities at home in just a few minutes.
Lorex has a reputation for having easy DIY installation, even with the most complicated home security systems. We LOVE that here at Spy Cameras reviewed.
If you're a bit nervous about how this process works, then check out this short video from Lorex about how to install their IP cameras:
Expand The Range Of Monitoring With The Pan-Tilt Feature
What sets this product apart is that you can expand the range of his monitoring with the help of the pan-tilt feature. Through this capability, you can set guards for the camera's automatic movement. The pan-tilt has the ability to monitor actions directly from the smartphone, as well.
This Lorex product casts all worries away! Its dual-lens separates the day and night viewing functions. One lens is designed for daytime monitoring while the other is for nighttime watching.
"This is a great product. It has a very clear picture in day time and night mode. I'm very happy with my Lorex security camera."
This security camera is one of the most impressive devices we've reviewed and it is definitely reasonably priced. If you are looking for a gadget that will secure your family without you spending much, this one's highly recommended.
Lorex Wireless IP Camera Review: Conclusion
If you want to ensure your little ones' safety and protection at home day and night, invest in a high-quality security camera. Investment need not be that much.
The Lorex Wireless IP Camera has special built-in speaker and microphone features that let you clearly hear sounds back home. You can even communicate back to your family to make sure they're okay or see if they're in trouble.
Lots Of Features That You'll Love
The Lorex Wireless IP Camera with Pan-Tilt is definitely worth its price. With a whole range of features this device has, you get to monitor your family anytime, anywhere in the world.
Aside from the built-in speaker and microphone that allows you to converse with anyone from home to know their condition there, there are push notifications and E-mail alerts, too.
If there is ever an issue with some function not working correctly, the camera has an easy reset feature. There is no need to read How To Reset An IP Camera Without A Reset Button with this model.
Stay Up To Date With Real-Time Monitoring
These two notify you with the real-time goings-on at home along with a snapshot attachment. All members of the family can be hooked up to this IP security camera as it can support up to 20 users simultaneously.
Where Can I Find It?
The Lorex Wireless IP Camera with Pan-Tilt is available for purchase on Amazon. Click the button below to check it out now.
Lorex Wireless IP Camera: Your Thoughts
What are your thoughts about the Lorex wireless IP camera? Is it the right one for you, or are you considering another brand? Leave a comment below and let us know what you think. We'd love to hear from you.
Also be sure to give this article a share on Facebook, Pinterest, or Twitter. It'll help other people, like yourself who are concerned with home or business security.

Latest posts by Damon Kennedy
(see all)
Last update on 2023-10-02 / Affiliate links / Images from Amazon Product Advertising API