Home safety is always important.
But it's even more important for the elderly.
We'll give you some statistics below, but basically, seniors suffer a large number of accidents every year, and most of them right in their home.
They are also more vulnerable to burglars, who see them as easier targets.
For that reason, it is important for older citizens to look out for their safety, even at home. And it is important for the rest of us to do what we can to keep our elder loved ones safe.
This article provides a number of precautions to take to make the home safer for senior citizens. These precautions as listed in a checklist style, to make implementing them easier.
First, let's see why elderly home safety is such an important topic.
Home Safety
 Tips For Seniors

: Why They're Important
It is a sad statistic to know that seniors are involved in over 2.3 million accidents every year, right in their own homes. It is understandable that most seniors prefer to live independently. Unfortunately, many of their homes are poorly designed to meet their needs.
Falls Are A Big Safety Concern
About 7000 seniors 65 years or older die in poorly conditioned home-related accidents yearly. One of the main causes of these accidents is falls, which account for one-third of accidents annually. 70% of these happen at home.
Extra Safety Precautions Are Needed
It is due to the physical changes that come with the aging process that seniors need to exercise extra safety precautions. These changes include decreased sense of hearing, vision, bone density, sense of smell and touch. These factors increase an aged person's chances of injury at home.
That is the reason for this article. We want to present some easy precautions to practice at home that can reduce an older person's chances of suffering an accident.
You can use this as a checklist to go through for yourself. Or if you are concerned about a senior in your life, go through this list with them in order to keep them safe.
Elderly Home Safety Checklist
Here are some of the finest safety tips that can keep you or your loved one safe at home.
Keep a smoke detector and a fire extinguisher on every floor.

Consider a buddy or a medical alert system.

Never smoke when you're in bed or alone.

Wear shoes that fit properly and are of low heels.

If you're sitting or lying down, be sure to get up slowly. This is done so that you can maintain balance.

Either tack down or remove scatter rugs.

Use a suitable walking aid.

Refrain from using slippery wax on floor.

Remove telephone or electrical cords from traffic areas.

Do not stand on chairs or ladders.

Quickly wipe any spills you find.

You should only use bulbs that are non-glare 100-watt or greater incandescent (or some fluorescent equivalents).

Ensure that you have sturdy rails for all stairs inside and outside the house. If necessary, you can also purchase a stairlift.

Make sure that every surface of your stair is non-slippery.

Ensure that all of your staircases have excellent lighting with switches both at the top and at the bottom.
Video: Learn More About Home Safety For Seniors
Home Safety Tips For Seniors: Prevent Falls
Ask your healthcare provider if an exercise program can lower your chances of falling.

If you're experiencing trouble with walking or balance, or have fallen previously, then you must talk to your healthcare provider to have a special falls risk assessment.

When you get a phone call, don't rush over to answer it. Many people, regardless of their age, usually fall when answering the phone. Instead, you should carry a cordless or a mobile phone, or else let an answering machine get it for you.

Buy a special alarm for yourself that will allow you to call for emergency services in case you fall and can't get to the phone quickly.

If you have trouble walking, buy yourself a walker or a cane instead of holding on to furniture and the walls to move around the house.

If your house has smooth floors, then wear flat, thin-soled shoes or slippers with rubber/no-slip bottoms.
Emergency Numbers
Be sure to always keep emergency numbers by each and every phone in your house. You can write these numbers in large font if you have vision problems, are in a hurry or are frightened.
911

Poison Control: 1-800-222-1222

Healthcare provider's office

A family member or a friend's number in case of an emergency.
Video: Elderly Home Safety
Fire And Other Related Dangers
Be sure that you don't wear loose clothes or shirts with long sleeves while you're cooking.

If a fire does break out in your house, don't put it out by yourself, just call 911 and get out. You should know of at least two ways to get out of your house.

Try not to put too many electric cords into one extension cord or socket.

If any of your appliances have damaged or frayed electrical cords, replace them immediately.

Never leave candles burning or smoke in bed, even for a short time, when you're in an empty room.

Ensure that your heater is at least 3 meters away from anything that can potentially catch fire, like furniture, curtains or bedding. Also be sure to turn off space heaters when you leave the room.
Safety-Proof Your Home
Use bannisters or rails when going up or down the stairs.

Be sure that all stairs, hallways and paths have excellent lighting and clear of any objects such as books, toys or shoes.

Get a cover for your peephole.
Bathroom Safety For Seniors
Be sure to skid-proof your bathtub while also ensuring the bath mat has a non-slip bottom.

Install recommended bath aids and that they are secured tightly on the walls of your bath/shower stall as well as on the sides of your toilet.

Keep a light on in your bathroom at night.

Ensure that the hot and cold faucets are marked accordingly.

To avoid getting scald, be sure to have the water heater turned at 120 degrees Fahrenheit or lower.

If you can, bathe only when help is available.

Install door locks that can be opened from both sides.
Kitchen Safety For Seniors
Light up work areas.

Keep your kitchen floors cleaned and free of any mess.

Be sure to keep all of your sharp knives in a rack.

Mark the 'on' and 'off' features of your appliances clearly with bright colors.

Keep healthier objects at waist level.

Use a kettle that comes with an automatic shut-off.

Don't wear loose clothing with long sleeves when cooking over the stove.

Store and keep hazardous items away from food products.

Keep your food rotated regularly and check their expiration dates.
Drug Safety For Seniors
Ensure that your medicines are clearly labelled.

Whenever you take new medication, be sure to review the medicines frequently with your doctor or pharmacist.

Don't ever borrow prescription drugs from others.

Throw away old or used medicines.

Read the medicine labels under a clear light to make sure you're taking the right one and that you take the proper dosage as well.

Get your medicine dispensed in a convenient dispenser or a bubble pack.

Consult with your doctor or pharmacist if you can mix alcohol with your drugs.
Crime Prevention
Crimes committed against senior citizens is a real problem in many countries. You can help to prevent this by doing a few simple things around your home.
Going Away? Make it Look Like You're At Home
If you're going away for a vacation, or even just out for the night, make it seem like you're home when you're not. Leave a light on if you're going out just for the night.
However, a better solution for a longer period of time is to use a Fake TV.
They can easily be programmed to come on at certain times, say from 6pm to 10:30pm every night you're away. When the blinds are drawn, it really does seem like someone's watching TV inside your home.
Check out some of our top picks here: The Top Fake TVs.
Real-Time Monitoring With Smart Home Camera
Two-way audio and video can be a game-changer if you're a senior living independently, but want someone to be able to check on at various points throughout the day.
Set up something like the SENS8 Camera in a place like your kitchen table, or coffee table in the living room. It's easy to do in just a few minutes.
Your family member will be able to monitor it remotely, see you, and chat with you easily. It's the easiest way for a family member to check in on with minimal hassle.
Worried about privacy? Set it up facing a single chair at the kitchen table, or something like that. You can go there a couple times a day to say hello, but not be bothered by the camera the rest of the time.
Something like the SENS8 is also great for family members worried about mistreatment at nursing homes. Keep on eye on things when you're not there with a Smart Home Camera.
Learn more about the SENS8 in our full review.
Install Security Cameras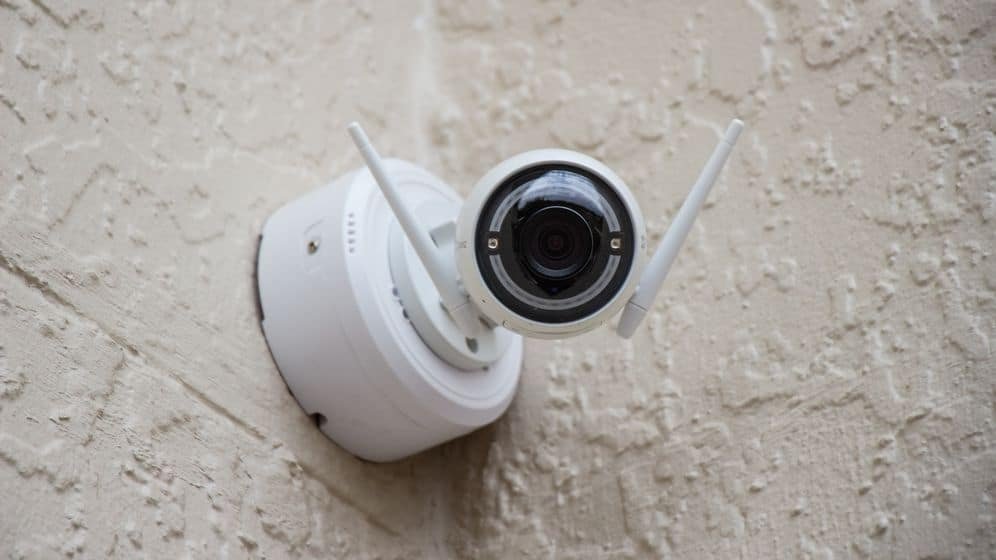 One way to protect your home is to install outdoor security cameras. Besides the deterrence factor, they allow you to see what's happening around you, even in low light conditions.
You can check out one of the best security camera options here: Lorex Home Security.
For elderly people living in a nursing home, there is also the possibility of crime from within. IT is not unheard of that staff at a nursing home steal from their inhabitants, or even abuse them. A hidden camera for nursing homes might not be a bad idea, if you suspect something untoward going on.
Fake Security Cameras
If you're on a tight budget, consider installing some dummy security cameras. They look quite realistic from the street, especially at night. It might be enough that a burglar would just keep on walking.
Of course, there are pros and cons to fake cameras, but for the cost? They're amazing!
Solar Powered Lights
Criminals hate well-lit places! Keep your outside bright and not attractive to burglars with some solar-powered lights. You can check out some of our favorites here: Top Solar Outdoor Lights.
Doorbell Camera Viewer
Finally, you might want to consider installing a peephole door camera viewer. They allow you to see who's outside via a video screen inside your door, or your smartphone, before opening the door.
Don't recognize the person? Don't answer the door. It's as simple as that.
There are a number of video doorbells to choose from, in a variety of prices ranges. See out top picks here.
Consider A Door Jammer
If you live in an area with a lot of crime, you may want to consider some additional security for your front and back doors. In this case, a door jammer might be just what you need.
That one is easy to install, and remove, but can prevent up to 110 pounds of force. It's a nice solution for someone who wants to prevent their door being opened against their will.
Or Use a Door Brace
A door jammer has the advantage of not requiring installation. However, if you want the strongest product on the market today, then you'll want to consider the Ongard Door Brace.
It's basically bolts that lock into your floor and prevent your door from being kicked in, or even forced open with a battering ram. Sound impressive? It is.
Home Safety Tips For Seniors: Your Thoughts
Do you have any more home safety tips for seniors? Leave a comment below and let us know your thoughts. Also be sure to give this article a share on Facebook, Pinterest, or Twitter. It'll help other seniors who are concerned with home security makes their homes safer.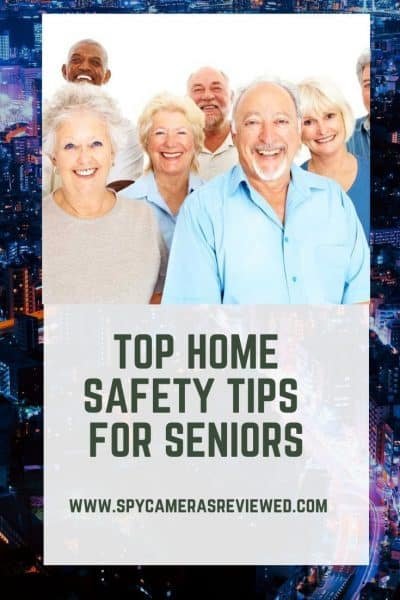 Latest posts by Bobby Miller
(see all)