Are you looking to protect your home or business with a smart home device?
You've come to the right place!
Read our buying guide packed with information to find out about the Eques Vieu and how to keep your family safe. Search no more—this is a top-quality video doorbell, and one of the best on the market today. Let's find out why.
Eques VEIU Video Doorbell Review
The Eques VEIU bills itself as the "world's smartest doorbell." Is this true? Does it really make it super simple to protect your home and family from unwanted intruders?
Let's find out. Keep on reading for all the details you need to make the decision about whether or not this digital device is right for you. In our opinion, it's one of the top brands of the year.
Key Features Of The Eques VEIU
Night vision
Large LCD display for easy use
Compatible with IOS and Android (can be used with, or without a smartphone)
Super easy installation (no doorbell, or access to home electricity required)
Runs off of Wi-Fi so you can check what's happening via a computer or Smartphone
Motion detector, which can be set to send a snapshot, start recording, or send an alert to your phone
Wide-angle, 180 degree lens with 720p resolution
2 GB memory that can be expanded to 32 GB.
Has to be charged every 2 months (built in rechargeable batteries)
Two-way audio with a microphone built into the phone app, or via in-house monitor so you can speak to people at the door
No monthly subscription fees
Reasonably priced considering the number of features
Built with innovative technology
What do we love best? Basically that the Eques VEIU is the total package for a smart doorbell with WIFI. It has all the features you're probably looking for including motion alerts, easy to use screen, and night vision.
Setup is extremely quick and there is no monthly fees to be paid. Most people love this thing, and we're sure you probably will too. Let's take a closer look at the features.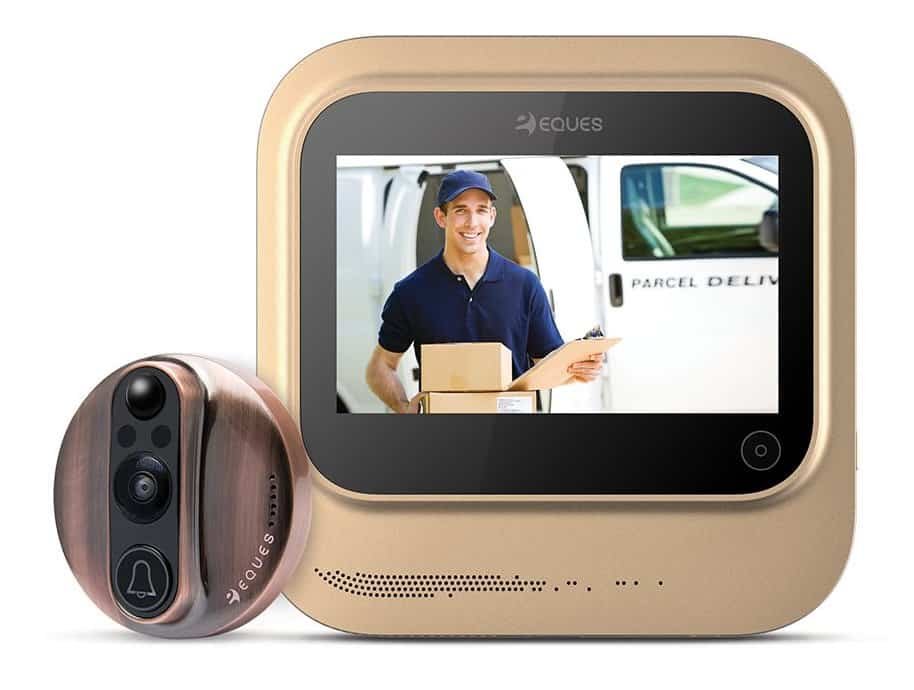 Total Security Package
But, we'll give you our overall impression first. Basically, it's the total package and has all the features you're probably looking for in a video doorbell, including motion detection, excellent picture quality and wide angle viewing It's easy to set up, and can be accessed with, or without a Smartphone.
In terms of smart home products, the Eques Vieu Smart Camera is a cut above many of the other ones.
Large LCD Touchscreen
What sets this one apart from the competition is the large touchscreen that fits on the back of your door. This is super handy for kids or seniors without a phone to use the device. Or, for you when your phone is somewhere in the house and you're not really sure where. Day or night, you'll be able to have your front door at your fingertips.
it's a serious win in our books, and makes an excellent choice if you're looking for a video doorbell. Keep on reading for more details, or head over to Amazon to take a look for yourself.
The App Puts your Front Door at your Fingertips
The App allows you to have a connection from your smartphone to your home. You can see who's at your front door, as well as talk to them via 2-way audio. Keep an eye on things when your kids or home alone, or for your senior parents.
Rechargeable Battery
We love that unit is powered by a rechargeable battery that can be charged via an extra-long cable every couple of months. This will save you a ton of time and hassle when compared to taking out and replacing batteries.
Excellent Customer Ratings And Reviews
If you take a look on Amazon, or other places online, you'll see that this device has some amazing customer ratings and reviews. This is especially true when compared to other smart doorbells.
Returns And Warranty
The company offers a 30-day return guarantee and also a 1-year limited warranty. This is pretty standard when compared to other similar products.
Never Miss A Delivery
Do you love to shop online, but are rarely home to receive your packages? It can be a real headache to have to go to the post office to pick it up.
Now, with the phone app and your smartphone, you can have your front door at your fingertips and talk to delivery people via 2-way audio. This means you can ask them to leave your delivery at the door if you'll be home soon.
Shop Now
Do you want the ability to see a visitor easily without opening the door? Buy the VEIU camera, one of the best smart devices. Click below to head to Amazon for more info and the current price.
Eques VEIU Digital Doorbell Pros
There are lots of things that you'll love about one of the best peephole cameras that runs via Wi-Fi. The product has some excellent reviews over on Amazon, and most people that purchase the VEIU are very happy with it.
Here are just a few of the pros for this digital door viewer:
Super easy install in less than 5 minutes with a few simple tools and your home's wi-fi network!
Good night vision (infrared LED) and clear video, especially on the screen (less so on a Smartphone or other mobile device)
VGA resolution
Touch panel is a good size and looks nice on the door
Decent battery life, and easy charging via a long cable
No monthly fees
Can record when motion is detected so you have a record of who was at your door
Secure connection to your Smartphone anywhere there is a network connection
Expandable storage option with a micro SD card
5 inch LCD screen display
2 way audio
Rechargeable batteries
Motion sensors
Solid customer service and tech support
Sounds like just what you need to protect your home and family? You'll need to check out this WiFi Video Doorbell for yourself over on Amazon. You can also get free shipping with an Amazon Prime membership:
Eques VEIU Smart Video Doorbell Cons
Some reports that the motion detection didn't work that well during the daytime
The clarity on the wifi video feed isn't as high as some people hoped for
The app is a bit buggy and didn't work for everyone
Lack of cloud storage option for this front door peephole camera
720p resolution (some other similar products offer 1080p)
Customer Reviews
"I wanted to add a bit of security to my home but didn't want to spend too much money and go way overboard. I chose this one because of the screen on the inside or my door, as well as Smartphone access. The result? I couldn't be happier with my purchase. Installation was super easy, and it just works as advertised."
"Overall, it works well. The night vision really does work, and the motion sensor alerts are a nice feature to have. My condo didn't have a doorbell, so I'm happy that it works for this as well. Many other products require expensive installation but this one is truly DIY."
"Easy to install, and no monthly subscription fee. It has all the features that you might want in a camera and is reasonably priced, considering what you're getting. I'd totally recommend it to anybody and it detects motion particularly well."
See More Customer Ratings and Reviews Here
Video Review Of The Eques VEIU Peephole Camera With WIFI
Compare Peephole Door Viewers With Camera
For some more options for doorbells with video enabled, check this out: Top 5 Peephole Cameras. There are some cheaper options on that list, but that does not necessarily mean they are a better value.
What About The VIEU Mini?
The company makes a new, smaller version, the VEIU mini. But, how do these two devices differ?
They actually have all the same features and specs, but the mini has a smaller screen and not as wide of angle. It also only comes in one color, as opposed to two.
How To Set Up The VEIU Peephole Camera
Find out all the details you need to know to install your VEIU.
Eques VEIU Video Doorbell Review: Conclusion
If you're looking for a top of the line doorbell, you really couldn't go wrong with the Eques VEIU. It's more expensive than many of the other options out there, but it has a ton of features that you'll love. With it, you'll be able to see easily what's happening on your front porch.
Can Use Without a Smartphone
The reason why you might consider this one over the competition is for the large touch-screen. This allows you to use the doorbell without a Smartphone. It's perfect for seniors, or young kids at home and also for you when your phone is not in your pocket.
But, Remote Access Possible With The Eques App
However, if you do want to use the Eques for remote access, you're in luck. The app is very easy to download and get up and running.  Does it cost anything? The good news is that the app is completely free to use.
Compared to other similar devices, the software for this one works reasonably well and has a nice number of options, but not too many to make it overwhelming to use.
Easy Set Up With The VEIU Smart Video Doorbell
The other reason we love the VEIU digital door viewer is how easy it is to set up. It takes less than 5 minutes to get it up and running, and it just works, straight out of the box. If you're not a techie, and not handy with the power drill, then you'll appreciate how easy this is.
This reason alone is enough to recommend the product. Most people seem to love this thing, and you likely will too!
Video Quality: Could Be Better
One small negative is the video quality, especially over the wi-fi feed to your Smartphone. Some people report that it's pretty choppy and has a low resolution. If you're willing to overlook that, it's a buy all the way!
No Monthly And Yearly Fees
Many of the other smart home product require expensive monthly or yearly subscription fees for cloud storage. The Eques Vieu has internal memory that can be expanded up to 32 GB. You'll save a ton of money over the long-term by opting for this kind of device.
There's also free cloud storage should you wish to take advantage of this option.
Where Can I Buy The Eques Smart Video Doorbell?
You can check out this popular brand of peephole doorbell over on Amazon. Get shopping today to make your home more secure.
Vieu Doorbell Vs. Ring Doorbell
The Ring Doorbell, and the Vieu are two of the most popular video doorbells in the world. They stand at the top among the smart peephole viewers.
You might be wondering which one is right for your home, and budget. We'll give you the brief rundown on which one will work for you.
Eques Vs Ring: Appearance
Both of these peephole viewers look nice, and will fit in well with just about any door. One nice thing about the Ring is that it comes with interchangeable plates in silver and bronze.
If you're looking for something not so obvious, then go for the Eques. If you want something that stands out a bit more and makes it clear that it's there, the Ring is the one for you.
Eques vs Ring: Installation Of A Peephole Camera
This is the category with by far the biggest difference among them. The VIEU smart video doorbell is super easy to set up, especially if you have an existing peephole. Just put the camera in there and you're good to go. If not, you'll have to install a peephole, but it's not that difficult.
The Ring doorbell requires that you have wires in place from an existing doorbell. If you don't have one, you'll have to hire someone to install this for you. This may just make the difference between the two for you.
Secondly, the Ring Doorbell is quite big. So, if you have an original doorbell that's quite small, you'll have to move the location of it.
Learn More About The Ring 2 Smart Doorbell Installation
Ring Vs. Eques VIEU: Subscription Fee
We love that Eques camera doesn't require a monthly subscription fee. You just pay once and then you're done.
The Ring doorbell does require a subscription in order to access all the features of it. Many commenters to tried to use this doorbell without it experienced some serious frustration.
Eques Vs Ring Doorbell: The Takeaway
In terms of pricing, appearances and features, these two peephole door viewers are very similar.
Where the EQUES has the edge is how easy it is to install, and also that it doesn't require a monthly subscription fee. It's for these reasons that we recommend sticking with this one.
What Are The Benefits Of A Door Camera?
Let's find out why you might consider buying one.
Allow Entry Only To People You Want
When the doorbell rings, it's pretty obvious if you're looking through the window to see who it is. In some cases, it's impossible to see, such as when you live in an apartment. With a digital door camera, you can allow access only to people you want.
Don't like the religious people at your door? Just don't answer it!
A Clearer Picture
Sure, you can go old-school and stick with the fish-eye peephole, but the image is usually very blurred and it can be difficult to see who it actually is. Plus, you have no remote access or record of that person.
Remote Access
Perhaps the best thing about a digital door viewer is that you can see who's at your door when you're not home. You can get alerts via your Smartphone, and with many of the models, even talk to the person at your door when you're in another country!
It's easy to set up. All you have to down is download the Eques App to get started.
Recordings
If you are a victim of a crime, you're going to love the recording feature of your video doorbell. It's a huge help to the police to know who they're looking for in case of a home break-in.
Kids And Seniors
If your child is staying home alone, you'll appreciate the added safety and security that a digital doorbell can offer. They can see who's at the door in a discrete way and only open it to people that they know. It's an easy way for you to keep tabs on what's going on as well (friends coming over without your permission?).
Seniors will appreciate it as well because they can see if they want to answer the door from their Smartphone before making the effort to walk up or down stairs.
What Are The Most Important Features In A Peephole Camera?
There are a few things you'll want to keep in mind when buying your front door viewer camera. Is there one single perfect one for everyone? Not really. It's more a matter of choosing the right one for your needs from all the ones on the market today.
Here are the main categories to consider when buying one.
Screen Size
It can be difficult to view a small screen that is less than 2.5 inches. One that is 3-4 inches is very easy to see clearly, even for people with poor eyesight. You'll also want to consider the resolution.
Picture Quality
Generally, you'll want to stick with screens that have an LCD display, and cameras that capture a sharp, clear image. How they perform in low-light conditions is also another important factor to consider.
The higher end cameras with come with 1080p, which are crystal-clear. A 720p camera will work well for most purposes. At the lower end, some come with 360p, which most people find pretty fuzzy, especially in lower-light conditions.
Compatibility With Your Door?
This is certainly something you should check out before buying one. You'd be surprised, but many people don't! Doors come in varying thicknesses, and peepholes come in different sizes. Make sure the system you buy is compatible to save yourself a big headache.
How Long The Batteries Last
If you have a ton of people coming to your door, batteries can be quickly drained. Although you can get rechargeable ones, it can be a bit of a hassle to replace them. It's prudent to see if the device you're considering offers any power-saving features.
#5: Recording Capability
Does the doorbell offer cloud storage? Is it free? Or, is there a memory card inside the unit that can be accessed easily? These are certainly questions to ask as services offered vary considerably.
And, when does recording start? Is it when movement is detected? Does it take a picture, or video? The ability to do these things, or not should certainly be a deciding factor for you.
WiFi Required?
If you don't have WiFi at your house, you'll need a simpler unit that doesn't require this. On the other hand, if you're mostly getting it to have access when not home, then you'll want to find one that has this feature.
Connectivity is certainly something that you'll want to consider before buying one of these security products.
Ease of Installation
Almost all of these devices can be installed by someone with basic tools and will be quick and easy. Some almost don't even require that and take only minutes. If you're not that handy, check on the installation process before buying one. You'll probably want the easiest one you can get, or you may find that it's a real headache.
Easy installation means way less hassle! It should work well, almost right out of the box.
2-Way Communication/Microphone Via Mobile Device
Do you want to talk to the people outside your door. Then you'll need this feature. It can be extremely useful for when your children are at home alone, or you're keeping an eye on things for your senior parents.
How Well The Sensors Work
Most of these products start recording if motion is detected. However, quality of the sensors vary. The best ones fall right in the middle.
They won't record a passing car, but they will certainly pick up a person at your door.
Technology For These Monitoring Systems
Is the technology of both the product and software consistently being upgraded? Do the updates happen automatically? That's usually a good thing. If you can get more features with your existing doorbell via a software update, that's great!
Is the online account easy to set up?
Alarm Feature
Some of these motion activated peephole cameras will have an alarm feature. For example, you can set them to make a loud noise in case something happens when you're not there. Perhaps your home or business is an extremely remote location and there is never any reason for someone to be at the door.
What Accessories Are Included
There is a wide variation among devices as for what accessories are included, so please take a careful look at this before making your final decision.
Wired, Or Not
Some products tap into your existing doorbell, while other require a whole new wiring set up. Check to make sure whatever device you get meets your expectations in this regards.
Others require being constantly hooked up to a power source, while others have rechargeable or replaceable batteries that don't need wires.
Customer Service And Support
Some companies offer 24/7 chat or call support while other are much more limited. We generally prefer the companies with 24/7 support because who likes to stop what they're doing for a day or two while waiting for a reply to an email?
Eques Peephole Camera: Your Thoughts
What do you think about this video doorbell with wifi? It is a win, or are you considering another brand? Leave a comment below and let us know your thoughts.
Also be sure to give this article a share on Twitter, Pinterest, or Facebook. It'll help other people, like yourself who are concerned with home security.

Latest posts by Damon Kennedy
(see all)
Last update on 2023-05-30 / Affiliate links / Images from Amazon Product Advertising API