Are you thinking of getting a dashboard camera?
Then you need to know which features are important and which are useless.
The tricky part is that this can depend on your purpose for getting a dash cam.
Are you a professional driver who drives a taxi, Uber, Lyft or for some other service?
Or do you simply want to protect yourself when driving your vehicle for personal reasons?
The features you need most will differ depending on your intended use. Let's take a look and figure out what features you should not go without.
If you're a professional driver and prefer to just see which models we recommend, check out our post on the best dash cams for Uber drivers.
What To Look For In A Dash Cam
When choosing a dashboard camera for your car, you'll want to pay attention to the following features. Not all will be important to you, but some of them definitely will be.
Dash Cam Body Types
The first major feature to consider is the build. Dash cams come in a few different shapes and sizes, including tube, hanging, rearview mirror, and wedge designs.
Tube Dash Cams
If you don't want to have to deal with your dash cam after installation, tube style models are great. Once they're setup, you don't have to worry about them again, because they integrate with your smart devices, not your car.
They work primarily with your smartphone, but you can also plug them into your computer using a USB cable.
The drawback to the ease of use is that they lack an LCD screen, and the camera tends to be small.
Hanging Dash Cam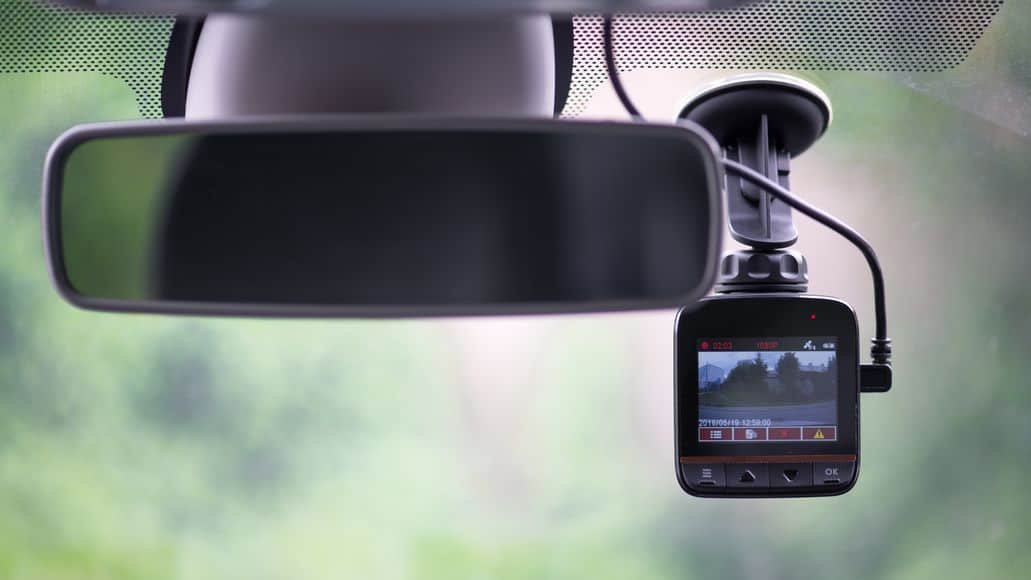 This type of dash cam has been around for quite a while. It is also the type police generally use. The way you install it is via a bracket and suction cup, which sticks to your windshield.
Since it's easy to attach to your car and remove, you can easily take it out of your vehicle when you finish driving. Doing so helps prevent any break-ins. Car cameras make tempting targets.
That said, I find this a little inconvenient and prefer to just leave the camera in the car.
Rearview Mirror Mounted Dash Cam
You usually mount mirror dash cams over your rearview mirror. They replace your rearview mirror with their own as well as the LCD screen within that mirror.
These can be pretty high-tech, depending on the model you choose. The mirror screens tend to be bigger than the average rearview mirror. This makes the question of how to view dash cam footage simple.
Wedge-Shaped Dash Cam
Wedge dash cams are probably the stealthiest choice for wary drivers. You can attach these small cameras behind your rearview mirror to keep them hidden and they come equipped with an LCD screen.
I prefer this type because they are stealthy.
Installation Process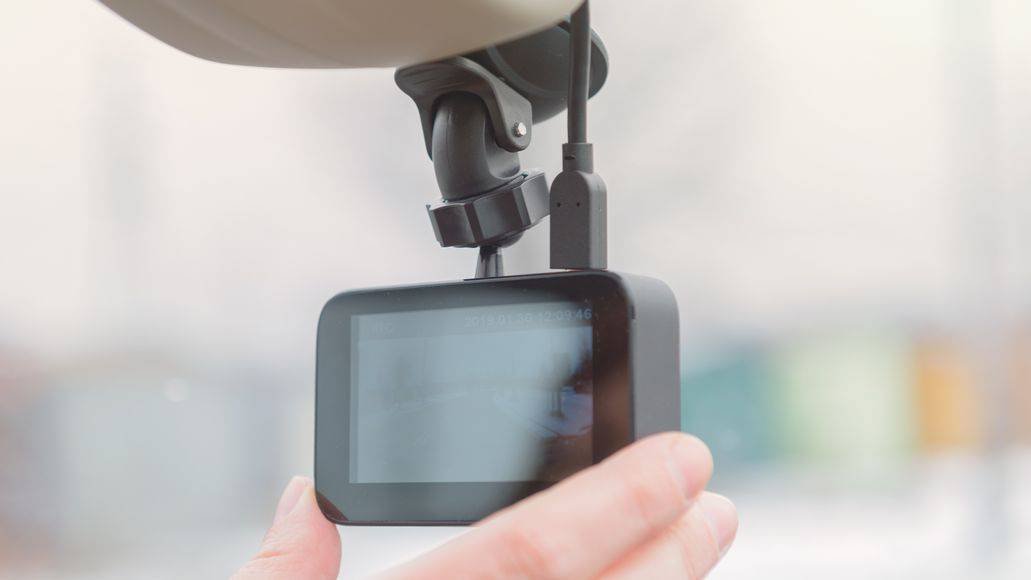 As mentioned at the beginning of the article, you can mount dash cams on the windshield or rearview mirror, depending on the type of model you choose.
Some you can remove and reinstall, while others stay in your car with an adhesive and mount. While the mount will be more challenging to remove, you can still easily remove the camera as needed, and just leave the mount.
I generally recommend against first-time buyers getting a more complicated model that requires hardwiring.
I definitely avoided anything too complex for myself, but if you really want something high tech that involves complicated wiring, you can always hire a professional to install it. Or do it yourself, if you are good at such things.
Power Supply
You can hook you cam up to a power supply in your car in two easy ways.
The first is through the cigarette lighting outlet in your vehicle. Newer cars have USB ports, which is a much better option, if your car has one.
The more complicated way involves a bit more knowledge and experience with tools. You can install the camera wires through your car lining, but it could be tough to do independently.
If you're handy and have a toolkit, this is an excellent way to keep your car looking neat. Or you could just hire a professional, as already mentioned.
Automatic Incident Recording
A G-sensor in the dash cam detects movement and jerks in the vehicle. When this happens, the camera will begin to record any accidents automatically.
These sensors are sometimes susceptible to movement and might not be so helpful while driving.
But they are very useful to monitor your parked car. Read more on this in my parking mode advice in just a bit!
The amount of recording time you have depends on how much room you have on your dash cam's memory card. The average dash cam records about 4 to 5 hours of footage.
Depending on how long you need the camera, you may have to consider a dash cam with parking mode.
Parking Mode
If you're hoping to capture footage longer than 4 to 5 hours and don't want to waste that footage on mundane events, parking mode helps.
The parking mode's activation style depends on your camera model. Some cameras need you to press a button before leaving the car, while others have automatic activation.
This means your dash cam is on standby until something it detects causes it to start recording.
Things that can initiate this recording include any impact seen by the camera's g-sensor or any motion. How good these sensors are depends on the price level of the dashboard camera.
More expensive dash cams also have a buffering parking mode, meaning that if something does happen, the dash cam will have 15 seconds of footage leading up to that moment.
How is that possible?
Buffering mode means the camera is always recording in a loop for around 15 seconds. If something happens, if stores those 15 seconds. If nothing happens, it records the next 15 seconds over them.
A cheaper dash cam may only record right as something is happening. This means you could miss out on key footage leading up to or even during the incident.
If you are an Uber driver and you need a dash cam to protect yourself from possible disputes or even criminal charges, you definitely want this feature.
Single Vs Dual Camera
Dash cams come in a couple of different camera styles, such as a front-facing camera with another unit that shows inside the vehicle.
I you need a view from the back of the car, you'll want a dash cam with a front-facing and rear camera.
Both interior and rear cameras are helpful for use in case of accidents, They can serve as additional proof that you were not driving poorly.
The interior cam is also useful if you drive passengers, like a taxi, Uber or Lyft driver.
One problem is that cameras that offer both options are quite pricey.
The installation for both options could become a little complicated as well, depending on what you are buying, unless you hire a professional.
That's why most will end up having to choose between an interior or a rear facing cam, in addition to the front view one. Get the one that will be most useful for your situation (e.g. interior camera, if you drive passengers).
GPS And Driver Assists
Some dash cams have GPS already built-in, while others have it as an optional add-on. If you want the location, time, and other details available with the video footage, you need GPS.
Other driver-assist options available on some dash cams are alert systems for a forward collision, lane departure warning, etc.
You should know, if the camera has a lot of these features, it could potentially be oversensitive to any movement and give you a lot of false warnings.
WiFi
WiFi is becoming more popular on dash cams. It allows you to send the video files or photos from the camera to your smartphone.
This eliminates the need to remove the SD card and transfer the files to your computer that way.
Connecting the camera via WiFi to your smartphone or tablet also means you can change the camera settings more easily.
Of course, the specific features available for you on your phone depend on the brand of camera and whether the phone is an Android, iPhone, or another type.
Since no dash cam (as of yet) is wireless itself, they still need to be wired or powered through your vehicle. Then, you can use the WiFi features.
Storage/Memory Card
Most, if not all, dash cams use microSD cards. They need a class 10 SD card (10 being the writing speed). Class 10 cards are what you typically use for digital recording devices.
Dashboard cameras record in loops. That means, once the card is full, they begin recording new footage over the top of the oldest footage. This way, the camera can continue recording even if the card is full.
You don't often need long periods of footage for brief accidents or other harm done to your car. The loop recording means the video files can be anywhere from 1-10 minutes, making it easier to store and not lose large video files.
Cloud video storage for your dashboard camera is also a possibility. If you no longer have access to your dash cam directly, your backup files on a cloud are a lifesaver.
Battery Or Capacitor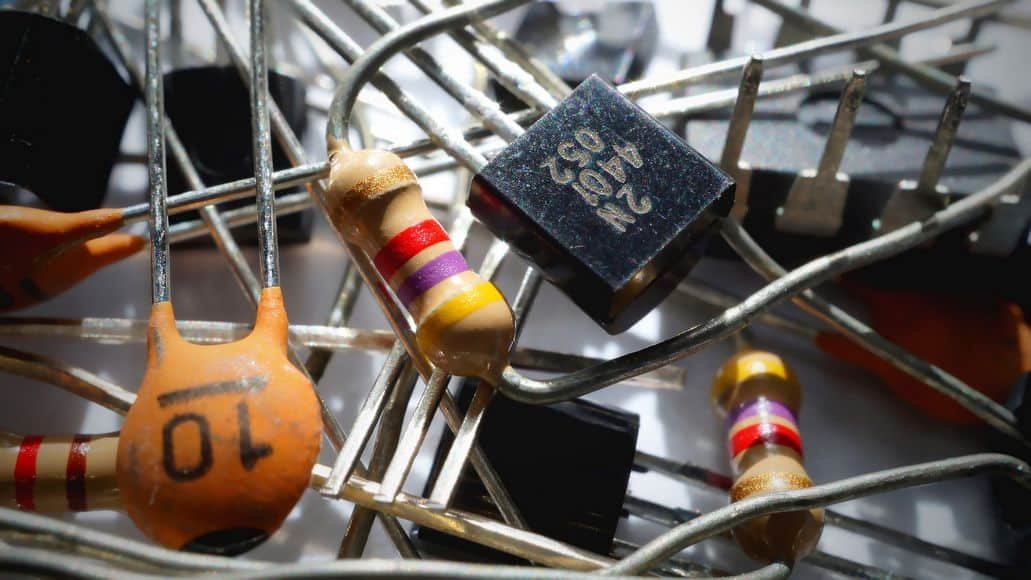 Most dash cams have a battery or capacitor to save files and back them up when the car's power is off.It is important to remember that the capacitors and batteries themselves cannot work independently without your vehicle's power.
They are used mainly for when the camera loses power because of an accident. It saves the footage and shuts down the camera, protecting the footage in case you need it.
The main difference between a battery and a capacitor is reliability.
In most cases, a capacitor is more reliable. It will not overheat (and possibly even explode) in high temperatures, like a battery might. Capacitors do tend to be more expensive.
Camera Quality/Resolution
The quality of the actual camera may sound like an obvious thing to look for in a dash cam, but this can actually be kind of tricky.
Image quality is determined by the camera's image sensor, lens material, and processor quality.
Getting a model that gives you quality recordings during the day is pretty easy, but what the camera captures at night can be another thing entirely.
For example, most cameras have at least a 1080P full HD resolution. That is plenty to record great footage.
But in low light situation, it may struggle, depending on the camera's features, like dynamic range, nighttime camera option, etc.
It might still record decent video, but will it be good enough to pick out important details, like a license plate number?
What To Look For In Car Camera: Final Thoughts
The exact features you need depend on your purpose for buying a dash cam. But some features will be important to almost anyone.
I hope this article has helped you figure out what you need to look for when making your purchase. And if your needs are fairly basic, you might be able to just use a GoPro, if you already have one.

Latest posts by Damon Kennedy
(see all)