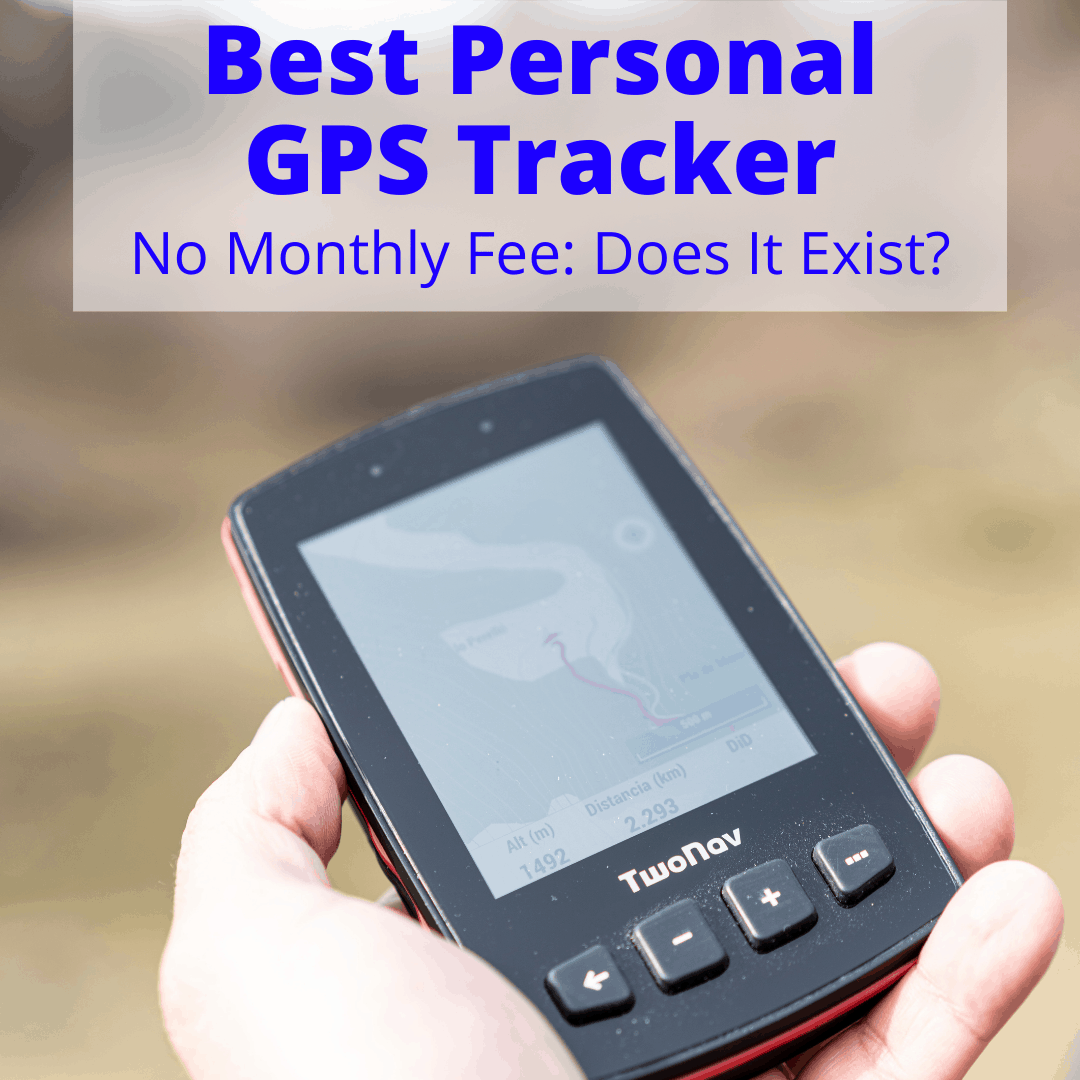 Can you get a good personal GPS tracker with no monthly fee?
You can get the tracker, yes.
But you won't get good data from it.
These devices make use of the same communication networks as cell phones and, as we all know, those networks are not free to use.
The options that are free are so crowded, that you can only get a signal every hour, or even less. This means you won't get real time tracking, or anything close.
In short: there is no point in getting a GPS tracker, if you're not going to pay for the data it needs to actually perform its function.
The good news is: there are a few great trackers with very reasonable monthly fees. There is no need to pay the crazy fees you've probably seen on some popular models.
Keep reading to learn more about the best GPS trackers, with reasonable fees and a low initial cost for the device.
Best Personal GPS Trackers Compared
As mentioned, you need to be prepared to pay money for a subscription to use a GPS tracker. But it's not a huge amount with any of the options reviewed here.
GPS trackers makes use of the Global System for mobile communications, which is the technology that cellular networks need to operate.
This enables the tracker to pick up on and determine exact locations, usually in real time. But because this happens in real time (or close to it), it means a fairly heavy use of these networks.
And they need to be paid for that. Any free networks are heavily trafficked and you won't be able to access them often enough to get good location data.
This is why asking for the best personal GPS tracker with no monthly fee is not really feasible: if you want quality, you have to pay for it.
But we will make sure you don't pay much. None of our top GPS trackers will blow your budget.
Of course, the activation fees and monthly fees to are not the only factors you should consider when choosing the best device for your needs.
With that in mind, let's explore the five best GPS tracker devices in greater detail and see what they have to offer.
Best Personal GPS Tracker: Reviews
We made it a point to include devices for all budgets. We also wanted on compact model, that works well to track pets, and one model that connects to your car's OBD port, so you don't need to worry about keeping the battery charged.
Best Overall: AMERICALOC GL300
You don't have to pay any extra fees with the Americaloc GL300 GPS tracker, which is a bonus. It's the same model as the SpyTec GL300 reviewed here. The difference is that Americaloc charges more initially, but then has a lower monthly fee. Here's what you need to know about it.
Featured specs
1-year tracking history
2-week battery life
No hidden fees
Benefits
This personal GPS tracker has a very long battery life and it works on CAT M1 technology. It doesn't require activation costs and there are no hidden fees.
You'll be able to receive a variety of alerts with this GPS tracker. These include movement alerts, such as if your car is taken out if its parking spot, and you will also receive notifications if the object you're tracking enters or leaves a specific zone.
This tracker offers real-time tracking and up to a year of tracking history.
For the ultimate convenience, you can use this device to track from your phone, tablet, or computer.
You'll get one-minute location updates on your target, and you can set the device to give you updates every 30 seconds, without you having to pay extra for this service.
Drawbacks
Some reports that the battery life is not that great. I generally lasts about two weeks, which really isn't so bad, depending on how much you need to use it.
Extra Features
If you encounter a problem or have a question about the device, you can get in touch with the manufacturer and receive quick, efficient responses.
Buying Advice
This is our favorite personal tracking device and also the best GPS for seniors. But it does cost a bit more than some of the other options below.
It's not the most expensive either, though. We feel it offers the best price to performance ratio, and thus the best value overall.
Best Budget Tracker: TKSTAR GPS Tracker
With a powerful battery to ensure standby mode can last for months, the TKSTAR tracker has one advantage over the previous model. And it has a second advantage: it costs about half as much.
But we still prefer the Americaloc. It has far more features and is also more accurate. Plus the TKSTAR requires you to purchase a SIM card with a call and data plan. Let's check it out.
Featured specs
GPS/LBS mode positioning
Built-in magnet
5000mAh battery
Benefits
Low price
This GPS tracker has GPS/LBS multiple mode positioning. This enables real-time tracking via their app or through the website.
You can make use of GPS coordinates via SMS, with an accuracy of up to 16 to 32 feet.
Several useful functions like: geofencing, overspeed alert, and more.
It comes with a built-in magnet that enables you to attach the device to any metal surface.
It comes with a 5000mAh battery, that can last in standby mode for up to 90 days.
Drawbacks
You need to purchase a 2G SIM card in order to be able to use it.
The instructions are not easy to understand.
Extra Features
Customer service is excellent, so you will always have a helpful person available if you encounter any problems.
Buying Advice
This GPS tracking device for cars costs less than any of the others on this list and it is our favorite budget option. But as always, you get what you pay for. It is not as accurate and has fewer features than more expensive models.
Best Without Battery: Vyncs 4G LTE Tracker
If you're looking for a GPS tracker that doesn't need to run on a battery, this Vyncs tracker is the best choice. It makes use of your car's on-board diagnostics (OBD) and plugs into the OBD port.
Featured specs
Can be used internationally
No battery required
24-hour emergency assistance
Benefits
This GPS tracker requires a one-time activation fee of $39.99. You get one year of service included, after which you'll have to pay $78.93 for renewal.
This GPS tracker works in over 220 countries and offers real-time tracking. It also comes with an international SIM card included in your purchase.
You can receive real-time tracking on a variety of devices, such as your Android or iPhone device, or the website.
This GPS tracker can be used to locate cell phones, as long as the owner of the phone you wish to track is using the Vyncs app on their phone. This is a fantastic feature for tracking and recovering phones.
The real-time tracking provides you with information every three minutes.
If you're a fleet owner, you'll be able to track your drivers and receive valuable information pertaining to geofence zones, driver speeding or braking, trip history, and more.
Drawbacks
The user interface is not very intuitive.
Extra Features
This device can be set up within two minutes.
As benefit of being connected to your car's OBD port, it will notify you if there's any problem with your car before you're left stuck on the side of the road.
You even get 24-hour roadside assistance if you upgrade your account. This is available in the U.S., Puerto Rico, and Canada.
Buying Advice
With no monthly fee, this GPS tracker is the perfect device when you need to track cars, trucks, or even your loved one's phone. It offers a range of services and, most importantly, does not require a battery to run.
Smallest: GeoZilla GPS Location Tracker
This location tracker is compact so it stays out of sight. Here's what you need to know about it.
Featured specs
Five-day battery life
Minute-by-minute updates
Worldwide tracking
Benefits
This device offers worldwide coverage through its Android- and iOS-compatible app.
You can track a variety of possessions, such as your car, bike, boat, jet ski, and RV. You can even track loved ones and pets.
This GPS tracker gives you alerts that you can schedule within geofence zones, so that if your possession moves beyond a certain boundary you'll be notified immediately.
This tracker comes with a rechargeable battery that gives you battery life of up to five days on a full charge.
You'll receive notifications in the form of location updates every minute.
This tracker's small and compact design means that it conveniently clips onto your clothing or backpack. This also makes it easy to clip onto your pet's collar if you want to track your cat's or dog's whereabouts and keep them safe.
Drawbacks
Not waterproof, which could be a problem if you want to use it to monitor your pets.
Higher cost
Extra Features
Comes with a variety of accessories including a magnetic USB cable that you'll use to charge the tracker in your car or via a computer; a hard-case pouch for the tracker when it's not in use; a lanyard; and a shell belt clip, for when you want to secure the tracker onto a case or backpack.
Buying Advice
Whether you have to track a loved one, a beloved pet, or your car, this GPS tracker is incredibly versatile due to its small size. It is also highly accurate. But it is by far the most expensive option on this list, which is why we prefer the first one above. We feel it gives you slightly more value for money.
Cheapest: Amcrest GPS Tracker
This tracker can also be used to monitor the location of a variety of objects. It's suitable for tracking a vehicle, loved ones and pets.
It is by far the cheapest option on this list, but it is not our favorite for those on a budget. If possible, we recommend paying a bit more for the TKSTAR. If that one is outside your budget, then go with this one.
Featured specs
Five-second updates
Intuitive interface
Water resistant
Benefits
This GPS tracker provides you with real-time tracking and five-second updates. You can access these updates via your smartphone device or computer – it's compatible with both Mac and Windows computers.
Has an intuitive user interface.
It has a range of features to help you track your possessions or loved ones, such as geofencing, speed and harsh braking, if you're tracking someone's car.
Notifications will be sent to you via text and email to your PC and smartphone.
Can withstand a beating–made from heavy-duty materials and is water-resistant, too.
Will last for up to 14 days on full charge.
Drawbacks
Although it has good battery life, this decreases rapidly if you choose to receive location updates more regularly. For example, If you want 30-second updates to be sent to your device, the tracker will only last for up to seven or eight days before needing to be recharged; if you want five-second updates, the battery life will only last two to three days.
This GPS tracker is designed to work in the U.S., Mexico, and Canada. You can't use it elsewhere.
Extra Features
You don't have to commit to a contract to use this GPS tracker. You pay $20 per month for it, but you can cancel it at any time.
Buying Advice
If you want to purchase a GPS tracker that doesn't force you to commit to a payment plan, this one's a good contender. It is also incredibly cheap. But it is also nowhere near as good as the previous models, so we only recommend it if the others are outside your budget.
Personal GPS Tracking Devices FAQs
How do personal GPSes work?
GPS (or, Global Positioning System) is a radio-navigation system from satellites and their ground stations. The two work together to pinpoint locations, which is why these systems can be used to track your car, bike, or other objects.
How it does this is by using the Global Navigation Satellite System network, which includes satellites that use microwave signals.
These signals are sent to GPS devices so that you can gain location information, as well as other info, such as vehicle speed. The satellite signals are processed by the receiver.
There's active and passive GPS tracking.
Active tracking is real-time monitoring. This works by automatically sending information on the GPS system to a central tracking portal or system as it happens in real time.
Passive GPS tracking, on the other hand, is when a device collects information that is later extracted from it, instead of the device engaging in real-time monitoring.
Why do most services require a subscription?
You can find GPS trackers that don't come with a subscription, but there are some important things to know about these devices.
Sometimes these services are limited to only being able to report geographic positions every hour, which also results in delays in you receiving the information you want.
This happens because everyone can connect to the network. It becomes saturated and only a limited amount of messages can be sent to each connected device.
Most good GPS trackers can send you real-time location tracking. This feature uses the same technology that your phone requires to make calls or connect to the internet. Therefore, these devices can only work when you pay a monthly subscription.
 Where should you place your personal GPS tracking device?
If you're putting your GPS tracker in a car, you could try concealing it in the dashboard. You can also put it inside the seat along the sides or underneath the seat cushioning. Or you could attach the device underneath your car.
Alternatively, make use of an OBD GPS tracker that fits into the OBD port of your car. This means you don't have to worry about the device's battery life.
If you're wearing a personal GPS tracker, you have various methods of attaching it to your person. For instance, you can clip it onto your belt or wear it around your neck. You could also put your GPS tracker in your backpack or purse.
How long do personal GPS devices last?
Personal GPS devices have a rated lifespan of up to three years of regular use. This might seem a bit short, and the truth is, most good ones end up lasting longer. Here are some ways in which you can increase your tracker's lifespan.
Use battery-saving mode.
Limit your use of the real-time tracking function.
Don't use the GPS tracker in places where there's a weak cellular signal as this will drain its battery.
Protect your device battery by not exposing it to extreme temperatures. Conditions that are too cold or too hot can cause damage.
Top Personal GPS Trackers: Conclusion
You might need to track your vehicle, monitor your pets, or track a loved one with dementia. A personal GPS tracker can do all three, and more. They are much more effective than phone apps for locating family members.
They offer you greater peace of mind, but it's not always easy to know which ones are the best to buy. In this article, we've looked at the best tracking devices on the market, for a variety of budgets and needs.
None are free to use without a monthly subscription, if you want constant monitoring, but that's because they make use of communication networks, which are never free. Trackers without monthly costs simply aren't going to give you reliable and up to date info.
Last update on 2023-11-29 / Affiliate links / Images from Amazon Product Advertising API