You need to protect yourself.
If you drive for Uber, Lyft or any other ridesharing company, you need a camera in your car.
The best dash cams for Uber drivers ensure you have video evidence for any potential disputes.
They also log your location and speed which can save your life if you ever need to proof to protect yourself in a dispute or from a criminal charge.
And they have a number of other features you need if you earn money as a driver. We'll cover those in the buyer's guide below.
First, we'll cover the top dashboard cameras, with models in every price range. All are great values and far outperform their price.
Top Car Cameras For Uber Compared
Best Dash Cameras For Uber Drivers Reviewed
All the models included below take high quality video, have good battery life, aren't too conspicuous and don't cost too much.
Best Dash Cam For Uber Drivers Overall: Vava Dual Dash Cam
The Vava Dual Cam is the best option for most Uber drivers. It's surprisingly powerful despite its compact rear-view mirror style design.
It has both a front and a cabin-facing camera. Both use industry-leading Sony sensors, but the model differs.
The front-facing camera uses the Sony IMX335, which gives you 2K video quality (2560×1440@30fps), while the rear-facing cam uses the Sony IMX307 for 1080p video quality (1920×1080@30fps).
They feature F2.0 6-glass lenses and 4 infrared LEDs for clear night vision that can even capture license plates in low-light conditions.
The Vava cam has GPS, so you can see how far you've driven as well as your speed. It can also help you locate your vehicle. It has a motion sensing feature that will automatically start recording when motion is detected.
Its G-sensor can detect a collision and then automatically record the accident and lock away the footage, so that it does not get deleted accidentally.
This dash cam is fully rotatable. The front one can rotate up to 360 degrees and the rear cam can rotate up to 70 degrees.
One of the best things about this camera is the way it handles a large dynamic range. Dynamic range refers to the difference between the dark and the light areas in an image.
If you've ever taken a photo of something in a shadow on a bright sunny day, you know that cameras struggle with large dynamic ranges.
If the shadows are exposed correctly, the bright area is too bright and completely washed out. If the bright are is exposed correctly, the shadows are too dark and you can't see anything.
This dash cam prevents that from happening, by taking separate images each exposed for either the dark or bright areas, and combining them to give you a balanced image in which everything is visible..
Vava also has an app that allows you view, record, download, and share your recordings easily. Together, these features make it the best car camera for Uber drivers.
Features
Camera Angle: 360 degrees front and 70 rear
Video Quality: 2K front and 1080p rear
Storage Options: Up to 256 GB U3 Micro SD card (not included)
Recording Direction: Any
Emergency Lock: Yes
Other Features: GPS tracking, motion detection, night vision, loop recording
Pros
Excellent balance of features (best value for money on the market)
Compact design minimizes loss of vision
Built-in GPS
Advanced Sony image sensors
Cons
Some find the app a bit difficult to use
Some reports of a pinkish hue to the rear facing cam
Rear cam records the cabin (ideal for Uber), not the road behind the vehicle
Highest Quality Dash Cam For Uber Drivers: Thinkware U1000
When quality matters, it's hard to beat the Thinkware U1000 dual dash cam. This camera is noticeably larger than most of the competition, and a lot more expensive.
It uses its larger size to good effect with features like an advanced driver assistance system that can give older vehicles many of the same safety features as modern cars.
As Thinkware's flagship model, the U1000 includes both front and rear cameras to provide comprehensive coverage of activity in and around your vehicle.
It also has three optional parking surveillance modes, a built-in GPS, and 1-minute video segmentation to help minimize the risk of data loss.
If money is no object, this is the best model to get. We did not list it as the best overall, because it is outside most peoples' budgets. The Rove gives you more value for your money.
Features
Camera Angle: 150 Degrees
Video Quality: 4K (front), 2K (rear)
Storage Options: Micro SD card (32GB card included)
Recording Direction: Front and Rear
Emergency Lock: Yes
Other Features: Lane departure warnings, forward collision warnings, data corruption protection
Pros
Dual cameras for excellent coverage
Multiple video quality options
Records in 1-minute increments to help protect data
Cons
Requires viewing on a 4K screen for the best quality
The included data card is too small for the file sizes
Best Budget Dash Cam For Uber Drivers: Byakov Dash Cam
Byakov's dash camera is noticeably smaller than many of its competitors, with a 1.5-inch standing screen display for easy viewing.
While it doesn't record in ultra-high-definition like some of its competitors on this list, its 1080p resolution is still more than good enough for most buyers.
The Byakov Dash Cam also includes a wide-angle 170-degree camera. This is noticeably wider than many of its premium-grade competitors and provides more visibility, and therefore more protection for you.
That fact alone makes this camera worth considering over its competitors, though it still doesn't have as many other features as the other options on this list.
Features
Camera Angle: 170 Degrees
Video Quality: 1080p
Storage Options: SD card (64GB max, card not included)
Recording Direction: Front
Emergency Lock: Yes
Other Features: Night vision
Pros
Extensive viewing angle
Compact, space-saving design
Lifetime after-sales service support
Cons
No extra safety features
Lower video quality than most modern dash cams
Best Dual-Direction Camera: Vantrue N2 Pro
Most dash cams either face forward or have a front and a rear camera for covering the road. Vantrue's N2 Pro breaks the mold a little by having both front and inside cameras.
This provides added protection in case you have unruly passengers and can support you in a dispute. That makes this camera worth considering for your Uber ride, no matter what.
You can also disable the inner camera to focus on the road, which increases the video quality from 1080p to 2.5K (1440p).
Other notable features include infrared night vision, a parking mode, and support for up to 256GB memory cards. That's noticeably larger than some of its competitors allow.
Features
Camera Angle: 170 Degrees (front), 140 degrees (rear)
Video Quality: 1080p (regular) or 1440p (front-focused)
Storage Options: Micro SD card (256GB max, card not included)
Recording Direction: Front/Rear, rotates up to 80 degrees
Emergency Lock: Yes
Other Features: Infrared night vision, loop recording, audio recording, time-lapse
Pros
Excellent recording angles, especially if you're recording in both directions
Built-in battery for reliability
It uses a high-quality Sony sensor
Built-in microphone for clear audio recording (you can turn it off)
Time lapse feature to save on battery and storage space
24-hour motion-activated parking mode, so the cam starts recording automatically when you turn the key in the ignition
Loop recording overwrites the oldest footage with the newest, once the storage is full (so you don't miss anything)
Cons
The GPS features are a paid upgrade
Still not as good as most front-focused cameras for forward visual quality
Best Voice-Controlled Model: Nextbase 422GW
Voice controls are handy if you want to interact with your dash camera regularly, and few cameras support that better than the Nextbase 422GW.
This dash camera integrates Amazon Alexa for connectivity, which provides voice commands for receiving news, controlling smart home devices, and more.
Apart from that, this camera captures 1440p video in 30 frames per second, with modular support if you want to add additional cameras and a powered magnetic mount to keep the camera in place.
It also features an emergency alert system that can automatically provide your primary medical data to emergency responders.
Features
Camera Angle: 140 Degrees
Video Quality: 1440p (regular) or 1080p (FPS-focused mode)
Storage Options: Sync files to phone or cloud storage
Recording Direction: Front, optionally other directions with camera modules
Emergency Lock: Yes
Other Features: Amazon Alexa, magnetic mount, emergency SOS
Pros
Many features that most dash cams lack
The magnetic mount makes it easy to install almost anywhere
Supports additional camera modules for other views
Cons
Narrower recording range than most dash cameras
Limited storage options
Dash Cam Buyer's Guide
There are plenty of dash cams on the market, but they're far from equal in their overall design, features, and options. Here's what you should know before going out and buying one.
Basic Features
Here are the significant basic features to look for in the best dash cam for Uber drivers.
Automatic Start
Automatic start is vital for Uber drivers because the more you turn your car on and off, the more likely you are to forget to turn your dash cam on when you need it most.
Fortunately, automatic start systems are the default choice for any high-quality dash camera, and you can expect to see this on most models.
Buffered Parking Mode
Buffered parking mode continuously maintains at least a few seconds of video in the active memory without saving it to your storage device.
If there's an event, such as an impact, it uses that footage to create a new video and provide information on what happened before the impact.
This is extremely useful. If you only have a recording of what occurred after the impact, it will be much harder to prove that you're not at fault.
Sadly, buffered parking modes are still rare, but we expect to see this on more and more cameras in the future.
GPS/Speed Logging
GPS is essential as an Uber driver unless you drive in a specific area and know it down to the finest details. It's also extremely easy to come by and most dash cams include it by default.
That said, navigation isn't the only reason to include GPS systems on dash cams. There are two other reasons: speed logging and incident tracking.
GPS can help demonstrate that you're obeying traffic laws and speed limits if there's ever any question about your driving behaviors.
Location tracking can pinpoint the exact location of incidents if someone tries to damage your vehicle. Both of these are enormously useful if something goes wrong.
Some dash cams use a system known as 10x GPS, which means that they capture ten readings per second.
This ensures smooth, accurate collection of all location data and augments speed logging systems enough to make them useful if you're involved in an incident.
A few cameras also include a Hotstart system, which means they'll remember satellite positions for several hours.
This reduces connection times and makes the tracking systems more comfortable to use, although it doesn't have a huge impact on Uber drivers.
Impact Detection
Impact detection uses a G-sensor device, which dash cam company Nextbase (the creator of our top voice-controlled camera) explains in more detail here.
In practice, impact detection allows cameras to sense potential issues and tag specific videos to save them in long-term storage. This helps prevent the accidental deletion of relevant footage.
Many dash cams also use impact detection as part of their parking modes. If they register an event while your vehicle is parked, they can turn on, record a set amount of footage, and alert you to the incident so you can review the data.
Loop Recording
Loop recording is the process of overwriting old files on a storage medium (typically a microSD card) so it can continue saving new ones.
Storage devices can fill up fast when you're recording high-definition videos, with a one minute 4K video at 30 frames per second taking up about 375 megabytes.
This type of data-heavy video recording means you could fill up a 64 GB memory card in roughly three hours, which is less than many Uber drivers work each day.
Loop recording ensures you don't need to stop and delete old data two or three times per day.
Supercapacitors
Supercapacitors are more common on high-end dash cams. They function as temporary energy storage, allowing dash cams to continue functioning for a specific period even if the power cord gets knocked out of place during a collision.
Supercapacitors are generally better than batteries because any batteries left out in sunlight could become damaged or even explode due to the heat.
This does mean that you'll need to keep the camera plugged in, but it also means you never have to worry about a dead dash cam battery in the middle of a trip.
Advanced Features
Advanced features go above and beyond the basic features above. These are most common on premium cameras that have both the budget and the space to include new and different options.
4G Wireless Connectivity
Wireless connectivity allows dash cams to connect to the internet and store data remotely, which is more effective than storing it on local mediums. This way, there's no risk of a collision destroying the data.
This system relies on being somewhere covered by a 4G network, which isn't a problem in most areas. 4G networks don't always extend to mountaintops, but other than that, they cover a huge majority of the country.
5G dash cams are still relatively rare, but we expect to see those come out in the future.
Crash Detection
Crash detection is similar to impact detection, but it focuses specifically on major collisions. These systems usually send a prompt for you to either move your phone or respond to it with your voice, then automatically contact 911 or a designated individual on your phone if you fail to do so.
These are particularly useful for older vehicles, which don't have the same emergency notification systems as many modern cars. Uber drivers with newer vehicles won't get as much value from these systems.
Driver Safety Systems
These only show up on truly high-end dash cams, though the proliferation of technology means we may see them on more mid-range cameras in the future.
Driver safety systems replicate modern automobile technologies by detecting things like lane drift or potential collisions ahead of you.
Unlike built-in safety systems, dash cams cannot activate vehicle safety systems in response. Still, they can give you verbal notifications up to several seconds before a potential problem occurs.
Any safety system is better than nothing, so it's worth looking for a camera with these features if you can get it.
Extreme Weather Modes
These are particularly rare features, and you'll only see them on a handful of high-end cameras. Extreme weather modes use algorithms and sensors to see through conditions like heavy rain or fog to provide the clearest possible video at all times.
This feature lets you do things like identify license plates that lesser cameras can't record.
Some cameras also use infrared sensors to provide alternative views in low-light conditions. These can make it possible to navigate safely in particularly poor visibility, although that's stepping outside of the conditions in which most Uber drivers work.
To put it another way, extreme weather modes are an interesting feature, but they don't matter as much as it might seem at first.
High Dynamic Range
High dynamic range, or HDR, is a feature that captures images at different exposure levels.
This is important because collecting details in shadowy areas requires high exposures, while preserving detail from bright areas requires low exposure.
You can't do both in the same image. By collecting multiple images, HDR dash cams can provide a clear and accurate image regardless of lighting conditions.
Image Stabilization
This is a bonus feature more than anything else. Digital image stabilization helps minimize the impacts of driving on your videos and provide smoother, crisper footage at all times.
This is particularly useful if you drive over rough terrain a lot, where all the bouncing and jostling can make it harder for regular cameras to provide enough detail about a scene.
Intelligent Clip Isolation
Nobody wants to scroll through several hours of video to find the relevant clip. Higher-end dash cams have multiple ways of tagging and sorting clips, with many saving clips around impact times into a special folder to make them even easier to access.
Night Modes
Night modes are common on dash cams, so you won't need to look particularly hard to find this feature. Higher-end cameras can automatically adjust their recording techniques to capture as much detail as possible, even in the middle of the night.
This isn't particularly important if you aren't working at night, but it's a must-have if you are. There's no point in buying a dash cam that doesn't work when you're on the job, so think about how you drive when deciding between cameras.
Polarizing Filters
As experienced photographers know, sunlight is a real threat to cameras. Polarizing filters help prevent sunlight from getting into the camera and damaging the insides.
In fact, this is so helpful that some companies sell filters you can place over their dash cams even if the filters aren't part of the base package.
Polarizing filters also help reduce glare and contrast levels to help your dash cam collect higher-quality images.
This is a great feature, and I strongly encourage getting a polarizing filter for your dash cam, preferably when it's built directly into the camera. Otherwise, you could burn out your camera a lot faster when driving in the sun.
Remote Access Systems
Remote access systems alert you as soon as they detect an impact, often complete with live video footage of the triggering event. This is extremely useful for monitoring potential problems.
Some cameras also allow you to access them remotely without an incident report. This means you can check on the area around your vehicle without needing to go there physically, which is extremely useful in some areas.
Slow-Motion
Slow-motion systems are usually limited to 1080p video quality, but they provide outstanding ability to capture essential details if you need to prove fault in a collision.
Most slow-motion systems can record at 120 frames per second or more. However, you usually need to enable this to use it, so it's harder to make use of it than it might seem.
Voice Control Systems
Voice command and control systems are increasingly popular options on dash cams, including services like Amazon Alexa that can integrate with other smart technologies and devices you may have.
Some dash cams also integrate with other in-vehicle media and navigation systems. These types of features are more common on premium-range cameras. Don't expect to see them on many budget models.
Camera Angles
Most dash cams have a relatively narrow range of possible angles, with 'narrow' cameras scanning about 140 degrees and 'wide' cameras scanning about 170. That's not a huge difference in ranges, but wider camera angles mean they can detect things that narrower ones will never even see.
On rare occasions, you might see a 360-degree camera. While these aren't common, they offer the most comprehensive view of everything going on and can provide more information than anything else.
Two-camera systems usually have a front and a rear camera. The rear camera could be a separate device for you to place in the back of your car, but it could also be integrated into the main camera body so it can watch the interior of your vehicle.
Camera angles may vary in two-camera systems, with rear-facing cameras typically having a narrower recording range than front-facing cameras.
Video Quality In Dash Cams
Most dash cams use one (or more) of four common video qualities. Many higher-end cameras allow you to switch between video qualities.
Those devices' most popular choices are the highest-quality video at 30 frames per second or lower-quality videos at 60 frames per second.
4K is the best-quality video commonly available on the market. While you may find a few 8K cameras, those are both extremely expensive and more than an Uber driver realistically needs. 4K images are usually sharp enough to capture all relevant details of a scene, making them the safest choice.
2.5K is also quite common, with a resolution of close to 2500 pixels horizontally. This isn't an exact sizing standard, but most cameras in this range have about 1440 pixels vertically. It's not quite as good as 4K, but it's still pretty good.
2K resolution, which is about 2560 x 1440 for computer screens, is functionally the same as 2.5K for Uber drivers and has essentially the same attributes. They're not so different from each other that you should prioritize one over the other if you're looking for high-quality videos.
1080p, which is also known as Full HD, is the lowest quality you'll find on decent dash cams. These cameras don't offer the same level of detail as 2K or 4K cameras, but they suffice for capturing most details in most situations.
Essentially, this video quality is good enough for budget cameras, but not for any premium choices. Don't consider any model that doesn't at least give you 1080p video.
Dash Cam FAQ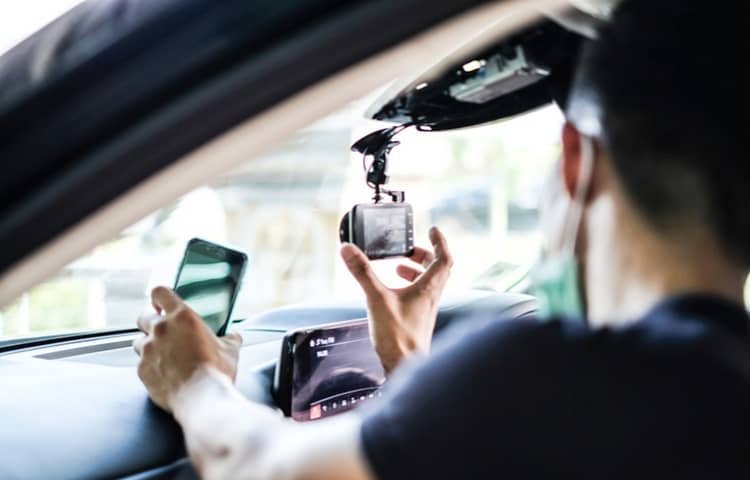 Can an Uber driver have a dash cam?
If you're an Uber driver, you are allowed to have a dash cam in your vehicle. However, it's important that you check with your state's regulations on video recording so that you know if you can use a dash cam legally.
It's also a good idea to disclose that you're using the recording equipment, so that the dash cam doesn't feel like an invasion of privacy for your riders.
Put up warnings in your car to alert riders that you're using a camera that records audio and video of them, to ensure you stay on the right side of video surveillance laws.
It's important to know that you are not allowed to broadcast someone's audio, video, or image. Dash cams should only be used for the purpose of safety. Don't publish the footage.
Does a dash cam record your speed?
You can find dash cams that record your speed while you drive. These are useful because they can help you acquire evidence that you're not the one to blame for a vehicle accident.
Being more aware of your speed if it's too high can also help you to become a better driver and it encourages healthier driving habits.
In addition to monitoring your speed, a dash cam can help you track your physical location and show the routes that you have travelled.
Are dash cams worth it?
Dash cams are definitely worth it, whether you're an Uber driver or not. Let's take a look at some reasons why you should install a dash cam in your car.
Many accidents are a result of rear-end collisions. By investing in a dash cam that offers front and rear cameras, you'll be able to see exactly what happened.
The front dash camera can record footage of other vehicles' license plates, which could help you if you have to report bad driving or even a crime.
A dash camera can help you if your vehicle is stuck. This is because of its GPS tracker feature that can let others know where you are.
If you're involved in an accident, having footage of it can help you when you file a claim for damages from your insurance company, especially if you have no witnesses.
Which dash cam do Uber drivers use?
There are a variety of dash cams that are popular with Uber drivers. The best are the models we reviewed above.
Whichever dash cam brand and product you choose, it's important to ensure that the camera provides you with views of the inside of your car and your passengers, so you can see what's happening in your car while you're driving.
Can dash cam footage be used in court?
A dash cam isn't just useful for monitors your speed and ensuring safer driving. The footage is admissible in court, which means that it could help you if you end up in an accident or are the victim of a crime.
In the event of an incident, it always helps to have evidence of what happened, whether in the form of witness accounts or video footage. This ensures solid physical evidence that will support your claim and can increase your chances of having a favorable resolution.
As an Uber driver, you'll be on the road for many hours every day, which increases your risk of accidents and other incidents occurring. It's in your best interest to ensure that your vehicle is equipped with a dash cam.
Best Dash Cam For Uber Drivers: Final Thoughts
There are tons of car cameras available for Uber drivers, but most either cost too much for what they give you, or they are simply not good enough.
All of the models above are great values. They represent the best values in various price ranges and with certain specific features, like dual-direction recording or voice control.
Whichever one you choose, you know you will get your money's worth. And if you need something more discreet, check out our article on the best mini cameras for your car.
Last update on 2023-12-01 / Affiliate links / Images from Amazon Product Advertising API