Your dash cam has captured something important.
Now, how do you access that footage and view it?
As you'll see, it's actually quite easy.
And you have several options with most common dashboard cameras.
You can view the footage on a computer, on a smartphone, or even on the camera directly, if it has a display screen.
We'll give you detailed instructions on how to view dash cam footage on each of those devices below.
We'll also cover the most common related questions to ensure you have all the info you need.
How To View Dash Cam Footage
We'll cover each device below. We'll begin with instructions on how to view dashboard camera footage on a computer, then we'll cover how to do it on a smartphone, and finally touch on the third option: viewing it on the camera screen directly.
Materials Needed
Computer

USB cable if dashcam has internal storage
SD memory card
SD adapter if using a micro SD card
Card reader if not built into the computer

Smartphone

Dashcam with built-in Wi-Fi
App created by dashcam's manufacturer

Dashcam with built-in display
View Dash Cam Footage On A Computer
Most people choose to use their computer to view dash cam footage, whether it is a laptop or a desktop. You can use this viewing method with all dashboard video cameras and with PC and Mac computers.
Step 1: Remove Memory Card
Every dashboard video camera contains an SD memory card. I'm sure you already know this, but in the interest of completeness, here's what that is.
An SD memory card is a removable storage device that supports a wide variety of data, including videos and pictures. They fit into multiple electronic devices such as cameras, video game consoles, and cell phones.
The first step in viewing the footage is to remove the memory card. Make sure that the car is parked and the dashcam is turned off before removing the card.
Some dashboard cameras have micro SD memory cards. If your memory card reader cannot accept micro SD cards, you'll need an SD adapter that lets the reader analyze the micro SD card just like a regular one.
Step 2: Insert SD Card In Card Reader
Insert the memory card into the card reader. Some computers have a built-in card reader. If your computer doesn't have a card reader, you can use an external one by connecting it to the USB slot on the computer.
Step 3: View Footage
After the memory card is inserted into the reader, an "autoplay" window will appear. Click on the option, "Open folder to view files."
All of the contents of the memory card should be visible. If the autoplay function does not work, open the file explorer and navigate to the memory card folder. Choose which video to watch by double-clicking on the chosen icon.
Alternative: Connect Dash Cam Directly To Computer
There is another option to view dashcam footage on a computer. If the dashboard camera has internal storage, hook the camera to the computer with a USB cable.
You can also do this if the camera uses an SD card. Just leave the card in the camera and connect the whole thing to the computer. You'll then see the autoplay window appear and have easy access to the video content.
View Dash Cam Footage On A Smartphone
Personally, I like viewing dash cam footage from my smartphone. It's quick, easy, and I don't have to get my computer out to view a few minutes of footage. The ability to do this is a major benefit of dashboard cameras.
First, make sure that the video dash camera has built-in Wi-Fi. Next, connect the phone to the camera's Wi-Fi.
Then download the app that is compatible with the dashboard camera. The manufacturer should provide it. Once you've opened the app, the videos from the dashcam can be downloaded to the smartphone.
View Dash Cam Footage On The Camera's Built-In Display
Using a dashboard video camera's built-in display is the least common way to view the footage. The built-in display feature basically helps you with setting up the dash cam and shows where the camera is aiming.
If you like to view larger, clear images like me, you might get frustrated with the tiny display on the dash cam. However, it can work in a pinch, if you just want to make sure footage has been captured.
Related Questions
Understanding how to view footage is wonderful, but you probably have some more questions about this technology!
How Long Is Dash Cam Footage Kept?
It depends on how many gigabytes an SD memory card has and the quality of the video recordings. An average dash cam can store almost up to two hours worth of footage on a 16GB Micro SD card, before it begins overwriting previous recordings, If it has a loop recording feature.
For more on that, read "What is a loop recording dash cam?"
Dashboard cameras with 32GB Micro SD cards can store up to 4 hours of footage, and cameras with 64GB SD cards can hold approximately up to 8 hours of footage. 128GB Micro SD cards can store up to 16 hours of footage.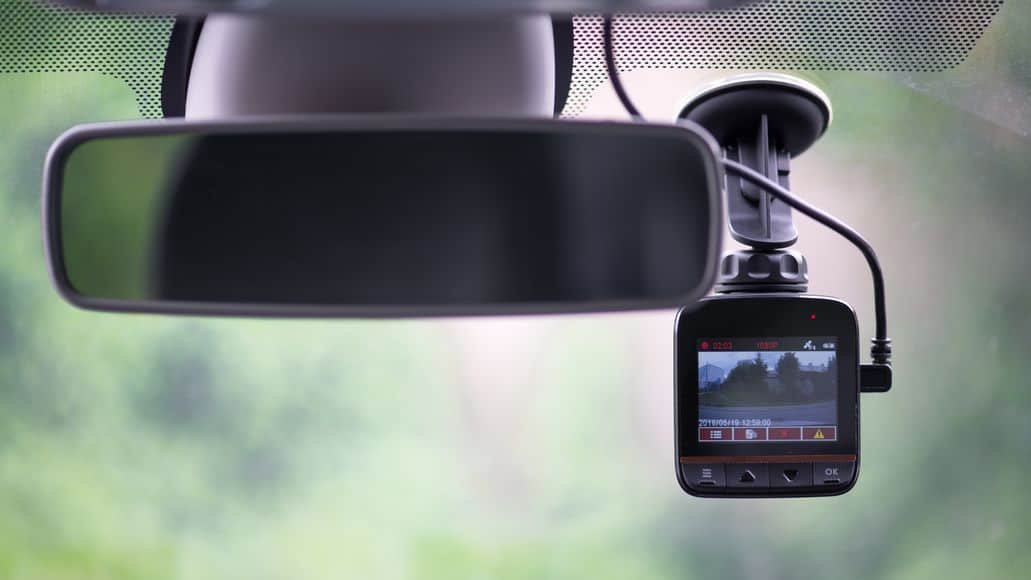 If you're wondering how long police keep dash cam footage read "How Long Do Police Keep Dash Cam Videos?"
What Features Does A Dash Cam Offer?
Most dashcams have the auto start and stop feature, which means that if your car is turned on, the dashcam starts recording footage automatically. When you turn your car off, the camera also stops.
One of my favorite features that is found in almost all dashcams is loop recording. When the memory card space is full, the dashcam continues recording by overwriting the memory card from the beginning.
As long as there is no footage that you want to save, loop recording allows the dashboard camera to continue recording, without manually freeing up storage space.
Some dash cams have a Global Positioning System, also known as a GPS. GPS can be built into the camera or it can be an external device attached to the dashboard camera.
The purpose of the GPS is to basically monitor the location and speed of your automobile.
G-sensors are another common feature in dash cams. In the event of an accident, the G-sensors activate and cause a dashboard camera to record another event video.
This is very useful if you ever need a record of a hit and run accident or a case of vandalism.
You can also find infrared lights in some dashcams. They allow the camera to record effectively at night. Or, you can use them to record the interior of the car.
If you ever need the footage as evidence in an investigation or court hearing, you'll need it to show the exact time and date.
Many dashcams have a feature that shows the timestamp of a recorded video, which can be extremely helpful – but let's hope you won't need to use it!
Police dash cams all have this, but getting access to police dash cam footage can be a huge hassle. That's why it is always good to have your own.
If you want to know which features are most important, read our article on what to look for in a dashboard camera.
How Many GB Do You Need for a Dash Cam?
The amount of storage space you need for a dashcam depends on how you will use it.
For recording while driving, I recommended a 32GB SD memory card. It can store up to 4 hours of 1080 pixel footage, which is sufficient for recording while the car is in motion.
A 64GB SD memory card is ideal for recording while the car is in parking mode, as it is durable and provides extended recording.
If you work for ridesharing companies such as Uber or Lyft, I recommend at least 128GB of storage space. The more the better.
The top dashboard cameras for Uber drivers all shoot in high quality video and usually shoot both interior and exterior footage. This requires a lot of storage space.
A large SD memory card is best for rideshare drives. It allows them to store a significant amount of footage, which can help them keep track of any issues with previous customers.
View Dash Cam Footage: Final Thoughts
All the top mini car cameras use SD memory cards to store recorded footage. Accessing and viewing that footage is simple.
You have several options that include viewing it on your computer, on your smartphone or directly on the dashboard camera's display screen. Hopefully the instructions above helped you figure out the best way to view your dash cam footage.
If you view the footage and find that it does not provide a great view, you may have affixed the camera incorrectly. Read Best Place To Mount Dash Cam for help in mounting a car camera correctly.

Latest posts by Damon Kennedy
(see all)