Is someone spying on me?
We've all had that uneasy feeling that someone might be secretly watching us. In this day and age that's a perfectly rational feeling.
But what can you do about it?
Obviously, you want to make sure you're not being watched. In order to be certain, you need to know how to spot hidden cameras.
Learning how to detect a nanny cam can go a long way toward achieving some peace of mind that you are not being monitored.
Read on to learn out how to find these sneaky little spy cameras with ease.
How To Find A Nanny Cam
There are a number of ways to find nanny cameras, ranging from simple but less effective, to more effective, but requiring specialized equipment. Luckily, that equipment is not expensive at all, so it is accessible to everyone.
We'll get to that. Let's start with the simplest way to detect a nanny cam.
By Sight
The simplest way to spot a nanny cam is by sight. If you know what you are looking for, you can usually spot one without too much trouble. Many of these are meant to be hidden in plain sight. As you might expect, the best nanny cameras do this better than cheaper ones.
They are manufactured to look like common objects that may not seem out of place. This allows the camera to have full view of the area while not looking too conspicuous.
The key to becoming good at this visual spotting method is to familiarize yourself with the most common types of nanny cams out there. You should also read How To Hide A Camera In Plain Sight.
Stuffed Animal Cam
The stuffed animal nanny cam is one of the most common types. It was one of the first types made popular for spying on the babysitter and it gave rise to the term 'nanny cam' to begin with.
There are stuffed animal nanny cams shaped like bears, cats, pigs, dogs and just about any other animal you can think of. Bears are probably the most popular and the ones you are most likely to encounter.
The camera is usually conspicuous in this type of setup. One of the eyes can be the camera, or sometimes it is a small dot on the collar or in a foot or nose. If you inspect one of these stuffed animals you suspect to be a camera, look at the eyes or any other hard surface that is typically black and circular.
Look for a stuffed animal that seems out of place or facing the room in a strange way and then inspect it for a camera. You can also inspect it for a battery compartment or the compartment for the memory card or a charger.
Smoke Detector
Smoke detector nanny cams are tricky to spot visually with just a quick glance. The cheaper ones are simple white circular discs mounted to the ceiling or high up on a wall. They look just like a real smoke detector in most cases.
Some even have the flashing light you would expect to find on a normal detector. This makes it hard to tell if the smoke detector is a camera or just a normal safety device.
Pro Tip
Many people that install these also have a real smoke detector in the same room. If you are in a room with 2 smoke detectors it is a good sign one of them may be spying on you.
Another way you can often tell is that it is mounted somewhere unusual. There are certain locations where smoke detectors are usually installed. If you see one in a strange location, it may be a camera.
Where Real Smoke Detectors Are Normally Mounted
In a normal residential home setting, there should be a smoke detector in every single room. Normally, if they were installed according to spec, they should be on the ceiling near the door in rooms that have doors.
Main Area
In a main area, such as a living room, they are typically mounted on the ceiling in the center or close to the center of the room.
Kitchens
Smoke detectors are not usually installed in kitchens for obvious reasons. If you see one in a kitchen, it may be suspect. But they are typically close by, so that is not unusual
Bedrooms
If you see one mounted above a bed in a bedroom, be suspicious. The same goes for the bathroom.
Porches And Outside
This is not a place where smoke detectors are usually installed. If you see one outside on a porch or in a covered sitting area, there is a good chance you are on TV.
Keep the placement of the smoke detector in mind to determine if it may be a nanny cam. This also goes for hidden cameras in an office setting.
Alarm Clock Cameras
Alarm clock cameras are getting more and more difficult to spot. They are functioning clocks that look and behave like alarm clocks. There are not a ton of manufacturers for these so you can become familiar with their look over time.
The trick with discovering the cameras in these sneaky little units is to use the flashlight on your phone. The camera eye is usually behind some tinted dark plastic on the face of the clock. Take your light right up to it and look behind the dark plastic to reveal the small camera eye.
Just like the teddy bear or smoke detector types, think about the placement of the clock. If it is strange or there is another clock in the room, it may be suspicious.
Water Bottles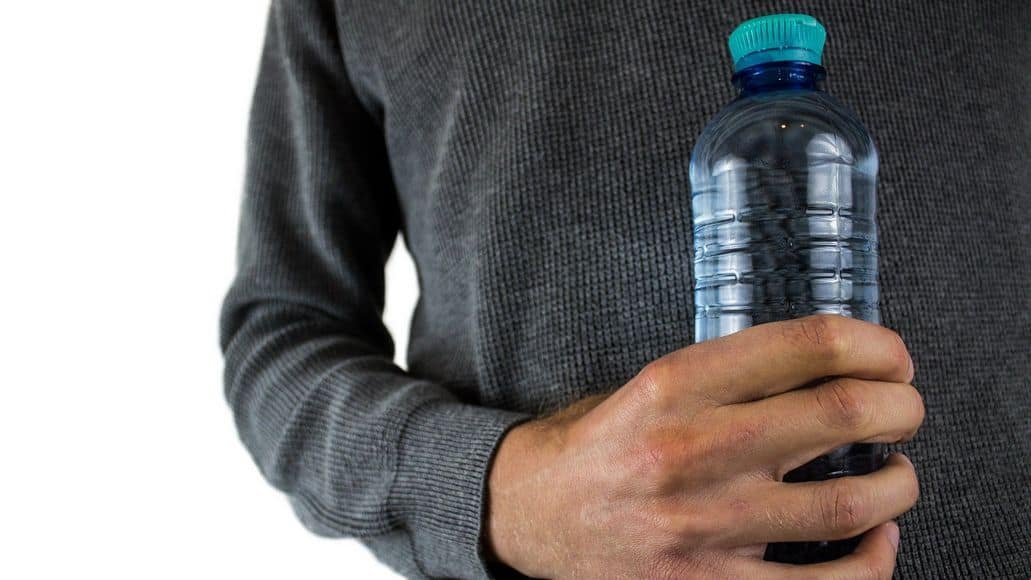 Yes, there are even water bottles that can spy on you. The most popular one is the Aquafina fake bottle. At first glance it looks legit!
Upon closer inspection you will find a tiny pinhole camera on the label. This is easy to spot if you know it exists. These models are more expensive than many of the rest, so you will not see many of these out there.
Just keep in mind there are some of these in the wild and they could be recording you. These even come with a tiny little DVR built in (which is why they cost so much!).
Hidden Flash Drive Camera
These are small flash drives that have a tiny pinhole camera on them. The camera is usually near the back in the middle and looks like an inset reset button or screw hole.
The flash drive might be stuck in a PC or laptop or just sitting on a table or countertop surface. These do not have a long battery life, but most models can record for up to an hour.
It is extremely easy to spot these since you can just pick them up and look for the camera. Like the other models in this list, look at the placement. If it is sitting in the middle of a table for no reason or stuck in a computer and facing the room, be suspicious.
Ask
The most direct way to find out if there is a hidden camera is to simply ask whoever oversees the building.
Residential Homes
In most states, it is completely legal for someone to have hidden cameras and record you inside their home. If you ask them, they are not required to reveal this to you since they own the home. Bathrooms or other locations where privacy is implied are an exception.
Airbnb
In Airbnb's community standards rules, if you are renting your home you must disclose the fact that you have security cameras in the contract. Also, if you are asked directly, you must tell your renter that you have them.
Most Public Spaces
The laws vary slightly from state to state. In general, the rules on cameras are as follows:
If you are in a public space where you should not expect a level of privacy, cameras can record you without your consent. If you are in an area where privacy is expected, cameras should be disclosed if they exist.
There are many specific laws in different states for different situations, but the above is the general rule of thumb in the United States.
There is some more information on the topic here.
Look For A Light
Many models of nanny cams have a small light that is a dead giveaway to the presence of a camera. The tricky thing is that some of the objects that hide the camera would normally have lights anyway!
However, sometimes a teddy bear or an object that has no business having an indicator light will have one. In those cases, there is a good chance the object has a hidden camera.
Look For Wires
In some cases, a nanny cam might not be carefully constructed, or even poorly designed, so you can see the wires. Look for small colored or black wires around an area with a small round hole, or an eye, or a button.
Sometimes you may not be able to see wires, but you can feel around and find them. This is most true in the case of plush animals or other soft objects with cameras installed inside.
Use A Smartphone App
There are smartphone apps designed specifically for finding hidden cameras. This is one way to find them quickly, but the apps do not always find all cameras so be careful here.
Here are some popular smartphone apps used for this purpose:
Use An RF Detector
Cameras typically emit an RF (radio frequency) signal. If the camera you are looking for is not visibly identifiable, you may be able to sniff it out using an RF detector.
These are typically small devices with an antenna and strength meter. The detector tells you if a device which emits RF signals is nearby.
The more money you spend on the detector, the wider its range will likely be. With most common models you will need to get close and walk around the area you suspect to have a camera to pick up its signal.
One of the added benefits of using an RF detector to spot hidden cameras is they can also sometimes be effective at finding hidden audio recording devices or bugs (the slang term). If an area you are in has a hidden camera it is not unreasonable to assume it is also bugged for audio.
These devices are not generally expensive and can be found on common online marketplaces. We review and compare the best RF detectors here to help you out.
Spotting A Nanny Cam: Final Thoughts
With a little bit of practice, you'll be able to spot most nanny cams fairly easily, just by taking a closer look at your surroundings. This is even true for those hidden behind a mirror. Observation is the most important skill in counter surveillance.
But if you want to be absolutely certain, it pays to invest in an RF detector. The cell phone apps can work, but they also miss some hidden cameras. An RF detector is much more accurate.
Latest posts by Jackie Bolen
(see all)