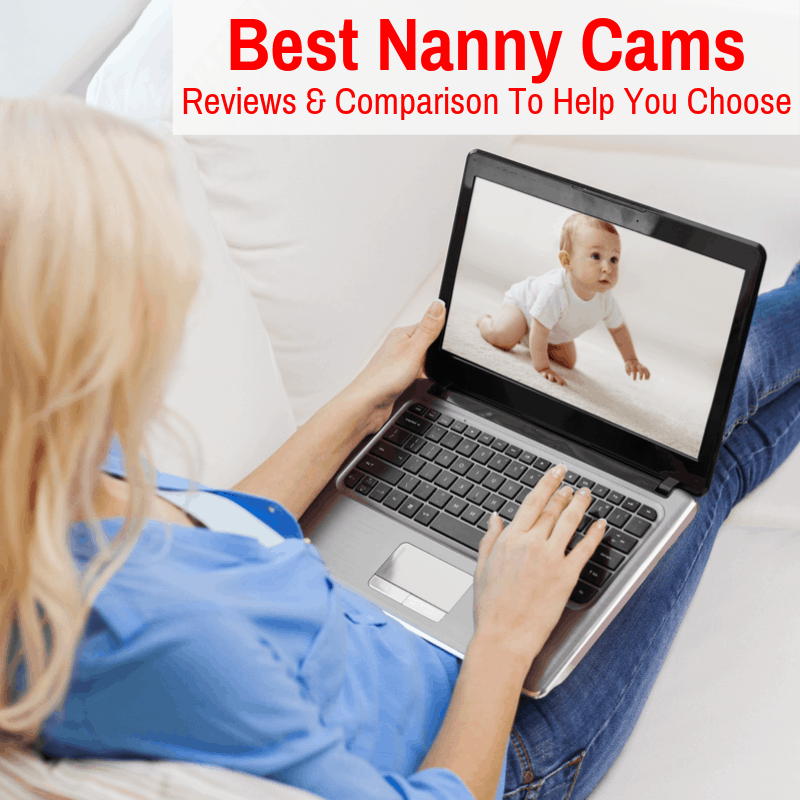 Do you want to ensure security inside your house?
You can install a mini security device designed for indoor use. And if you don't want anyone to know about it?
That's where nanny cams come in.
They come in many different shapes, but all are meant to do one thing: disguise a camera as something else.
There are picture frames, water bottles, stuffed animals, smoke detectors and many more seemingly ordinary objects that have a hidden camera inside.
The options are endless and sorting through them all is a monumental task. That's why we have done that for you and narrowed the hundreds of options down to only the best nanny cams.
Top Nanny Cams Compared
Best Nanny Cameras Reviewed
All the models included below deliver high quality video, while doing a great job of keeping the camera hidden in everyday objects. No one would ever guess there was a camera watching them. Read on to learn which of the following spy camera devices best suits your needs.
Nanibo Clothes Hook Hidden Camera
Do you suspect that someone is sneaking inside your room to touch or steal your things when you're asleep? This spy cam disguised as a clothes hook may be the perfect solution.
Install the Nanibo clothes hook hidden camera on the wall facing the area where your personal belongings are kept. With this device inside your room, no one will ever know you're monitoring their every move.
The Nanibo spy camera looks like an ordinary clothes hook. For a reasonable price, this security gadget has many impressive features. It obviously comes with a built-in camera that's hidden for secret surveillance.
You can guarantee continuous and clear video-recording or photo-taking using this clothes hook camera. It supports SD cards up to 32 GB to store your photos and videos. This ensures plenty of space to store a video record of everything that happens
See our full review of the Nanibo clothes hook hidden camera.
Weke Water Bottle Spy Camera
We highly recommend the Weke water bottle hidden camera to those who are always on the go and want to ensure their safety all the time. This device appears like any ordinary water bottle but it performs double duty as a security camera.
You even can fill the bottle with real water and use it like any regular bottle. This makes it seem even less suspicious. The long battery life ensures 2.5 hours of operation.
If you opt for this mini hidden camera you get your money's worth. Despite the low price, it up to a 32 GB micro SD card for continuous picture-taking and video-recording. What makes this water bottle camera unique is that you can take it with you anywhere, as if you're just carrying around an ordinary bottled water for hydration.
See our full review of the Weke Water Bottle Spy Camera.
Fuvision Alarm Clock HD Spy Camera
If you're a parent and if you're suspecting that your child is not studying his lessons or not doing his homework while inside his room, the Fuvision alarm clock hidden HD camera is a great solution. It can keep watch over your child without him or her noticing.
This spy camera looks like an ordinary alarm clock and is 100 percent hidden so no one at home will ever suspect you are monitoring everything. If you put this on their nightstand, your son or daughter will think you just bought them an alarm clock to ensure they wake up on time. And it functions just like an.
The camera has a motion detector, so you can set it to only record when motion is detected. It can handle a micro SD card up to 128 GB, so that you can store all the footage you need. It also has WiFi, which allows you to monitor the feed in real time from your smartphone.
Read our full review of this spy camera alarm clock for more information.
Sdeter Smoke Detector Hidden Camera
Do you have small children at home? Then, a smoke detector spy camera is a great choice. It allows you to work worry-free in the office while your kids stay at home with their nanny. This security device is what every parent needs to ensure his child's safety and protection.
For a reasonable price, you get a security gadget to check and review the goings-on inside your house while you are away. The built-in camera takes and records impressive photos and videos. The unit can handle micro SD cards up to 64 GB, so you can store plenty of footage.
You can also monitor the footage in real-time from your smartphone using the app. Night vision can see up to 30 feet in darkness. The rechargeable battery can last for up to 180 days in standby mode.
See our full review of the Sdeter Hidden Camera for more information.
Light Bulb Spy Camera
Another nanny cam to consider is a light bulb security camera. These have the distinct advantage of offering a 360 degree view of your room. Plus, you can find light bulbs in every single room of any building so you can essentially place them anywhere without detection.
The best have IR night vision, motion detection, the ability to motor remotely from a smartphone, the ability to record and 2-way audio, all while functioning like a regular light bulb.
Sound like what you need? Find out more about in our review and comparison of the the best light bulb cameras.
Hidden Camera Picture Frame
Another nanny camera that you'll want to consider is a hidden camera picture frame. It's an ideal way to keep an eye on that new babysitter or nanny. Or, perhaps you're worried about theft from your business when you're not there. Finally, you may just want to keep an eye on your pets while on vacation.
Whatever the case, a picture frame with camera can make a nice option. They have a great battery life, and the best ones have night vision as well as motion detection and push notifications to your phone or tablet via app.
You can learn more in our full review of this picture frame spy camera.
Are Nanny Cams Illegal?
It can certainly be illegal in many countries around the world to record people without their knowledge. It also varies from state to state and even from situation to situation.
We advise you to check the laws very carefully for the jurisdiction in which you live. Make sure that you're complying with the laws to avoid prosecution.
And of course, remember our #1 rule here at Spy Cameras Reviewed: only for good and not for evil.
How To Choose A Nanny Cam
All the details you need to know are in this short video. Or keep on reading for the main considerations for choosing a spy camera.
What Should I Look For In A Nanny Cam?
There are a number of factors to consider when buying a nanny cam. Here are a just a few of the most important ones.
How Well Hidden It Is
If you're buying one of these devices to keep an eye on your pets, it doesn't really matter how covert it is. However, if you want to keep an eye on your nanny and record them without their knowledge, you'll need to ensure that the camera is not obvious.
Battery Life
Always having to charge your hidden camera device is annoying and it's easy to forget to do it. The best models will have a standby battery life of at least a year. And they'll have at least 15 hours of continual recording time.
Storage
Some nanny cams have built-in storage, but more commonly, they'll have a slot for a memory card. Some are compatible with cards up to 28 GB, while others have room for 128 GB or even more.
In general, 28 GB is fine because you really don't need that much footage. There's also rolling storage which means that oldest videos get deleted automatically to make space for the newest ones.
Field Of View
The best nanny cams cover a wide area of the room, sometimes even 360 degrees if it's mounted on the ceiling like a smoke detector or light bulb.
Night Vision
Not all the bad stuff happens during the day! You'll certainly want to get something that has night vision and can work well in lower light conditions.
Motion Sensor / Wi-Fi
This is a feature which you may, or may not need. If it's connected with Wi-Fi, you can get live footage and alerts via phone or tablet app. However, it's a little more complicated to set up and the battery life is much shorter.
Or, you can just record footage to a memory card for viewing on your computer later. The choice is yours!
Ease Of Installation
All of the options mentioned in this article have one thing in common: they are easy to install. But there are other types that might take more work, like putting a hidden camera behind a mirror. While it's more difficult to set up, it is also much harder for someone to detect a spy camera in a mirror.
Top Nanny Cams: Your Thoughts
What's your top pick for a nanny cam? Leave a comment below and share your thoughts with us. Also be sure to give this article a share on Facebook, Twitter, or Pinterest.
Last update on 2023-09-25 / Affiliate links / Images from Amazon Product Advertising API