It's a common fear.
You're doing something you don't want anyone to see. Perhaps you're changing your clothes, trimming your nose hair, popping a zit, or having sex.
And there's a mirror in the room.
If you catch yourself wondering if there might be a hidden camera behind the mirror, you're not alone.
Given the tiny size of modern spy cameras, and stories in the news of hidden cameras in bathrooms, Air BnBs or hotel rooms, you could even call it a somewhat rational fear.
It makes sense to want to be certain you're not being watched. Read on to learn how you can tell if there is a hidden camera behind that mirror.
How To Detect A Hidden Camera In A Mirror
Have you ever stood in front of a mirror and wondered if you were being watched? Do the horror movies you've watched flash back in your head? Don't worry. You aren't alone.
The feeling of being watched is uncomfortable, and not something you want to experience. You can avoid it by being certain there is no camera behind that mirror. Here are some tricks to be sure there is no camera watching you from the other side of that reflective glass.
False Mirror Test ("The Gap" Method)
The false mirror test is one method you can use to find out if a mirror is genuine or if something might be behind it.
Make sure there's good lighting in the room. Place one of your fingertips on the mirror. While keeping your finger in place, move your head around so you get a good, angled view of your fingertip. Your eyes should be 5 to 10 cm (2 to 4 inches) from the mirror and 20 cm (just under 8 inches) from your finger.
Any genuine mirror will have a gap between your finger reflection and the mirror. That's because there's an orange reflective coating on the mirror's backing.
This coating is usually opaque, so hidden cameras can't see through it. The gap you see is the thickness of the glass between the reflective coating and your finger. If there is a spy camera behind the mirror, this coating won't be there, since the camera can't see through it. This means no gap.
Use A Flashlight
This method requires you to be in a dark room with a powerful flashlight. Using different angles, shine the flashlight at the mirror. Look for odd flashes and reflections. This usually works, because the camera's lens reflects the flashlight and gives away its position.
But this method doesn't always work. You need to make sure the room is as dark as possible for best results. You also want to avoid standing right in front of the mirror.
Check Mirror Installation
Does the mirror look like it's hanging on the wall, or does it look like it's part of the wall? If it's part of the wall itself, it's possible there is a camera on the other side of it, or it might be a two-way mirror. With most traditional mirrors, you will be able to see the wall behind the mirror.
Of course, just because the mirror is part of the wall, that doesn't necessarily mean there's a spy camera behind it. It simply means that you can't rule it out, like you can if it's just hanging there and you can actually see behind it.
Peer Into The Glass
Put your face up to the glass and cup your hands around your face on either side. Make a dark tunnel keeping out as much light as possible. You should be able to see if there is anything on the other side or not. This is usually the simplest way to find out it there is a cam watching you from behind the mirror.
Use Your Phone
Many hidden cameras emit frequencies that can interfere with a phone signal. To detect them, simply use your cell phone to make a phone call.
While talking to the person on the other end of the line, walk around the room, especially around the vicinity of the mirror where you suspect a camera might be hiding. If you notice interference in the phone signal while talking, then you may have a hidden camera on your hands.
There are also apps you can use on your phone that detect the frequencies given off by a spy cam. If you use one of the apps, you don't have to bother making a phone call. You can just let the app do the work.
Obviously, this method only works if the camera happens to give off a signal. If it does not, then you won't be able to detect it this way. But it's an easy method to use to at least check for certain types of cameras.
Use A Detector
The easiest and most accurate method for detecting a spy camera behind a mirror is to use a detector that is specifically meant for the task. It will alert you to an cameras in the vicinity, and also to other devices, like GPS trackers, bugs, etc.
Naturally, there is a downside. Good detectors are not cheap. You can find some for $20, but they won't be very useful. If you're looking for a detector that actually works, but doesn't cost too much, check out our article on the top RF detectors.
Legality Of Hidden Cameras Behind Mirrors
We won't go into too much detail here, primarily because none of us are lawyers (so don't take anything we write here as legal advice) and this is a complicated subject.
Basically, it is illegal to film people without their consent or knowledge, which makes hidden cameras illegal in most cases. But there are exceptions.
So-called nanny cams can be legal, if they are installed on your own property and not in places like bathrooms. It is not legal to record audio, however, so most nanny cams are video only.
Another exception are dressing rooms, but for this there is considerable variance in the hidden camera laws by state.
Video surveillance in a sensitive location, like a restroom or a dressing room is illegal everywhere, unless it is for the purpose of theft prevention. In that case, most states allow it to some degree.
Alabama, Arkansas, California, Delaware, Georgia, Hawaii, Kansas, Maine, Michigan, Minnesota, New Hampshire, South Dakota, and Utah prohibit any type of surveillance in a dressing room, without the expressed permission of the shopper.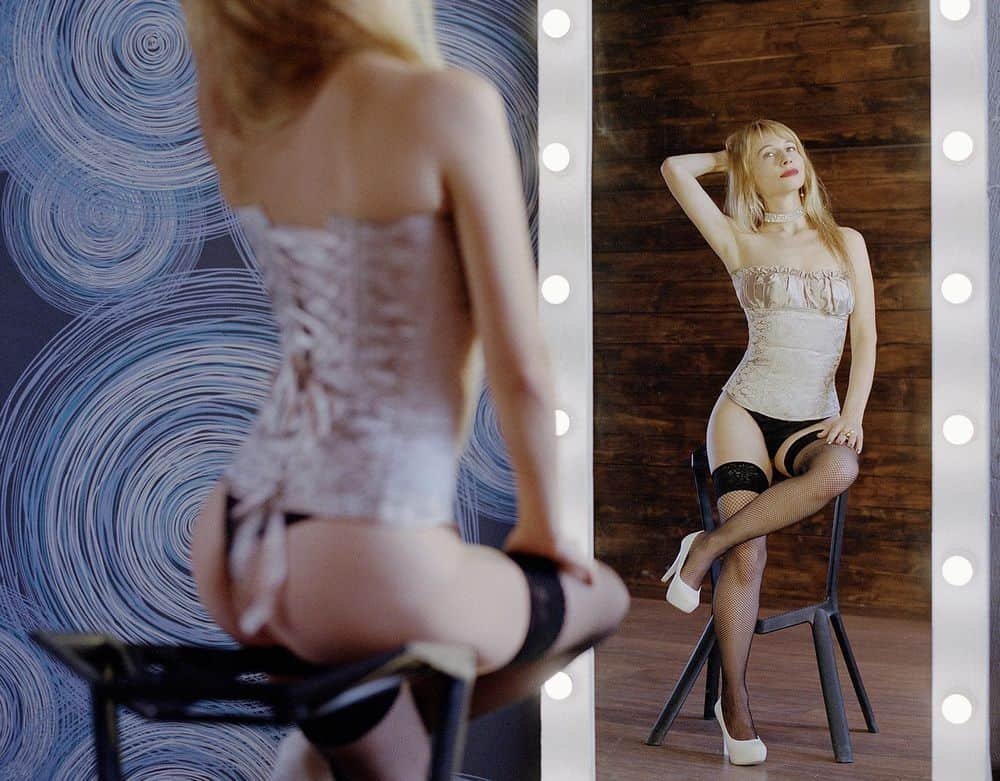 Most states operate on the principle of "informed consent". This means that stores can install hidden cameras in their dressing rooms, as long as they inform consumers of this, usually by posting obvious signs to the effect. The type of surveillance allowed differs, however.
In some states, only real-time surveillance is allowed, which means either observing in person behind two-way mirrors, or using a camera, but not recording the feed. Other states allow the recording of a camera feed.
While there are some instances where a hidden mirror camera might be legal, most of the times you might find yourself worried about a camera hiding behind a mirror will be cases where it would be blatantly illegal.
Let's briefly take a look at some of the more common locations where you might find a camera behind a mirror.
Common Locations For Cameras Hiding Behind Mirrors
The following locations are ones where you might be fully justified in worrying about someone recording you from behind a mirror.
Dressing Room Mirrors
As mentioned above, it is legal in many states for stores to install cameras behind the mirrors in their dressing rooms, as long as they are doing so for theft prevention purposes. In most states, stores have to post signs informing consumers of this, so you may not need to wonder whether you're being watched. It should be made obvious.
Hotel Or Air BnB Mirrors
We've all seen stories of people who discovered they were unknowingly being filmed by a shady Air BnB host. In many cases, cameras are behind a bedroom mirror, so they can film any potential sexual activity. Recordings can then be posted on porn websites for profit, or be used as blackmail material.
Public Restroom Mirrors
There are also plenty of stories of women being recorded in restrooms. While this could happen in a men's room, it is far more common in a woman's restroom.
Locker Room Mirrors
Whether at a school, or a gym, locker rooms and changing room are another possible location for hidden cameras. Again, this is much more likely to affect women than men.
Detecting Cameras In Mirrors: Final Thoughts
Privacy is important and we all have the right to feel and alone, when we are in our private bedroom or bathroom. If you get the feeling that someone might be watching you through a camera behind a mirror, don't dismiss it. Use the methods above to detect whether there is a camera hiding behind that mirror, if only for your own peace of mind.
Latest posts by Jackie Bolen
(see all)