Eventually, something will go wrong.
There are a few issues that even the best motion sensor security light will eventually have.
Regular maintenance can extend the time before a problem occurs, but eventually it will still occur.
The good news is that almost all issues these lights might suffer from are easily fixed.
We'll walk you through the steps for troubleshooting motion detector security lights, to help you figure out exactly where the problem lies, and how to fix it.
Troubleshooting Motion Sensor Security Lights
If you are having issues with your motion sensor security light staying on, the problem could be the sensor sensitivity.
To fix it, start by cleaning the sensor cover, because dirt could be blocking the light's signal. You can do this with soapy water and a cloth.
Once you have done that (and assuming it did not completely fix the issue), you need to adjust the sensor's sensitivity. Here's how to do that.
Begin by loosening the screws that hold the sensor to its fitting and then tilt it up or down.
Direct the sensor to the center of the area of your property that you want it to monitor, then tighten the screws.
Move the toggle switch under the sensor so that it's in "test" mode.
Walk into the area that you want monitored and see if the light comes on.
When you're happy with the changes you've made, go ahead and move the switch out of the "test" position.
How To Fix Motion Sensor Security Lights That Won't Come On
If your motion sensor light doesn't want to switch on, you'll have to switch off the circuit breaker (this controls the light circuit) for about half an hour.
Then turn the breaker back on and see if the light also switches on. If this doesn't work, try changing the light's bulb. More often than not, it is one of these two issues. If neither fix works, keep reading.
When (And How) To Reset Your Motion Sensor Security Lights
Sometimes the motion sensor light stops working. Perhaps it is not as responsive as it used to be. Or not responsive at all. Often, resetting the lights is the solution.
Here are examples of when you should reset your motion sensor security lights:
Large objects like people are not triggering the motion sensor security light.
The light stays on permanently or remains on for too long.
The light is less sensitive than it used to be.
The light doesn't always detect motion accurately.
To reset your motion sensor security lights follow these steps:
Start by turning off the circuit breaker for 30 seconds.
If there's a light switch, switch it on for two seconds, then off for two seconds, then back on.
When the light stays on, you want to turn the switch off for five seconds, then back on.
If you can adjust your light's sensitivity level, you can do this now. Make it less sensitive so that pets and birds won't set it off.
How To Fix A Motion Sensor's Angle
You will need to check that the motion sensor detector is facing in the right way. Obviously this depends on where you want it to pick up motion.
Some good reasons to adjust the angle of your motion detector include if the lights of the device are turning on too often. Perhaps the motion detector is directed at a busy street or an area of the garden where your pets are always present.
Another reason is if the sensor is aimed at an area of house where there's not much activity. This could be causing the lights to never come on.
To adjust the angle of your motion detector, follow these steps:
Turn the motion sensor left or right, and up or down so that it's centered on the area where you want it to be directed.
If the head of the sensor won't remain in place, you should tighten its ring nuts or screws.
You can then set the "on time" switch so that you can test the device.
Now, walk across the area where the sensor is aimed so you can check if the light comes on for a few seconds.
Bear in mind that your motion detector might require a minute or two of warming up before it springs into action.
How To Lengthen Or Shorten Motion Detection Range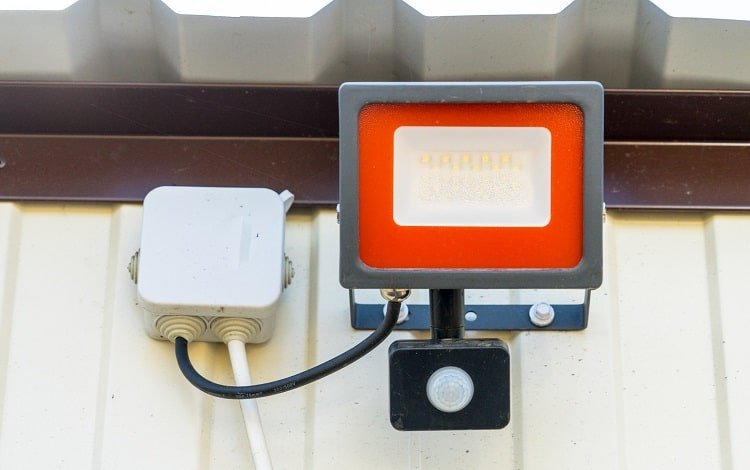 If the area that the motion detector is covering is too long, you should direct the head down a little bit.
On the other hand, if it's too short, raise the head. Just bear in mind that it should be at least one inch away from the lamp covers and lightbulbs so that these don't get in its way.
When you're happy with the adjustments you've made to the range of the motion detector, use the range/sensitivity dial to fine-tune it. Start with the maximum level and test it out. Then lower it until you find the range and sensitivity you want.
What if the range is too wide?
You can fix this problem with a bit of electrical tape. Place it on the left or right side of the lens, and cover as much as you want in order to get the width you want.
Motion Detector Lights Not Coming On After A Power Outage
If there's been a power outage in your area, this can cause interference with the motion detector's supply of electricity.
This can also happen if there's a power surge. The motion detectors will either stay off or on if a power interruption is the reason.
To fix it, you'll need to switch off the power supply for 30 seconds. Turn the light on and then test that it works by walking across its range.
What To Do If Your Motion Detector Duration Time Isn't Working
Another common issue that you could experience with motion detectors is that their lights don't stay on for long enough. Or they stay on for too long.
To fix these issues, you'll have to locate the duration settings of your device. Most motion detector lights stay on for about 20 to 30 seconds, but you can set them for longer or shorter if you want.
You will probably have a wide range of duration times from which to choose, such as a few seconds to an hour.
On the motion sensor security light, you'll have to adjust the controls that are on the sensor head of the motion detector light.
Choose the "on time" switch to choose the amount of time you want.
Another option you can choose is to set the motion detector settings according to the time of day. For example, you can set the light settings from dusk to dawn as required, or you can choose to keep them on for certain times after dark. In order to be able to activate this, the motion detector light will require a "dual bright" setting.
Motion Detector Light Troubleshooting: Related Questions
Should you leave a porch light on at night instead of using motion detector lights?
This can backfire from a security perspective, because it can make criminals think that you're not at home. Plus it's a waste of electricity.
At what height should you place a motion detector?
Aim to place these devices about six to eight feet up on the wall. This is the height at which they work best.
How far can a motion detection pick up movement?
Most good motion detectors will be able to detect motion from distances of approximately 15 feet.
Motion Sensor Light Troubleshooting: Conclusion
It's frustrating when your motion sensor security light just won't come on or switch off. And there are many other ways in which motion sensor lights could fail you.
Perhaps they don't cover the area of your property that you want them to. Or they don't last very long. Or whatever else can potentially go wrong.
Hopefully this article has helped you figure out what is causing your problem and helped you fix it. Most issues with motion detector security lights are not hard to solve.
If you have gone through this article and you are still having issues, feel free to ask any questions in the comments below. We will help where we can. But it the issue is serious, you will probably be better off contacting the manufacturer of your lights and motion sensors directly.
Latest posts by Jackie Bolen
(see all)