The motion sensor outdoor LED security flood light from LEPOWER is one of the best values available. The amount of customization you can do for a light in this low price range is incredible.
It also gives you a long range and huge output (while consuming only 35 watts of power), so you can use it for any size yard. It has a durable housing that is built to withstand any weather. But it's not perfect. Let's take an in-depth look at this security light in our review below.
Sale

LEPOWER LED Security Lights Motion Sensor Light Outdoor, 38W 4200LM Light, 5500K, IP65 Waterproof, 3...
38W Brightness and Energy Saving: Powered by LED lamp bead as the security light source, enables it...
Motion Sensor Lights: Security motion light can be triggered by the moving human, cars or animals up...
Adjustable Design: You can adjust the 3 security light heads and motion sensor head to a different...
Aluminum Design: The main part of the light body is constructed with aluminum. The whole structure...
IP65 Waterproof: IP65 waterproof, can be against terrible weather like a rainstorm, sleet or snow....
LEPOWER 35W LED Security Light Review: Overview And Features
This Lepower motion sensor security light system is built tough and powered by LED diodes by Samsung, one of the industry leaders. It is a professional setup that provides far better illumination than other lights in this price range.
It features optical filter lenses that help the lights produce over 3500 lumen, while using only thirty-five watts. It also has an anti-glare system and soft lighting that won't disturb the neighbors.
Key Features
Adjustable motion sensor
Adjustable lamp head
Three motion detection modes
Adjustable motion detection range
Low price
Easy installation
Design
When you add lights around the yard and the house to help keep your property well-lit to deter any possible intruders, it's important that you use a system that's highly adjustable in terms of the positioning of the light and the motion detection settings. These Lepower lights fit the bill.
This is an energy-efficient system that can save you up to eighty percent on your monthly electric bill over a comparable halogen light, which generally consumes 175 watts.
Both the motion sensor head and the lamp head are highly adjustable and flexible. You can set the head light to whatever angle you need, based on the size and shape of your yard and where you want the lights to focus.
Motion Detection
These lights can be triggered by vehicles, people, animals, and flying objects, such as branches. Fortunately, you can fine-tune the sensitivity based on personal preference. This is important if the light stays on and won't turn off, or if it won't turn on at all.
Are you keeping track of wildlife or strays in the area? Then switch the light to the highest sensitivity setting. If you don't want animals or flying debris to cause the lights to turn on, then decrease the system's sensitivity so that only people and/or vehicles trigger the lights.
The sensors on the motion detector must be kept clean and free of dirt and debris, or you they may stop working as efficiently as they used to, in which case you will need to clean the sensors thoroughly. You should also check the users manual to determine how to reset your motion detector sensors.
Modes
The system is very adjustable, so you can choose from a few different activation modes.
The first is the dusk to dawn sensor mode. To use this mode, switch the power off, then on again after one second. This sets the lights to immediately become active at dusk and then automatically shut off at dawn.
Keep in mind that if you want to activate this mode, you'll need to power the system off then switch it back on quickly in order for it to work the next night in the dusk to dawn mode. If you want to use this mode every night, you need to adjust the settings daily.
If you don't want to keep the lights on all night, then keep the usual settings, which triggers the lights only when the motion detection sensors detect movement, and shuts them off once no further movement is detected.
There is also a manual mode, which allows you to manually turn the lights on, and keep them on until you shut them off.
Lighting Times
On average, most security lights keep the lights on for a period of ten to thirty seconds, after they have been triggered by motion. Some models leave them on for around five minutes.
For some, this length of time is long enough, while others want the ability to adjust the lights and keep them on for a longer or shorter period of time. This system allows you to choose the perfect time, ranging from ten seconds up to ten minutes.
Range Settings
Competing models have an average motion detection range of thirty to fifty feet. This system has a motion detection range of seventy-two feet, which is pretty impressive. It also has a one 180° detection range.
With most types of outdoor security lights, you don't have many options in terms of how to use a system's range to your advantage, but since this model features an adjustable sensor, you can angle the sensor towards the area that you want the sensor to monitor.
Not only can you choose the area the sensor monitors and how long the system keeps the lights on, but you can also select the sensor's range. You can choose from zero up to seventy-two feet. This allows you to customize the settings based on the size of your yard.
Durability
In terms of durability, this is one of the best outdoor security light systems on the market. Many models are made out of a flimsy plastic that really isn't up to handling inclement weather. Additionally, many are only rated water-resistant, which means they're unable to handle constant exposure to inclement weather.
The LEPOWER light has an IP65 waterproof rating, meaning it can handle heavy-duty rain like a champ, in addition to snow or sleet. Since it's made out of aluminum, it is naturally rust-resistant.
Maintaining security lights with this type of durable design is fairly easy and will only require you to wipe them down once or twice a month, or whenever you notice the sensors are dirty.
Warranty
This model is covered by a sixty-day money-back guarantee, in addition to a twelve-month warranty.
Heat Dissipation
Because the light's housing is made out of aluminum, you can expect top of the line heat dissipation, which works to increase the light's lifespan to more than fifty thousand hours.
Advantages And Disadvantages
Pros
Highly adjustable
Three sensor mode options
Affordable
Larger than average range
Waterproof housing
Durable
Cons
Performance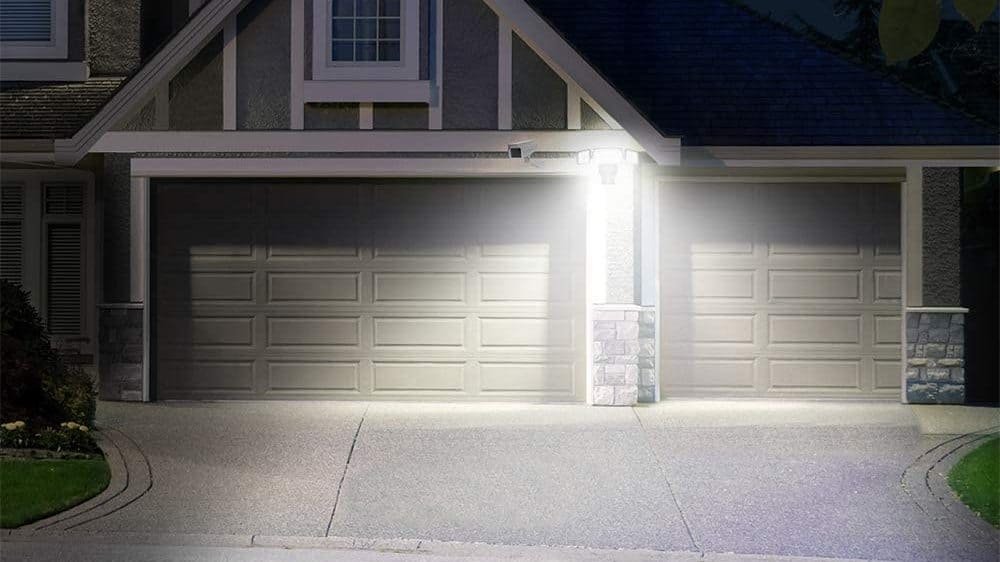 The LED lights are powerful, but not overly bright, so you won't have to worry about the lights disturbing your neighbors or working against you by creating even more shadows in the yard.
The light heads are highly adjustable, so you can easily position them for the best coverage.
Overall, the fact that this system is so highly adjustable in terms of how the lights are positioned, when you want the lights to come on, how long the lights will remain on once triggered, and even the range of the motion detection sensor, makes this system a steal for the price and a must-have light for any outdoor security light system.
Installation
While this is a hard-wired system, which means you need a little know-how to install it correctly, the included instructions actually make the installation process fast and simple, so you don't have to fork over the extra cash and hire an electrician. The instructions include a few basic steps that will allow you to correctly attach the wires to the junction box once you're done mounting the fixture.
Lepower Security Light Vs GDIDEA Floodlight
The GDIDEA floodlights offer a pretty impressive performance, providing up to 2000 lumens, using 180 individual LED lights. This is with two panels, but there are also versions available with only one panel (and half the output) or with 4 panels (and double the output).
Like the LEPOWER light, the ones from GDIDEA are also highly adjustable and waterproof design, complete with aluminum housing and a lens that's shock-resistant. Even better, they are covered by a five-year warranty, compared to Lepower's one year warranty.
That said, the GDIDEA light system can be difficult to adjust correctly considering how bright it is. If it's positioned incorrectly then you can accidentally create more shadows in your yard, which will give intruders more places to hide.
You can also run the risk of keeping the neighbors up or accidentally positioning the lights in a way that makes your home more vulnerable to intruders by essentially shining a light on the valuables in your home or yard. The softer light of the LEPOWER somewhat alleviates this problem.
Overall, the model by Lepower is a better choice for a powerful and affordable system that's easy to adjust based on personal preference, your schedule, and the unique shape and size of your yard. The four panel GDIDEA is better if you need pure power.
Read our GDIDEA outdoor security light review for more on this competing model.
LEPOWER 35W Outdoor Security Light: Conclusion And Rating
The Lepower LED security system is crushing the competition. Not only are the lamp heads highly adjustable, but they emit a softer light that is not as overpowering and allows you to clearly see what's going on in your yard and the surrounding area.
This means you won't have to worry about the light disturbing the neighbors, or creating more shadows in your yard, which can make it more difficult to spot an intruder.
The adjustable motion detection sensors allow you to set when the lights will come on, how often, how sensitive the system is, and how far you want the sensor to pick up movement.
This system is priced affordably, is protected by a durable weatherproof housing, and features an energy-efficient design that keeps your energy bill low. We gave this system a rating of 4.5 out of 5 stars.
Latest posts by Jackie Bolen
(see all)
Last update on 2023-12-01 / Affiliate links / Images from Amazon Product Advertising API