If you have a home, you need security lights.
Not only does having a well lit property deter intruders, but it also makes it safer for you and your family, if you need to walk around outside after dark.
Especially if you have kids, who tend to leave things lying around everywhere. Things you could step on or trip over, without adequate lighting.
But what kind of lighting do you get? There are so many different types of security lights on the market. Which type is best?
The answer is actually a combination of several, since they all have different strengths and weaknesses. Mixing them allows you to multiply the strengths and shore up the weaknesses.
Read on to learn about the different types of security lighting, and which ones would work best for your home and yard.
Types Of Security Lights: Selecting The Best Lighting System For Your Yard
The best outdoor security lights help prevent intruders from entering your home, and they also illuminate dark areas in your yard, around structures in the yard, and the rest of your property.
There are many types of security lights to choose from, but all work to deter intruders. Intruders prefer to break into homes that are dark since it provides cover and prevents you or your neighbors from seeing them as they attempt to gain access to your home.
Security lights can scare them off and minimize the risk of break-ins, but perhaps more importantly, they simply help you feel safer at night.
Options include side lights, motion sensor lights, and even landscaping lights. Really, any type of light can work to keep your yard illuminated at night.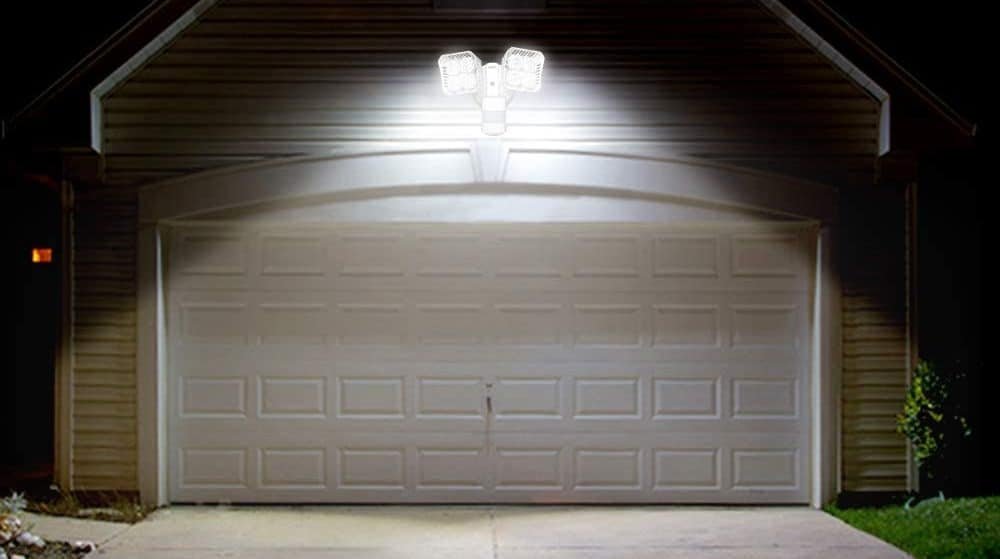 They should be designed for outdoor use, however. Lights meant for outdoor use are more durable and designed to handle the elements, including constant exposure to wind, rain, and the sun.
But choosing a security light system is often not enough, mainly because these systems aren't meant to light your entire property, without the help of standard outdoor lights.
Imagine using only security lights on your property and how bright it would be. Not only would your home be an eyesore to the neighbors, but it can actually work against you by showing off your expensive new car, or it could give people walking by a clear look into your windows.
Instead, choose the right light system and include both basic outdoor light fixtures and security lights, for a combination that isn't overkill and that is actually much more effective.
Different Types Of Security Lights
There are several different varieties to choose from. All are designed for outdoor use and can handle just about anything mother nature throws at them.
The main point of these lights is to improve security, but they can also be used for personal safety, like allowing you to easily make your way from the car to your front porch, without tripping over something.
Each type of light has numerous pros and cons. We'll go over the main lighting types available, discuss which ones offer the best home security, and include some options that you can use to keep your yard and home well-lit
Porch Fixtures
There are several different types of outdoor light fixtures to choose from and many are designed to be mounted to structures such as the garage or the home. These so-called porch fixtures are usually weather resistant and can brightly light up your driveway or the entryway to your home.
These light fixture options include ceiling-mounted lights, outdoor hanging lights, post lights, and wall lights. Outdoor lamps that are free standing are also available and can provide some serious power in terms of brightness and how much space they can cover in your yard.
Porch lights are probably the most common type of lighting option that homeowners use. These lights are mainly used to deter intruders from trying to gain entry to your home via the front door, but they can also light up your front porch and make it easier for you to find your keys, unlock your door and get safely inside.
These lights can be installed on the garage, porch or side door and they work to provide adequate lighting near pathways to allow you to navigate your yard safely in the dark. They are also great on a patio to protect a sliding glass door lock from tampering.
Motion Sensor Security Lights
Motion sensor lights can be the perfect option for home security whether you want to cover the front of the home or the rear. These lights are designed to switch on automatically when triggered by a moving object.
They will instantly light up when you leave or enter your home, making pathways and driveways highly visible. Naturally, they're also an excellent choice for deterring intruders.
As soon as a built-in sensor detects any type of movement, these bright lights automatically switch on and remain on for 30 to 60 seconds after they were initially triggered.
If a person is still in that area all lights will stay on indefinitely until no further movement is detected. These lights should be installed on the front, sides, and back of the home, as well as the garage.
If you're looking for a new motion sensor light system, we highly recommend the upgraded SANSI LED Security Motion Sensor Outdoor Lights, which provide better than average coverage and have a reputation for reliability and efficiency.
Motion sensor lights are one of the most popular types of home security lights, but they can lose their effectiveness if they are not properly maintained, or become completely useless in the event of a power outage (solar outdoor lights can solve this issue).
If you've purchased lights with motion sensors and you're finding that they are no longer running optimally, read our article on resetting motion sensors for help. Our guide on how to troubleshoot motion sensor security lights will help too.
Ceiling Lights
If your home has a ceiling or porch that covers part of the outside area ,or if you have a covered patio, then an outdoor hanging light is a great choice.
These lights can be attached to the underside of a ceiling and often provide better than average coverage especially when compared to a standard porch light.
Some types of ceiling lights sit flush to the ceiling just like an indoor light fixture. This type of light is designed to shine downward. A ceiling light should be positioned directly above an entrance or in an area where people will be walking.
Keep in mind that these lights tend to cast downward shadows, which can give intruders coverage. Fortunately, you can easily offset the shadows using a sideways light or by using motion detection lights.
The other type of popular outdoor ceiling light is the pendant light which hangs down from a cord, stem, or chain. The hanging light radiates light sideways in every direction.
Some models also emit light downwards. You'll need a ceiling or porch that's high enough to accommodate this style of light and still provide enough headroom, if people will be walking under it.
Classic lamp posts have been used for decades to provide home security, though they don't shine quite as bright as flood lights or motion detector lights.
But they can work to provide enough coverage to light up the front portion of your house, while also adding to the atmosphere and complementing the look of your home and yard.
These lights are designed to radiate light in every direction and are often positioned in the middle of the front yard or close to a driveway. They're mounted on top of a pole so the light is higher off the ground which means it can also provide more coverage. These lights are recommended for lighting up larger areas and should not be positioned directly next to a home.
Flood Lights
These lights are very useful for both home security and as landscaping lights. They are also considered the most common exterior security light that you can find in residential areas, industrial structures, and non-commercial buildings.
The lights are usually equipped with halogen bulbs which emit a much stronger light. Additionally, halogen lights tend to conserve more energy compared to most types of exterior security lighting. Newer LED floodlights, like this one from GDIdea, conserve even more energy.
Fluorescent flood lights are also commonly used, but they are not nearly as bright. They can be purchased at your local home improvement store. With this type of setup all you need is a couple of fluorescent bulbs, an electrical socket, and a switch.
You can also use lighting fixtures that come with a timer and a dimmer, so you can control how often and how long these lights are on for. Of course, in order for this type (or any other type) of light to be effective, you need to properly maintain your security lights and keep them clean and free of debris.
High Intensity Discharge Lights
HID lights emit a strong light compared to other types of security lights. They can also cover larger areas and are perfect for large residential and commercial structures. Of course, they are more expensive and also consume far more power.
Spotlights
Spotlight is a general term that's used for a light that only points in a single direction. You'll find a variety of styles and sizes to choose from. Get one that covers the area you need to cover and that provides as much brightness as you need. Spotlights are often used to illuminate driveways, garages, or the rear of homes, patios, and walls.
Types Of Security Lights: Final Thoughts
As you can see, there are many types of security lights to choose from. The best lights are strong enough to provide the type of coverage you need, based on the size of your property and home.
Many pros recommend using a combination of both standard exterior lighting (such as lamp posts and ceiling lights) and security lights (like motion detector lights and flood lights).
When installed correctly and placed strategically, you can easily keep your property and home well-lit, making it very unattractive to any potential intruders, as well as safer for you and anyone living with you or visiting you after dark.
Latest posts by Jackie Bolen
(see all)