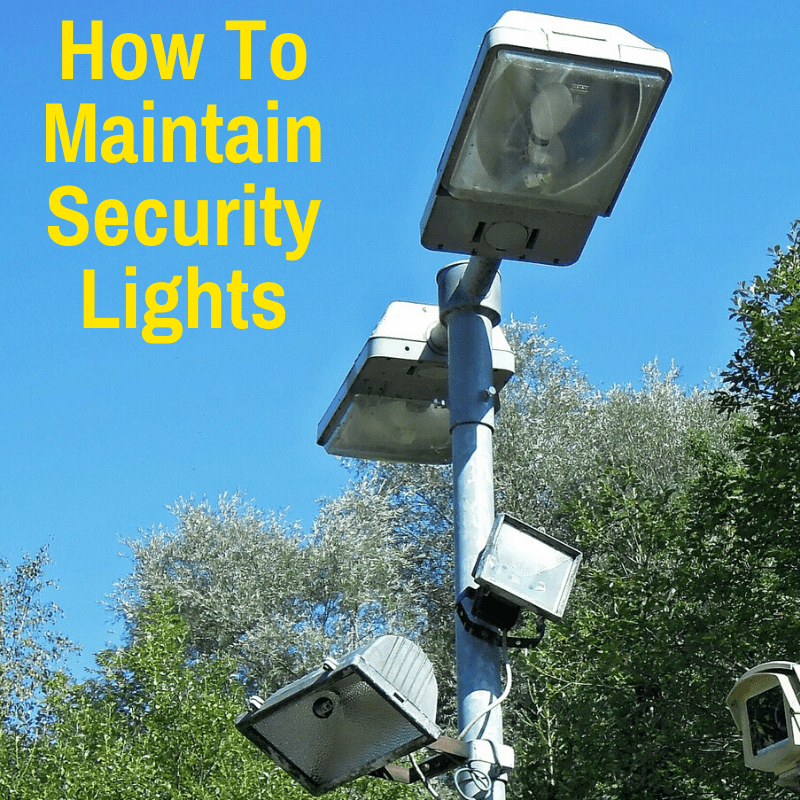 Maintaining your security lights sounds like a pain.
That's why most people put the lights up and then forget about them.
And before too long, they realize that's just not going to work.
Outdoor lights quickly get dirty. That makes them dimmer. Eventually, they stop working altogether.
If you have motion sensor lights, dirt on the sensors means they no longer effectively detect motion.
Luckily you can prevent all of these issues by following a regular maintenance schedule. It doesn't involve much. Mainly, you just need to make sure your lights stay clean.
While you give them a good cleaning, you can take that same time to test the system and ensure everything is in perfect working order.
Here's what you should be doing to make sure your security lighting system is functioning properly
Keep Your Security Lighting Running
Security lights are designed to keep your yard and your home brightly lit, in order to deter any potential intruders from attempting to break in.
Having a well-lit yard and home takes away any potential hiding spots. This makes the intruder's job more difficult, because it increases their risk of being spotted.
But this only works if the light is bright and obvious. And one thing that can make your lights less bright is dirt. The fact that clean outdoor lights are more effective (and attractive) than dirty ones is a no-brainer.
Your security lights, such as the Ring Floodlight Camera, should be kept clean at all times. Learning how to maintain security lights properly is fairly simple. The key is to establish a routine and have a plan concerning regular cleaning and system checks.
Optimal Performance
I recommend cleaning the bulbs, shields, and light fixtures of your security lights at least once a month. Use that time to also test them to ensure they're working properly.
You'll notice immediately what a difference a clean light can make. Outdoor security lights are exposed to the elements and all gather all types of flying debris, dust, dirt, and dead bugs. Dirty light bulbs do not shine as brightly as clean ones, so cleaning an especially dirty light results in an immediate improvement.
Before you clean the lights, make sure that all of the light switches and controls have been turned off. You also want to switch off the circuit breaker that controls the lights.
Deep Clean
There are many different types of security lighting, but it does not matter if you have flood lights or basic LED lights installed around the perimeter of your yard. All lights must be deep cleaned regularly.
If you have flood lights, you'll probably need to grab a ladder in order to be able to access the light fixtures. Ensure that the ladder is tall enough so that you can easily reach the lights.
You'll need to remove any grills, shields, or globes, using the appropriate tool. Then unscrew and remove the bulbs and set them aside.
Grab a couple of large buckets and fill one with dish soap and hot water. Fill the second bucket with plain hot water only. Place the grill, shield, or globe (if present) that you've removed in one of the buckets (the soapy one is probably best).
Use a sponge or rag and dip it in the hot soapy water. Wipe down parts of the light fixture that you were not able to remove. Be careful. You do not want any water to get in the open light socket.
Next, use the sponge or rag to rinse off the pieces you removed. Make sure that you remove any loose pieces from the bucket, such as the shields or grills, and wipe down and rinse them as well.
Some systems will need additional care, especially those that come with motion detector features.
You'll want to pay special attention to the sensors and ensure they're spotless, otherwise they may lose some of their efficiency and will not go off when they should. Or your outdoor motion sensor light stays on constantly.
Final Touches
You can use wax or apply a polish to any of the metal parts once they're dry. After rinsing the shields or glass globes in the hot water, you can also use a glass cleaner to bring out their shine.
For the light tubes are bulbs, take a damp rag and carefully wipe them off, being mindful to avoid the screws at the end. Obviously, you do not want to screw a wet light bulb into the socket.
When you're done, reinstall the bulbs then reassemble the light fixtures. Once everything is in place, switch on the circuit breaker and flip the light switches back on.
What To Avoid
Certain types of detergents can discolor copper and bronze fixtures. Wipe bronze or copper fixtures down using a damp cloth, instead of submerging the fixtures and components in a bucket. Only use soap when absolutely necessary.
Even the best security lights need regular care and maintenance, otherwise the sensors will not work efficiently and the lights will not shine as brightly. Shoot for a regular wipe down of your entire system every one to two weeks.
In many cases, a deep clean will be required once every one to two months, depending on where you live and the type of weather conditions your lights are regularly exposed to.
Monthly Maintenance
Security lights are an easy way to add some much-needed protection around your home and yard. They are relatively inexpensive and after you have installed them, they require little maintenance.
Basically, you can just sit back and let them do their work. Most systems work very efficiently and require little upkeep. But there are a few regular maintenance tasks you should perform, in order to keep you lights running longer and shining brighter.
You have to remember, outdoor security lights have to withstand a beating. They get hit by rain, snow, extreme temperature changes.
Whatever type of weather you get in your area, your lights have to withstand it all. It is only natural that this constant exposure to the elements can cause the lights to stop working as well (i.e. to become dim) or to stop working altogether.
Fortunately, it's very simple to maintain your light system and keep it running optimally.
We generally recommend taking your light system apart and cleaning it thoroughly once a month. But if you live in an area that is subjected to dust storms, high winds, rain, or snow, weekly maintenance may be required.
For a simple clean up, spray a soft cloth with rubbing alcohol or window cleaner and carefully wipe down the bulbs.
This will remove the bodies of insects, dust, and any mildew that may have gathered over the bulb or the light fixture's sensor. Avoid using harsh detergents and chemical cleaners on the sensitive finishes.
If your system is equipped with a motion detector sensor, then you also want to ensure that the sensor does not have dirt, debris, dead bugs, or even fingerprints covering it.
To clean the sensors, put a little dish soap on a cotton swab and use circular motions to remove any tiny particles on the surface of the sensor.
Troubleshooting System Malfunctions
Whether you clean your lights weekly or monthly, that cleaning time is also a great time to check the system and ensure it's working properly. If you find it is not functioning the way it should, here are some quick fixes to can get your system back on track.
If you have a large system, try switching the lights to manual, to bypass the sensor. If any lights still won't turn on, there's a good chance it's just a burnt-out bulb and all you need to do is change it. Depending on the type of bulbs, you may need to change them as often as once every month.
If the light works when set to manual, but does not come on otherwise, try adjusting the sensitivity setting on the motion detector sensor.
If the light works, but it seems dim, check the light's brightness setting before doing anything else.
Resetting the motion sensors will solve a surprising number of issues
If you've tried the simple fixes and nothing has worked, your best bet is always to contact the manufacturer or the store where you bought the lights.
Reinstalling A System
Sometimes, you just need to reinstall the whole system. If your light does not cover as much space as you expected, it may just be mounted too low to the ground. And if the motion sensor does not detect motion, it may be mounted too high.
Remember, the higher the light is installed, the larger the coverage area. At the same time, the light gets weaker as you hang the light higher and the motion sensor has a more difficult time detecting motion.
If you want to increase the coverage area of the light, you'll need to raise it to a higher location. If, on the other hand, you think you might need to lower the light, because it is not detecting motion correctly, we recommend first testing to see if lowering the light will help.
To do this, simply take down the fixture and set it on the ground, while leaving it connected. Now try to trigger the motion detector sensor. If the lights switch on now, then you know your issues with the motion sensor are down to it being too far  away. You'll want to move the light closer.
Maintaining Security Lights: Final Thoughts
Learning how to maintain your security lights ensures they stay in optimal working order. Dirty light bulbs become dim and thus less effective at lighting up your property. IT is important to clean them regularly.
If you have lights with motion detector sensors, you'll want to focus some of your maintenance efforts on the sensors as well. Dirty sensors become less sensitive and thus less effective.
Don't let laziness compromise your security. It does not take much effort to care for and maintain your security lights. Put forth that minimal effort to ensure that your home and family remain well-protected at all times.
Latest posts by Jackie Bolen
(see all)