The SANSI motion sensor outdoor security LED floodlight is a great choice for a smaller yard. It has a smaller range than many competing lights, but it also uses far less power.
This light highly adjustable, letting you set the sensor sensitivity, the lighting duration and more. It's a great value fort the price, but due to the smaller range, we would only recommend it for a small property, or as one of many lights for a larger property.
Sale

SANSI 36W 3600LM LED Motion Sensor Outdoor Light, 50,000 Hrs Lifespan Security Light, 200W Equiv...
High Brightness and Sustainability: The Bright Series motion sensor outdoor lights provide 36W, 3600...
Multiple Modes Control: AUTO(Motion Sensor Mode), Detect ambient motion to turn on the light. The...
Longer Lifespan: The Bright series adopts the Sansi patented ceramic temperature control system, and...
IP65 Weatherproof: This flood light is composed of the high-quality PC. which has good...
Quality and Guarantees: ETL listed and certification, IP65 Waterproof,quality and safety verified, 5...
SANSI Motion Sensor LED Lights Review: Overview And Features
The upgraded Sansi LED security lights feature two lights in one system, with each light having a total of 4 LEDs. Combined, they emit an impressive 3600 lumens.
These bulbs are energy efficient, using only 36 watts. Combined with the motion detection settings, this energy-efficient system is a great buy if you're looking for affordable security lights that won't cause a major increase in your monthly electric bill. It is also a versatile system, that's highly adjustable and easy to use.
Key Features
Adjustable light positions
Choose from three sensor modes
Can choose from three different light activation times
Low price
Powerful 3600 lumen output
Design
This SANSI outdoor security light is a great value, considering how versatile and adjustable it is and the many setting options you have to choose from. The system consists of a couple of large LED array lights that can be positioned left to right and up or down.
Located at the bottom of the housing you'll find the sensor, which can also be positioned based on personal preference. The light itself is made out of plastic, which is a plus since you won't have to worry about the light rusting when left out in rainy weather.
Each side has four LED lights. Combined, the lights give you the same brightness as a 250 watt incandescent bulb, while only consuming 36 watts.
Located below the motion detection sensor are the basic controls, which consist of a slider that allows you to choose how long the lights will remain active once they're triggered. You'll also find a range dial that allows you to adjust the light's sensitivity.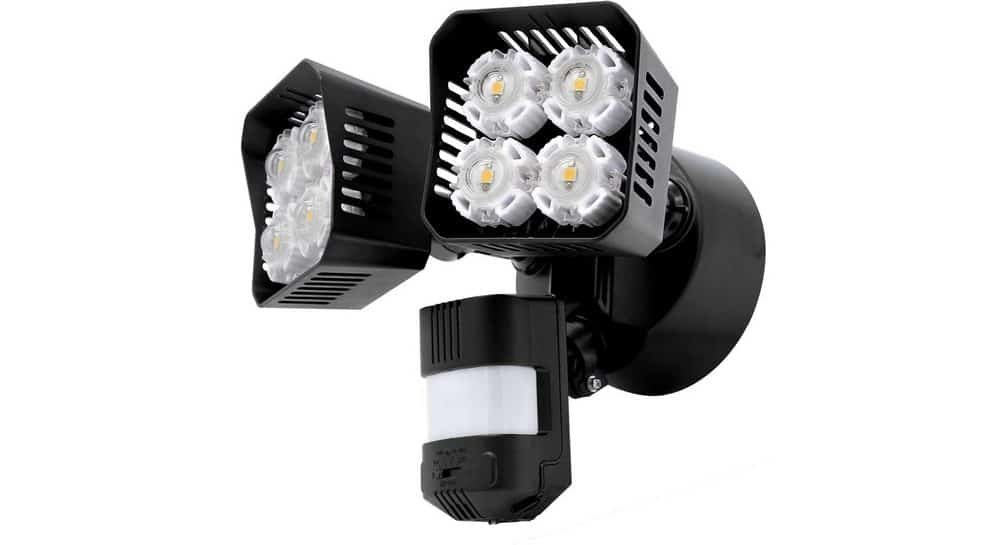 Settings
The system's built-in motion detection settings allow you to choose the range of the lights and how sensitive they are to any object that comes in their path. This allows you to customize your security setup in terms of both coverage and how often or how easily the lights can be triggered.
The lights will switch on when they detect any type of movement in their path and shut off automatically after sixty seconds, if no further movement is detected. Lower-priced systems only have a single setting, so the ability to increase or decrease the sensitivity is a big selling point.
Motion Detection Sensors
The SANSI floodlight has a dusk-to-dawn motion detection sensor design that features a 180° sensing angle and a maximum coverage area of fifty feet. This means the sensors are powerful enough to detect objects up to fifty feet away.
Not only can you choose how long the lights remain on once the sensors have detected movement, but you can also adjust how sensitive the sensors are. This can help avoid false alerts.
If you don't want animals to accidentally trigger the lights and you want the lights to only activate if they detect humans, then you can decrease the sensitivity level.
Placing the lights on the most sensitive setting means they will go on and off all night and can be triggered by stray animals and even the wind. It's also important to always keep the motion sensors clean, since a dirty sensor can cause a dip in performance.
Housing
This light is one of the most rugged out there. The durable housing is designed to easily withstand the elements. It is compact and tough.
The lenses are ceramic sealed to prevent water from entering, while also promoting top of the line heat dissipation. This system can handle anything that mother nature throws at it, so it can remain fully exposed in high wind conditions, rain, snow, freezing temperatures, and intense heat.
Coverage Range
As mentioned earlier, the SANSI system has a coverage range of fifty by fifty feet, but the lights must be mounted thirteen feet high to fully take advantage of this.
The lights cover the most area when placed at a downward angle and they work to minimize shadows, removing any spaces for intruders to hide. If you have a larger property, then the smaller than average coverage range may be a deal-breaker.
But if you have other security lights on your property, or a smaller yard, then the SANSI lights will work out well.
Warranty
This outdoor security light is covered by an extensive five-year warranty, which gives you another reason to purchase this system, because the manufacturer clearly stands behind its products.
Sensing Modes
This system has three sensing modes to choose from. The first is the test mode.
To use it, change the on-time switch to the test position. When people or moving objects cross the sensor's path, the lights will switch on for a period of five seconds. You want to test your lights periodically to ensure that they're functioning properly.
The second mode is called the motion sensor mode, which is basically the working mode. This feature only works at night. If objects or people cross the sensor's path the light can remain on for either one, five, or ten minutes, based on your preference.
The third setting option is called the manual mode. To use this, switch the light switch off for one second, before toggling it between manual and auto mode. Using this mode allows you to leave the lights on for as long as you choose.
Advantages And Disadvantages
Pros
Highly adjustable
Choose from three sensor modes
Includes eight LED lights
Warranty
50 by 50 foot coverage area
Bight lights of 3600 lumens, with low 36w power usage
Cons
Tricky installation process
May not be the best system for larger properties
Performance
The system works as well as the manufacturer claims, but it can require some tweaking and experimenting on your part to get it to the right sensitivity level and to get the most out of the light's coverage.
Considering it's only able to cover up to fifty by fifty feet, you may need to purchase an additional set if you have a larger property. If you have existing lights, including a spotlight and standard landscaping lighting, then this system can be a great addition.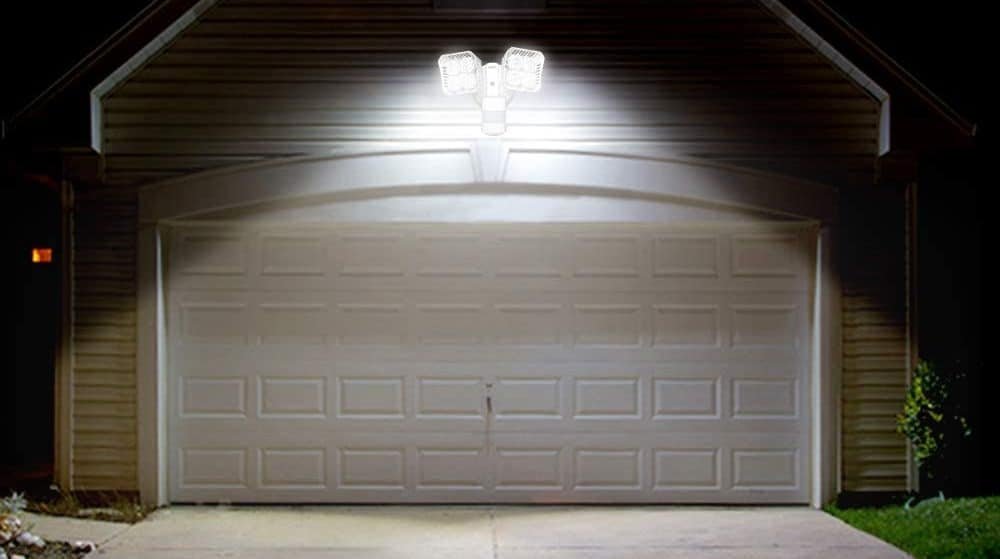 When the sensors are turned to the highest sensitivity level, you can expect frequent false alerts since even a windy night can cause this light to go on and off constantly.
At the lowest sensitivity setting, the light will only switch on if a person walks into the sensor's path, which is the way it should be.
Overall, aside from a tricky installation, the lights offer the type of adjustability, power, and versatility that most homeowners are looking for.
Installation
The manufacturer recommends installing the lights at a height of thirteen feet, in order to get the most coverage out of the system. However, how high or low you mount the lights is really up to you, based on how much area you want to cover.
The lights can be mounted at a minimum height of three feet. Keep in mind that the manufacturer also recommends installing the lights higher to prevent intruders from accessing the lights and shutting them off.
The installation process can be lengthy if you have no wiring experience, in which case I recommend having a professional do the installation. This is a wired system, so you'll need to know your way around a circuit breaker to correctly install it. If you don't then you'll need to take into consideration the extra cost that comes with having a pro handle it for you.
Sansi Outdoor Lights Vs JJC LED Security Lights
The competing system that gives the Sansi lights a run for their money are the JJC LED Security Lights. These outdoor LED floodlights come equipped with a powerful motion detection sensor system with a light-sensing angle of one hundred and eighty degrees. This JJC fixture also comes with three working modes including an auto mode, on-time mode, and dusk to dawn mode.
As you can see, this system is just as adjustable as the light system by Sansi, but it only gives you 3000 lumens of output, compared to SANSI's 3600. It's available at a lower price, but it can't quite compete with the Sansi system's power and overall quality.
Read our full JJC Outdoor Lights review for more information.
SANSI Outdoor Security Lights: Conclusion And Rating
The Sansi LED security lights provide exactly the type of protection you need for smaller properties. When correctly installed, they can cover up to fifty by fifty feet of space.
This is a highly adjustable system that allows you to fine-tune the sensitivity of the motion detection sensors, how long the sensors remain on, and how much ground you want to cover.
The installation can be tricky if you have no wiring experience, in which case you'll want to hire a professional.
The four powerful LED lights provide more than enough light to keep your home and yard well-lit, working to deter any potential intruders. We consider this the best buy outdoor flood light and gave this model a rating of 4.8 out of 5.
Latest posts by Jackie Bolen
(see all)
Last update on 2023-12-02 / Affiliate links / Images from Amazon Product Advertising API