Are you looking for a reasonably priced home security solution that's the total package? Then you'll probably want to consider Swann security cameras.
Read our buying guide packed with information to help you decide if they're the right surveillance cameras for your needs.
Swann Security Cameras Review
If you're looking for a total home or small business security package, then you would do well to consider Swann Security Cameras. This specific package comes with 6 outdoor cameras that connect up to a hard drive.
There are no fees for storage, and you can also hook up the cameras to your mobile phone and get things like push notifications, 2-way audio and the ability to turn on a siren.
Because the cameras are connected via ethernet cable to the NVR, it can take a while to get this thing up and running. However, most people are able to do it in a few hours.
If you want a faster, easier solution, then you may want to opt for wireless security cameras. However, the negative to these is that they can be hacked into and also that you need the Internet.
Swann Security Camera App
Besides that, the camera quality is excellent and the motion detection and heat sensors work well. If you hook this system up to your Internet network, you can get push notifications on your phone via an app that is quite well designed. It's compatible with both Android and iOS devices.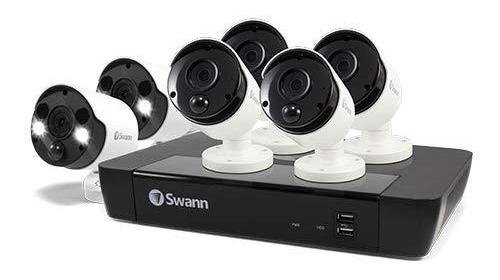 Key Features
Contains 6 cameras (1080P), and 8 channels
4K Ultra HD
Records footage on an NVR hard drive (2 TB)
Heat sensors
Motion sensors (true detect PIR sensor)
Auto recording when motion is detected and push notifications to mobile phone via Home Safe View App
Siren that can be sounded via phone
2-way audio so you can talk to suspicious people via phone and scare them off
Night vision
Bright sensor lights that turn on when motion is detected
Weatherproof cameras designed for outdoor use
You have the option to add 2 more cameras
Can link the hard drive to Drop Box for cloud storage
No monthly storage fees, ever
Easy to use mobile app (Android or iOS)
Where Can I Buy It?
You can easily find this top-quality security camera on Amazon. Check now for the lowest prices and don't forget to see if this product is eligible for free shipping with a Prime membership.
Swann Security Camera Pros
Able to extend the system out to 8 cameras
2-way audio
Motion detectors work well
High-quality camera
No monthly fees for cloud storage (can connect to DropBox)
Siren that can be turned on via phone
Weatherproof cameras
Swann HD Security Camera Cons
Can be difficult to view the footage on a laptop or desktop (the company focuses on the cell phone app)
The includes Ethernet cables are too short for some people
Technical support could be better
Can take a long time to set up
Some people prefer a system that runs on Wi-Fi (consider the Yi Outdoor Camera)
Swann Surveillance Cameras: Customer Reviews
"It takes a while to install these cameras because you have to run cable from the cameras to the hard drive. But, once you've done that, it's a nice set-up and does exactly what you want it to do: record footage to a huge hard drive, and also send you notifications to your phone."
"6 cameras is enough to cover my property, but I like the option to add 2 more should I require that. It's a nice total package at a pretty reasonable price. I paid a local security company to come set it up for me and it took them under an hour. It's a good option for someone who doesn't really know what they're doing and didn't cost that much."
"For the money? I'd probably stick with Lorex Security Cameras. They have similar products, but I think the technical support and customer service from Lorex is far better than Swann."
Read More Customer Reviews on Amazon
8 Channel Swann Security Camera Set-Up, Installation And Review
What Other Options Are There For Home Security From Swann?
There are a wide range of options for Swann Security Cameras. You can find wired security systems like this one, wireless cameras that rely on WiFi (but must be hooked up to a power source) and finally, battery-operated cameras. You can see some of the top options for single cameras here:
Does Swann Have An Indoor Security Camera?
If you're looking for a smart home security camera for indoor use, then you might want to consider this one from Swann as well. It's wireless, comes in a pack of two and is compatible with Alexa. It's the ideal way to keep an eye on pets, young children, elderly parents, or your home when you're away on vacation.
Set up is very easy and it's designed to be plug and play. Plus, you can see what's going on 24/7 via the phone app. It's a nice solution for a large number of situations when you want to see what's happening inside your home when you're not there.
Compare Home Security Cameras
If you're looking for some HD cameras to protect your home, or business, there are a number of choices you might want to consider. Here are some of the top picks: DIY Home Security Cameras.
Swann Security Camera Setup
Find out all the details you need to know about setting up these cameras in the video below:
Swann Surveillance System Review: Conclusion
If you're looking for the total package for home security, then Swann might be a good choice for you. This specific package comes with 6 cameras, and can be expanded up to 8 cameras. However, the company makes a massive range of home security devices and they certainly make cheaper options that come with 1-2 cameras.
As far as the camera quality goes, it's top-notch. The night vision and motion sensors, for example are some of the best in the business. We love the siren and 2-way audio as well so you can talk to, or scare off intruders. It's also convenient for people making deliveries or tradespeople for example.
Just about the only thing we don't love is the included cable. Numerous people have mentioned in reviews that the cables are low in quality, lack flexibility and are too short. This makes installation harder than it needs to be. If the company rectifies this (not a hard fix at all!), then this system would certainly be one of our top picks for home security cameras.
Shop Now
Does this sound like the right home security device for your needs? You can easily find it on Amazon. Click the button below to find the lowest prices.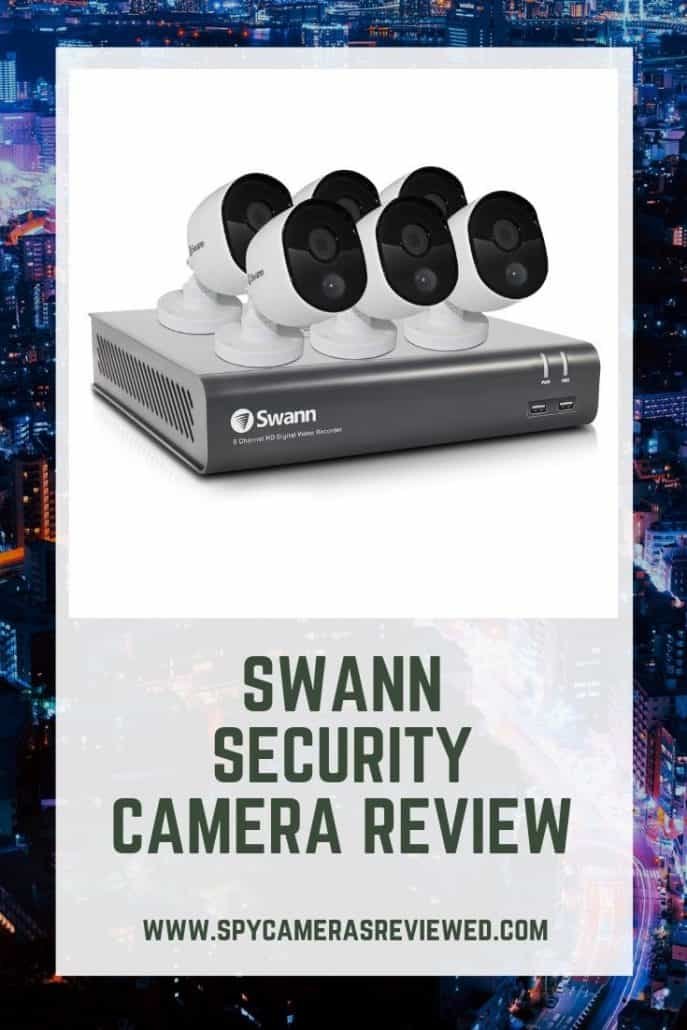 Swann Security Camera: Your Thoughts
What are your thoughts about these top-quality home or small business security cameras from Swann? Leave a comment below and let us know.
Also be sure to give this article a share on Facebook, Twitter, of Pinterest. It'll help other people, like yourself who are interested in home security find this useful resource.
Last update on 2023-12-06 / Affiliate links / Images from Amazon Product Advertising API