Are you looking for a top-quality security system at a reasonable price? Then you should consider the Smonet security camera. It has a ton of features that you'll love, along with some great customer reviews.
Read our buying guide packed with information to help you decide if this is the right home security solution for you.
Smonet Surveillance Camera System Review
Do you want to keep your home, family or business safe? Then you'll want to consider a security camera like this one from Smonet. What sets this one apart from the rest is the very reasonable price, but a ton of features that you'd expect to find in the more expensive cameras.
We especially like the 2-year warranty, which is a full year longer than much of their competition and also the lifetime of technical support. A company that stands behind their products. We love recommending them.
Keep on reading to find out more about Smonet.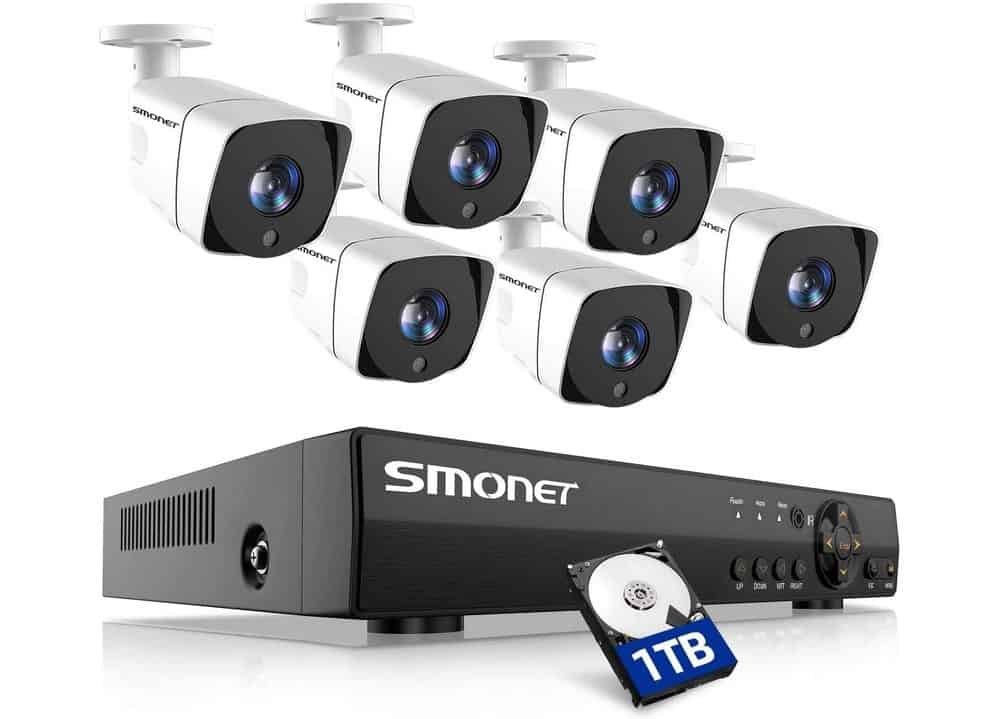 Key Features
1080P cameras (4,6 or 8 camera packages)
8 channel DVR hard drive (1 TB)
Indoor/outdoor use
65 feet night vision
Easy remote viewing with phone app (Danale)
Cameras are waterproof
2-year warranty
Lifetime of technical support
Live viewing and playback options
Automatic overwriting of oldest footage when hard drive is full
Can view all cameras on a single screen (HDTV or computer monitor)
Where Can I Get It?
You can easily find these surveillance cameras on Amazon. Click the button to learn more about them and don't forget to check and see if they're eligible for free shipping with a Prime membership.
Pros
Range of customizable packages
Easy set-up
All required cables are included
Lifetime of tech support
Excellent warranty
Reasonably priced
Cons
Some issues with the Danale App and setting it up on multiple devices (a big cumbersome)
The cameras have lower resolution than some of the more expensive options on the market
Some issues with viewing it in Windows
Motion detection can result in some false alerts
No audio
Some people may prefer wireless security cameras
Cables can be difficult to hide to not make this system so obvious
Smonet Camera System Video Review
Smonet Security Camera System: Customer Reviews
"Set up was pretty easy and all the cable that you need is included in the box. Video is clear, remote viewing via phone app works well. Just about the only negative is that there's no audio capability, but this isn't really a deal breaker in my opinion and overall, it's a great system at a fair price."
"Reasonably easy set up in a few hours. Within the first month, I'd already caught someone trying to break into my house. I immediately called the police and there were able to get there quickly and apprehend the burglar. Worth the money and way more!"
"Cameras are strong and seem to be well-built and durable. They are only 2 MP, so while the image is reasonably good, you won't be able to do things like read license plates from a long distance. I like that 6 cameras are included, but that you can add up to 2 more cameras if you find that you don't have enough coverage."
Smonet Security Camera Setup
There are a few simple steps you need to follow to install these security cameras. The company claims that it's basically plug and play. In our experience, and in the user reviews, it is actually this easy. Here are the basic steps you need to follow:
Connect the DVR hard drive to a power supply

Connect cameras to a power supply with included cables

Then connect the cameras to the DVR with BNC cables

Connect the DVR to the Monitor or HDTV and WAN Router
For remote viewing, download the Danale App from app store and follow the directions to get it set up.
Compare Home Or Business Security Cameras
Besides this system from Smonet, there are plenty of other options on the market today for home or small business security solutions. They range from wireless to wired, cloud or hard-drive storage and more. Here are some of our top picks for DIY security cameras.
Smonet Security Camera Review: Conclusion
As far as mid-range security cameras go, this one from Smonet is a good pick. It has a reasonable picture quality and is quite easy to set up.
Just about the only thing we don't really like about it are the fact that the software is a bit cumbersome to use, although it does work better than some of the lower-end surveillance cameras out there. Plus, some people had issues with the motion detection being too sensitive and getting many false alerts via email and push notifications.
If these things are an issue for you, you may want to spend a bit more money and go with something like a Lorex Security System. They offer a huge range of options and have all the things like software and the motion detector running smoothly. Plus, they offer the same great customer support and are also a DIY solution.
Shop Now
Check out all the options for Smonet security cameras on Amazon.
Smonet Camera System: Your Thoughts
What are your thoughts about the Smonet security system? Leave a comment below and let us know what you think.
Also be sure to give this article a share on Facebook, Pinterest or Twitter. It'll help other people concerned about home security, like yourself find this useful resource.

Latest posts by Damon Kennedy
(see all)
Last update on 2023-09-29 / Affiliate links / Images from Amazon Product Advertising API