So you have decided to add a security camera to your home or business. This is a feature that will add peace of mind and a shield for your property. Many people opt for a professional firm, but this often comes with a long term contract, installation fees, and usually a long list of other hidden costs.
However, DIY cameras have come so far that you do not need to be an electronics expert to install or even run one of these cameras. With the technology and apps today, you can also run your whole security system from your smartphone.
But this also means that there are a lot of choices on the market. The Yi Security Camera is a recommended model you should look at as an option. This Yi Security Camera Review is here to help!
Yi Security Camera For Outdoors Review
This camera is for both indoor and outdoor use. It is fully weatherproof and has a lot of handy features.  The images are high resolution at 1080p with a 110-degree motion range. It has first-class night vision as well as infrared beads to allow up to 50 feet of view. It is easy to install and hook up to your smartphone.
Key Features Of The Yi Camera
Resolution: 1080P HD recording quality.
Infrared Night Vision: 12x850nm IR LEDs
Audio: Two-way audio
Storage: Micro SD Card and integrated cloud storage
CAMERA RECORDING
This camera records up to 20 frames per second, which delivers an extraordinarily smooth, high-quality record. It has superior night vision with a 110-degree lens and a long focal length of 3.9. This delivers vivid images in 1080p resolution.
This unit has a sensitive motion detection system allowing instant alerts. However, it has also been designed with a smart algorithm that reduces false alarm alerts so that you get the right alerts of intruders that are not wanted.
TWO WAY AUDIO
The two-way audio system is integrated with the mic on your phone and a high power speaker on the unit. This allows you to communicate with persons on the other side, remotely. The built-in mic and built-in speakers both have noise canceling making the communication clear at both ends.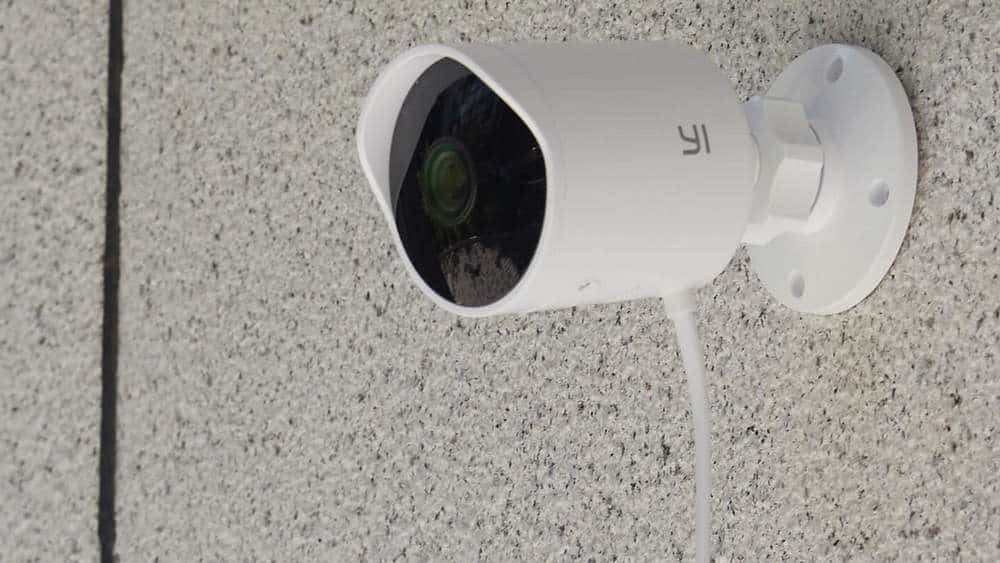 MONITORING SERVICE
The easy to install and use the app is directly accessible on your phone. It is also easy to customize alerts as to when you want to receive these. It allows you to view what is happening on your property in real time.
You can also add more than one camera onto the system so that you have complete peace of mind. The app can support up to 12 devices on one app. It supports both Android and iOS. It is also integrated with PCs that are windows XP and above MAC OS.
Shop Now
Does this Yi Camera sound like the right home security device for you? You can easily find it on Amazon. Click the button below to check for the best prices and also to see if this product is eligible for free shipping with a Prime membership:
What We Liked About The Yi Security Camera
The Yi Security Camera delivers a high-resolution recording that is clear in all directions.
It is fully weatherproof and resistant to low and high temperatures.
The universal ball mounting allows the ability to direct the camera to capture an angel needed.  With a 3.9mm focal length and the 110-degree lens, it will enable a wide angle of coverage.
The night vision has 12 infrared LEDs that allow up to 50 feet of viewing distance.
Two-way audio has noise-canceling features that remove environmental noise and delivers a superior clear sound.  You can then easily communicate with arriving guests or deter unwanted visitors.
Easy set up that takes less than 1 hour to do.
What We Didn't Like About The Yi Security Camera
The cloud system requires a subscription. It does come with the first month free, and you can use an SD card if you prefer this option.
Some issues with the durability of the cameras
Customer service is sometimes slow to respond to problems
The design makes them difficult to place discreetly around your property if that's what you desire
Yi Outdoor Security Camera Video Review
Yi Cameras: Customer Reviews
"For the price, it's really, really hard to beat. And we didn't need a security system with all the bells and whistles, so we opted for this simple, affordable one. Didn't need a cloud subscription as the memory cards are adequate for our needs. Just about the only complaint is the motion sensor, which can sometimes be a little bit too sensitive."
"Awesome camera, and I now have 6 Yi Cameras around my home, some indoors and some outdoors. The app could be a little bit more user-friendly, but that's basically my only complaint with this thing. However, for the price? You really can't beat it and I'm always happy to recommend a reasonably priced product that does what it says it'll do."
"Easy to install and the audio and video quality are pretty good. I love how it connects up to my phone app so I can see what's going on at home when I'm not there, get snapshots, etc. Overall, one of the best purchases that I've made in a long time."
Read More Customer Reviews and Ratings on Amazon
What to Expect With The Yi Outdoor Camera
You can expect a camera that performs well indoors and outdoors. It delivers 1080p images in all weather and temperatures. Also, easy to access footage via computer or smartphone. Basically, it's an affordable security camera that is easy to set up and works well for most people. Seriously, it's one of the most hassle free outdoor camera solutions on the market today.
Who Is It For?
This is for anyone looking for an easy to install monitoring system for their home or office. If you need indoor and outdoor cameras on the same network, then this works really well if you combine it with the Yi Smart Home Camera. It allows easy monitoring on a computer or a smartphone.
Basically, a wifi camera is ideal for anyone who wants to access a live feed of what's going on at another location. Or, someone who wants to get alerts via smartphone in case motion is detected. Besides just seeing what's happening, the system also records what's happening so that you can use it later in case of crime, etc.
How To Install It
There are only a few steps you need to know to set up your camera.
The first step is to download the YI Home App.
Then pair the camera with the app following the instructions.
It is essential to plan the cable route before you mount the camera so that you can keep it as close as possible to the router.
Mount the device and attach the camera to the mounting base.
Connect up to your WiFi. Once this is done, the camera will automatically connect to WiFi when powered on if you have successfully paired your camera with your phone.
You can now preview the video and if you have any issues connecting then adjust the router's position and camera angle.
There are a few things to make sure you pay attention to:

Avoid direct sunlight
Look for anything obstructing the view such as plants or objects.
It's best to mount your camera within a 10-meter range of your router
Watch this video here for all you need to know from unboxing, to setting up, to making it fully operational.
Is There An Alternative To The Yi Camera?
Amcrest produces a 4MP IP Camera that is approximately the same size as this unit. It is all so waterproof and weatherproof. It comes in a heavy-duty housing in a matte black color. The camera has similar WiFi capabilities and can also link up to your smartphone. It is a little more costly.
Check it out for yourself here:
What about the Yi 1080P Home Camera?
Yi is actually more well-known for their smart home, indoor camera. It's cheaper (by a lot!) than many of the other alternatives. And the best part? No monthly subscription fee is required.
So, if you're looking for an affordable nanny cam, pet cam, or just something to keep an eye on what's happening inside your house when you're not there, consider the Yi Smart Home Camera.
Yi Outdoor Security Camera Review: Conclusion
The Yi Security Camera is a good value for money option. It has all the features you need for a home or office security system that you can monitor on your own.
It is easy to use via your computer or smartphone. The unit is very well constructed and durable so it will allow complete peace of mind for the owner no matter where they need to position the camera indoor or outdoor.
When you compare it to their competition, it comes in as a reasonably priced alternative to some of the more popular, big names like Lorex.
Get Yours Today
If you want to keep your home, family or business safe, then you'll seriously want to consider picking up the Yi Outdoor Wifi Security Camera. Click the button below to learn more about it on Amazon.
Yi Outdoor Camera: Your Thoughts?
What are your thoughts about this top quality outdoor security camera from Yi? Leave a comment below and let us know what you think.
Also be sure to give this article a share on Facebook, Pinterest, or Twitter. It'll help other people, like yourself who are concerned with home or business security find this useful resource.
Last update on 2023-10-03 / Affiliate links / Images from Amazon Product Advertising API