Are you looking for a top-quality hidden spy camera? Then this coat hook hidden camera should be at the top of your list. Read our review and buying guide to help you decide if this hidden camera clothing hook is the right one for you.

Clothes Hook Hidden Camera, NANIBO HD 1080P Spy Camera Clothes Hook Camera Video Recorder Loop...
This Mini Camera looks like a regular clothes hook, nobody will realized this is a camera, it can...
The video captured by this camera is great quality; enjoy this stunning camera and playback your...
Your clothes hook hidden camera is plug and play. No software or added downloads are needed. It...
recording automatically overwrites oldest files if the memory fills up. You'll never miss a thing...
12 months refund or replacement and whole-life technical support. For any problems or questions when...
Review Of The Nanibo Clothes Hook Nanny Cam
If you want to see what's happening in your house when you're not there, consider one of the best nanny cams. It's perfect for keeping an eye on children when you're out for the night, or on a new babysitter that you might not trust completely. It's a top-quality nanny cam that is affordable, and has a ton of features.
"This is a neat little hidden camera that really looks like a coat hanger and nothing more. The camera is pretty easy to set up and use. I wanted to keep an eye to see who enters and exits my house during the day when I'm at work and my nanny is there with the kids."
Or, you may want to consider using one as an office security camera. That way, you can see who comes in and out of your office when you're not there.
Key Features Of The Nanibo Spy Camera
Functions as clothes hook but is also a nanny cam
Comes with a USB cable
Can support up to 32 GB micro SD card
With built-in camera that takes good quality pictures and records excellent videos
Easy to use
AVI video format makes it easy to watch later on any device
Can capture photos from videos
Battery save feature
Motion detection
Stylish design with one large and one small hook
Top quality lens for a mini camera (1080p, 30 fps)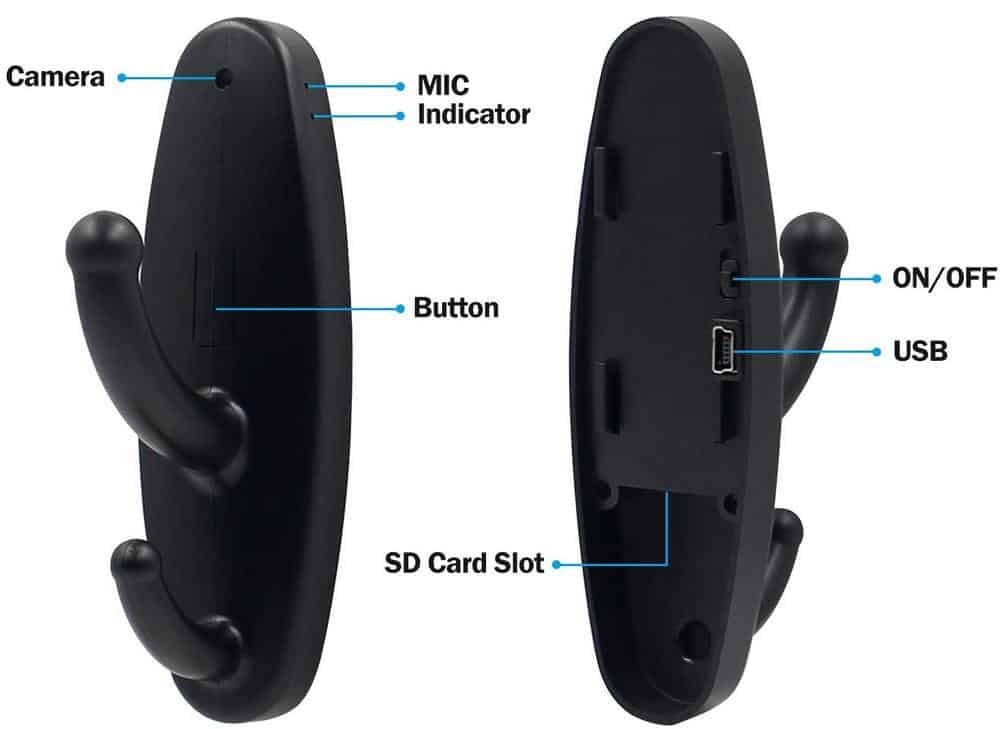 Looks Like An Ordinary Coat Hook
The Hidden Camera Coat Hook looks like an ordinary clothes hook. The best nanny cams are hidden in ordinary items like a smoke detector, USB charger, or picture frame.
This security gadget has many impressive features. It has a built-in camera that's hidden for discreet surveillance. You can guarantee uninterrupted and clear video-recording or photo-taking using this clothes hook/camera. It supports up to a 32 GB micro SD card where you can store your photos and videos.
"I really love this clothes hook spy camera! My camera is equipped with 16 GB of storage, motion activated DVR and has audio function capability."
Where Can I Get It?
This clothes hook hidden camera is available on Amazon. Click below to head there now.
Compare Styles Of Nanny Cams
There are many different types of nanny cams. The one thig they have in common is that they disguise the camera as an everyday object so that no one would ever suspect they are beign watched. The camera can be hidden in smoke detectors, water bottles, picture frames and many more items.
Check out our article on the top nanny cameras to see the most popular objects these hidden cameras can be disguised as.
Cons Of The Nanibo Hidden Cam
micro SD card is not included
Not considered as a heavy duty security camera
Just for short term security
Is There Any Way To Detect Hidden Cameras?
You may suspect that your home, or business is bugged with hidden cameras or other recording devices. Or perhaps you think someone is keeping track of your movements via a personal GPS tracker device.
If this is the case, you'll probably want to know if you can detect them. The good news is that it's possible to uncover these hidden spy devices. Here are some of our top tips: How to Detect Hidden Cameras and Bugs.
Learn More About Choosing A Hidden Nanny Cam
Nanibo Clothes Hook Hidden Camera Review: Conclusion
If you are looking for a not-so-heavy-duty security camera that works as efficiently as the high-quality ones, consider this clothes hook spy camera. It is perfect for short-term surveillance for smaller locations like your room, the bathroom or kitchen. Simply hang your towel or pair of pants on the hook as if it's just a new addition inside your room.
The Perfect Nanny Cam
Make it appear that you just installed something you need to hang your worn clothes for re-wearing. This is ideal not just for those with naughty kids at home, but also those who want to pay extra attention to their nannies who they suspect to be doing something strange with their kids.
Easy to Install
Protecting your things inside your room or guaranteeing the safety of a specific area at home need not be complicated. It is very easy and effortless to install this device. And even if it is small in size and light in weight, this security gadget records and takes good-quality videos and photos.
Catch Trouble When It Happens
Therefore, you can clearly identify faces and movements you suspect to be strange. For short-term surveillance, trust this device that won't fail you in catching doubtful events inside the house.
Shop Now
Go to the Amazon page to purchase the clothes hook nanny Camera today. The link below will take you there.
Nanibo Clothes Hook Nanny Cam: Your Thoughts
What are your thoughts about this top-quality nanny cam coat hook? Leave a comment below and let us know what you think about it. Also be sure to give this article a share on Facebook, Twitter, or Pinterest.

Latest posts by Bobby Miller
(see all)
Last update on 2023-12-06 / Affiliate links / Images from Amazon Product Advertising API