In recent years, there has been a huge rise in the number of cases of identity theft.
Around 49 million people have reported falling victim to crimes under this category. Identify fraud caused a total loss of approximately $56 billion in 2020 alone.
This spike in identity theft has caused more and more people to think seriously about how they can better protect their identity.
And what they can do in the event that their identity does end up being stolen.
This article will answer all of the questions you might have about identity theft. We hope to equip you with enough knowledge that you're armed adequately, and can keep your identity safe against theft or fraudulent crimes.
What Is Identity Theft?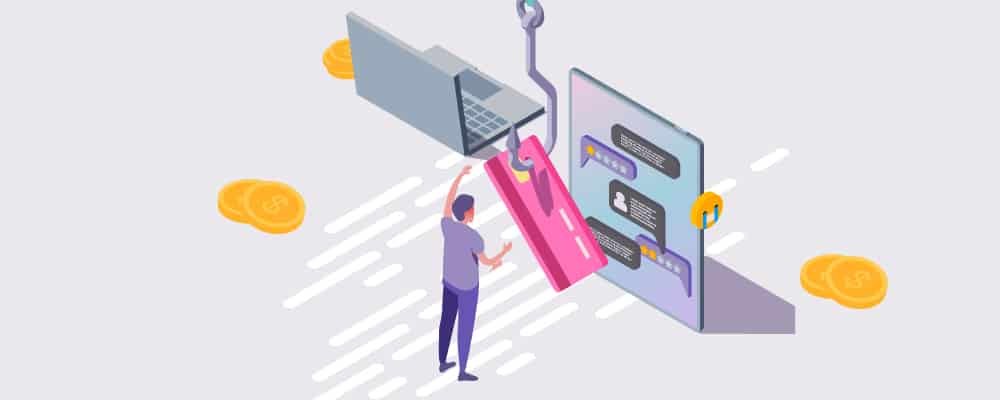 Identity theft is when someone who isn't you steals your personal information, and tries to use that information for various ill-intentioned purposes.
The stolen personal info can include details like your home address, your social security number, or your birthday.
A lot of the time, someone attempts to make fraudulent purchases in your name, steal money from your bank accounts, or receive medical treatment and services in the hope that you (the real you) will be picking up the bill. They might also:
Open a new bank account or take over existing accounts
Apply for new credit cards and loans
Purchase goods and services in your name
Acquire legitimate documents like a passport or driving license using your identity
Apply for mobile phone contracts
Remember, identity theft is a criminal offense. If you use someone else's information for any of these purposes, it's considered fraud, which could land you up to 15 years in prison. It is something that can happen to anyone, even if you live in one of the safest cities in the USA.
How Does Identity Theft Happen?
Some of the most common ways people find themselves victims of identity theft include:
Lost Wallet
This gives someone else access to all the information stored in your wallet and the cards you keep inside it. It's advisable to leave some of your cards at home when you go out, so there's less risk of losing them all at once.
Stolen Mail
Mail can be either physically stolen or re-directed to a different address. Redirecting it can provide a vital and unending (until you realize you're not getting your mail, that is) source of information for identity thieves.
Using Public Wi-Fi
Hackers can use public Wi-Fi networks to watch what you're doing online and copy information that you type in to gain access to your accounts.
Data Breaches
Even the big companies aren't completely immune to data breaches – just think about the Equifax credit bureau breach of 2017. The release of such sensitive information can provide a goldmine for identity thieves.
SIM Card Swapping
Certain technology can be used to clone or take over your SIM card number. The thieves can then re-direct your calls and texts, or deactivate your phone altogether.
Phishing Or Spoofing
Arguably one of the worst ways to fall victim to identity theft is being tricked to give out your personal information. Unfortunately, con-artists can manipulate websites or email addresses to appear like they're coming from a trusted source, which they then use to get you to disclose information.
Skimming
Skimming is when a small device is used to get close to your credit card (or mobile phone if you have a 'digital wallet' set up) and scan it for information.
Phone Scams
Similar to phishing, phone scams attempt to get you to disclose personal information by pretending to be someone you trust, like a relative or friend.
Looking Over Your Shoulder
This one's as simple as it sounds, so watch who's behind you when you're typing in your passwords or any other sensitive information!
Malware
Lastly, there's also malware that can be sent to you in the form of a link to another website or an email attachment. This can then track your movement online, as well as using a keylogger to get your information, like passwords, account numbers, or even your social security number.
Different Forms Of Identity Theft
Most people know not to hand their credit card details out to a stranger over the phone. But that is far from the only danger.
Recent advancements in technology have opened up a whole new world of positive possibilities, but they have also opened up a whole new world of ways to steal your identity.
You shouldn't ever blame yourself for falling victim to these types of schemes, but you can take measures to avoid it happening at all.
The best line of defense is learning more about all of the common schemes. There are several common forms of identity theft and this section will cover them in more detail.
Account Takeover Fraud
Your password, PIN number, and account details can all allow another person to commit account takeover fraud by accessing your finances and making unauthorized purchases.
It's one of the most common types of fraud, and attacks can take the form of:
Internal phishing
Supply-chain phishing
BEC-style attacks
Data exfiltration
Financial fraud
Other ways to perform account takeover fraud include brute-force attacks, where an automated script runs multiple usernames and password combinations until access is gained, or malware that reveals your personal details, like keyloggers and stealers which exposes your credentials as you enter them.
Using the same password for different accounts also leaves you vulnerable to credential surfing, as a breach on one account could result in attackers gaining access to all of them.
Debit Or Credit Card Fraud
Another form of identity theft is through credit or debit card fraud, which has similar consequences to account takeover fraud.
An attacker could even use your card to take over other accounts, or they could simply make unauthorized transactions using your credit card number, PIN, and security code.
This can negatively affect your credit score, if large purchases are made. Luckily, most card providers can cancel your cards pretty quickly, if you suspect credit or debit card fraud. They will also refund unauthorized payments.
Driver's License Identity Theft
Losing your wallet is stressful, but a missing driving license is more than just an inconvenience to replace. Although often overlooked, the personal information displayed on your driver's license makes this a dangerous card for fraudsters to get a hold of.
You could end up with driving violations in your name, if your license is used by someone else. This can even result in a warrant being put out for your arrest if not dealt with early.
Mail Identity Theft
It wasn't always the most skillful way to commit identity theft, but mail identity theft has become a lot more common these days.
From pinching checks out of people's mailboxes to intercepting their new credit or debit cards, there are several ways a criminal could commit mail identity theft. If you're throwing away anything with your personal information on it, it should be shredded or blacked out first.
Online Shopping Fraud
Online shopping fraud is when hackers can access accounts you hold with popular companies and steal your card details (if saved) from here, which they can then use to make unauthorized purchases.
This can happen when you connect to untrusted Wi-Fi connections, such as the free Wi-Fi offered at your local shopping mall. These can be useful when you're on the go and need to connect to the internet, but you'll never know if you're connecting to a hacker's network.
Hackers can also set up fake websites that log the payment information you enter. The hackers then use this info for their own gain.
Social Security Number Identity Theft
Your SSN is even more lucrative than information stolen from current accounts that you hold. Fraudsters can use your social security number to set up new accounts (and with them, new debt) in your name.
Senior Identity Theft And Scams
Seniors are disproportionately affected by identity theft, losing up to $2.9 billion annually (although this figure has increased since), according to the MetLife Mature Market Institute.
Elderly citizens are particularly vulnerable to these schemes, because they are often not as familiar with new technology. A common scam is when cybercriminals claim to be from a trusted source and ask for money or personal details.
Child Identity Theft
Often committed by a family member or family friend, child identity theft is when a child's information is used to set up fraudulent accounts, apply for benefits, or generally rack up debt. This can have serious consequences when the child is old enough to face them.
Tax Identity Theft
No one likes filling out their tax return, but if you're not careful with your social security number and personal info, then someone else may come along and do it for you. Naturally, they will ensure they receive your refund for you, too.
Biometric ID Theft
Biometric ID theft is when your physical appearance or characteristics are stolen or mimicked in order to access your accounts.
It might not be as easy as a fraudster simply saying, "Hey, Siri, unlock my iPhone…!", but this information can be used to commit identity theft, as facial or vocal recognition has become a popular security measure for smartphones and devices with great potential for hackers.
Synthetic Identity Theft
Rather than stealing the identity of one real person, synthetic identity theft blends the details from several people to create a new bogus identity. The criminal can then attribute new accounts to this identity and make purchases, rack up debt, or commit other financial identity-theft-related crimes.
Medical Identity Theft
Healthcare in the US is extremely costly. Some people turn to medical identity theft to receive medical services. They could use your identity, which could see you billed for prescriptions and medical claims you didn't make.
Other
Other examples of identity theft include:
Mortgage fraud
Home title fraud
Passport fraud
How to Check For Identity Theft
Some of the things you should look out for if you think you are a victim of identity theft are:
Lost or missing important documents that have your personal information listed, like a driver's license or passport.
Missing or undelivered mail from your bank or one of your utility providers.
Purchases that you don't recognize or didn't authorize appearing on your statements or credit reports.
Being told you are already receiving benefits if you were to apply.
Receiving receipts or bills for unauthorized purchases.
Having a credit card or other financial service application denied, even though you have a good credit score.
Receiving letters chasing debt that you don't owe.
These are all common signs that your identity may have been stolen, in which case it's important to act fast!
What To Do If You Think You Are A Victim Of Identity Theft
It can be a scary thought to consider that you may have been the victim of identity theft. There are 10 simple steps you can take at this stage to try and mitigate the consequences and perhaps prevent or recoup any financial losses.
File a claim with your identity theft insurance, if applicable: There are many companies that will be able to guide you through the next steps if your identity is stolen, although some insurances or employers also cover this.
Notify companies of your stolen identity: One of the first things you should do is call any company where you have noticed unauthorized or fraudulent activity and inform them of your stolen identity, to prevent further losses.
File a report with the federal trade commission: The FTC can provide useful information to the entities that track down identity thieves.
Contact your local police department: The police don't offer much protection here, but the paper trail you create by filing a report with your local police department may be useful later on. Plus, you could help catch the thief if they're operating locally!
Place a fraud alert on your credit reports: Experian, Equifax, and TransUnion are the three main credit bureaus, and requesting a fraud alert from any one of them will keep a record of the fact that your credit has potentially been compromised.
Freeze your credit: For further peace of mind, you can also request from each credit bureau that your credit be frozen, which will make it inaccessible to anyone trying to access it. This is a good idea for children's credit to prevent child identity theft.
Sign up for a credit monitoring service: Keep an eye out for suspicious activity by signing up for a credit monitoring service that will notify you when any strange transactions are attempted, either for free or via a paid service.
Tighten your account security: Change your passwords and whatever you do, don't use the same one for multiple accounts! Turn on two-factor authentication if you can, use a password manager, and choose passwords that will be hard to guess.
Review your credit reports for mystery accounts: Where usually you are limited to a once-yearly free credit report to check if any suspicious accounts pop up, you can now request one weekly from the three major credit bureaus, until April 20, 2022.
Scan credit card and bank statements for unauthorized charges: Similar to reviewing your credit reports, scan your account statements for purchases you didn't make and note any unauthorized charges for the provider or institution to see.
How To Prevent Identity Theft

It can be tricky to keep your identity safe in the technologically advanced world of today. Here are a few key tips on how best to prevent identity theft.
Freeze Your Credit
Freezing your credit is a no-brainer, as it limits anyone from accessing your record and therefore prevents new accounts or credit files from being opened without your knowledge.
The great thing about this is that it's totally free – both to freeze initially and to unfreeze when you want to open an account or a new line of credit yourself. It's also one of the best ways to make sure that no identity thief will be able to successfully open accounts in your name.
Safeguard Your Social Security Number
Think of your social security as the pass key to your personal information. As you would with a key to your home, keep it safe and well-guarded at all times to protect yourself.
Leave your card at home in a safe place when you go out, shred any traces of your social security number on communications, and always ask how companies or institutions that request your number are planning to safeguard your social security for you on their end.
Be Alert To Phishing And Spoofing
Whether it's via the telephone or email, identity thieves can be disarmingly convincing. They can call from what appears to be a state telephone number or write from an official email address in order to foster a false sense of security in their victims.
The best way to avoid being scammed by one of these calls is to ring the number back yourself or to respond from a different organization, instead of simply replying to the original email. In the same vein, be cautious of clicking on any attachments you've been sent.
Use Strong Passwords And Add An Authentication Step
Setting up two-factor authentication is a great way to secure your account and to ensure that you don't end up being locked out of it yourself because a hacker changed the password.
The most important tip we can give you is to make sure you use a strong password.
Don't use the same one for every account, and don't choose something that a con artist will easily be able to identify or figure out from the information you share online. Your social media especially should be free from any details that could be linked to security questions.
Use Alerts
Another good idea is to set up alerts from financial institutions so that you'll receive a text message or notification when your account or cards are being used to make a purchase.
You can also create alerts for withdrawals and deposits so you'll always be in the loop when money is going out of your account. You can set these alerts to happen for any monetary value, or only above a certain value, to reduce the number of notifications you receive.
Watch Your Mailbox
Your mail actually contains a fair amount of your information on it when you think about it, like your name and address. It can contain even more personal information, like checks and new credit or debit cards. If you're not careful, these can be intercepted before reaching you.
That's why it's a good idea to keep an eye on your mailbox. Or it might be worth considering a lockable mailbox that has been approved by the U.S. Postal Service to keep your mail safe. Alternatively, USPS offers 'Informed Delivery' which will let you know if things are missing.
Shred, Shred, Shred
Your personal information should never end up in your trashcan! Whether it be a letter of communication from your bank account or a utility provider, credit or debit card, or a statement of any kind, you should shred anything with your info on it before throwing it away.
This includes junk mail and any offers of credit that have been pre-granted or approved.
Use A Digital Wallet
There are a number of apps or 'digital wallets' that you can use to make both in-store and online payments, which is essentially just a digital way of using your regular bank cards. It's still fairly new technology, but you can learn more about digital wallets and identity theft here.
Often using your smartphone or tablet, these transactions are tokenized and encrypted which is much safer than regular methods of payment. It also reduces your contact with germs and minimizes other health risks that are associated with non-contactless purchases.
Protect Your Mobile Devices
These days, you can store your passwords on your phone pretty easily. They can be managed and recovered when you need to enter them for something.
We strongly advise that you use a password manager rather than just writing everything down in the notes app.
Mobile phones are one of the biggest threats to your identity. This is where most people store their photos, social media apps, email, and much more information that you don't really want a con artist to get their hands on should you lose your phone.
Always password protect your phone and any important apps that give access to your personal information. Use apps for mobile banking rather than using an internet browser, as these are less secure.
You could also install a tracking or spy app on your phone. That way you can locate it if you ever lose it or it gets stoles.
Check Your Credit Reports Regularly
Keeping an eye on your credit reports will alert you early on if there is any suspicious activity happening regarding the use of your identity. Having several new accounts opened at once or large bills being racked up will have an obvious impact on your credit rating.
Currently, you can use any of the three main credit bureaus to check your credit report. They're each offering weekly reports until the 20th of April, 2022. If offered, it's also worth turning on automatic alerts to notify you when there are changes in your credit rating.
Monitor Financial And Medical Statements
The same thing can be said for your financial and medical statements. Monitoring these will help you prevent identity theft by catching it early on.
Try to keep track of when things are due, as this will make it easier to detect when communications go missing.
It might seem like a laborious task, but check every service that's listed on your statements. You want to ensure you both recognize them and were originally responsible for claiming them.
How To Protect Personal Information Online
According to U.S. News and World Report, approximately 39% of 1,500 respondents for a consumer protection survey admitted they had failed to take any preventive measures to keep their personal information safe, despite the dangers of having their identity stolen.
A whopping 66% indicated that they trust credit card companies to protect their customers. They are happy to rely on the safety measures already put in place by providers to prevent identity theft.
But really, you should be protecting your own personal information online, in addition to any measures these companies might take.
Create Strong Passwords
The best passwords are ones that combine a random mixture of numbers, both uppercase letters and lowercase letters, and symbols. And that you change semi-regularly.
Try to avoid using obvious dates, names, any information that could be used to commit identity theft and use a different password for each account and website.
If you have an iPhone, iPad, or another Apple device, there's the option to use a suggested password that is immediately stored in your protected password manager, instead of having to come up with your own. It also tells you how strong the password is which can be useful.
Unfortunately, the name of your first pet doesn't count as a 'strong' password. Hackers are clever and will look to the personal information you share online to see if they can guess the correct password or the security questions.
To stay safe, always make sure that you change your privacy settings so that you can keep your personal information private from any accounts you're not friends with. It's also a good idea to keep details such as your home address, a former school, and your location private.
Use Free Wi-Fi With Caution
We've already mentioned briefly how using a public Wi-Fi network can potentially leave you vulnerable to identity theft.
Not only can hackers set up their own phony networks which expose your personal information, but they can also breach the weak security measures of legitimate public Wi-Fi networks and access your activity or information that way.
Watch Out For Links And Attachments
Always double-check the URL before clicking on a link or attachment that has been forwarded to you, especially if they've come from a source you don't know.
Cybercriminals can cleverly compose communications that copy the style of your bank, utility company, or another official institution in order to phish for your information. Sometimes you can catch these out because of spelling errors or differing email addresses.
Check To See If The Site Is Secure
Similarly, check that the site you're on is secure before you enter any personal details. You can do this by looking to see if there is a little padlock symbol in the left corner of the URL bar followed by "HTTPS," which typically means the site is safe.
You can also check the website's privacy policy and settings, their contact information (to see if it all looks legitimate), or to see if they have a "verified secure" seal.
Consider Additional Protection
Even if you follow all of the advice we've given throughout this article, sometimes fraudsters will still find a way to steal away your identity. That is why it's worth considering additional protection.
The three main types of protection against fraud are:
Anti-virus software
Anti-spyware software
A firewall
While there is no way to fully guarantee your safety when it comes to identity fraud, deciding to use an additional form of protection will certainly reduce the risk of it happening to you.
Summary
We hope that you've found the above helpful in terms of what to do in the event your identity (or that of someone you know) being stolen.
It can be easy to panic and worry about how far identity thieves can or will take their fraudulent activity. Following the steps that we've included will ensure you limit the damage whoever has taken over your accounts and/or identity can cause.

Latest posts by Damon Kennedy
(see all)