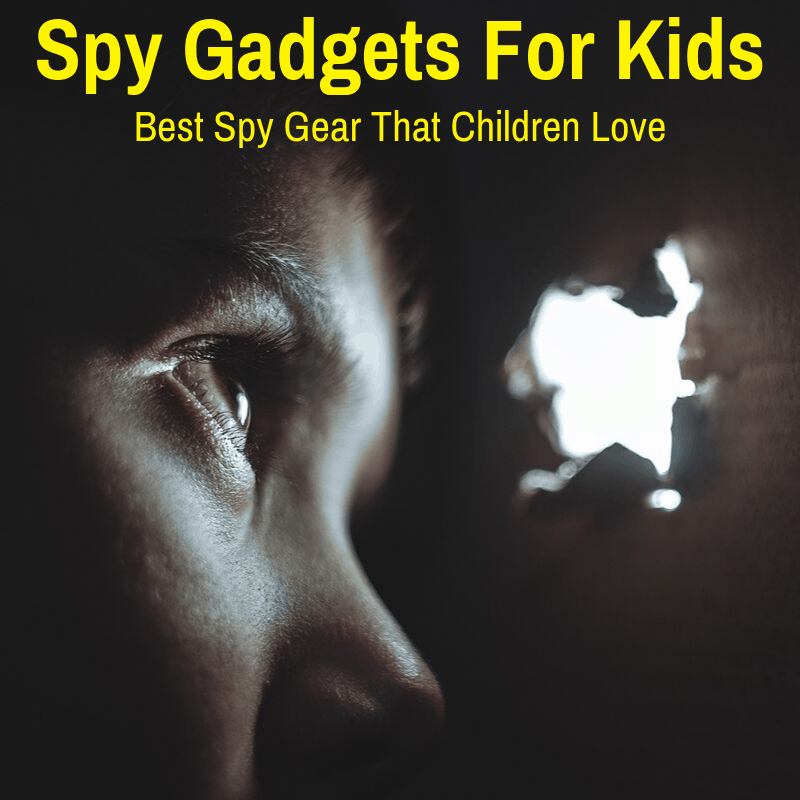 Kids love spy gear.
If you want to get them away from the screen (TV, computer, or phone) for a while and encourage them to do something more active, spy gadgets do the trick every time.
It gets them using their imagination, solving puzzles (and loving it!) and being physically active.
But it needs to be the right spy gear. Kids won't play with boring toys.
We've found all the best spy gadgets for kids. Everything below is good quality and sells at a good price. More importantly, all the gadgets we recommend are things your children will love playing with.
And let's admit it…a lot of the gadgets are things we adults enjoy playing with too!
Best Spy Gadgets For Kids
If you're looking for a birthday or Christmas present for that special child in your life, you've come to the right place. We have all the best ideas for kids that will make that next occasion a special one. Spy cam sunglasses, spy pens, pet cams, night vision, and walkie talkies.
Keep reading for our top picks and recommendation for spy toys for kids in a range of prices. There is most definitely something to suit just about any budget.
Check out the following options. We think you'll probably end up buying yourself something too! This stuff is really, really cool and kind of hard to resist.
Spy Camera Sunglasses
To help your kids get into their James Bond spy style, they'll need some spy glasses. These ones for kids have a reversible mirror in them that allows them to see behind them. It's a fun way for them to have some harmless fun.
Here's a bit of information about them.
Key Features
Small enough for kids' heads
Pack of 3
Mirrors in the edges of the lens
Fun party favor
100% money-back guarantee
What People Think About Them?
"Got these for a kids spy birthday party. They are decent in quality and very reasonably priced. Happy with them! I think that even adults would think these were a fun toy to place with!"
"My son can't get enough of spy gear, so we bought him this set. He loves playing with them with his friends when they come over."
Shop Now
Head over to Amazon to see our top-rated pair of spy camera sunglasses and get much more info.
What About Real Video Camera Sunglasses?
If you want to kick your James Bond into high gear, then you'll most definitely need spy camera sunglasses. They have a bit of a reputation for not working that well, but the good news is that in recent years, technology has improved considerably.
This means that the newer models actually work! In addition, they're far more user friendly than in the past. The average kid who knows how to use a computer will be able to use spy cam glasses without your assistance. The recording is pretty decent, even at the lower end for spy camera glasses.
For advice and recommendations on spy camera sunglasses, you'll need to check out:
Spy Pen For Kids With Invisible Ink
Next up on our list of the best kids spy gear toys is this invisible pen. It's kind of the ultimate spy toy for kids and is suitable for a Halloween or goodie bag giveaway.
Key Features Of This Perfect Stocking Stuffer
Invisible ink that can be seen with the included UV light
Harmless, flavorless ink
Permanent but washable
Batteries included
Variety of colors
Can write secret messages
What Do People Think About These Unique Stocking Stuffers?
"I used these to discreetly mark my wedding invites in case someone sent theirs back without a name. It was like magic and definitely saved us a ton of hassle."
"Used them to decorate for a black light party, including on our skin. They worked really well and my guests loved it!"
"Nice loot bag gift for a birthday party that doesn't involve junk food. My son's friends loved these things."
Where Can I Find Them?
You can easily find these pens for spies online on Amazon. Check now for the current price and for more info.
Spy Pen With Hidden Camera
Along with spy camera glasses, these are another one of those products that don't have the best reputation. 10 years ago, they weren't great and often didn't work. Plus the amount of memory was so small that you could only record a very short amount of time before running out of space.
These days, they are much higher quality and are really easy to use. They also have a lot more memory and you can record longer videos. Plus they're extremely realistic. Basically, everything a kid (or adult) would want in a spy pen.
The best ones record audio and video that is very clear and easy to play back later. Your child can record conversations covertly with this useful tool.
Key Features
1080p HD recording
75 degree viewing angle
Doesn't include sound
Covert recording is possible
Continuous recording
Supports up to a 32 GB memory card
Automatically rewrites the oldest files
30 day money-back guarantee
12 month warranty
What Do People Think About It?
"Still shots are quite nice, both indoors and out. However, I don't love that you have to press a button so it's not exactly 100% covert. Still, a nice purchase and it works very well for my purposes."
"Got this in case I needed to record something urgently in my car. It's clear, easy to transfer the files to my computer and has a great battery life."
"I bought this for my daughter because she's into all kinds of things spy gear. She loves using it and it's easy enough to figure out."
Where To Buy It
You can also check out our top recommended spy pen camera over on Amazon. Take a look for the current price and to learn more.
Pet Cams
If you have a pet in your house, then consider getting your child a pet cam! They'll love being able to spy on Fido when they're not home and some of the most popular ones even allow you to give your pet a treat.
We love these things and we're sure that your child will as well. It's really fun to watch your pets while you're on vacation, or hanging out somewhere else for the day!
Key Features And Information
Has two-way communication
Clear, top-quality camera
Has built-in chasing game and various sound effects for the pet's amusement
One-touch dispensing system to feed the pet even from afar
Easy to set up
Compatible with any program (IOS or Android) and device (smartphone, tablet or laptop)
Customer Reviews
"This product has good clear image from the camera and its treat dispenser works well. I put their normal kibbles in it. My son and daughter are kind of obsessed with this thing and love to see how our fur baby is doing when we're not home."
"It can make some sound effect like cat noises, birds and other things, which I love. Sometimes my dog goes upstairs which she isn't allowed to do, but she comes barreling down the stairwell once she hears the Furbo."
Order Yours Today
Check out the detailed review: Furbo Pet Camera and Treat Dispenser for our top pet cam recommendation. Or, head over to Amazon to buy one today.
Night Vision Googles
These things are really, really cool and have a ton of uses. For your child, they most definitely will be a popular Christmas or birthday present.
They come in a range of prices so there is sure to be an option to suit just about any budget. There are also kid versions of the more expensive military grade ones so don't worry!
Just be ready for your children lurking around in the bushes in the backyard at night! Could be some scary stuff?!
For more details on this popular Christmas or birthday gift idea for kids, please see: Top Night Vision Goggles.
Walkie Talkies
A classic in spy gear, they're super easy to use such that even young children will be able to figure them out.
They can talk to their friends or siblings from different floors or your house, or when they're out playing at the park, or around the neighborhood. I'm sure they'll be able to figure out a ton more uses for them too!
Check out: Top Walkie Talkies. Or, take a look at our top pick for walkie-talkies for kids over on Amazon:
Alex Toys Undercover Spy Case Detective Set
Next up on our list is this spy gear set for kids. It's one of the best Christmas or birthday presents out there if your child is interested in spy gadgets. It's the perfect way to help your child get more active and to take some action with their friends that doesn't involve a screen.
What's Included?
Of course, you'll want to know what's included with this, right? Help your child gather evidence to solve that mystery! There are a ton of accessories to help your child some some cases.
Spy Case
This is a black nylon compact fabric case that is easy for your child to carry around. Whether you are at home or out for a picnic, you do not have to worry about travelling with this set of detective gears.
This neat case has seven pockets and compartments on the inside to help organize the spy tools and to manage them properly.
In addition, there is a convenient handle on the top which your child can loop through their belt if they do not want to carry it in their hands. This will come in handy and it will be less likely to be lost if you are outdoors.
Ink Pad
This helps in leaving a crisp finger-print on the paper. It is great for lifting fingerprints off objects like cups, bottles and other surfaces that your target may have held on to. It is completely non-toxic so you do not have to worry about your child's health and safety.
Folding Binoculars
These foldable binoculars help to keep an eye on suspicious activities even from a distance.  They are especially designed to give your young spy a clearer look at the world around them.
Magnifying Glass For Spies
Next is the magnifying glass that would assist your child to look for small clues. With this, nothing can go away unnoticed from your little detective's eyes. This is great to enhance your child's observatory skills and to make them more attentive to details.
Fingerprint Powder
This is a tiny bottle filled with fingerprint powder to help take the suspect's fingerprints.
Dusting Brush
The dusting brush is to reveal hidden secrets by dusting off any dirt or powder from an object.
Undercover Flashlight
The undercover Flashlight is an important gear in this set as it helps in observing things in the dark or during night time. This Flashlight does not offer LED but it does fulfill the basic function that is required.
Secret Marker Pens And Code Files
This allows kids to write hidden messages with invisible ink which is effective for sending codes to headquarters or to fellow spies. Send notes to the good guys, but make sure the enemies can't see them. Leave a message for your kids about cleaning their rooms too!
Ultimate Code Booklet
There is an ultimate code booklet which is a printed guide to equip your child with various tips and tricks to be an efficient spy detective. This can enhance your child's intelligence while also instructing them at every point in the game.
Batteries
All the batteries you need are included.
What Do People Think About It?
My daughter LOVED this present! It's the one that's still hanging around months after Christmas is done. She could use everything easily, even though I thought she might be a bit too young for it."
"A nice, basics spy kit that's better than some of the others out there. Everything actually works quite well and the price is very reasonable. Very happy with this Alex Toys spy kit and it's so cute watching my son play with it."
"Ideal for my 7 year old, but that's about the maximum age I'd give this toy too. A little bit younger and they may have a hard time reading the codes. As far as the Alex Spy Case set goes, it's one of the best that I've seen."
Shop Now
Does it sound like the right spy stuff for kids that you might want to consider? Learn more about it here:
Spy Gear Mission Alpha Set
Another top pick for spy gear for kids is this set that makes an ideal choice for that next gift. It's fun, educational and it's the toy that your kids will still be playing with months later.
What's Included?
Wrist Blaster
With this you can fire darts quickly and easily towards enemies. You can activate them with your fingers to shoot them at one glance.
Motion Alarm
This allows you to send a warning if anyone gets too close. You can use this if you want to keep a check on who is coming closer to you. This is to ensure safety and to keep you alert and informed.
Night Spyer
This allows you to see in the dark or during night up to 25 feet away. It also features a 2x magnifying lens and a red beam of light. As a spy, you may have to go for missions without being easily detected.
That means, you have to step out in the dark. This night spyer provides a night vision to not only remain hidden but to keep an eye on whoever in near you in the dark.
Spy Pen Blaster
With this, you can write covert messages and then launch them as darts to send important messages to someone. You can write codes and secret clues if they are in your team. 
Instructional Guide
This detailed instructional guide equips you with the knowledge to play this game as well as with codes that you can use while playing.
Batteries
There are 2 LR43 batteries included to operate the Night Spyer. However, the Motion Alarm requires 2 AAA batteries which are not included in the set.
What Do People Think About It?
"My son loves spy toys and so we've got him lots over the years. They vary in quality considerably, but this is one of the best. When you consider the price, it makes an excellent gift and he will sometimes play with it all day."
"It works really well (please consider that it's a toy for kids) and my children have a fun time spying on each other. Seriously, it's the gift of the year and the one still in use months after Christmas is done. The main reasons I bought it is to get them away from electronics and this one certainly works."
"My seven year old loves this and was super happy to get it for his birthday. It's ideal for a boy his age, but I wouldn't recommend it for older children than that. It does work, but older kids will see through the gimmick too easily! There's a ton of ways for him to use this stuff with friends to play."
"My son went to a birthday party and he took this gift. The Mom told me that her son LOVED this spy equipment."
Get Yours Today
You can easily find this top-quality spy set for kids on Amazon. Check now for the current price and for more info.
Spy Gear For Kids: Your Thoughts
Leave a comment below and let us know:
What spy gear are you planning on buying for your kids?
What's your budget?
Did we miss anything from this list?
Also be sure to give this article a share on Facebook, Twitter, or Pinterest. It'll help other busy parents, like yourself find this useful resource.
Last update on 2023-11-30 / Affiliate links / Images from Amazon Product Advertising API