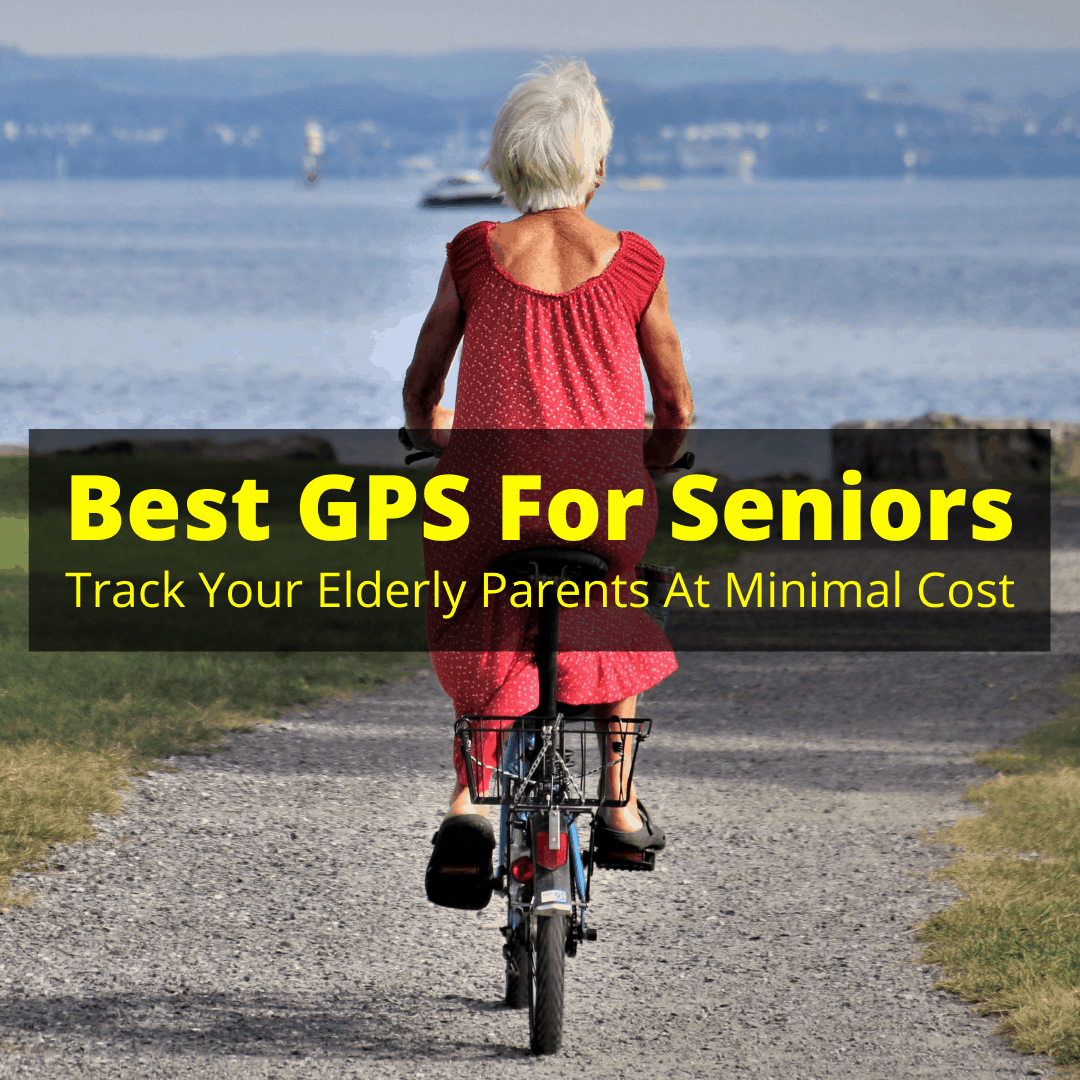 What makes a GPS tracker well-suited for seniors?
Ideally, it should be easy to use, have a good battery life, be accurate and have a low monthly cost and no hidden fees.
Unfortunately, what I just described is rare.
Below we feature the 5 best GPS devices for seniors. Even among the best, some have high monthly fees, or they are a bit complicated to use.
Keep reading to find out which one of the top senior GPS trackers is best suited to keep your loved one safe.
Best GPS For Seniors Compared
Best GPS Trackers For The Elderly Reviewed
Before we get to the reviews of the best senior GPS devices, let's clear up a common misconception. Some seniors will not want to carry a GPs tracker, because they fear it means the loss of their independence.
Actually, the opposite is true. With the tracker, they can venture out on their own more often and they can go further and do more things, because there is no longer the fear that something could happen to them and no one would know and be able to help.
Rather than inhibit their independence, a senior GPS tracker actually helps them gain it back. If your elderly loved one has reservations, point this out to them and they will be happy to keep a tracker on them when they go out.
Best Overall: Americaloc GL300
Americaloc has upgraded their 2G tracker to make it capable of offering greater coverage. That's just one reason we consider this the best senior tracking GPS.
The low initial cost is great, as is the complete lack of activation fees. However, the monthly fee is higher than others, but you do get much better service for your money.
Featured Specs
No activation cost
Track via various devices
10-second real-time updates
Benefits
This is a versatile senior GPS tracker that can be used to monitor people, vehicles, and your personal possessions.
It has a long battery life and works with CAT M1 technology.
Ready to use straight out of the box, with no hidden fees or activation costs to pay.
There are a variety of settings you can use on this GPS tracker to track your elderly loved one, like alerts if they enter or leave certain zones.
You can easily track your loved one's movements via your tablet, phone, or computer. You'll just need to download the app.
You'll enjoy one-minute location updates when your senior is moving around, but you can set the device to give you 30-second or 10-second updates, without paying extra for it, unlike many GPS devices on the market.
Drawbacks
High monthly fee
The app is not user-friendly.
Some complaints that the tracker is not super-accurate.
Extra Features
A full charge of the device's battery will last a week.
Batteries are included with your purchase.
You're not limited to using the app – you can also use the website.
Buying Advice
This personal GPS tracker offers the best value for money on the initial purchase. But the monthly fee is much higher than most alternatives. You do get great value for that money, though.
Smallest: GeoZilla GPS Location Tracker
You want your loved one to feel that they still have their independence even though they're elderly, but at the same time you want to ensure that they stay out of danger. That's what this small GeoZilla GPS location tracker will help you achieve.
Featured Specs
International coverage
SOS button
Five-day battery life
Benefits
This elderly GPS tracker by GeoZilla offers coverage in the U.S. as well as internationally, which is a nice feature you don't always find in other trackers.
It works with an app that's available on iOS and Android, so you can track a variety of items, vehicles, as well as your loved ones – you can even track them indoors!
It comes with an SOS button. Just by pressing it, your senior loved one's location will be shared via app notification, text, or email.
It's got geo-fence zones that you can set up so that you'll receive notifications whenever your loved one enters or leaves a specified area. This is especially useful if your loved one has dementia and likes to wander off from time to time.
You'll get up to five days of battery with this device.
You don't want your loved one to dislike wearing a tracker, so it's good that this one is really small and compact. It can be clipped onto their clothing or backpack.
Drawbacks
Some people have reported that the battery doesn't last as long as it's meant to – even on the lowest setting it only lasts about three days. This is something to be aware of so that you charge the device regularly to ensure it has enough power.
Extra Features
Comes with extra accessories in the pack. These include a magnetic USB cable so you can use your computer to easily charge the tracker, a hard case pouch to keep the device safe when it's not in use, a shell belt clip so your loved one can wear the device on their case or backpack when they're out, and a lanyard so that your loved one can wear the device around their neck.
Buying Advice
The small size is the biggest advantage, but it is a great tracker otherwise too. The only real disadvantage is the shorter battery life. That makes it ideal if you don't need to use it everyday. If you do, you'll need to remember to charge it every few days.
Cheapest: Tracki 2021 Model
One of the first things you'll notice about this Tracki GPS tracker is that it's much smaller than other tracking devices you'll find on the market (apart from the previous one). It is also much, much cheaper. Obviously, that means some sacrifices.
Featured specs
Unlimited distance tracking
SIM card included
Wi-Fi tracking indoors
Benefits
This best personal GPS tracker provides real-time tracking over unlimited distances, and you can use it locally in the U.S. as well as internationally. This makes it perfect for when you're traveling with your senior loved one.
To make it even easier to use this device wherever you are, it comes with a free SIM card included.
It's versatile and can track a variety of possessions, pets, loved ones, and vehicles. Best of all, you can put it in a pocket, backpack, bag, luggage, or underneath your car.
Makes use of Wi-Fi tracking when indoors.
When your loved one crosses into a certain zone, you'll receive real-time alerts.
You can also receive low battery notifications, as well as alerts when your loved one drives their car too fast.
Drawbacks
Very limited distance. Despite the claims, it does not work well over a distance of more than a few miles.
The battery life of this device might not be as long as you'd like. It will last an average of two or three days if you're tracking your loved one every one to five minutes. However, if real-time tracking isn't required, the device battery can last up to three months.
Some reports that the real-time tracking sometimes experiences delays.
Extra Features
Unlike some other GPS trackers on the market, this one has an app that displays panoramic Google street views.
The device comes with five attachments you can use that make it incredibly versatile. They are clip, key-chain, silicone, lanyard, and magnet attachments.
Buying Advice
This tracker is great for tracking your loved one outdoors or indoors, but only if they don't venture too far away. The range is very limited, as is the battery life.
But it is by far the cheapest tracker on this list, so it will appeal to some for that fact alone. And for the price, it works well, as long as you are aware of the limitations.
Lowest Fee: TRAX G+ 3G Real-Time GPS Tracker
This 3G device comes with a built-in SIM card. It has by far the lowest monthly fee, but
Featured specs
2G and 3G coverage
Wireless charging
Waterproof
Benefits
This is a real-time GPS tracker that provides you with updates on your loved one's location every 10 seconds! This makes it perfect for tracking your daughter, son, or elderly relative. You can also use it to track your pets and vehicles.
If there's no 3G coverage, the device will automatically switch over to 2G.
Offering plans that start at $4,00, this is one of the most affordable GPS trackers on the market, in terms of the monthly fee.
Not just small and compact, this GPS tracking device is both waterproof and shockproof. This ensures that whatever happens to it, it won't let you down.
You'll be able to use the app on your smartphone or desktop, and get unlimited alerts and geofence notifications.
You can also schedule monitoring of your loved ones at certain times by setting schedules for geofence alerts.
It comes with a wireless charging pad, so you don't have to fuss with charging cables.
Drawbacks
No instructions.
Can be difficult to set up.
Extra Features
This tracker comes with a silicon attachment case, keyring, and wireless charger.
You're not limited to using just one tracker. You can add a variety of tracking devices to your personal app account.
Buying Advice
The Tax GPS has a low monthly fee, but a somewhat higher initial cost. It is a great all-around tracker that we rate just slightly lower than our favorite.
Most Durable: Spot 3 Satellite GPS Messenger
This Spot 3 GPS tracker has many benefits, but what might appeal to you the most is how it can send texts on behalf of your senior loved one.
Featured specs
SOS function
Check-in feature
Pre-programmed texts
Benefits
The Spot 3 tracker has an SOS function, so your loved one can alert you, or emergency services, in the event of an emergency.
It can also send a text on behalf of your loved one, along with a GPS location.
The device automatically saves and sends your loved one's location. This allows specific contacts to track their location and progress with the use of Google Maps.
Drawbacks
Reported that dealing with customer service is difficult.
If you want to cancel your subscription, you might find this difficult as you have to call the company and give them 30-day notice.
Other people have reported that their messages didn't always reach their loved ones.
Extra Features
There's a handy check-in feature that your loved one can use to let you know that they're okay. This makes use of a pre-programmed message to make it easier for them to send it to you.
Buying Advice
This senior locator is not be as versatile or as user-friendly as the others. It's also a bit more expensive, but it does have a lower monthly fee (charged annually).
It is also only good for tracking people who want to be tracked. If you try to hide this in someone's car, for instance, it will be very easy for them to find this tracker in their car.
Senior GPS Tracker FAQ
Should you use a feeless GPS tracker or a monthly fee one?
Once you've purchased a GPS tracker device, you'll probably want to save money on subscriptions in order to use it.
be wary of purchasing GPS trackers that don't come with monthly fees, because they usually won't work as effectively as the ones that you pay for.
The reason for this is because paid-for trackers can send real-time location information. They are able to do so because they use the same technology that your cell phone does when it connects to the internet or makes a call. This is why you need to pay a subscription fee to use the GPS tracker.
Although you will have to pay a monthly fee for the GPS tracker subscription, you can pay this fee annually instead and it will usually save you money. You should also look for a senior GPS tracker that doesn't come with hidden costs or activation fees.
How long do GPS trackers last on one charge?
The length of time that a GPS tracker's battery lasts on one charge can vary greatly from one product to another. As we've seen in our reviews, some devices can last for up to a week before requiring a recharge, while others last for less time.
How often you use the real-time tracking feature of the device has a huge effect on the battery life. If you use it regularly and want 10-second location tracking, for instance, this will drain the battery faster than if you use it less regularly or opt for fewer real-time notifications.
Is it legal to track seniors with a GPS device?
Generally, it's illegal to track someone with a GPS device without them knowing about it. Therefore, it's important to let your loved one know how and why you wish to track them.
This is generally the better option anyway because it means that your loved one won't accidentally damage the device or remove it because they don't know it's there.
While you might worry that your elderly relative will feel a lack of independence by wearing a GPS tracker, having a GPS device could actually make them feel more empowered, because they know help is at hand should they require it. It gives them more independence not less.
Can you use a mobile phone to track your seniors?
You can track your senior loved one's phone, but you'll need to download a family locator app. Some of these come with many features that you'll find in a GPS tracker, such as geofencing, location tracking, and emergency alerts.
The only problem is that your loved one will have to have a cell phone as this is the device that will be tracked. This is not always practical, especially because cell phones are quite a lot bigger than the average GPS tracking device.
People also tend to leave their cell phones at home when they go out, or sometimes lose them completely. This can make it more frustrating and stressful to try to track your senior loved one via smartphone app.
It makes more sense to purchase a senior GPS tracker that's compact, easy to use, and easy for your loved one to wear.
These devices will also have better battery life because they're only used for tracking purposes. Cell phones usually have many other apps on them which drains their batteries much faster.
Best Elderly GPS Trackers: Conclusion
You can't always be with your loved ones but that doesn't mean you can't ensure that they stay safe. A personal GPS tracker can come in very handy to help you monitor your elderly loved ones, whether they're at home or away.
In our buying guide, we featured multiple GPS trackers in different budget ranges. All work well, but we definitely prefer 3 of them over the rest. That said, those 3 might not be the best for your specific case, so make sure you pick the one that is right for you.
Last update on 2023-11-29 / Affiliate links / Images from Amazon Product Advertising API