Are you looking for a top-quality pet cam with treat dispenser? Then the Pawbo should certainly be at the top of your list. Besides being reasonably priced, it has some excellent user reviews and a ton of features that you're going to love. Read our review and buying guide to help you decide if it's the right choice for you.
Review Of The Pawbo Life Pet Camera
The Pawbo Wi-Fi Pet Camera and Treat Dispenser is a top-quality security camera that's highly rated online. If you can't survive a day without spending quality time with your pet, you need this pet cam. It's easier than ever to check it with your pet and make sure they're doing okay, if you have to be away for the day or weekend.
Key Features Of The Pawbo Life Pet Cam And Treat Dispenser
Has two-way communication
Clear, top-quality camera
Has built-in chasing game and various sound effects for the pet's amusement
One-touch dispensing system to feed the pet even from afar
Easy to set up
Compatible with any program (IOS or Android) and device (smartphone, tablet or laptop)
720p HD video
130 degree, wide-angle field of view
4x digital zoom
Talk to, and reward your pet any time you want to
Instant sharing of photos to social media
App can be used by up to 8 users at the same time
Phone app compatible with iOS and Android
Ringtones that you can teach your pet to respond to
Cons
Small-sized treat dispenser that only treats can be put in (not full meals)
Sound is loud but tends to be echoing
Camera cannot be moved around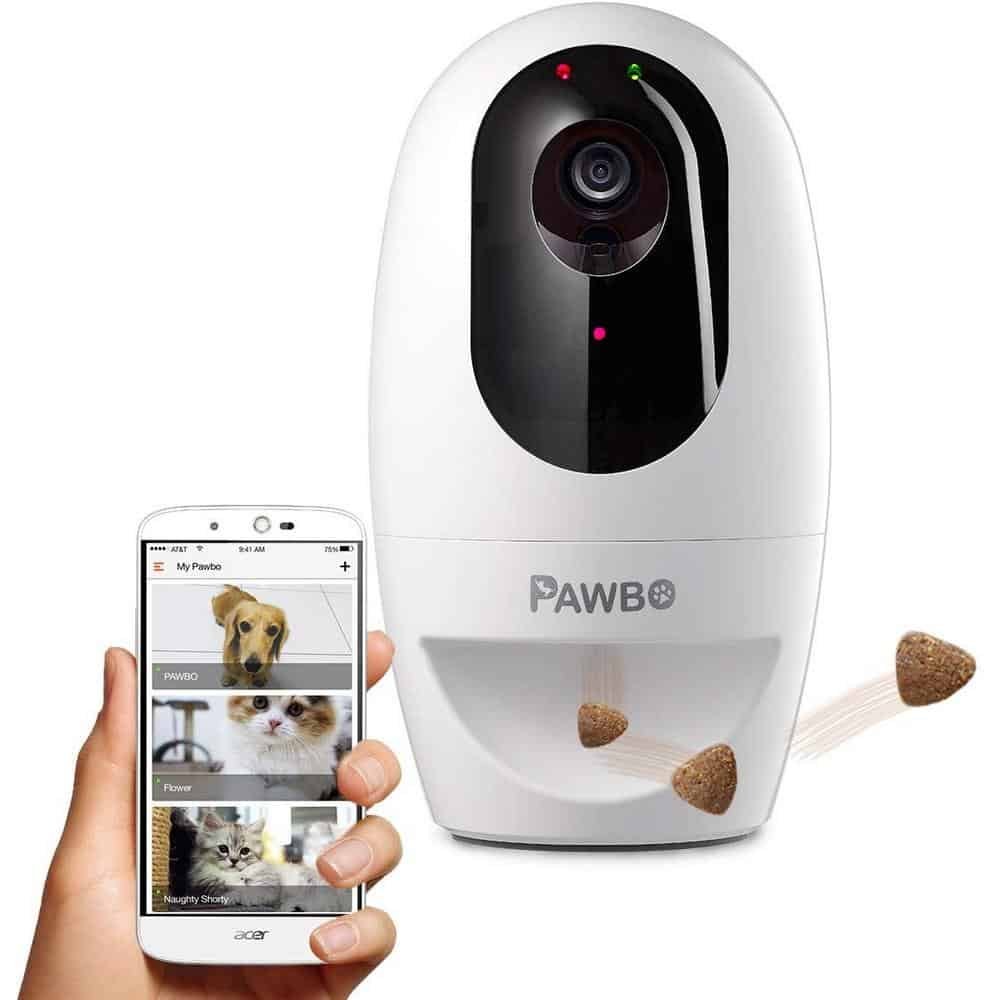 Peace Of Mind With The 2-Way Audio
Even if work or school requires you to be away from home all day or overnight, you are sure to have a peace of mind because this pet camera features a two-way communication. This is on top of a clear camera vision for high-quality photos and videos. You can view a live streaming of his dog or cat's activity at any moment throughout the day.
"This is such a superb pet camera! I've used similar products before, but unlike the other pet cameras, this camera actually allows me to communicate with my pets. Love the two-way thing, and I feel way better about going away from home now!"
Where Can I Get It?
This security pet camera is very dependable, especially if you want to make sure of your pet's safety and protection. You can get it from Amazon. Click the button below to check it out.
Compare Pet Cams With Treat Dispensers
There are plenty of other options for Pet Camera beyond the Pawbo. Check out our two other favorites: the Petzi Pet Cam and the Furbo Pet Camera with Treat Tosser.
A Top-Quality Pet Camera
The Pawbo Wi-Fi Pet Camera and Treat Dispenser is worth every pet lover's money. For a reasonable price, with free shipping, you can monitor everything that's happening at home. Most specifically, your pet's activities all day and night.
It does not take extra spending to connect to this security pet camera. Any device, as long as it can connect to Wi-Fi, is compatible with the Pawbo Life. Whether it is a laptop, a smartphone or tablet you are using, you still get the same high-quality when viewing your pet. The best part about it is that it's in real time.
"It can make some sound effect like cat noises, birds and other things, which I love. Sometimes my dog goes upstairs which she isn't allowed to do, but she comes barreling down the stairwell once she hears the Pawbo."
Interactive Laser Game
Monitoring the dog or cat left at home is not just the activity you can do with the Pawbo Life. With the built-in interactive laser dot chasing game this product features, you can play with your pet anytime, from anywhere.
There are different sound effects that add amusement to the family's dearest darling! What's best about this Amazon top-rater is that it has a treat dispensing mechanism. This aids in assuring you that your furry friend is being fed properly at the right time.
"This product has good clear image from the camera and its treat dispenser works well. I put their normal kibbles in it.
Check It Out In Action
Pawbo Video Review
Check out this short video below for all the details you need to know:
Pawbo Wi-Fi Pet Camera And Treat Dispenser Review: Conclusion
Don't you just hate it when you're away from home and nobody else is there to attend to your dog or cat pet's needs? Isn't it even a torture thinking about the poor animal's safety especially that he is left all alone?
Video Recording Capability
Well, there's just one answer to your dilemmas and that's the Pawbo Life Wi-Fi Pet Camera. With all the features and functions this security camera for pets has, you won't worry anymore about leaving your pet with no one else around to look after him. The video recording feature of this product can go directly to your Dropbox storage where you can also view it instantly.
Interact And Play With Your Pet From Afar
Make your most-loved animal still feel your presence even if you are actually miles away from him. Through this Wi-Fi pet camera, you can interact and play with him during your free time. And when he needs to eat, the Pawbo Pet Camera's one-touch treat dispensing mechanism feeds him right on time.
Share On Facebook Or Instagram
And if you can't wait 'til all your friends see what your pet is doing at the moment, you can instantly share on Facebook, Twitter or Instagram, the snapshots your Pawbo camera captures.
Where Can I Get The Pawbo Life Pet Camera?
Monitor your pet's condition all day and night. Install a security camera intended just for him. Purchase the Pawbo Pet Camera and Treat Dispenser on Amazon today.
Pawbo Life Pet Cam Treat Dispenser: Your Thoughts
What are your thoughts about the Pawbo Wifi Pet Camera? Is it the right option for you, or are you considering another brand of pet cam treat dispenser? Leave a comment below and let us know. We'd love to hear from you.
Also be sure to give this article a share on Facebook, Pinterest, or Twitter. It'll help other pet owners, like yourself find this useful resource guide.
Latest posts by Jackie Bolen
(see all)
Last update on 2023-12-04 / Affiliate links / Images from Amazon Product Advertising API