We all want to save money.
And buying fake security cameras for a few dollars a piece, instead of real ones for a few hundred, certainly saves money.
But are the savings worth it, when it comes to the safety and security of your family?
Do fake security cameras actually work, or should you bite the bullet and spend the money to get real ones?
Decoy cameras do work well to fulfill one function of real surveillance cameras, but not the others.
Let's take a look.
Do Fake Security Cameras Work?
Fake security cameras definitely work in deterring criminals. But they don't fulfill every task of a real security camera. And how well they work as a deterrent is highly dependent on the model in question.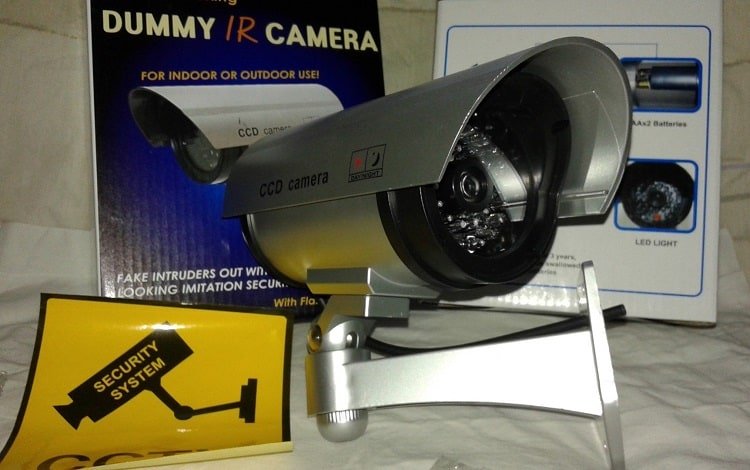 Overall, using fake security cameras on your property can be highly effective, but only in conjunction with real cameras. Using them on their own has a limited effect.
Let's take a closer look at the advantages and disadvantages of dummy cams, if used on their own. Then we'll follow by examining their effectiveness a bit more.
Pros
To the untrained eye, fake security cameras look real, especially at night when the lack of company branding on the device won't be visible. If the criminals are inexperienced, they will likely skip your property and try their luck elsewhere.
You can save a lot of money by installing fake security cameras on your property. Even the best dummy cameras can cost under $10.
Fake security cameras are really easy to set up because they don't require installation. You also don't need to learn how to use them because they don't really do anything.
Cons
Many models are easily spotted as fake, for a variety of reasons: maybe they have wires that don't seem plugged into anything, or they don't have brand names on them. It is also easy to see that the security cameras are made with cheap materials, like plastic, with many of the cheaper decoy cams.
You won't be able to see what's happening outside your home or if someone's trying to break in.
While fake security cameras can save you money, in the long term they could cost you money. Think, for example, if your home does get burgled and expensive possessions are stolen.
In the event of a crime, you won't have any video footage to help the police catch the criminals, or to provide evidence for your insurance when you make a claim.
Are Fake Security Cameras Effective At Deterring Thieves?
It's not guaranteed that fake security cameras will make thieves think twice about breaking into your home.
If a thief notices the cameras from a distance, he or she might assume they're real. However, if they manage to get closer to the cameras, they could easily spot that they're fake.
Should You Install Fake And Real Security Cameras?
If you want to put real security cameras on your property, these can really be expensive and you might not have the budget for it.
Therefore, you might consider installing fake and real cameras together. This is risky because criminals will be able to spot the dummy cameras just by comparing them to the real ones that are also on your property. That said, this could also work in your favor.
Criminals will realize that they can't trust that all the cameras are fake because they look different, so they might actually be put off trying to break into your home.
In addition, you'll have the footage from your real security cameras to catch them in the act.
How To Make Fake Security Cameras Look Real
If you're set on installing fake security cameras around your property, it's important to make them look as real as possible.
This doesn't just mean choosing legit-looking cameras (which we'll get to in the next section), but it also means that you have to be smart about where you place the cameras.
Since criminals will know where cameras are usually placed, if you're putting fake cameras elsewhere this is a dead giveaway that the cameras aren't legit.
Put your fake security cameras in areas where you'd install real ones, like by the front door, the back and side doors, and outside your garage.
When installing cameras outside, bear in mind that security cameras that are meant for outdoor use are usually weatherproof.
Not all decoy cameras are weatherproof, which means you'll have to keep them protected from the elements. That's a dead giveaway to criminals, so make sure you get weatherproof dummy cameras, if you plan to put them outside.
How To Choose The Best Fake Security Cameras
Experienced criminals are smart, at least when it comes to detecting countermeasures..
They know how to spot cameras and they can also be bold enough to test if the security cameras are real or fake. They will also try touching windows or doors to your home and wait to see if any alarm goes off. It's frightening.
But there are ways to ensure that your fake security camera does its job of deterring criminals.
Ultimately, you need to purchase fake cameras that show no signs of being fake. Here are some good products to consider.
VideoSecu Dome Decoy Security Cameras
These dome style cameras (you get a pack of 4) have branding on the front (it says VideoSecu) and they come with stickers that alert intruders to video surveillance.
They also have red lights on them. All in all, they look pretty authentic, unless you give them a closer inspection.
That said, the blinking red light actually is a give away to criminals who know what they are doing. Few real surveillance cameras still have blinking red lights.
These cameras also have fake IR indicators, that make it look like a night vision enabled cam. They run on batteries to keep the red light flashing.
Read our full review of the VideoSecu decoy cameras for more.
WALI Dummy Bullet Surveillance Camera
Sale

WALI Bullet Dummy Fake Surveillance Security CCTV Dome Camera Indoor Outdoor with one LED Light...
Features: The inexpensive solution for security theft problems with high resemblance to real cameras...
Design: Made of high quality and durable material. Compact design and easy to install. Appear to...
Installation: Cheap and effective way to deter criminals. Installs quickly and easily to the ceiling...
Environment: Protect your homes, shops and business. Suitable for both indoor and outdoor usage. Mix...
Package Includes: 4 x Wali Bullet Simulation Camera (Silver), 12 x Screw, 4 x Steel Bracket, 4 X...
This dummy camera has the word "security camera" printed on the side. If a burglar gets close enough to read it (and it is daylight), they will likely be able to guess that the camera is fake. But from a distance, it looks very real.
The WALI camera also has a red indicator light and the fake IR lights. Again, the indicator light might actually have the opposite effect from the one intended, but you can always just not put batteries in the camera, so that the light does not come on.
Although the camera body is made out of plastic, it looks like metal, so it could easily fool (and hopefully) deter criminals. When it comes to wiring, this camera has an authentic looking video cable to further make it look real.
Our full review of the WALI dummy cameras has more.
Are There Legal Issues Related To Fake Security Cameras?
If you're setting up fake security cameras on your private property, there should not be any risk of legal issues.
However, the situation becomes more complicated if you're a business owner or landlord.
You never know what crimes could take place on the premises. Imagine if a client comes to your place of work and is hijacked, or a tenant in your building is robbed. The victim of the crime could request to see the video footage from the security cameras.
If the cameras are fake, there will obviously be no footage for them and police officials to use as evidence!
This can make the victims angry because the presence of those fake security cameras gave them a false sense of security. As a business owner or landlord, you could find yourself on the receiving end of legal action.
Related Questions
Do business owners have to display signs indicating there are security cameras on the premises?
Yes, and this means that any fake security cameras will also require these signs, which can make it even more problematic if a crime occurs on the premises. Lawsuits are a very real risk.
Do security cameras reduce homeowners insurance?
Generally, having security cameras installed on your property won't reduce the amount of money you have to pay for homeowners insurance. Some companies will offer a discount, though, but the cameras will have to be connected to an alarm-monitoring service.
Effectiveness Of Decoy Cameras: Conclusion
Before you buy and install fake security cameras on your property, it's worth considering all their pros and cons.
In this article, we've looked at everything you need to know about fake security cameras and their effectiveness. We've also provided you with vital information regarding security cameras if you're a landlord or business owner, so you can stay out of legal trouble.

Latest posts by Damon Kennedy
(see all)
Last update on 2023-11-29 / Affiliate links / Images from Amazon Product Advertising API