If you want to learn how to fly a quadcopter, but don't want to destroy your $1000+ one, then consider getting this entry-level one from Akasko. It has a surprising number of features and is also very durable in case of a rough landing or two. Read our review and buying guide to help you decide if it's right for you.

AKASO A31 Drone with Camera WiFi 1080P FPV Live Video RC Quadcopter Drone for Beginners Adults Kids,...
✈HD Camera, Real-Time FPV (First Person View) Transmission, and Bright LED Light – The AKASO A31...
✈【Simple Take Off / Landing + Altitude Hold 】: Simple Take Off / Landing + Altitude Hold –...
✈【Stunts and Auto-Return 】: Show off your piloting skills with the A31's in-air barrel roll...
✈【 Headless mode & Trimming 】In Headless mode, the drone will move forward, backward, and side...
✈【Easy to use】: First time flying a drone? Do not Worry, this drone is very easy to handle for...
Review Of The Akaso RC Drone With HD Camera
Flying drones, whether for hobby or commercial purposes, is no longer expensive. With the Akaso RC Quadcopter with HD camera, you can fulfill your dream of operating an aircraft minus the high cost. This quadcopter drone is lightweight and anyone can easily operate it using the remote control.
Key Features Of The Akaso A31 Drone
Affordable price
Lightweight
With built-in HD camera
Has 360-degree flip for excellent performance in the air
With interference-free transmitter
3 speeds
8-9 minute fight time
Cons
No live streaming feature
AAA batteries for the RC are not included (requires 3)
Not recommended for children below 8 years old
Short flying time compared to more expensive drones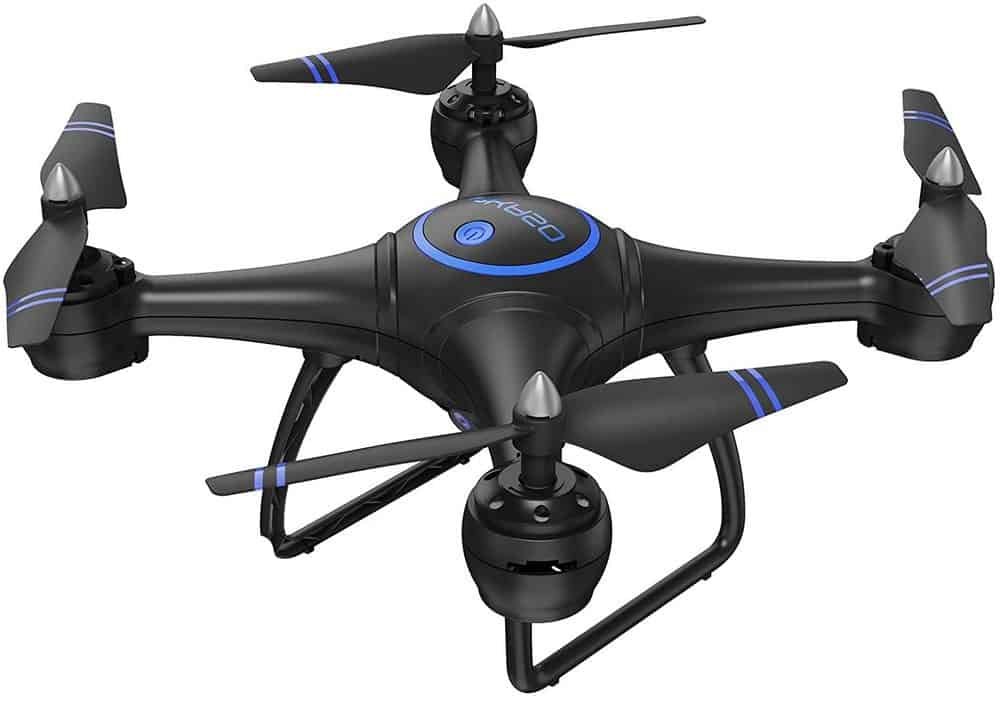 High Quality Photos And Videos
The built-in camera of this device has an HD quality that results in clear photos and videos. Even if it's light in weight, this quadcopter stays in place and can do the tricks the way its operator wants it to do.
360 Degree Flip
We love this thing. Here are a few of the reasons why. It has a 360-degree Flip that provides the owner to an excellent flying experience. Then, there is the built-in camera with HD quality. This lets the user capture and record exciting actions and wonderful scenery while the mini-aircraft is about 50 to 100 meters high.
Can Fly At Night
The transmitter that comes with this quadcopter is interference-free so no other quadcopter can hinder or affect each flight. The built in LED lights allow you to fly at night. But it does not have a night vision camera.
"This is a great beginner's quadcopter. It is easy to learn to fly and at a great price."
What's Included?
This product includes all the accessories you need to get flying:
Quadcopter with camera included
LED module
Transmitter ( 3 x 1.5V AAA battery not included )
3.7V/750 mAh Drone Rechargable Battery
extra cpropeller and extra propeller
USB Charging Cable
Propeller Screwdriver
User manual
Where To Buy It?
The Akaso RC Quadcopter with HD Camera is available on Amazon. Click the button below to check it out now.
What Do People Think About The Akaso Drone?
"I've had lots of remote controlled helicopters over the years, but this drone blows them all away. For a similar price, I can take photos and videos as well as fly at night. When you take it out of the box, you have to install the propellers and landing gear, but it's pretty easy to do. Basically just plug and play."
"An excellent drone for a beginner. It's very reasonably priced and not so expensive that you have to worry too much about it when learning how to fly. It's quite durable and has stood up to a couple of rough landings. Doesn't need a lot of maintenance."
"It doesn't fly for a very long time, and the battery compartment is very difficult to get to with tiny screws. However, it's a great choice for someone new to flying who doesn't want to destroy a $1000+ quadcopter like the DJI ones."
How To Get Started With Flying It
There are a few simple steps you can follow to get started after you take it out of the box:
Insert the battery and plug it in. Ensure the battery is fully charged before flying.
Make sure the left throttle stick on the remote is in the down position. Insert new batteries and turn on the remote.
Wait a few seconds to make sure the remote syncs with the drone. You will hear three beeps if this happens.
If it doesn't pair, then push the throttle stick all the way up and down rapidly.
You're ready to fly!
Compare Quadcopters With Cameras
While this is a great budget model, it doesn't come close to the performance of the better drones on the market. Check out all of our top quadcopter picks for every price range.
Spy Gear For Kids
Do you have an aspiring spy in your house? A cheap drone like this one from Akaso with a camera can make an excellent birthday or Christmas gift. You could also check out our other picks for great spy gadgets for children.
Akaso RC Drone Review: Conclusion
If you are new to the hobby of quadcopter-flying, you don't need to spend much to fly your own mini aircraft. The Akaso RC Quadcopter with HD Camera is an ideal must-have for beginners. And, at such a reasonable price, you can already fully control this flying drone as if you are operating an expensive unit.
Great For Tweens Or Teens Who Want To Fly
If you have a son who's eight years old and above, this is a perfect toy for him too to play with and eventually start as a hobby. Isn't this a great idea for bonding with your child, as well?
Since this is lightweight, the Akaso RC Quadcopter with HD Camera is so easy for your son to operate. You don't have to worry about your kid's safety while flying this quadcopter. Its propellers have plastic frames to guarantee protection from possible collision.
Learn New Tricks
Certainly perfect for a father-and-son bonding activity, this drone quadcopter is an Amazon bestseller for its flexibility and special features. It is safe to fly both indoors and outdoors.
So, if you are still learning new tricks in flying the quadcopter, you can be more confident practicing indoors. And when you're all set and ready to fly high outdoors, you'll be amazed at what the Akaso RC Quadcopter with HD Camera can do in the air.
Lots Of Functions
With a decent flying time, you can definitely show off all the tricks you learned while practicing indoors. Maximize the functions your remote control can do and start moving the small but terrible aircraft forward, backward, to your left, right, upward and downward!
Where Can I Buy It?
Fly the quadcopter like a pro and own one now at a reasonable cost. Go to the Amazon page and purchase you Akaso drone today.
Akasko Quadcopter Drone: Your Thoughts
What do you think about this affordably priced quadcopter for a beginner? Leave a comment below and let us know what you think. Also be sure to give this article a share on Facebook, Twitter, or Pinterest.

Latest posts by Zeke Daniels
(see all)
Last update on 2023-12-05 / Affiliate links / Images from Amazon Product Advertising API