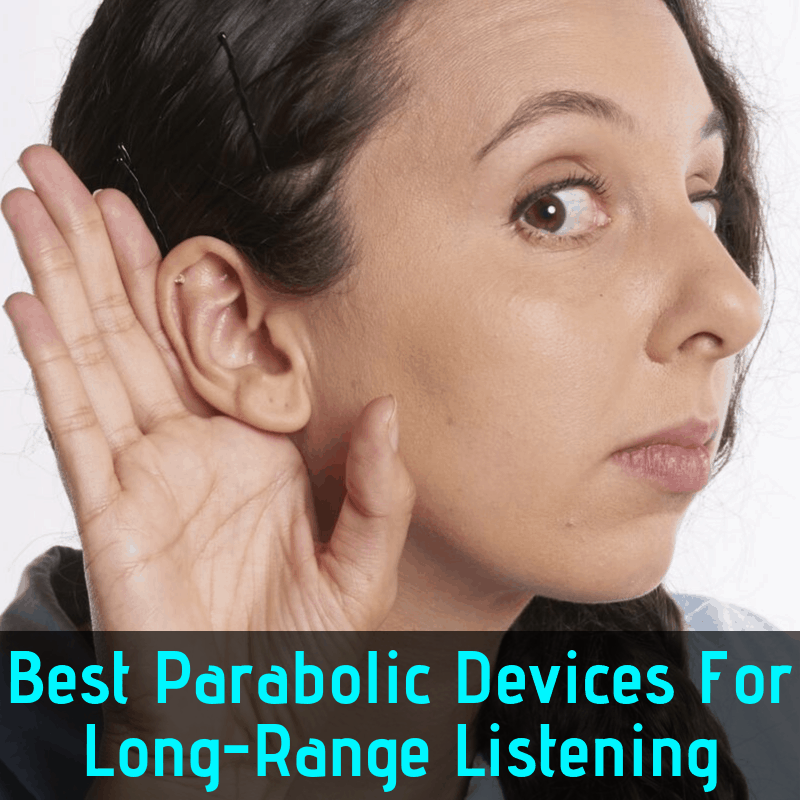 Sometimes you just want to hear what someone is saying.
But there are also a number of other reasons why you might consider a parabolic listening device. You may want to hear the sounds of nature up close or record waves at the beach, for example.
That said, most buyers are looking to overhear what someone else is saying, without that person knowing.
Whatever the case, a sound amplifier combined with a parabolic microphone will help you hear faraway sounds. The amplifier takes all the ambient sounds from around you and makes them louder. The parabolic mic does something similar, except it does it one specific direction.
The combination of the two allows you to hear a conversation (and record audio, depending on the model) from quite a distance away.
Keep reading to learn about our top picks for parabolic, or directional listening devices. We've done the hard work for you and sifted through all the products out there, to narrow them down to the ones that offer the best value for the money.
Best Parabolic Listening Devices Compared
Best Professional Level Device
Best Device For Amateur Use
Best Budget Device For Pros
Best Used As A Toy For Kids
Best Professional Level Device
Best Device For Amateur Use
Best Budget Device For Pros
Best Used As A Toy For Kids
Long-Range Listening Devices: Reviews
Below are brief reviews of our top picks for the best parabolic listeners. If you are looking for professional quality, the first one (the Sound Shark) is the only one to consider. The rest work, but they do not deliver the kind of sound quality and range that a professional would need.
Sound Shark Long Range Microphone And Parabolic Listening Device

SOUND SHARK Long-Range Microphone - Equalized XLR Kit
The Sound Shark provides a great alternative to shotgun microphones.
The Sound Shark can capture audio from 30 feet, or more, compared to 3 to 5 feet for a typical...
Record a speaker from up to 6 feet as if they were wearing a lapel mic.
Reject more peripheral sound than a shotgun microphone, and record outdoors with much less wind...
A premium, waterproof, omni-directional lapel mic with XLR connector is included in this kit. It is...
This surveillance listening device should be at the top of any list. Although it's the most expensive option (by a lot), it delivers far higher sound quality than any of the other options. It is the only professional level model on this list.
The Sound Shark is one of the best-selling items in the category for good reason. We've found it to be had and shoulders above the competition. Let's find out why.
Key Features Of This Long Range Listening Device
Compatible with any omni-directional lapel mic, although one is included with the kit
Focuses sound energy into a single point
Can be mounted directly onto a camera
Nice alternative to a shotgun mic (can capture audio at 30 feet as compared to 3-5 feet)
Filters the sound for a clear recording
Record outside with less wind noise
User Reviews For This Listening Equipment
"Very useful product if you're serious about improving the sound quality of your outdoor shoots. It could also be used to spy because it really does pick up conversation from way further than the naked ear can hear. Great customer service and we have a winner to say the least!"
"Awesome listening device that's actually good enough to be a professional recording device. Take a close look on the sidelines of professional sporting events. It's how the networks get those "bone-crunching" sounds or the players trash-talking each other."
Sound Shark Long Distance Listening Device Video Review
Where To Get These Long Distance Hearing Devices
Do you want to pick up this parabolic listening device for yourself? You can find all the details you need on Amazon.
---
YaeTek Parabolic Listening Device

YaeTek Bird Recording Observing Listening Device Extreme Sound Amplifier Ear Bionic Upto 300ft Long...
This YaeTek Recording Observing Listening Device is an ideal tool for observing and studying birds,...
With this YaeTek Recording Observing Listening device, you can observe the flying birds' gestures,...
With the sound detecting system, you can hear voices at a distance of 100 meters or over. can detect...
Record time: 12 / 30seconds/each Record. the Digital Recording Chip makes you playback what you...
a pair of padded headphones are included in the package, reducing the ambient noise well.
The YaeTek parabolic listening device is on this list, because it delivrs great value. It is nowhere near as capable as the Sound Shark, but it also costs far less. Given the low price, it works very well. Unsurprisingly, it also has a ton of excellent user reviews.
This model is ideal for bird watching, sporting events, or covert operations where you may want to listen to what's going on from a distance.
Key Features
Long range sound amplifier (up to 300 feet)
Ideal for birds and wildlife
8x magniication
Digitally record sounds
Comes with a pair of noise cancelling headphones
Simple controls
Customer Reviews For This Parabolic Hearing Device
"Awesome device that really does work quite well. I've been using it to overhear conversations for a research study that I'm doing and it's ideal for this purpose. I can definitely sit far enough away that people don't know I'm spying on them."
"I bought this listening device because I wanted to listen to different birds and then also record their songs. It's amazing what this thing picks up and how you can adjust the sound quality by just adjusting the cone a little tiny bit to one direction or another."
Shop Now
Does this sound like the parabolic listening device for you? Check it out for yourself on Amazon to get more info and see the current price.
---
Bionic Ear And Booster Set Surveillance Microphone
If you want to listen to what's going on around you from a distance away, the bionic ear will help you do that with ease. It is a premium listening device, but has a price tag to match.
This device is not quite at the level of the Sound Shark, but it also costs a lot less. If that one is above your budget, this one makes a great lower cost alternative. You're getting one of the best sound amplifiers/surveillance mics on the consumer market.
Key Features
Special technology amplifies sound up to 300 feet away and up to 40 dB
12″ Parabolic dish can be adjusted to whatever direction you want to hear sound from
Recorder jack so you can record sounds easily
Independent volume control on headset
Runs on a 9V battery
40 hours of battery life
Head phones are included
Auto safety shut-off at 95 dB
Very small and light in weight
Includes all the accessories you need to get started
Customer Reviews
"A little bit difficult to use in an urban setting because you'll pick up a ton of background noises from cars and things like that. If you expect clear conversations from one specific table in a busy coffee shop or something, you'll be disappointed. However, if you're using it out in nature, then you'll find that it does extremely well."
"Works great, but there is some interference with what's happening in the background. But, if your purpose is to hear conversations from 30-40 feet away, it does the job."
Bionic Spy Listening Device Video Review
Where Can I Buy It?
Is this the best directional listening device for your needs? Head over to Amazon to learn more and to get the current price.
Uzi Parabolic Listening Device
Sale

Uzi Observation Device for Listening to Birds, Scientific Explorer Bionic Ear, Spying, Recording,...
ADVANCED SOUND AMPLIFICATION: This Uzi Bionic Ear Observation Device with Headphones is perfect for...
VARIOUS USES: Use this device as a fun spy gadget, recording device, bird listening device, sound...
PACKED WITH FEATURES: The Uzi Bionic Ear Observation Device comes equipped with a microphone, 8x...
NOISE REDUCTION TECHNOLOGY: The device has a parabolic sound collecting dish that helps reduce...
PERFECT GIFT: This Uzi Bionic Ear Observation Device with Headphones makes an excellent gift for...
Next up on our list of the best long distance listening devices is this one from Uzi. It sells at a reasonable price, but does not deliver the kind of results a professional needs, as is to be expected in this price range.
If you want to overhear conversations, it does it reasonably well. But if you want to hear a conversation crystal clear in a busy place, it will likely let you down. However, you will certainly be able to hear a lot better than with an ordinary voice recording device.
The receiver is a decent quality and is quite durable. The noise reduction feature does a decent job at filtering out background noise and the microphone picks up almost everything. But it will not perform at a range of up to 300 feet, like the manufacturer claims. 100 feet is more realistic.
Key Features
100 foot range (they claim 300)
With noise reduction
Number of settings
8x monocular
Uses a 9V battery (not included)
Standard headphone jack
Customer Reviews
"Works, but not up to the range specified. It's pretty clear under 100 feet, but not that easy to hear what's going on beyond that. However, when you consider the price and the fact that some of these things are 10x more expensive, it's good enough for me."
"Kind of cool to hear what my neighbours are saying, but it actually doesn't work as well as I'd hoped."
Get Yours Today
Does this sound like the best spy hearing device for you? Then head on over to Amazon to pick yours up today.
---
How Does A Parabolic Microphone Work?
That's a great question and we're happy that you asked. Basically, it's used to collect and focus sound waves onto a single point (a receiver, transmitter, or a microphone). It's similar to what a satellite dish does with sound waves.
The advantage of a parabolic microphone over other audio listening devices is that there's great sensitivity in one direction. It also does a great job at blocking sounds from outside this range.
Some uses include sports events, broadcasting, recording in windy conditions, eavesdropping on conversations (law enforcement or espionage) or for nature viewing and listening. In some cases, it can be a more discrete way to listen remotely instead of using a bug which can be more easily detected.
What To Look for In A Directional Listening Device?
There are a number of factors you might want to consider when choosing the best parabolic listening device for your needs. Here are some of the most important ones.
Range
All these devices have a recommended range that you should adhere to for the best results. However, keep in mind that the stated range is under ideal conditions at a time of day when it's dead quiet and you don't always get this.
This is especially true in windy or rainy conditions, or when there are obstructions between you and your target audio point.
Audio Quality
The best ones allow you to hear clearly from quite a distance. They have a great amplifier combined with noise reduction and the result is good quality sound.
The lower-quality ones do poorly on both these fronts and the result is little better than just using nothing. The ones that attach to your cell phone are notoriously bad pieces of equipment and are often kind of a rip-off.
Battery Life
Some of these items use up a lot of battery power, and/or run on difficult to find batteries. Choose one with regular batteries that last for at least a few hours.
Recording Capability
Some parabolic listening devices can record to an SD card, or attach to a camera, microphone or video recorder easily. Others can only be heard with microphones but are not that easy to record. Which one you choose will strongly depend on your needs.
Is It Legal To Use Listening Devices Like These?
It depends. You need to do your research before buying one of these products for use in your home or business. It may seem like a small thing that's not a big deal, but trust us, you can get in a lot of trouble recording someone without their knowledge in certain places.
Laws vary from country to country and even from state to state in the US. If you can't find a law specifically related to this situation, then you should consult the laws governing security cameras because they are roughly applicable.
In some cases, you're free to use them, while in others they can only be used by law enforcement officials. In others, there are some specific situations where it's okay but many situations where it's not.
Of course, if you're doing something in public like bird watching, or trying to pick up the "crunch" of a football game for a TV station, then it should be no problem. Where you can run into trouble is if you're recording people without their knowledge.
Of course, please remember our #1 rule at Spy Cameras Reviewed: Only for good and not for evil!
Parabolic Listening Devices: Your Thoughts
What's your top pick for a directional listening device? Leave a comment below and let us know what you think. Also be sure to give this article a share. It'll help other people find this useful resource.

Latest posts by Bobby Miller
(see all)
Last update on 2023-11-28 / Affiliate links / Images from Amazon Product Advertising API