An Introduction to the Zmodo Smart Wi-Fi Video Doorbell 
The Zmodo Greet Smart Doorbell is one of the cheaper options on the market today. But, does it still have the features you want, just at a more reasonable price?
Keep on reading to find out all the features, and details you need to know about the Zmodo video doorbell. Or, check out some customer ratings and reviews over on Amazon to see for yourself:
—>See Customer Ratings and Reviews Here<—
Cloud Plan: Optional

We LOVE that Zmodo will store video clips in the cloud for 12 hours for free. Most other companies require you to purchase a plan, or you need to use a memory card.
Most people find that 12 hours of storage is enough for their needs. Or, you can upgrade to one of their plans. There's a 30-day free trial of this.
Night Vision and Motion Detector
Zmodo may be cheaper than many of their competitors, but it still has some of the features that you're looking for including night vision and motion detection.
The night vision allows you to see who's at the door at night, and according to customer reviews, it works reasonably well.
The motion detection system will send you an alert to your Smartphone every time motion is detected. It will also record a video clip which is stored in the cloud for 12 hours for free. You can store them for longer by upgrading to one of their plans.
A Company that Stands Behind their Products
Here at Spy Cameras Reviewed, we LOVE companies that stand behind their products. Zmodo offers a 60 day, money-back guarantee, and a three year warranty on their products. It's a risk-free way to try a top-quality video doorbell.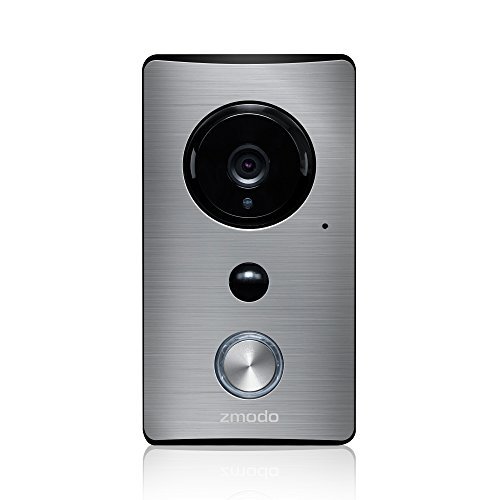 Key Features of the Zmodo Greet Video Doorbell:
You can see and talk to visitors from your Smartphone
Access the video feed at any time via smartphone or computer
Motion detector with alert, and video clip
Video clips are saved for 12 hours in the cloud for free. After that, you can sign up for their recording plans
60-day money-back guarantee and three year warranty
Installation requires a mechanical doorbell chime and a transformer with a low-voltage of 10VAC-36VAC.
720 p, wide angle viewing field
Night vision
2-way audio
Buy the Zmodo Wifi Video Doorbell
The best place to buy the Zmodo Greet Peephole Door Camera is on Amazon. You can check it out for yourself now:
Zmodo Smart Wi-Fi Video Doorbell Pros
Very reasonably priced, and cheaper than much of the competiion
Night vision and motion detection system
Very easy to get set up
Money-back guarantee and excellent customer service and support
Two-way audio, accessible via Smartphone
The company makes top-quality security cameras
What People are Saying about the Zmodo Peephole Door Camera
—>See More Customer Ratings and Reviews Here<—

"It's super easy to install and get up and running. It works exactly as advertised and the best thing is that it's way more affordable than Ring doorbells."
"There are a few negative reviews of the Zmodo doorbell, but I think it's mostly errors in getting it set up. If you follow the included instructions, it's very easy, and the company has some good customer support to help you out as well."
"Overall, it's easy to set up and works decently, except for the notification to my phone or iPad when someone is at the door. It's been a bit of a hassle and I never really could figure it out."
Zmodo Greet Video Doorbell Review
Zmodo Smart Wi-Fi Video Doorbell Cons
Requires a mechanical doorbell chime to work with
Only 12 hours of cloud storage for free, after that is an additional fee via subscription
Some reports that motion sensor alerts are difficult to get up and running, and also that the motion sensor is too sensitive (passing cars)
Can take a long time for the doorbell to connect via Smartphone (the visitor is sometimes gone by then)
Not easy to set up with a dual band router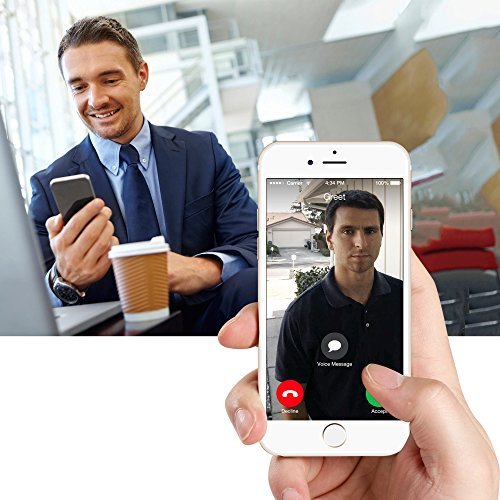 Compare Peephole Door Cameras
For even more choices, be sure to check out our Best Peephole Door Cameras article. Or, have a look at the comparison chart below:

How to Install the Zmodo Wi-Fi Video Doorbell
The Takeaway on the Zmodo Smart Wi-Fi Video Doorbell
If you're looking for a reasonably priced video doorbell system that does the job, then the Zmodo Greet should be at the top of your list.
Although it doesn't have all the features of some of the video doorbells that are 3-4x more expensive, it has enough of them that most people will be pretty happy with it. For the price? It works well enough!
There are a few reports that this video doorbell isn't as easy to set up via a home Wi-Fi network as the company says it is. However, they do have good customer service and support and should be able to help you out if required.
Apart from that, there's a 60 day money-back guarantee so if you really can't figure it out, just return it for a full refund. Sounds like a win in our books! It's the clincher for making the Zmodo Greet a solid buy if you're looking for a cheap video doorbell.
Sounds like just what you need to keep your home and family safe? It probably is! It's a top-quality device at a very reasonable price. You can check it out for yourself over on Amazon:
Zmodo Smart Wi-Fi Video Doorbell: Have your Say!
What do you think about this popular home security device? Leave a comment below and let us know your thoughts.

Damon Kennedy is the expert on all things home security systems. He's been working in the field for 20 years, recommending and installing them for his clients, for both homes and businesses. He's excited to share his knowledge with you so that you can make the best choice!

Latest posts by Damon Kennedy (see all)