Are you looking for an affordable home security solution? Then these realistic looking, fake bullet security cameras from Wali should be at the top of your list. Read our review and buying guide to help you decide if they're the right choice for you.
Sale

WALI Bullet Dummy Fake Surveillance Security CCTV Dome Camera Indoor Outdoor with one LED Light...
Features: The inexpensive solution for security theft problems with high resemblance to real cameras...
Design: Made of high quality and durable material. Compact design and easy to install. Appear to...
Installation: Cheap and effective way to deter criminals. Installs quickly and easily to the ceiling...
Environment: Protect your homes, shops and business. Suitable for both indoor and outdoor usage. Mix...
Package Includes: 4 x Wali Bullet Simulation Camera (Silver), 12 x Screw, 4 x Steel Bracket, 4 X...
Wali Fake Outdoor Security Camera Review
The Wali dummy bullet camera has some excellent reviews online. If you're looking for a real-looking dummy security cam, you're sure to love this product.
It can be used indoors so teenagers won't be sneaking out of their bedroom with friends minus their parents' permission. The dummy camera can also be used outdoors so criminals will think twice before attempting to break into your home.
"The cameras look very convincing because of the flashing red LED light. You can only tell it's fake when you're a few inches away from it."
Key Features Of The Wali Dummy Surveillance Cameras
Affordable Price
Can be used indoors and outdoors
Features activation light for realistic look
Comes with adjustable and movable bracket arm
Includes stainless steel screw
One of the most affordably priced fake security cameras
Designed compact for easy installation
Real-looking that it can really deceive outsiders
Can be installed on the wall or ceiling
Popular-looking camera that is very realistic
Slidable aluminum casing for indoor/outdoor use
2 AA batteries (not included) can last for 6+ months
Realistic looking fake wire (although quite short)
Adjustable tilt and rotation
Includes a security sticker
Cons
Batteries not included (need to be bought separately)
A bit big and heavier in weight
Space-consuming
Since it is a dummy camera, you cannot use this for monitoring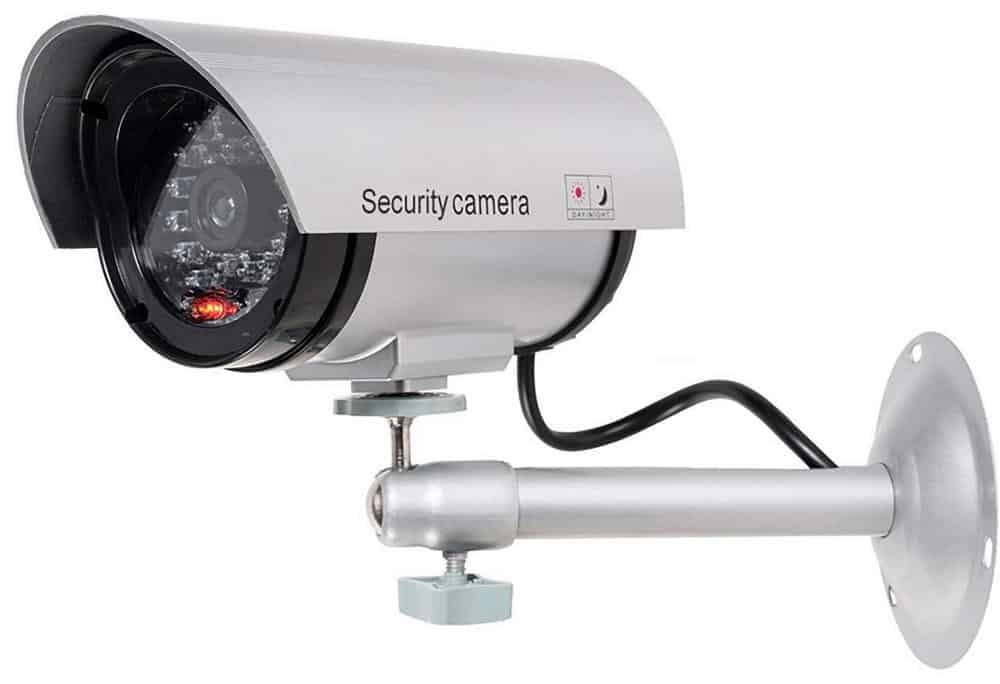 A Cheap Home Security Alternative
Any person who is in search of something to scare the intruders without having to spend much is sure to pick the Wali dummy outdoor camera.
The main reason is for its authentic-looking quality. For a reasonable price, you can own a dummy security camera system and pretend to be having installed a high-end camera system that monitors 24 hours a day.
Flashing Light Feature
This dummy camera has a flashing light feature that makes the device appear to be a real one.  There's no need to use a wire or cord to operate this unit. You just need two AA batteries to make it work.
"I was having theft from my job site and picked up a couple of these and it put an end to it in no time. Even my workers thought they were real."
Where Can I Get Them?
The Wali Outdoor Fake Camera is now available on Amazon. Click below to check it out.
What Do People Think About It?
"Quite possibly the best money I've ever spent on Amazon, and I've been shopping there for years. My neighbor and I split the cost of a dumpster in our rural area, but for some reason, it was always full when I went to use it. There was some business dumping their trash in there. I bought a few of these, installed them on fences near the area and the problem is now solved. So, realistic enough for my purposes!"
"We've had several car break-ins in my area at night. I got two of these and installed them so that they point directly at my car. Needless to say, I've had no problems and I'm sure some thief is probably just going to look an easier target. A few bucks to save a ton of hassle down the road? Totally worth it."
"Very easy to install in just a few minutes and they certainly look realistic enough for my purposes."
Read More Customer Reviews Here
Video: Easy Installation
Compare Dummy Security Cameras
If you're looking for some affordable home protection, you're in the right place! Check out even more options for dummy security cameras in our comparison article.
Also Consider Lighting And Patio Door Locks
If you're looking for some other cheaper ways to protect your home from intruders apart from dummy cameras, then you'll want to consider the following two options:
Video: Dummy Security Cameras To Keep Dummies On Their Best Behavior
Wali Fake Bullet Security Camera Review: Conclusion
Are you suspecting something is going on in your place? Does your teenage son or daughter frequently escapes from home and parties with his or her friends? What you need is a Wali Fake Camera.
But don't tell your child that the camera installed at home is a fake. They might think they know how to spot fake security cameras, but they've never dealt with a dummy cam like this.
It looks so real, no one in your family will ever realize that no one is monitoring the camera (and that there isn't even a camera inside the housing!
You only need to pay a fraction of the cost of a real camera and you get the same deterrent effect.
Keep your Home, Business, Or Property Safe
At a very affordable price, you can maximize the security at home without having to tell anyone that the device is a fake. When you physically look at the camera, you won't easily be able to determine which one is real and which one is the dummy.
Cheapest Home Security Solution
Certainly, this is the cheapest solution to your security problems at home. You don't need to spend much for the heavy and space-consuming real cameras.
You can still be assured of your home's safety with the WALI Bullet Dummy Fake Surveillance Security Camera. Since it is a dome-shaped CCTV camera, everyone can think you just invested in a heavy-duty security device.
Easy To Install
Installing this is not a problem at all. No wires and cords are needed to operate the device. All you need are two AA batteries for this dummy security camera to function.
Ideal For High Crime Areas
The dummy surveillance camera from Wali is not just for parents monitoring their children. It is for anyone who wants to get rid of robbery or any kind of crime that might take place inside his home.
Realistic Looking
The size of this innovative device is big enough for anyone to think that a security camera is actually watching and monitoring the whole place. See? You don't need an ample amount to keep your family safe and scare the criminals away. What you need is this dummy security system at the lowest price.
Shop Now
Purchase the Wali dummy camera on Amazon today. Click the button below to head there now.
Wali Fake Security Camera: Your Thoughts
What are your thoughts about this affordable home or business security device? Realistic looking, or not so much? Leave a comment below and we'd love to hear from you. Also be sure to give this article a share on Facebook, Pinterest, or Twitter. It'll help other people concerned with home security, like yourself find this useful resource.

Latest posts by Damon Kennedy
(see all)
Last update on 2023-11-28 / Affiliate links / Images from Amazon Product Advertising API