Spy drones are everywhere these days.
Why are so many people getting them? I mean, they're obviously expensive, right? And they can't be easy to fly either. How are people learning?
It turns out, they are actually quite easy to fly. We'll cover how to use a spy drone in the article.
Before that, we'll cover why people are getting them. Not everyone with a drone is making a movie or a running a YouTube travel channel.
In fact, we don't even bother mentioning those reasons below. But we do give you a bunch of other reasons why people get quadcopter drones.
Keep reading to learn more!
How And Why To Use Spy Drones
With all the new, fascinating technological inventions at hand, it would be such a terrific pity not to take advantage of them. Things like spy drones have made all our lives more interesting, fun and easy.
We can only imagine the possibilities of what the future may bring. Will the packages we order from Amazon one day be delivered by drone to our doorsteps? What about a pizza?
But how can you use a mini cam drone? What advantages do they offer? You're on the right page to find out exactly that. Keep reading for all the details about spy drones and how and why to use them.
The "Why" Part Of Using Drones With Cameras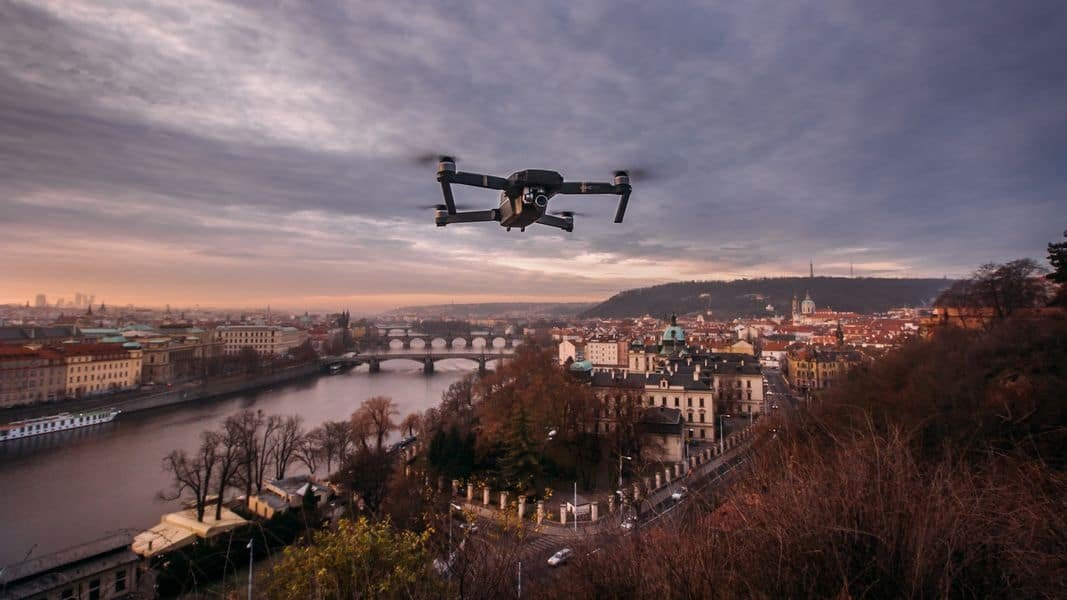 If you need reasons to get a spy drone, we have plenty of them:
Keep An Eye On What's Happening Around Your Home
You can keep track of suspicious activity around your neighborhood. This is particularly useful if you've had robberies or other crimes in the area.
Useful For Teenage Children
If you have a teenage kid that's up to mischief, coming in late at night or hanging around people they're not supposed to, you can keep an eye on them without being suspected.
Cheating Spouses
If you think your partner might be unfaithful, but don't want to confront them so you won't seem needy, a spy drone is small, inconspicuous and fast. You might need a drone with night vision for this, since such "action" usually happens after dark.
Property Or Farm Inspections
Should you need evidence of any wrongdoing, and up to date information about the status of your property, a spy drone can help you act fast. Sure, you can drive around to remote locations and take hours, or you can find out the information you need in just a few minutes.
Keep one of these portable devices fully charged for a quick flight whenever something comes up. Or, have a regular rotation of inspections that you perform.
Learn About The Wild Animals Around Your Property
If you live in an area with a lot of varmints, like coyotes, and you want to keep track of their activity without being noticed, a spy drone is way better than a static surveillance camera that doesn't move.
Help Catch Bad Buys
Should a robber actually try to get into your house and then get scared and run away, a spy drone can follow them so the police can catch them.
Ideal For Emergencies
If you want to act fast in case of an accident or an emergency, a spy drone can send you all the necessary alarms for that.
Perfect For Nature Watching
If you're into bird watching or nature observation, you may want to infiltrate in a flock, swarm or herd for more realistic pictures and videos. For this purpose, you can disguise yourself as an innocent fly that can accompany said flock or herd undetected.
The "How" Part For Small Spy Drones
The Academy of Model Aeronautics has devised safety guidelines to make the use of spy drones in your community perfectly safe, so you can start with those. But if you want to further this knowledge, here's how you can use the drones safely:
The drone should always stay below 400 feet.
You should avoid any aerial obstacles, to prevent any accidents. Even if spy drones are very small, they can still produce damage like short-circuits.
If there are manned aircraft operations nearby, you should never interfere with those.
You should avoid flying into any planes, helicopters or other aircraft to make sure accidents don't take place.
If there are any people, properties or vehicles on your way, you should maintain a safe distance above them.
If you've consumed any alcohol, drone flying is prohibited. Same goes for drug use.
Make sure using the drones in a particular place is safe and that you've read all the instructions about how to use it very carefully.
You should respect the individual privacy of people at all times.
Don't neglect basic drone maintenance!
Don't Forget To Learn About The Legalities Of Drones With Cameras
So basically, a spy drone is a modern, efficient surveillance system that allows you to stay undetected. But that doesn't mean you can use this sort of drone to break the law, so you need to read more on spy drones and the legislation on how to use them.
The same goes for the other side of this situation. If you are being harassed by a drone, you need to know what actions you can legally take. for example, drone jamming is not allowed in the US or most other jurisdictions.
Video: What Are Drones Used For? 31 Of The Most Common Uses
Compare The Best Quadcopters With Cameras
There are a number of spy drones on the market today, at a huge range of price points. You can find some decent ones for under $300, while there are some that run up into the thousands.
What you need really depends on your needs. If it's just for fun, or you're learning how to fly one, then consider opting for one of the cheap drones. They still have enough bells and whistles that they're fun to fly, but you don't have the fear of crashing. Consider upgrading to one of the more advanced ones later.
See the top drones with cameras in this comparison article.
Key Points To Remember About Using Spy Drones
Some of these guidelines might be a little confusing, while others might sound a bit vague, especially the last one. How can you respect people's right to privacy and spy them at the same time? To help you make more sense of this, let's review some of the key things you need to do.
1. Inform The Neighbors
If there's been any misconduct or illegal activity in your neighborhood and you want to use the spy drone to get more evidence about that, you should let your neighbors know what you're doing. That means you should tell them:
Why you're using the drone.
How exactly you're gathering the information.
How you're recording the info.
Who you're sharing the evidence with and how.
Even if you're just using a spy drone for nature observation, it would still be a good idea to let your neighbors know. After all, you'll be flying over their houses too, and who knows what images the drone will actually capture.
In our experience, people are usually okay with a drone near their house if they know what your'e doing. So, please inform people!
2. The Reasonable Expectation Of Privacy
This is the key term that tells you exactly how much privacy someone has: a reasonable amount. So can you go spying on your next door neighbor while they're getting undressed and ready for bed?
No. So basically, you need people's consent if you want to record them. This means that you shouldn't cross their property lines with a spy drone. You also shouldn't linger with the drone too much around the windows or stalk them in any other way. But there's a "but".
If you're absolutely sure about what your neighbor is doing and you don't have time to alert the police so they can take over, you have a loophole in this rule. You should alert the authorities while you're getting the incriminating evidence, so don't go full rogue or it might become really dangerous.
3. Use The Blur Option
What about if you've captured any people on film that aren't doing anything wrong? And there are so many that you can't possibly find them all and ask for their permission to let you film them? In this case, blur their faces.
So if there are any bystanders while your spy drone is after that perfect sunset with a pack of stray dogs, or after an escaped bank robber, you should definitely blur their faces.
With that in mind, make sure you keep the pace with all the new regulations. The drone privacy rules are constantly changing.
People's privacies are constantly being abused by other people who don't care, so the legislation is always changing. Other than that, have fun with your drone, and let us know how things go. The comment section awaits.
4. Only For Good!
The key thing to remember in all this is our #1 rule: only for good! As with all spy gear, or surveillance cameras, use them only for good purposes.
To protect yourself, your property or your family. Or to have some fun with family and friends. Other people have the right to privacy and to not be filmed without consent. Please respect this always.
Buy A Spy Drone
If you're looking to get a spy drone, but are unsure about which one is right for you, then you'll need to check out this article where we review the best ones that are affordably priced at under $200.
These are the ones that we recommended for beginners. They are stable, but are not kid's toys and you'll be able to learn the skills necessary to fly.
Once you become proficient, then you could consider upgrading to something like the DJI drones, which are much less affordable for most people. We'll discuss those next.
Looking For a Premium Option For Quadcopter?
If you're looking for a top-of-the-line quadcopter with camera, look no further than the DJI Inspire 2. Although expensive, the picture quality is unrivaled.
Plus the fact that it's basically like a tank in the sky. Of all the drones we've tried, this is perhaps the hardest to crash. Even if you were to try, you probably couldn't.
Key Features Of The Inspire 2 Drone
Here are some of the features that are common to most of their popular models:
Compatible with 5.2k Gimbal cameras with 360 degree rotation
Intelligent flight mode
Return to home feature
-20 to +40 degrees C operating temperature range
Integrated HD video transmission system
Quick acceleration: 0-80 kph in just 5 seconds
Maximum speed of 94 kph
Dual battery system for 27 minutes of flying time
Obstacle avoidance function
Powerful motors
Can use with 1, or 2 pilots
Easy data transfer
While it can't do flips and tricks, this isn't really what it's designed to do as it's not a toy. So, this isn't really a negative because what you're getting is a top of the line drone that's ideal for any of the purposes that we've mentioned above.
Although this drone does have functions like obstacle avoidance and return home, it's not for beginners. It's just too expensive were you to lose or crash it. Instead, learn how to fly and practice on a much cheaper drone and then upgrade to this one later!
See our full review of the DJI Inspire II for more.
How To Combat Spy Drones
If you suspect that someone is using a spy gear drone to check out what you're doing without your permission, there are a few things you can do to combat this.
Talk To The Operator
If you can, find the person who is operating the drone and ask them what you're doing. They may just be flying around for fun and not trying to invade anyone's privacy. Or, they could just be capturing some stock footage and not specifically trying to capture video of what you're doing.
In the vast majority of cases, they'll stop what they're doing when confronted.
Of course, mini drones peeking into your bedroom window isn't doing this just for fun or practice. They are likely up to some purpose that is not good and you should not put up with such an invasion of privacy.
Check The Laws In Your Area
There may be some laws in the place you live about spying on people or filming them without their permission. If this is the case for you, consider calling the police or other authorities if there's a problem with a spy drone.
It's hard for us to give you blanket advice about this because they vary so widely in different parts of the world. And, even from state to state. In addition, since this technology is relatively new, lawmakers are only just catching up presently.
Document Your Issue
If the same drone is spying on your over repeated times, be sure to document everything. Take a picture of it with your cell phone. Have a notebook or electronic record with dates, times, location and duration of spying. This will prove to be useful in case of an investigation.
Contact The Authorities
If you're having some problems with a spy drone invading your privacy, then feel free to talk to the authorities. Even just call the non-emergency help line for the police in your area to find out what the law is surrounding this.
Spy Drone Use: Your Thoughts
What are your thoughts about the how and why of using mini cam drones? Leave a comment below and let us know what you think.
Also be sure to give this article a share on Facebook, Twitter, or Pinterest. It'll help other drone enthusiasts, like yourself find this useful resource guide.

Latest posts by Zeke Daniels
(see all)