If you're looking for a top-quality, but very affordably priced walkie talkie set, then this one from Midland should be at the top of your list. Read our review and buying guide to help you decide if it's right for you.

Midland - LXT600VP3 - Handheld Portable FRS Business Overlanding Gear Two Way Radio - Long Range...
2-WAY RADIOS: The walkie-talkies are equipped with 36 FRS (Family Radio Service) channels, and...
UP TO 30-MILE RANGE: Unlock the power of long-range communication capabilities in, unobstructed...
121 CTCSS PRIVACY CODES: With privacy codes, the Continuous Tone-Coded Squelch System provides a...
NOAA WEATHER SCAN: Stay informed and prepared with the NOAA Weather Scan + Alert feature. With this...
INCLUDED IN THE BOX: Radios (x2), Belt clips (x2), rechargeable battery packs (x2), Desktop charger,...
Review Of The Midland LXT600VP3 Walkie Talkie
Is your family going on an outdoor event a few weeks from now? Surely, there are many things to do in preparation for this exciting activity with your loved ones. As you plan, don't forget to include the weather update. Be sure to be in the know all the time so as not to spoil the fun moments especially if you're spending most of them outdoors.
Key Features
Comes in a set of two radio units
36 FRS channels to choose from, but can also connect to GMRS radios
Up to 30-mile range
With over a hundred privacy codes
Battery operated, with excellent batter life
Two power options:  (AAA batteries or rechargeable)
Primary functions as a weather scanner, with 10 weather channels (it locks onto the strongest one)
Takes a spot on our list of top walkie talkies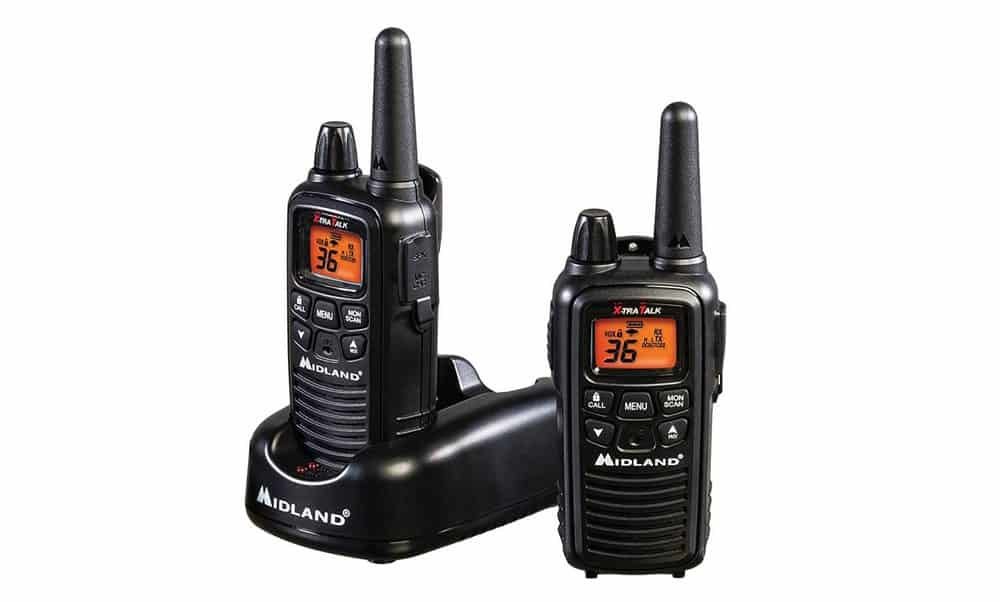 Fast And Efficient Communication
Have the Midland Two-Way Radio with you at all times for fast and efficient communication with your spouse and kids. Coming with two radio units in every pack, this device will help you stay in touch with your family even if you separate ways while hiking, hunting or mountain-climbing.
"We used these to communicate back and forth during the trip and they were PRICELESS! They're much easier and faster than calling one another on the phone. I also appreciate the good battery life."
Reasonably Priced Product
For such a reasonable cost, this device guarantees to give you all the updates you need to make sure the weather is perfect on the day of your trip and the whole duration of the activity. This two-way radio features all-hazard and weather alarm, as well as weather scan for your family's safety outdoors.
Five Call Alerts
Because of this special quality, more and more people opt for it. In addition to the special features, this pair of radio units has five different call alerts for a more efficient communication.
Perfect For Outdoor Activities With NOAA Weather Scan
If you want to use this for hiking, boating, camping, hunting, mountaineering, or other outdoor activities, you're going to love the NOAA weather alerts. The radio automatically scans through 10 weather channels and then locks onto the strongest one.
Learn about upcoming storms or bad weather coming to your area before it happens so you can get out and stay safe.
Want To Learn More?
The Midland Radio is available on Amazon. Click below to head there now and learn more.
What Do People Think About Them
"Good, clear sounding radios that work very well when you consider the price. They're actually a lot better than some of the other products I've used in this price range (ahem, Cobra). They're small and light as well as easy to use. The thing I like best is that you can disable all sounds, including the beeps which makes them ideal for things like hunting with my buddies."
"I love the dual charger base that comes with them so I don't have to deal with taking out the batteries. They have a great range, and the sound quality is very good. That combined with a ton of features and options–very decent walkie talkie."
"Ready to use and legal right of the box, unlike some of the other ones you have to mess around with. I'm a wedding planner, so use these things all the time to communicate with my staff on the day of the big event. They're kind of a game-changer for us in terms of how smoothly things go."
Midland 2 Way Radio Video Review
Cons
Not for international shipment (only within the U.S.)
Batteries not included (only the rechargeable battery pack)
Maximum range is only achievable in an open rural area with perfect condition
Midland Walkie Talkie Review: Conclusion
Worry no more about your safety outdoors. The Midland Weather Alert Two-Way Radio is a perfect companion that will inform you ahead of the weather condition. It automatically locks on a weather channel within an area you're in. More so, the gadget alerts you when there's a severe weather condition taking place later.
Very Easy To Use
It is so easy to use this communication device. You just simply press the button to communicate with the others who are also on the radio. With 36 channels to choose from, you can guarantee clear communication using the Midland 2-Way Radio.
Plus, the sound quality is fantastic for a product in this price range.
Water And Weather Resistant
And, since this product's main function is to keep you updated on the weather condition, it is water resistant. Therefore, when outdoors and it's raining, expect this device to still function efficiently. This is definitely a perfect must have especially that it you can use it even when it's already dark or there's low light.
LCD Lights For Use At Night
The LCD light lets you operate the radio conveniently. What will surely make you convince you to choose the Midland 2-Way Radio is its battery life-extending feature for continuous and communication.
Where Can I Buy Them?
The easiest place to buy the Midland walkie talkies is on Amazon. Go there now by clicking below.
Midland LXT600VP3 2-Way Radio: Your Thoughts
Do you have any thoughts or questions about this popular walkie talkie? Leave a comment below and let us know. Also be sure to give this article a share on Facebook, Twitter, or Pinterest.
Latest posts by Jackie Bolen
(see all)
Last update on 2023-11-30 / Affiliate links / Images from Amazon Product Advertising API